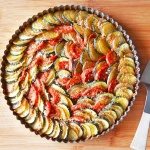 Print
Zucchini, Potato and Tomato Casserole {Vegan}
Zucchini, Potato and Tomato Casserole {Vegan}
Servings
6
people, as a side dish
Preheat oven to 375 degrees.

Melt 1 Tbl of vegan margarine[/url] in a medium skillet over medium heat. Add onions and saute for 15-20 minutes until tender and caramelized.

Spray a quiche pan or round baking dish with cooking spray.

Spoon caramelized onions into the pan and spread evenly.

Toss potatoes, zucchini and tomato slices with salt and pepper.

Arrange in a single layer over the onions, alternately and overlapping slightly.

Drizzle with melted vegan margarine and cover with foil.

Bake for 30 minutes.

Remove foil and sprinkle with vegan Parmesan.

Do not cover and bake for an additional 35-40 minutes or until golden brown.

Let stand for 10 minutes before serving.