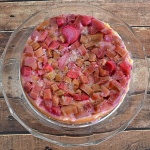 Print
Rhubarb Upside-Down Cake {Vegan}
I saw a few versions of rhubarb cake and decided to try and "veganize" it. Challenging when most cakes of this sort use several eggs, but with the use of applesauce, sour cream and an increase in baking powder, it was a success! This decadent dessert features a sweet rhubarb topping, a moist, light cake and a crunchy crust. Serve with your favorite dairy-free vanilla ice cream. Yum!
FOR THE TOPPING:

4

Tbl vegan Margarine

melted

½

C

All-Purpose Flour

¼

C

vegan Sugar

Pinch

of Salt

TO PREPARE THE PAN:

1

Tbl COLD vegan Margarine

to butter the pan

4

Tbl vegan Margarine

cut into small pieces

FOR THE CAKE:

1

stick

8 Tbl vegan Margarine, room temperature

1

Lb

Rhubarb

cut into small pieces (defrost if using frozen)

1-1/2

C

Sugar

1/2 for the rhubarb, 1 C for the cake

1-1/2

C

All-Purpose Flour

2-1/2

tsp

Baking Powder

Pinch

of Salt

¼

C

Unsweetened Applesauce

1

C

vegan Sour Cream
Preheat oven to 350 degrees.

Make the topping stirring all ingredients together until coarse crumbles occur. Set aside.

Using foil, wrap the bottom edge of a springform pan to avoid any leaks that may occur. The rhubarb is very juicy. I also place a sheet pan on the bottom rack of the oven to catch any potential drips. (You can use a traditional 9" cake pan (drips shouldn't be a problem here), I just like the assurance of a springform during the removal process).

To make the cake, use the 1 Tbl of margarine to grease the springform pan, bottom and sides. Dot the bottom of the pan with the 4 Tbl of cut margarine pieces.

Toss the rhubarb with ¾ C of the sugar. Allow to sit for a few minutes, then toss again. Spread evenly over the cut butter pieces in the bottom of the pan.

Whisk together the flour, baking powder and salt to combine.

In the bowl of an electric mixer, beat together the stick of margarine and cup of sugar until light and fluffy.

Add the applesauce. Alternately add the flour and sour cream and beat until smooth. Spread evenly over the rhubarb using and offset spatula, taking care not to displace the rhubarb pieces.

Sprinkle the crumb topping evenly over the batter and press lightly to adhere.

Bake for 1 hour, or until a toothpick inserted comes clean. It should be fully set and the crumb topping browned slightly. Let cool in the pan for 10 minutes or so. Then, using your cake plate, invert onto the plate and remove the springform pan. Allow to cool completely. Serve with vanilla ice cream, if desired.