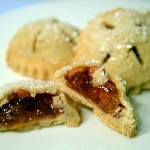 Print
Apple Pie Cookies {Vegan}
Apple pie in bite-sized cookie form! We've combined diced apples with sugar, spices and preserves. The dough is a traditional pie crust topped with sugar.
In a food processor, pulse the flour and salt just to combine. Add cold butter and pulse until mixture resembles a coarse meal. Sprinkle in ice water. Pulse until crumbly dough starts to hold together when squeezed. If it's too dry, add a bit more ice water. Do not over process.

Form dough into a 1" thick disk, wrap with plastic wrap and chill for at least an hour.

In a medium saucepan, add the diced apples, preserves, sugar and cinnamon. Saute until apples are soft but still hold their shape.

Roll dough to a 1/4" thick. Using a round cookie cutter, cut out enough to make tops and bottoms for each. Spoon about a 1-1/2 teaspoons into the center of half of the disks. Using almond milk and your finger, add some just around the edges of the bottom disk and place the other disk on top. Using a ravioli cutter just slightly smaller than your disks, press down to both cut and seal the cookies.

Brush almond milk on the tops of the cookies and sprinkle with sanding sugar.

Bake at 350 degrees for 15-20 minutes or until crust is golden as a pie would be. Do not overbake. Cool completely on a wire rack.