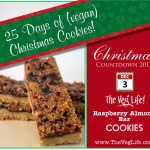 Print
Raspberry Almond Bar Cookies {Vegan}
These might just win as my favorite in our "25 Days of Vegan Christmas Cookies". The only bar we have in the collection this year, our raspberry almond cookies are the perfect combination of salty and sweet!
Non-Stick Cooking Spray

For the Cookie Base:

1-1/2

C

All-Purpose Flour

1/4

C

Brown Sugar

Vegan - firmly packed

1/8

tsp

Salt

6

Tbl Vegetable Shortening

2

tsp

Water

1/2

tsp

Almond

or Vanilla Extract

For the Filling:

3/4

C

Raspberry Preserves

For the Topping:

1/2

C

Almonds

lightly salted, chopped (I really think the lightly salted almonds made a huge difference in this recipe, however you could opt for unsalted if desired)

1/4

C

Brown Sugar

Vegan - firmly packed

2

Tbl Vegetable Oil
Preheat oven to 350 degrees.

Line the bottom and sides of an 8x8" pan with parchment (or foil), extending over the edges of the pan and coat lightly with cooking spray.

Stir together flour, brown sugar and salt until combined. Add oil, water and almond extract. Combine with a fork until the mixture resembles coarse crumbs.

Bake for 15 minutes.

Spread preserves evenly over the warm crust.

Mix almonds, brown sugar and oil until mixture resembles coarse crumbs.

Sprinkle over the top of the preserves.

Bake for 20 minutes and cool completely. USE CAUTION, the jelly is extremely hot at this point. To retain shape, do not remove from pan until completely cool.

Store in the refrigerator.