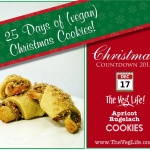 Print
Apricot Rugelach Cookies {Vegan}
A variation on traditional rugelach, we made ours with apricot preserves.
In the bowl of an electric mixer, beat the butter, cream cheese, vanilla and 1/3 C of the sugar on medium speed until creamed, about 2 or 3 minutes. Reduce the speed to low and add the flour and salt until just combined. Do not overmix.

Form dough into 4 disks of equal size and wrap in plastic. Chill until firm, about 2-3 hours. This is a very sticky dough.

In a food processor, combine the walnuts, cinnamon and the remaining 2/3 C of sugar. Process until finely ground. Reserve 1/2 C of this mixture for the topping.

Working with one disk at a time, keeping the others chilled, roll on a lightly floured surface to form a 9" round. Spread the jam onto the disk and sprinkle with 1/4 of the walnut mixture. Using a pizza cutter, divide the dough into 8 or 12 equal wedges. 8 wedges will make larger cookies.

Heat oven to 325 degrees. On a cookie sheet lined with a silpat or parchment, place the rolled cookies and brush with almond milk and top wth the remaining nut mixture.

Bake for about 25-30 minutes. Dough should be just golden around the edges. Cool completely.