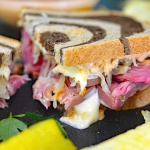 Print
VEGAN Corned Jackfruit Reuben on Rye With Sauerkraut and Swiss
VEGAN Corned Jackfruit Reuben on Rye With Sauerkraut and Swiss
FOR THE PICKLING SPICE MIXTURE:
2

Dried Bay Leaves

crushed

2

tbsp

Whole Mustard Seeds

yellow or brown

2

tbsp

Whole Coriander Seeds

1

tbsp

Whole Mixed Peppercorns

2

Whole Cloves

optional

2

tsp

Dill Seeds

1

tsp

Red Pepper Flakes

1

tsp

Caraway Seeds
FOR THE JACKFRUIT:
2

20 oz.

Cans of Jackfruit in WATER

drained

All of the liquid from 1 CAN of beets

save the beets for another time
THOUSAND ISLAND DRESSING:
1 1/2

c

Vegan Mayonnaise

1/2

c

Vegan Ketchup

1

tsp

Apple Cider Vinegar

1 1/2

tbsp

Onion

finely minced (or grated)

3 to 4

tbsp

Sweet Pickle Relish

or finely chopped pickles

1

tsp

Salt

1/2

tsp

Black Pepper

1

tsp

Minced Pimientos

optional, but they give a great flavor
TO MAKE THE MARINATED JACKFRUIT:
Combine the pickling spices (you can use a prepared blend, but beware! It has a lot of cinnamon, allspice and cloves which I wasn't a fan of).

Drain a can of beets, reserving the liquid to add to your pickling spices. I recommend using a glass (stain-proof) covered dish for this step. You can enjoy the beets for another meal :)

Add the drained jackfruit that you have sliced. Most brands of jackfruit come in triangular shapes. I took a sharp knife and made 3 thinner triangles out of each. Marinate for several hours, better if overnight.

Remove the slices from the marinade and place into a non-stick skillet over medium high heat and cook just until they start to show signs of browning. Most of the residual liquid should also be gone at this time.
TO MAKE THE THOUSAND ISLAND DRESSING:
TO COMPLETE THE SANDWICH:
Slather each piece of rye bread with the Thousand Island Dressing, then add the vegan cheese slices. Top with the jackfruit slices and sauerkraut. More is definitely better here :)

Place the sandwich into a toaster oven (preferably) or you can also place into a non-stick skillet or even a panini press if you'd like. Serve with additional dressing, classic potato chips and dill pickle spears. Enjoy!