We are a participant in the Amazon Services LLC Associates Program, an affiliate advertising program designed to provide a means for us to earn fees by linking to Amazon.com and affiliated sites. For more information, click here.
I have had this idea for VEGAN Corned Jackfruit Reuben on Rye With Sauerkraut and Swiss floating around in my head for a LONG time before I finally figured out how to make it a reality! Everything on this reuben is completely vegan 🙂 If you haven't yet tried jackfruit, you are really missing out on a great vegan alternative. I am continually exploring ways to prepare it for you. Links to my current favorite brand at the bottom of the post.
It all began with a kitchen experiment. With St. Patrick's Day approaching, I decided to try and marinate sliced jackfruit in a combination of beet juice and pickling spices. You can read all about that here in my post for Slow Cooker Corned Jackfruit and Cabbage over on Living-Vegan.com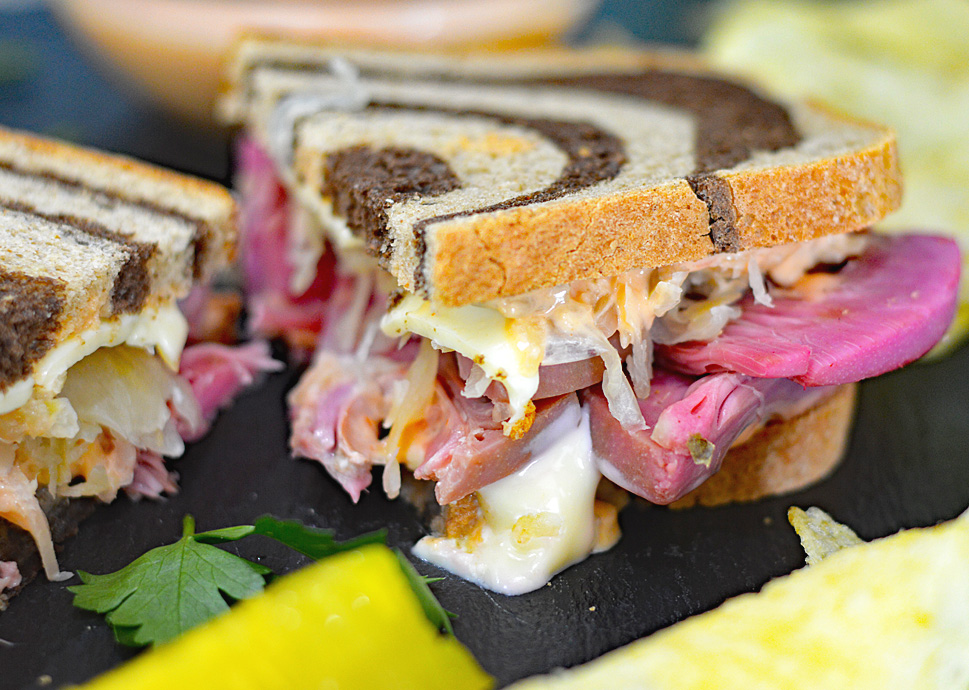 I used the same concept to marinate this sliced jackfruit, but instead of slow cooking it, I cooked it in a non-stick fry pan.
Unlike when cooked in the slow cooker, this retains the color much better.  It's tender and falls apart when you bite into it. Since we are using the jackfruit packed in water, there is no brine-y taste to it.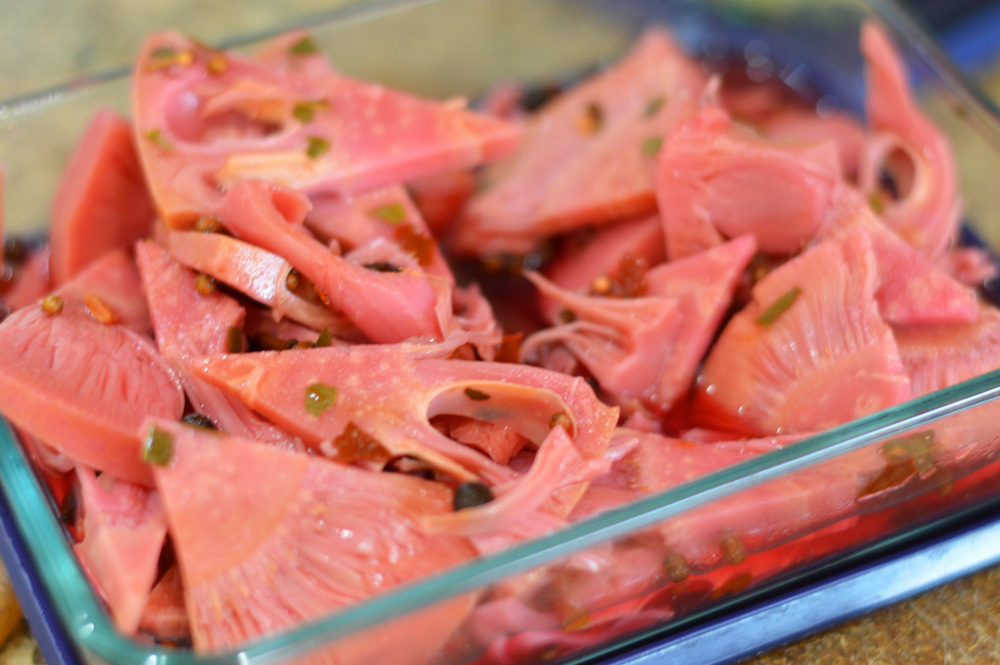 Important to note, I made my OWN pickling spices. As you'll read in the Slow Cooker Corned Jackfruit and Cabbage post, I was really turned off by commercial blends who were adding things like cinnamon, cloves, allspice and ginger. It was just really off-putting to me. You can get the full pickling spice recipe here. I also placed a copy of it in the printable recipe for this post.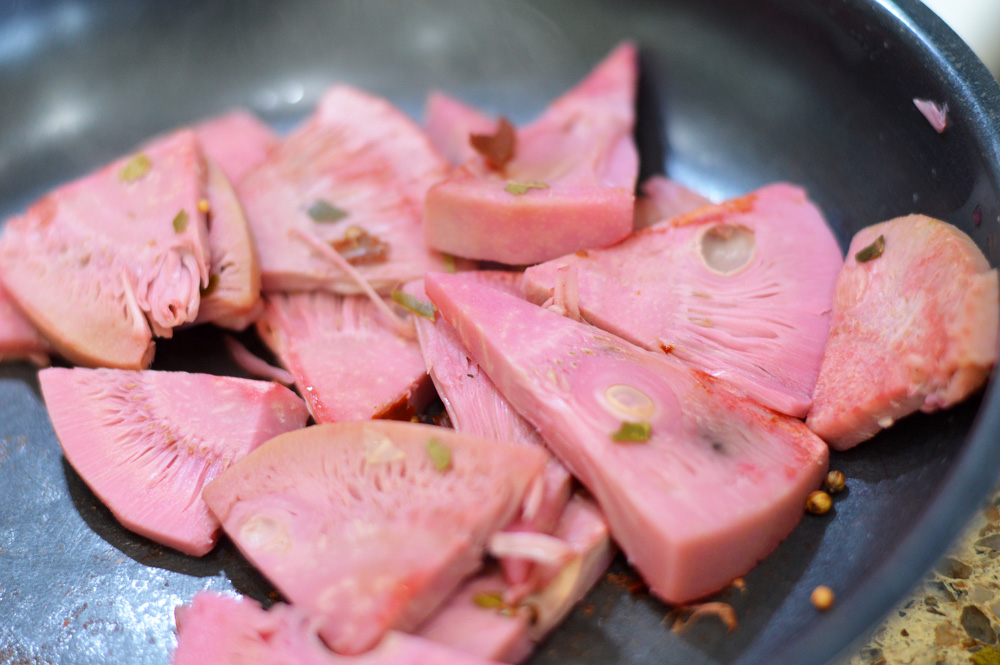 The cheese I am using is the Creamy Original by CHAO. You can read more about why I love this vegan cheese alternative in my review here.  It does actually melt!
I place the cheese onto my own homemade Vegan Thousand Island Dressing. Be sure to dress both sides for optimal flavor. Recipe is down below in the printable 🙂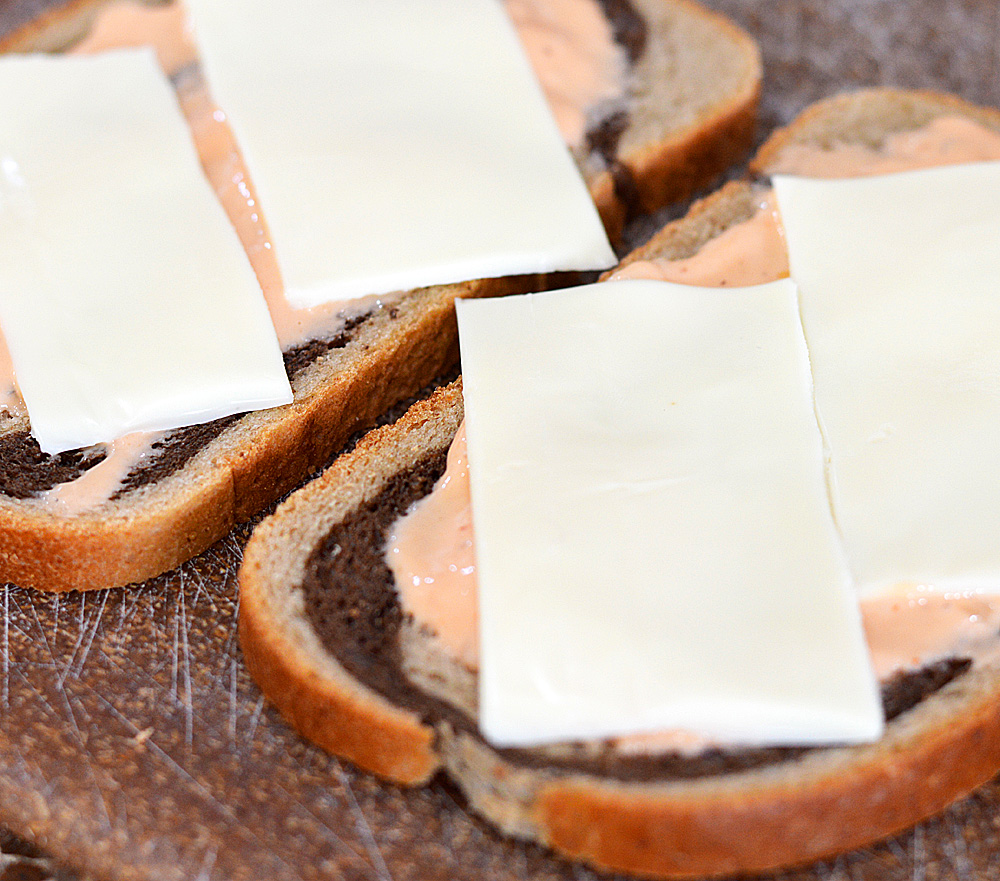 Okay, so now the jackfruit is cooked and I pile it high onto the cheese layer.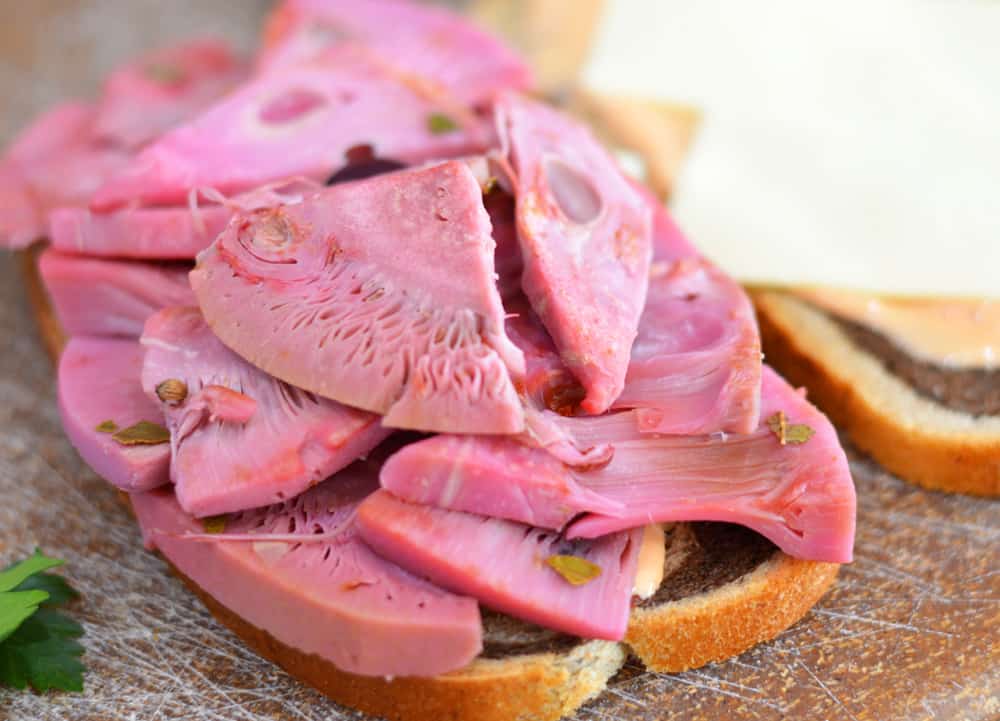 Next up is sauerkraut! I am a huge fan, so that gets piled on too 🙂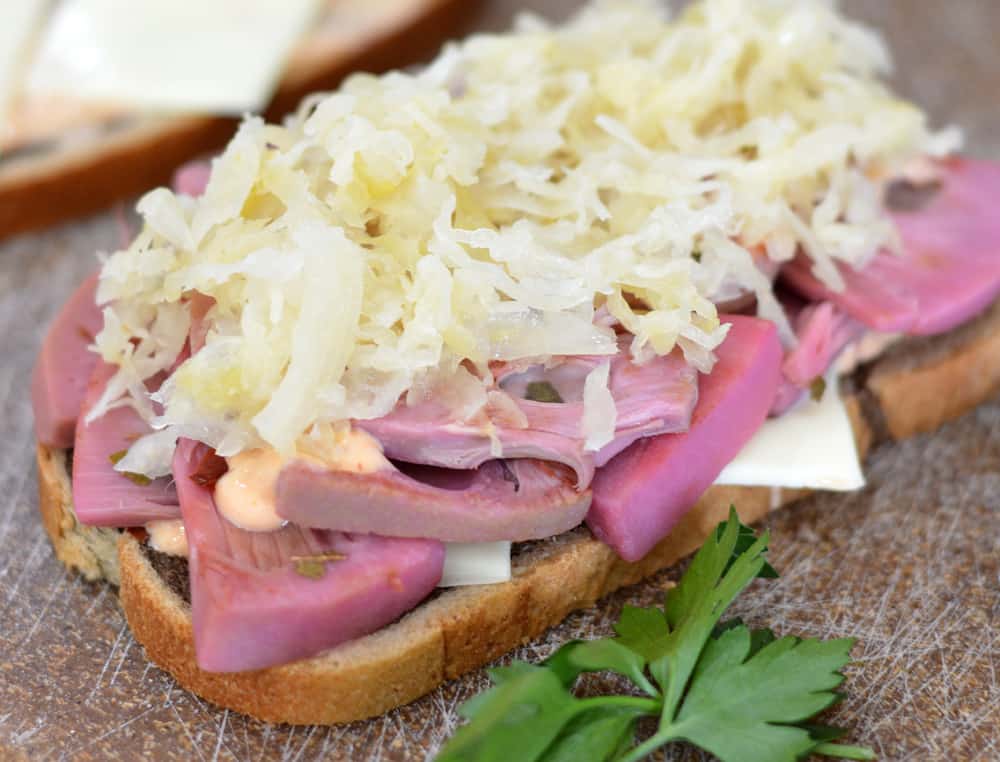 Place the other half on top and put it in a toaster oven until the cheese just starts to melt. An alternative is to toast the bread before assembly or pan cook it grilled cheese-style. You could also place it in the oven for a few minutes.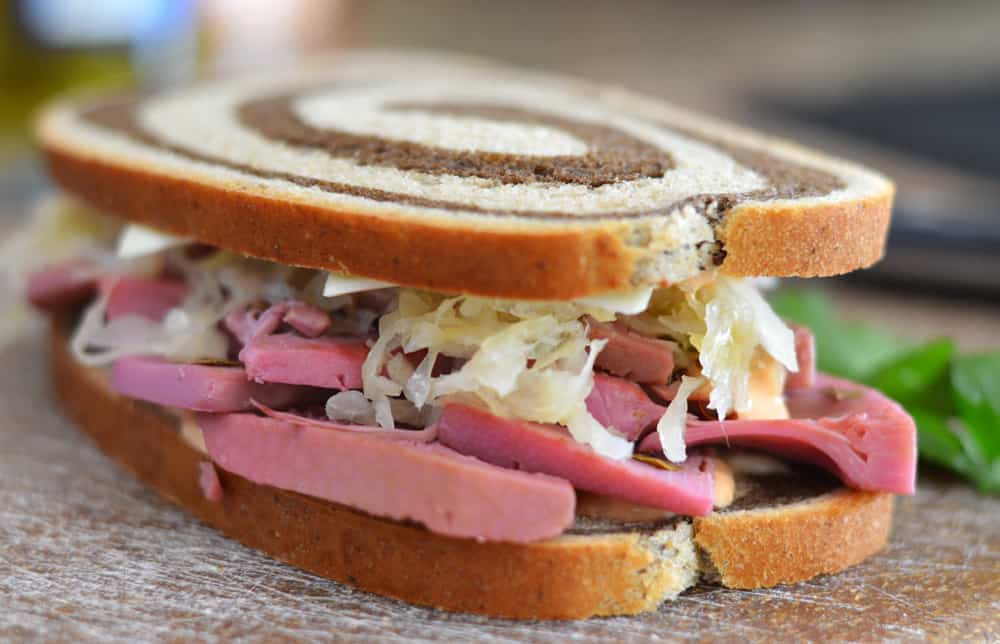 I like to serve with additional dressing (for dipping), classic potato chips and dill pickle spears. Yum!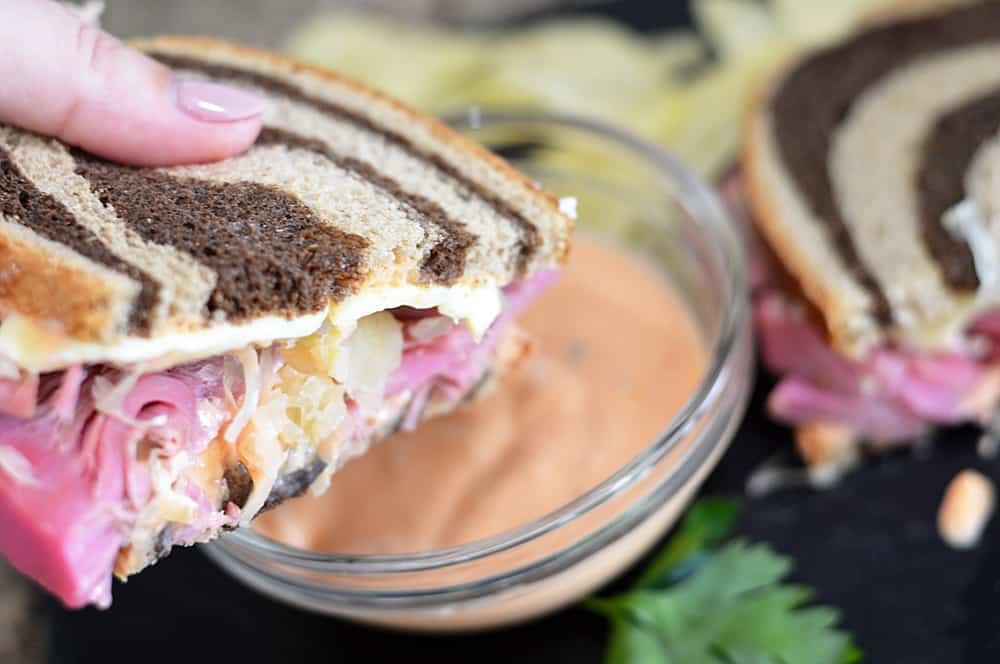 Did you make this recipe for VEGAN Corned Jackfruit Reuben on Rye With Sauerkraut and Swiss? Leave me a comment below and let me know what you thought!
And if you enjoyed this recipe, why not PIN IT FOR LATER! 🙂

VEGAN Corned Jackfruit Reuben on Rye With Sauerkraut and Swiss
VEGAN Corned Jackfruit Reuben on Rye With Sauerkraut and Swiss
Ingredients
FOR THE PICKLING SPICE MIXTURE:
2

Dried Bay Leaves

crushed

2

tbsp

Whole Mustard Seeds

yellow or brown

2

tbsp

Whole Coriander Seeds

1

tbsp

Whole Mixed Peppercorns

2

Whole Cloves

optional

2

tsp

Dill Seeds

1

tsp

Red Pepper Flakes

1

tsp

Caraway Seeds
FOR THE JACKFRUIT:
2

20 oz.

Cans of Jackfruit in WATER

drained

All of the liquid from 1 CAN of beets

save the beets for another time
ADDITIONAL INGREDIENTS:
Deli Swirl

or any other Rye Bread

Vegan Swiss-Style Cheese Slices

I like the CHAO brand

1

can

Sauerkraut
THOUSAND ISLAND DRESSING:
1 1/2

c

Vegan Mayonnaise

1/2

c

Vegan Ketchup

1

tsp

Apple Cider Vinegar

1 1/2

tbsp

Onion

finely minced (or grated)

3 to 4

tbsp

Sweet Pickle Relish

or finely chopped pickles

1

tsp

Salt

1/2

tsp

Black Pepper

1

tsp

Minced Pimientos

optional, but they give a great flavor
Instructions
TO MAKE THE MARINATED JACKFRUIT:
Combine the pickling spices (you can use a prepared blend, but beware! It has a lot of cinnamon, allspice and cloves which I wasn't a fan of).

Drain a can of beets, reserving the liquid to add to your pickling spices. I recommend using a glass (stain-proof) covered dish for this step. You can enjoy the beets for another meal 🙂

Add the drained jackfruit that you have sliced. Most brands of jackfruit come in triangular shapes. I took a sharp knife and made 3 thinner triangles out of each. Marinate for several hours, better if overnight.

Remove the slices from the marinade and place into a non-stick skillet over medium high heat and cook just until they start to show signs of browning. Most of the residual liquid should also be gone at this time.
TO MAKE THE THOUSAND ISLAND DRESSING:
Whisk together all of the ingredients for the Thousand Island Dressing. Taste for seasoning and adjust flavors as needed.
TO MAKE THE SAUERKRAUT:
All that needs to be done for the sauerkraut is to drain it.
TO COMPLETE THE SANDWICH:
Slather each piece of rye bread with the Thousand Island Dressing, then add the vegan cheese slices. Top with the jackfruit slices and sauerkraut. More is definitely better here 🙂

Place the sandwich into a toaster oven (preferably) or you can also place into a non-stick skillet or even a panini press if you'd like. Serve with additional dressing, classic potato chips and dill pickle spears. Enjoy!