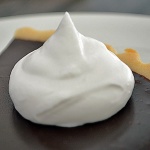 Print
Coconut Whipped Cream {Vegan}
Dairy-free whipped cream to top your favorite desserts!
Place a can of coconut cream in the back of the refrigerator overnight (better if you can do for a few days). Also chill the bowl of your mixer. Flip the can over and open from the bottom.

The liquid will now be at the top of the can. Pour off the liquid (don't throw it away! - save this for your smoothie). Place the stiffened cream that remains into the chilled bowl of an electric mixer fitted with the whisk attachment.

Whip until smooth. Add 3 Tbl of powdered sugar and 1 tsp of vanilla and continue to whip to incorporate air.

If you need to store any remaining whipped cream, It does tend to deflate a bit. Just whip it for a few minutes when you are ready to use again and voila!

Try serving with our

Chocolate Ganache Tart

.