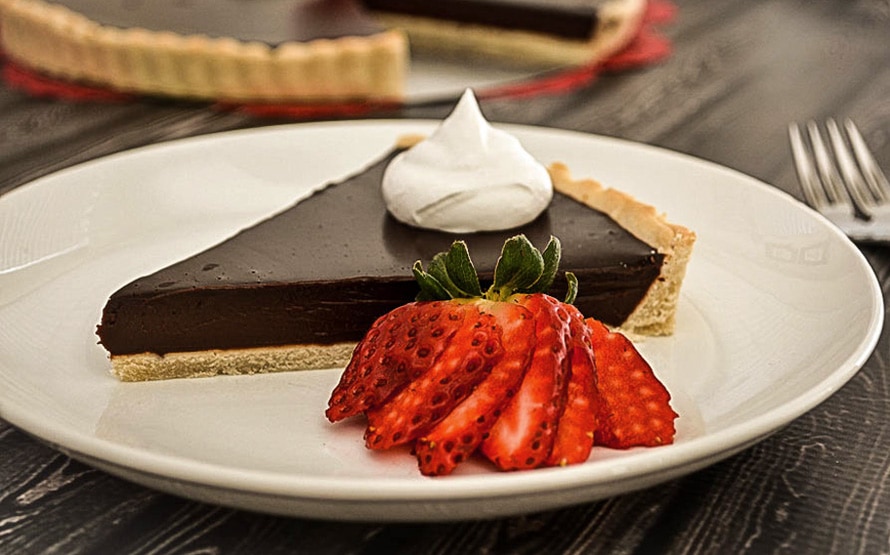 Chocolate Ganache Tart {Vegan}
Just in time for Valentine's Day, this decadent chocolate ganache tart with coconut whipped cream will not disappoint! Rich, creamy and oh-so-chocolately good 🙂
Ingredients
For the Tart Dough:

1/3

C

Powdered Sugar

7

Tbl vegan butter

such as Earth Balance

1-1/2

C

All-Purpose Flour

¼

C

Silken Tofu

1

Tbl Soy Creamer

Pinch

of Salt

*****

For the Chocolate Ganache:

1-3/4

C

Soy Creamer

1-1/4

C

Semi-Sweet Chocolate Chips

1

Tbl Sugar

Pinch

of Salt
Instructions
For the Tart Dough:

In the bowl of an electric mixer fitted with the paddle attachment, combine the sugar, salt and butter and blend until smooth. Add the tofu and blend until smooth. Add the flour and mix until you get a crumbly consistency. Add the cream and mix until the dough comes together. Remove the dough from the mixer and wrap the dough in plastic wrap.

Chill for 30 minutes. The dough will become easier to work with. If chilled longer than 30 minutes, let sit at room temperature to soften slightly before rolling.

Preheat the oven to 425 degrees.

On a floured surface, roll the dough into an 11" circle. Fit the dough into a 9" tart pan with a removable bottom.

Press the dough firmly into the bottom and sides. Trim any excess with a sharp knife. Using a fork, prick the dough all over.

Using parchment filled with pie weights, dried beans or just foil fitted snugly into the crust will prevent the dough from puffing up to much during baking and will help keep its shape.

Bake for about 8 minutes and remove the foil or filled parchment. Continue baking for another 6-8 minutes or until the dough is evenly dry and lightly browned. Cool completely.

For the Ganache Filling:

To make the chocolate ganache, put the cream in a medium saucepan. Bring just to a boil over moderate heat. Add the chocolate, sugar and salt to the cream and place over low heat.

Stir gently and almost constantly until the chocolate has melted and the mixture is smooth. This will only take a few minutes, and take care not to let the chocolate get to hot; it should only feel warm to your finger. Set aside, off heat, for 10 minutes, stirring once or twice.

Pour the chocolate mixture into the cooled tart shell.

Refrigerate the tart for at least an hour, but better if overnight, until set. The filling will still be soft, not firm.