I have been a lonnnng search for a veggie burger that I actually like.  One that holds together, has the correct texture and tastes delicious.  Well, my friends…I have finally found that veggie burger and I think you'll love it too!  The best part is that it contains only 3 ingredients.  Yep, just three.  How can that be, you ask?  We have the red beans (in this case, kidney beans), the moisture coming from prepared salsa that has been drained of its liquid and finally, the binder.  A vegan-friendly corn muffin mix.  These 3 Ingredient Red Bean Burgers are literally the best tasting burgers I have found to date!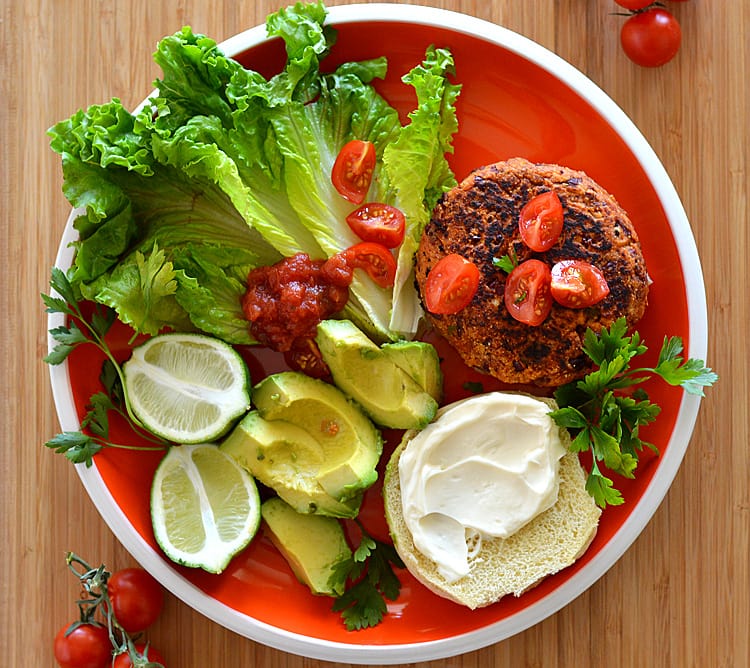 I chose a mild salsa and it's important to drain the salsa of all liquid.  The salsa gives these burgers both the moisture content and their flavor.  If you'd like, feel free to make this a 5 ingredient burger by adding spices such as chili powder, garlic powder, etc.  When I originally spotted a similar recipe, in a Better Homes & Gardens magazine I think, it definitely caught my eye. That recipe used black beans and a few more ingredients.  I found it super flavorful as is.
I used a cookie cutter to form the patties right in the saute pan using the back of a spoon to make them even.  I used just one Tablespoon to pan fry all four patties.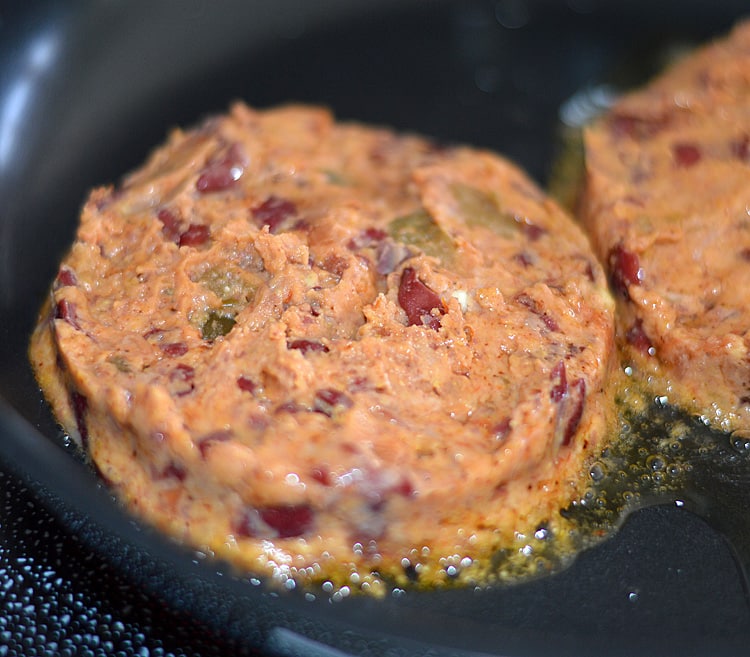 Serve with your favorite hamburger-style rolls, a smear of vegan mayonnaise and slices of avocado (don't skip these two ingredients, the avocado-mayonnaise component really added so much to the recipe).  I also served baby romaine leaves and cherry tomatoes on the side.  Be sure to top with the remaining salsa and a garnish of parsley.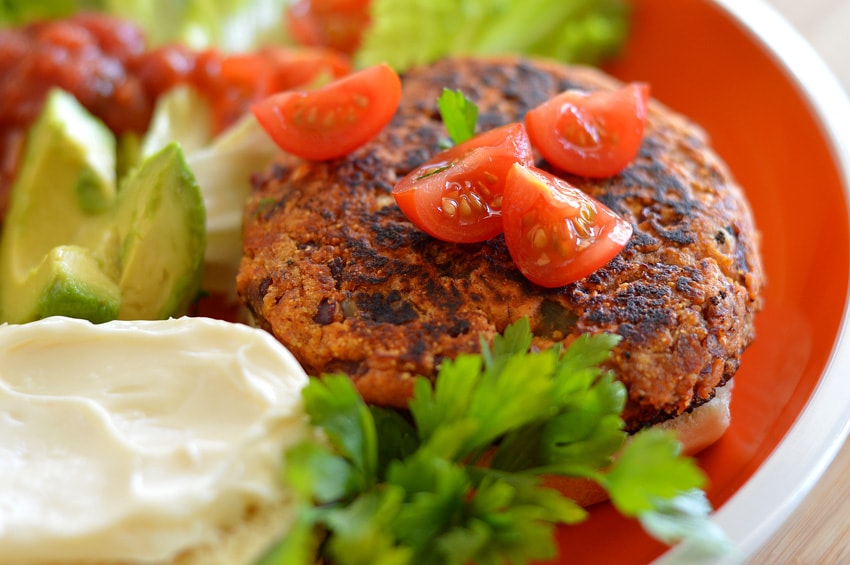 This recipe makes 4 traditionally sized burgers but can easily be doubled.  You could also prepare the burgers and freeze between layers of parchment and placing in a heavy duty plastic freezer bag.
Want to send the flavor over the top?  Add a squeeze of fresh lime juice.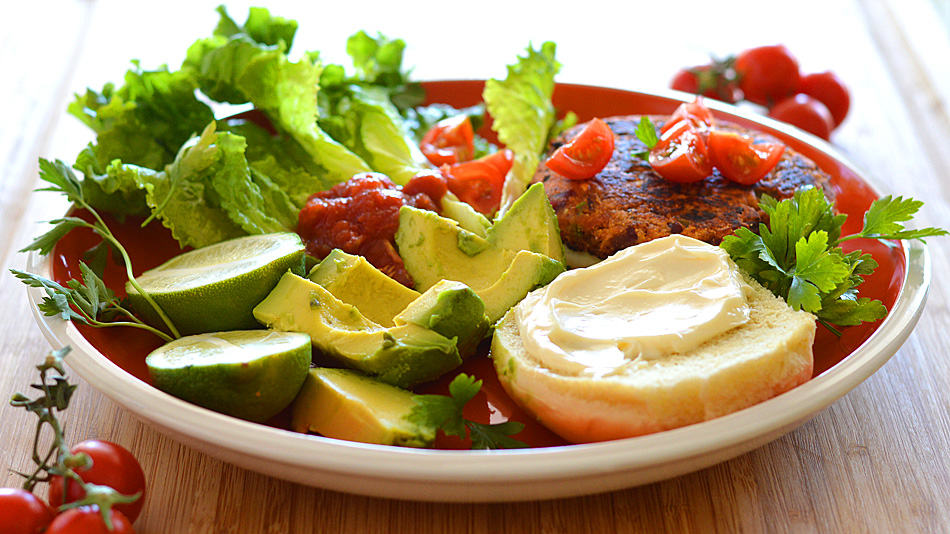 If you make this recipe for 3 Ingredient Red Bean Burgers, snap a pic and tag me on Instagram @theveglife1  I always love to see what you come up with 🙂
Vegan Red Bean Burgers
Ingredients
3/4

C

Prepared Salsa divided - 1/4 C for the bean mixture

all liquid drained off, the rest for topping

1 15

oz

. can of Red Kidney Beans

rinsed and drained

4

oz

. Corn Muffin Mix

I like this vegetarian one: http://www.jiffymix.com/product.php/34

OPTIONAL ADD-IN'S: 1-1/2 tsp Chili Powder

dash of Garlic Powder and/or diced Jalapenos

1

Tbl Oil

*

FOR SERVING:

4

Hamburger Rolls

Vegan Mayonnaise

1 Tbl per Roll

2

Avocados

4

Small Limes

Baby Romaine Lettuce Leaves

Cherry Tomatoes

diced
Instructions
Begin by draining and rinsing one can of kidney beans. Using a fork or potato masher, mash the beans. It's ok if there are a few whole or partial beans in this mixture. It just adds to the final texture.

In a separate bowl, drain all of the liquid from the jar of prepared salsa. Divide and reserve 1/4 C for the burger mixture and the rest for serving.

Add 1/4 C to the mashed kidney beans as well as the cornmeal. I easily found a vegetarian corn muffin mix by Jiffy in my grocery store. You could also make your own mix if you'd prefer.

If you'd like to add any of the optional ingredients, do so now. Mix until well blended.

Heat a saute pan over medium high heat and add 1-1/2 tsp of oil, cooking two patties at a time. Do not overcrowd the pan and keep and eye on them so they don't get too brown or burn.

All that's left to do is assemble and enjoy!