Boxty (bacstaí in Irish) are traditional Irish potato pancakes.  Translated, it's "poor man's bread".  Made with both cooked mashed and raw grated potatoes.  Think somewhere between a pancake and a hash brown. Fried in butter on either a griddle or saute pan, my take on this dish is served atop rainbow chard with a side of caramelized onions and a mustard-based dipping sauce.
Boxty has inspired several amusing folk rhymes, such as this one:
Boxty on the griddle,
Boxty on the pan,
If you don't eat boxty,
You'll never get a man.
I'm not sure you can quite take this to heart 🙂 but I do agree that you really should give Boxty a try.  While maybe not quite how it was traditionally served, the savory potato with the sweet caramelized onions and tangy sauce are an AMAZING combination.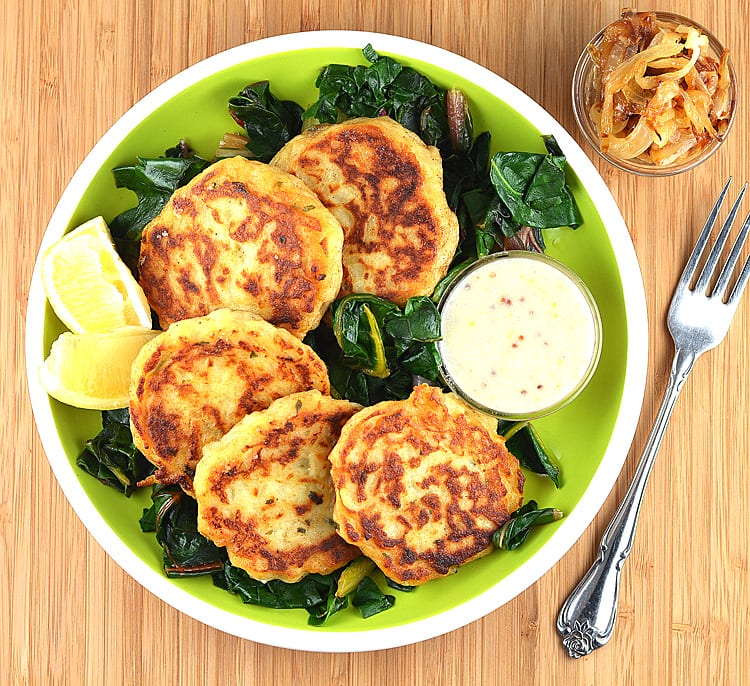 I began with peeling 3 large Russet potatoes.  2 will be used to make the mashed potatoes and 1 raw potato will be grated.
For the mashed potatoes, dice the two potatoes into evenly sized pieces.  I like to steam them because it leaves the potatoes drier.  Once cooked, mash together with a splash of almond milk and one Tablespoon of vegan margarine. You'll want to end up with 1-1/2 C total.  Add to a large bowl.
Grate the remaining raw potato on a box grater.  Using paper towels (or kitchen towel), wring out all of the moisture you can.  We'll need 1 C grated.  Add to the mashed potatoes along with the flax mixture, almond milk, scallions, flour, salt, pepper and baking powder.  Fold until well combined.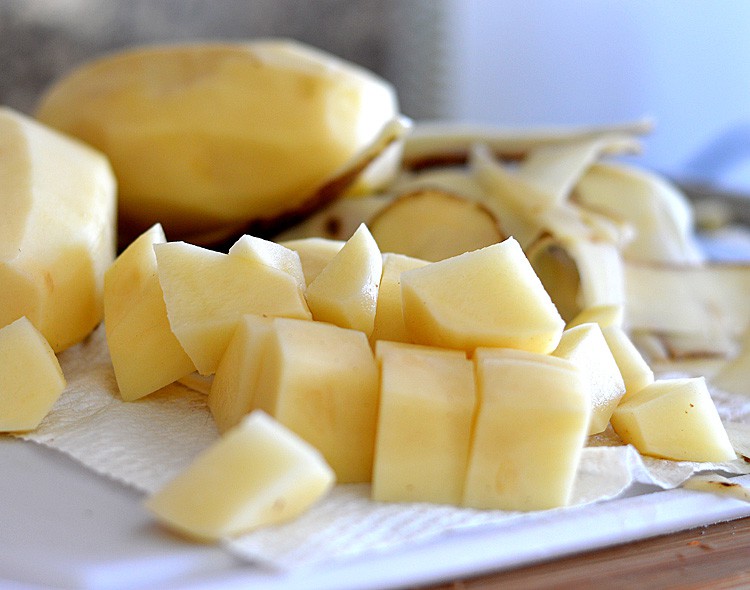 Meanwhile, in 1 Tbl of vegan margarine and 1 tsp of oil, saute sliced onions slowly until they are golden and caramelized.  We aren't looking for crispy, we want plump, tender onions that are very sweet.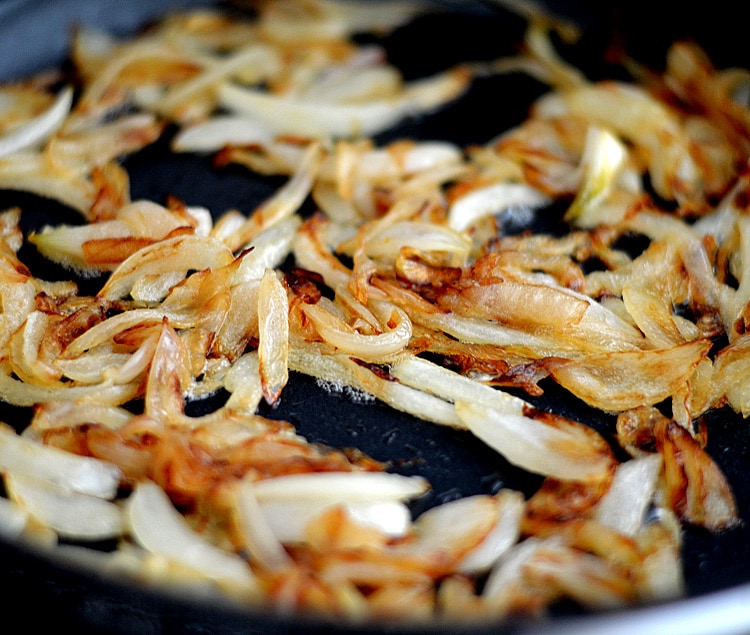 In a large saute pan (or on a griddle), add 1 Tbl of vegan margarine.  Using a cookie scoop, place mixture into melted margarine over medium-high heat.  Using a spoon, shape into pancakes.  It helps to dip the back of the spoon into the margarine first.  They don't have to be perfect.  Saute on the first side until golden brown.  They should be firm enough to flip.  Repeat on the second side.  I placed them on paper towels to drain any excess moisture.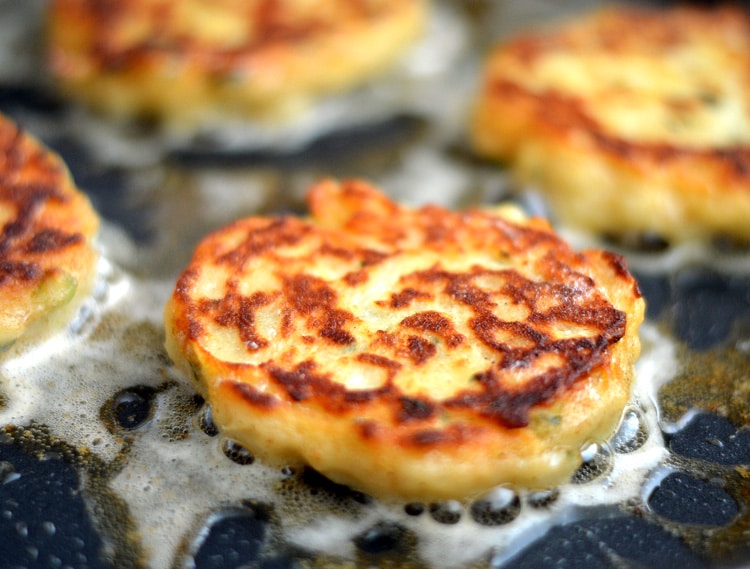 Just prior to serving, add about 2 Tbl of water to a saute pan on medium-high heat and quickly wilt the chard.  You can use any leafy green, whichever is your favorite.  I had never tried chard surprisingly, but it won me over.  Very similar to, but more delicate than spinach.  This rainbow chard also makes for a beautiful presentation.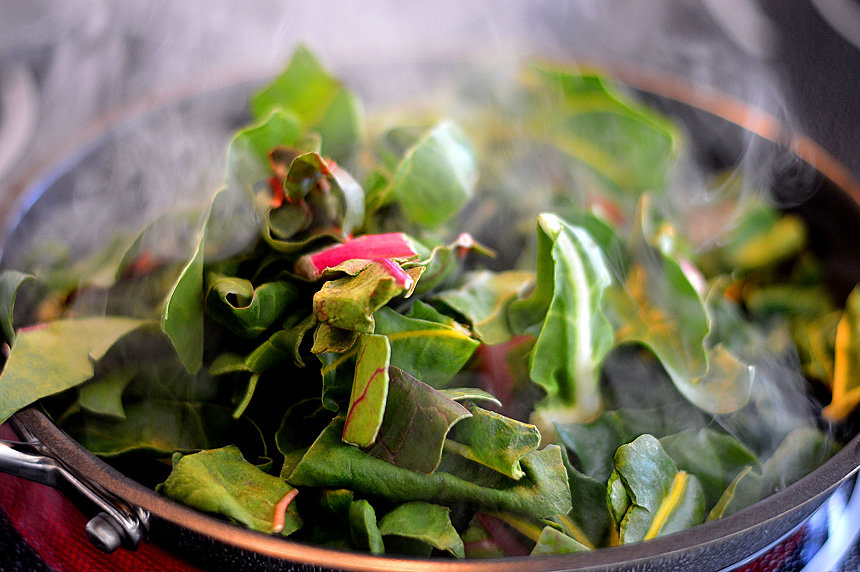 The sauce comes together quickly and if you've followed me for awhile, you'll recognize this one.  It's an old family recipe though we're not exactly sure where it came from.  Found on a tattered recipe card older than I am, this tangy vinegar-based mustard sauce is one of my all-time favorites. Try it on our Roasted Cabbage Steaks!
All of the ingredients for the sauce go into a small pan over medium heat just until slightly thickened.  I opted to add a tsp of grainy mustard after cooking to switch it up a bit.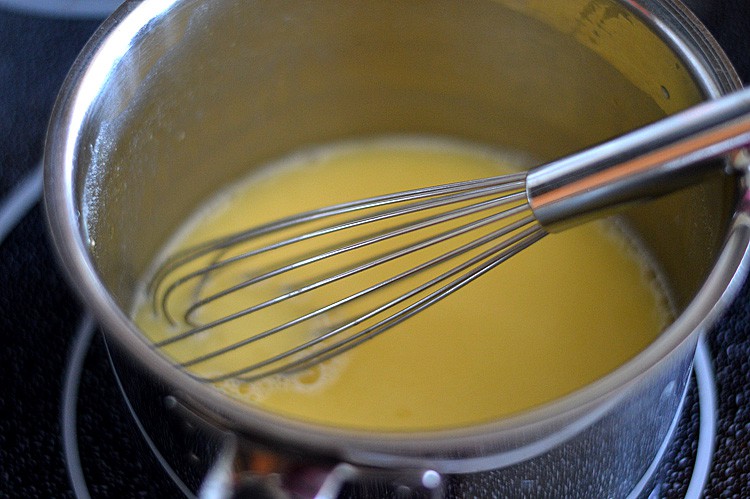 All that is left to do is plate up the Boxty!  I begin with the swiss chard, top with the Boxty and serve with individual servings of the caramelized onions and also the mustard sauce.  Garnish with wedges of lemon, if desired.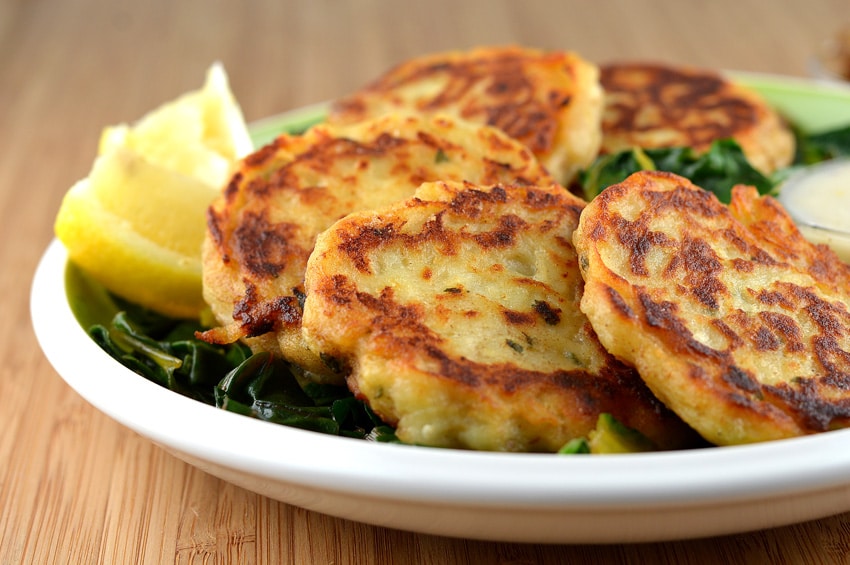 There are a few steps involved in making this dish, but I promise you will love these Irish potato pancakes!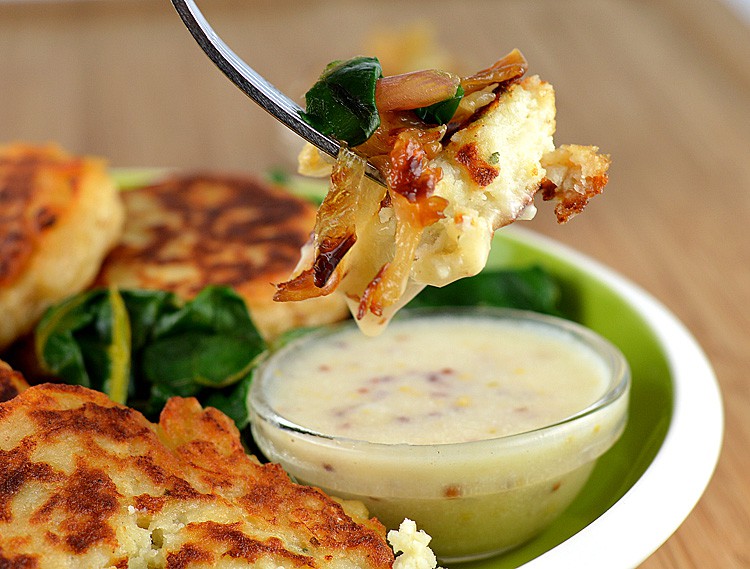 Irish Potato Pancakes a/k/a "Boxty"
Ingredients
FOR THE MASHED POTATOES:
2

large

Russet Potatoes

peeled, cubed and steamed

1/4

c

Almond Milk

1

tbsp

Vegan Margarine

Salt & Pepper

to taste
FOR THE GRATED POTATOES:
1

large

Russet Potato

measure 1 C after liquid has been removed, peeled and grated, squeeze the liquid out
FOR THE MUSTARD SAUCE:
1

Tbl Dry Mustard

1

tsp

Grainy Mustard

optional

1/2

C

Cold Water

1/2

C

White or Apple Cider Vinegar

1/4

c

Sugar

2

tbsp

Flour

Almond Milk

to thin, if necessary
TO MAKE THE BOXTY:
1

tbsp

Ground Flax plus 3 Tbl Water

allow to sit for 15 minutes

2

tbsp

Almond Milk

2

tbsp

Scallions

sliced

1/4

c

All Purpose Flour

1

tsp

Salt

1/8

tsp

Pepper

1

tsp

Baking Powder
ADDITIONAL INGREDIENTS:
1-2

Tbl Vegan Margarine

for pan-frying

2

large Onions

sliced and caramelized in 1 Tbl of Vegan Margarine + 1 tsp Oil

Swiss Chard

or other leafy greens, wilted in 2 Tbl of Water
Instructions
TO MAKE THE CARAMELIZED ONIONS: In a large saute pan, add the margarine and 1 tsp of oil. I find that adding both keeps the margarine from burning. Add the sliced onions and cook slowly over medium heat until golden and sweet.

TO MAKE THE MASHED POTATOES: Peel and evenly cube the potatoes. Steam potatoes until fork tender. Add almond milk, salt, pepper and vegan margarine mashing until smooth. Set aside. Measure 1-1/2 C (save any leftovers for later).

FOR THE GRATED POTATOES: Peel the potato and using a box grater, grate and place into a kitchen (or paper) towel. Squeeze as much liquid out as possible. Measure I C after this step.

TO COMPLETE THE BOXTY: Combine the mashed and grated potatoes along with the remaining ingredients. Working in batches, using a cookie or ice cream scoop, place even amounts into a fry pan or griddle with the butter over medium heat. Using a spoon, shape the batter into rounds. If you dip the spoon into the butter, it will keep the batter from trying to stick to the spoon. Allow the first side to cook until golden brown and the patty has firmed up enough to flip. Repeat on other side. Remove to paper towels to drain any excess moisture.

TO MAKE THE MUSTARD SAUCE: Combine all of the ingredients for the sauce in a small pan over medium heat, whisking to combine. The sauce will thicken as it cooks much like a gravy would. If it gets too thick, just add more almond milk and whisk to incorporate.

FOR THE SWISS CHARD: In a pan over medium-high heat, add 2 Tbl of water and saute until wilted.