These little gems graced my Easter table today!  Vegan Deviled Potatoes.  Yum! I remember even up until a few years ago, (when I was still eating deviled eggs), how I loved (and miss) that tangy filling.  I wanted to try and recreate those memories…but vegan style.
I used my family's recipe for potato salad to create this filling.  It is a simple mustard and (vegan) mayonnaise-base seasoned simply with salt, pepper and paprika.  You'll be scooping out some of the potato to make room for the filling and we'll be using that portion as the filling, mashed and combine with the mustard base.
Aren't they adorable?  And tasty too.  Definitely a hit and a recipe I will be making over and over.  So let's get started!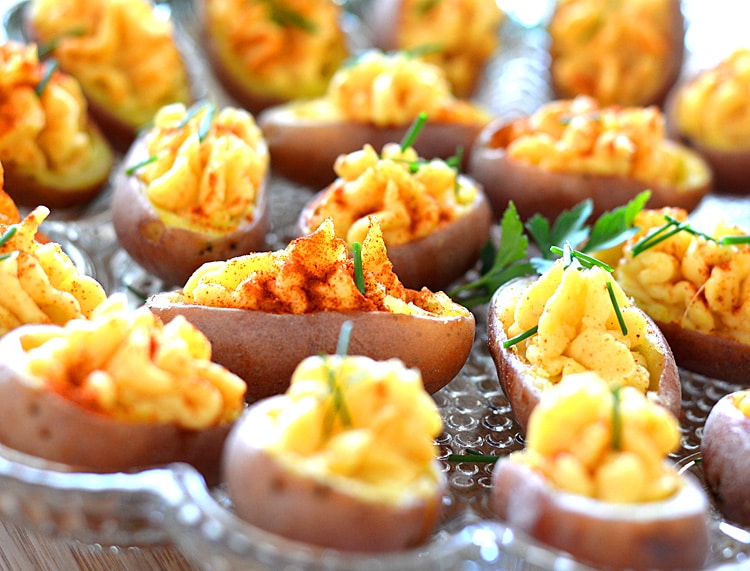 You can either use small baby red potatoes, or as I have here today, red fingerlings.  For the baby reds, simply halve them.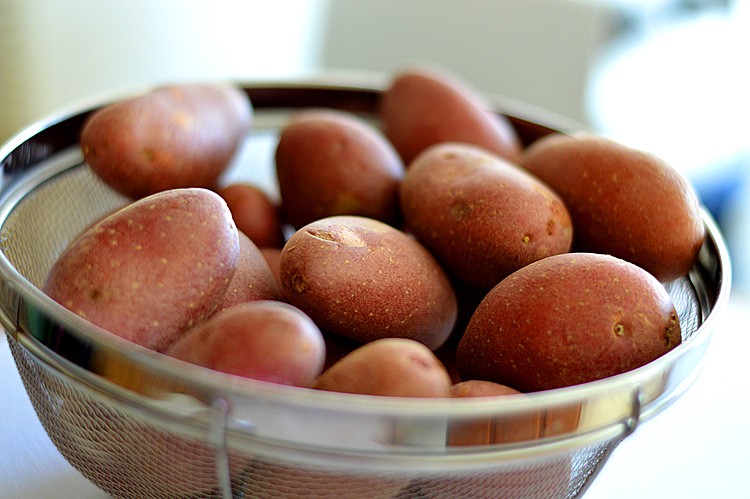 For the fingerlings, I sliced off a small amount and discarded that piece so as to keep that nice rounded shape.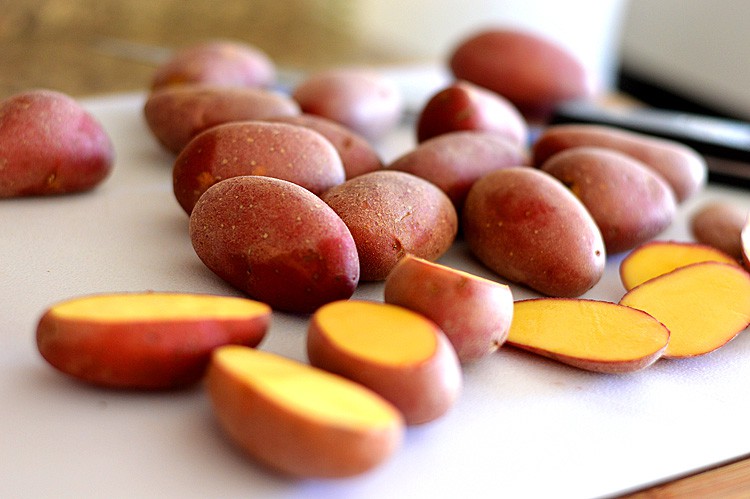 Months ago, I turned on the t.v. and it was tuned to HSN (which, by the way…I think I have watched exactly once). Ming Tsai, one of my favorite chefs, happened to be on selling his cookware where I found this large 13″ wok/steamer.  I had no clue at that time what I would use it for…but I couldn't resist.  I soooo love this thing!  It heats up really fast and steamed these potatoes to perfection.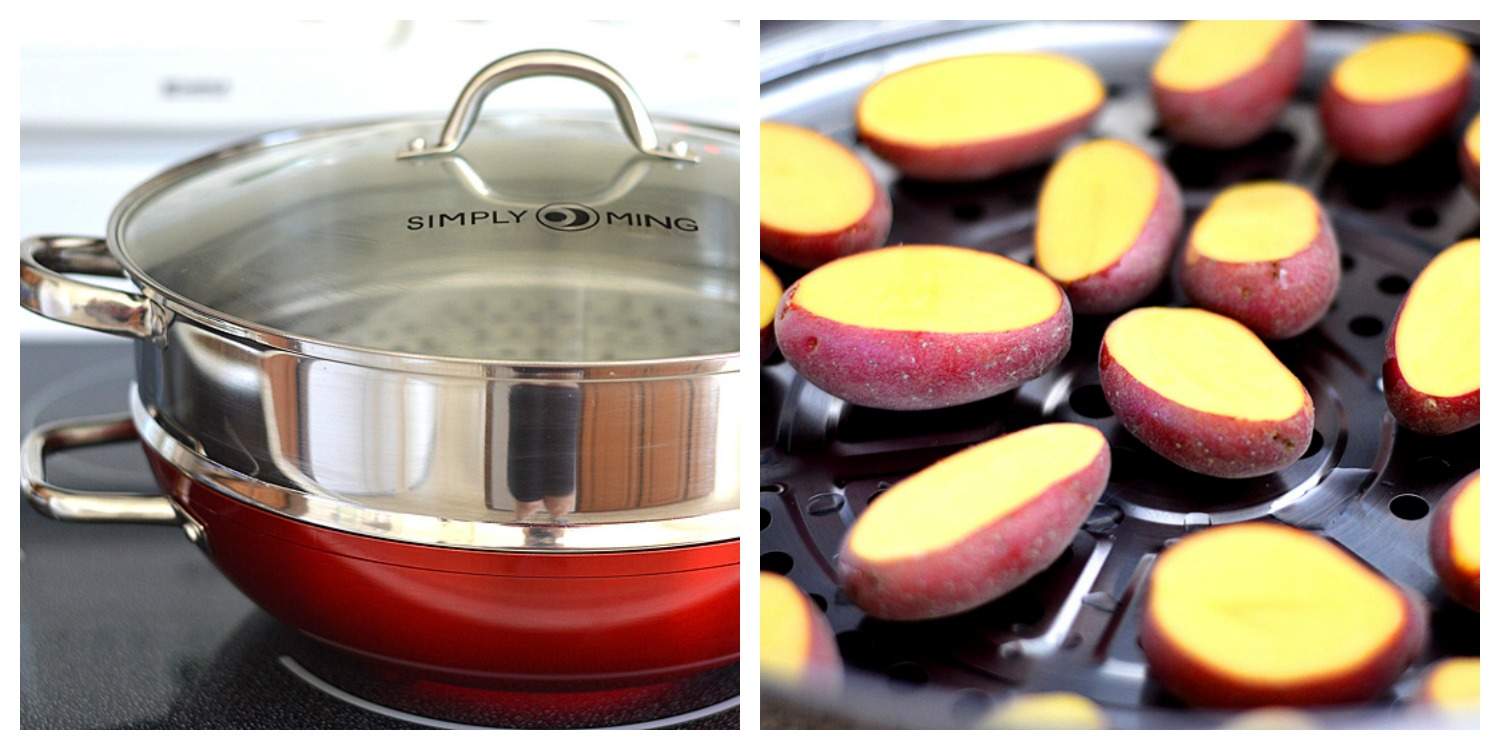 I used a small melon baller to scoop out some of the center of each potato.  Take care not to do too much or the potato will not be stable enough.
Take the scooped out potato and combine with the filling mixture and using a large star tip and disposable piping bag, pipe the mixture into each potato.
Top with paprika, chives and/or parsley.  Serve with a sprinkle of salt.  I like to warm these up a bit in the oven, but they are fantastic served room temperature as well.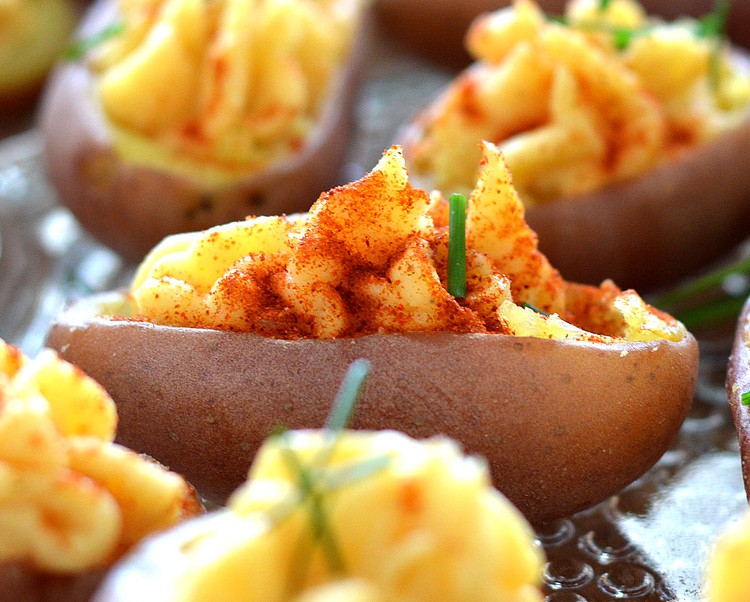 This glass egg platter has been in my family for YEARS and has also not been used in years.  How fun is this idea?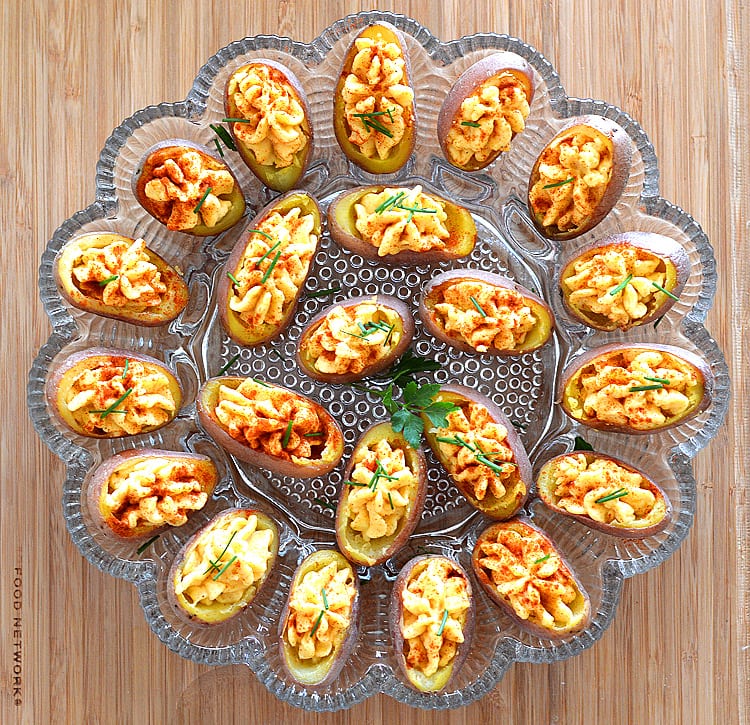 If you give these Vegan Deviled Potatoes a try, let me know what you think in the comment section below!  You can also tag me with your photos on Instagram @theveglife1  I always love seeing what you create.
And, if you enjoyed this recipe why not PIN IT FOR LATER! 🙂

Vegan Deviled Potatoes
Ingredients
About 12 Baby Red or Red Fingerling Potatoes

halved, steamed & centers scooped out

1/4

C

Vegan Mayonnaise

1

Tbl Yellow Mustard

Splash of Almond Milk if it's too thick to pipe

Salt and Pepper

to taste

1/4

tsp

Paprika

plus more for garnish

Chives or Parsley

for garnish
Instructions
Wash potatoes and halve. Place in a steamer and cook until a knife inserts easily

Allow to cool slightly. Using a small melon baller, scoop out the center of each potato and place into a bowl and mash.

In a small bowl, combine mustard, vegan mayo, salt, pepper and paprika. Add the mashed potatoes and if it's too thick, add a small splash of almond milk to loosen slightly.

Using a large star tip and disposable piping bag, pipe the mixture into the hollowed out potatoes.

Top with a sprinkle of paprika and chives. I like to add a smidge more salt just before eating.

Serve room temperature, or you can warm in the oven.