My latest pumpkin recipe comes to you in the form of Vegan Pumpkin Beer Pretzels!  Of course, you can make these any time of year with any kind of beer your prefer.  The beer in the batter along with a baking soda bath are what's used to give these pretzels their rise.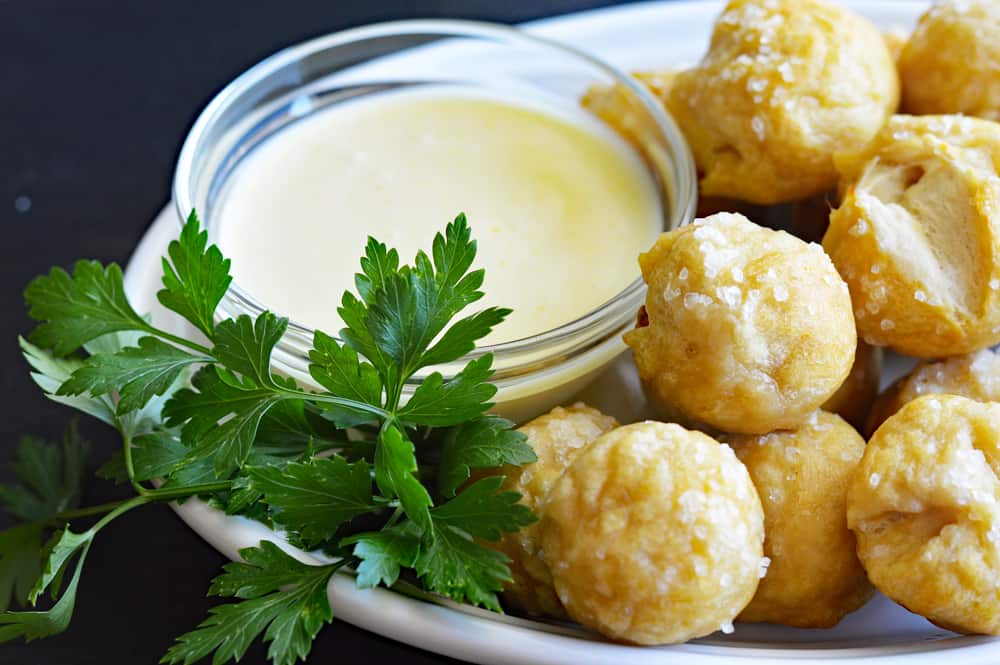 The dough comes together rather quickly.  But as with many yeast doughs, this one needs to rise for about an hour. Just place it in a lightly greased bowl, covered and let it double in size.
I just pat it into an even thickness on a lightly floured surface and cut into semi-equal sized pieces.  For each piece, I take and roll into a smooth round ball.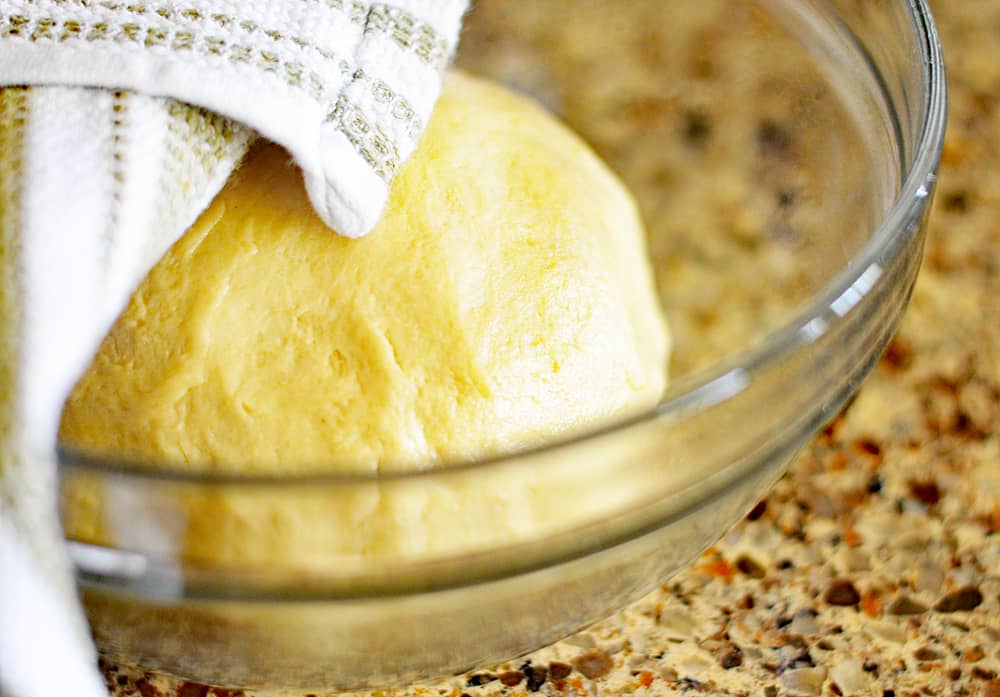 In a large pot of boiling water, you'll add baking soda.  This is the first part of the cooking process.  They'll puff up after about 30-45 seconds.  Remove with a spider or slotted spoon to a lined baking sheet.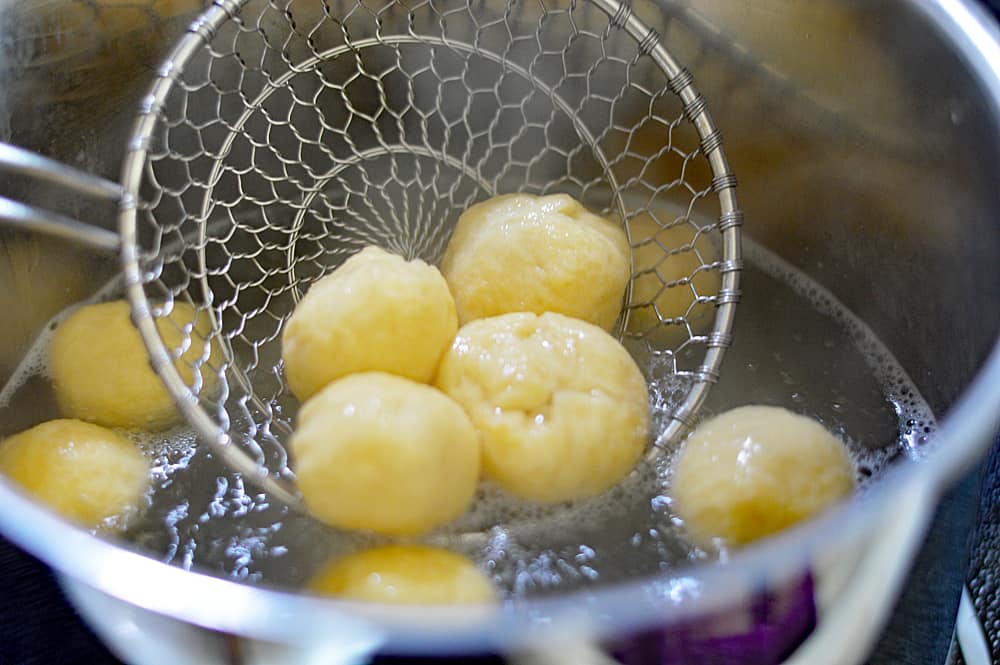 I allow them to dry just a bit before brushing with melted butter and sprinkling with some coarse salt.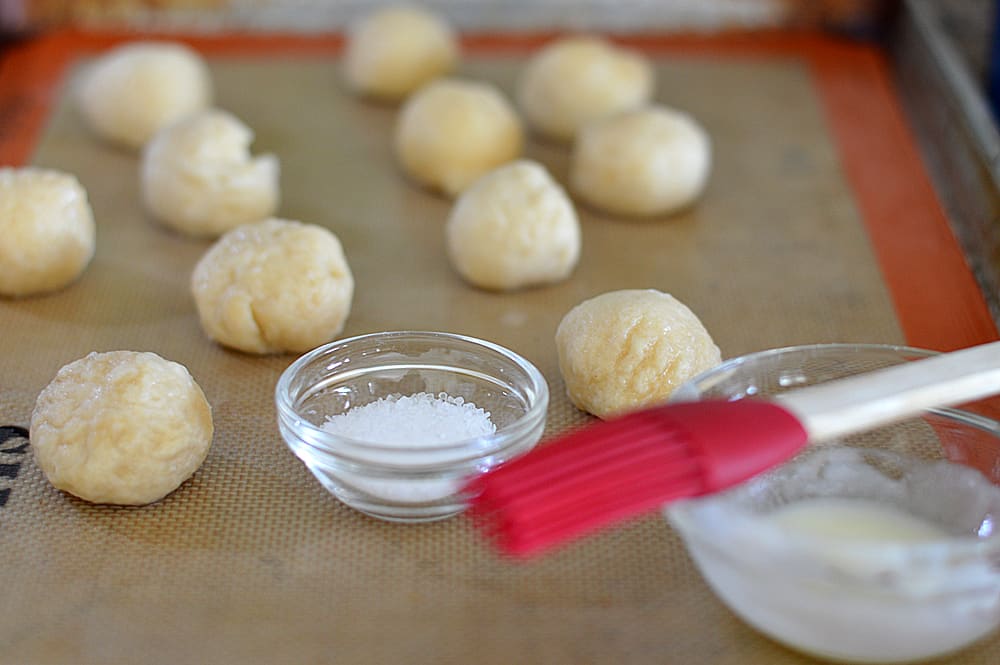 Finally, they get baked for about 15 minutes at 425 degrees until golden.  Keep an eye on the bottoms as they tend to get browned first!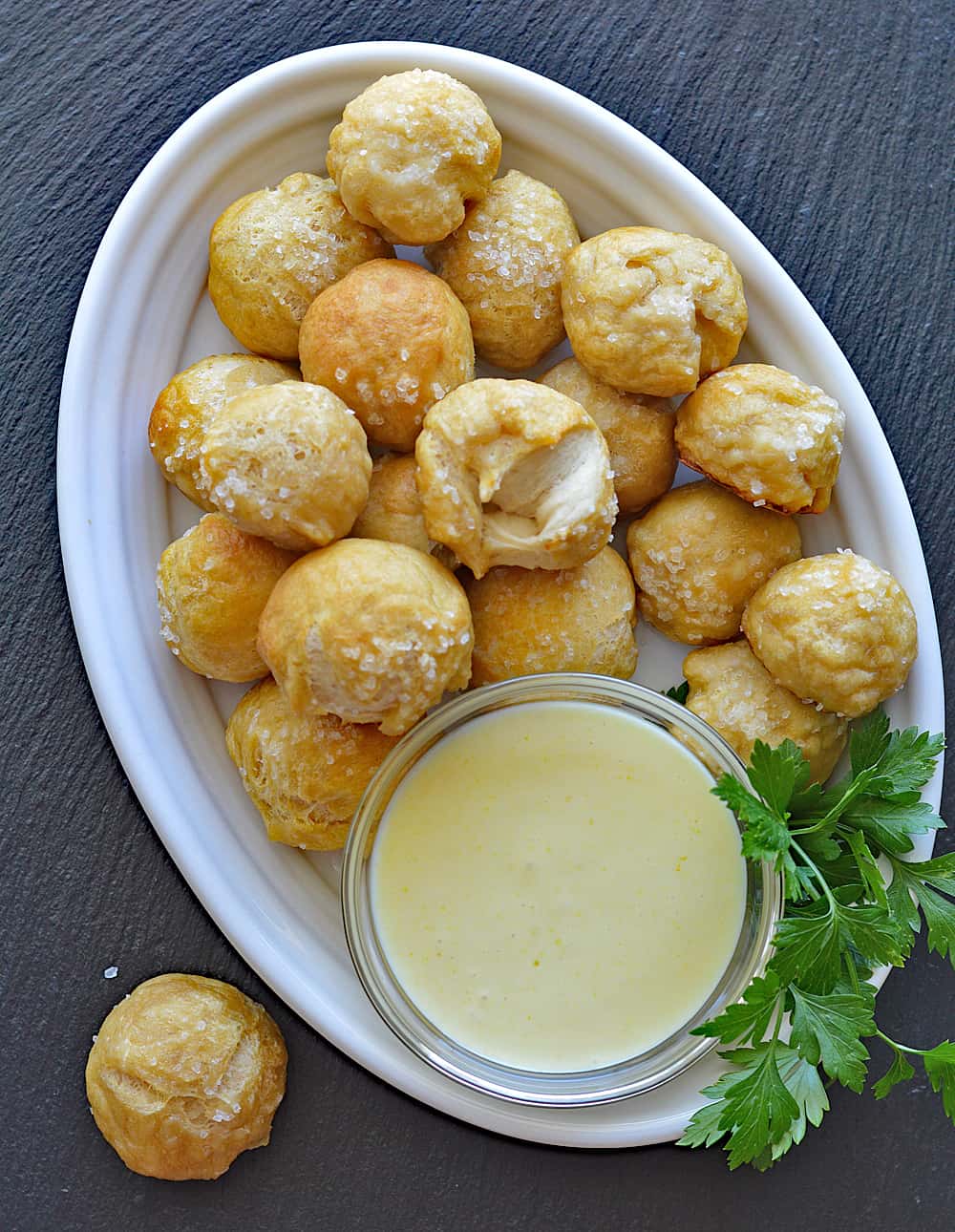 The dipping sauce is a vegan honey mustard made with this homemade Vegan Apple Honey.  You can get the honey recipe here.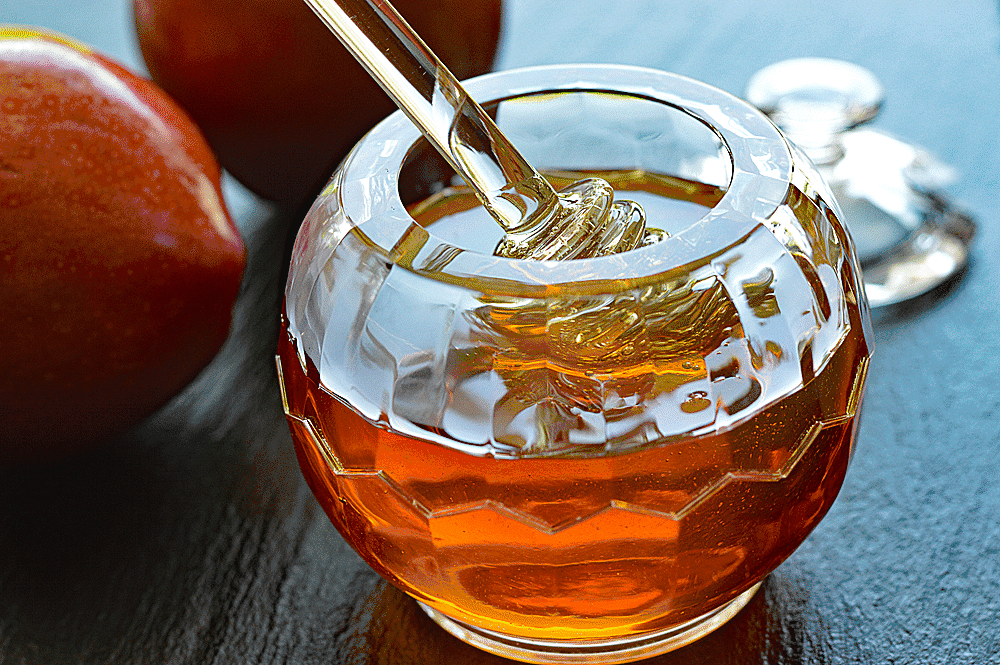 These are so good, I really hope you give them a try!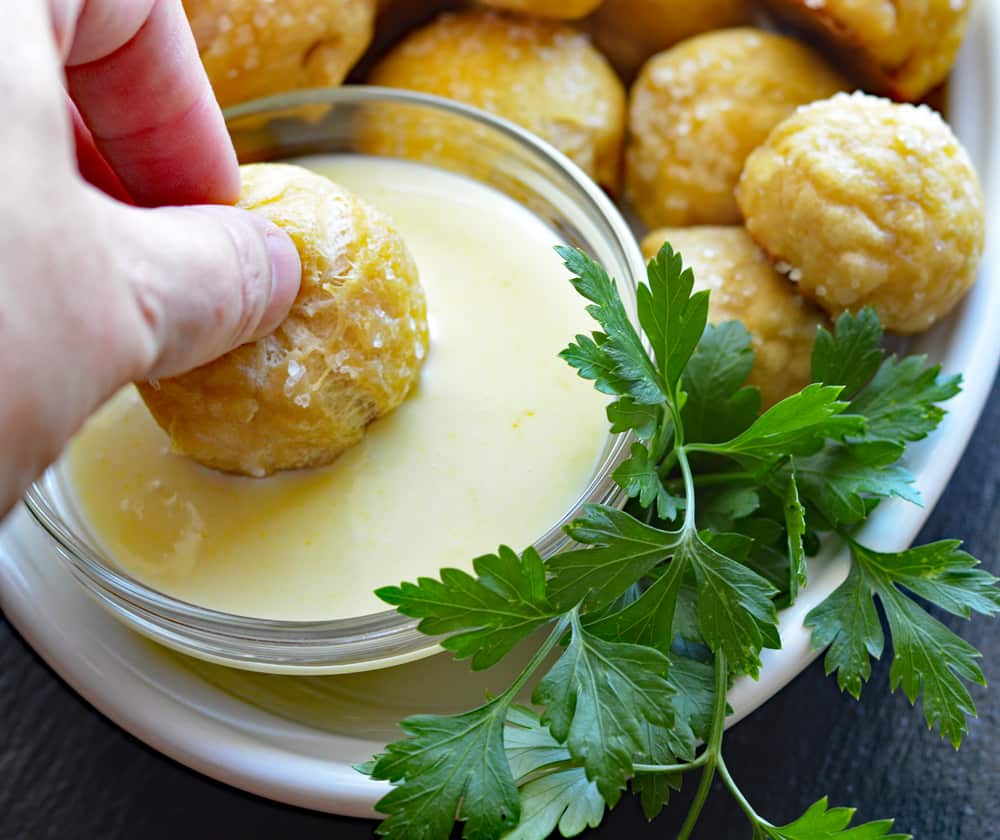 Did you make this recipe for Vegan Pumpkin Beer Pretzels?  Leave me a comment below and let me know what you thought of them!
And if you enjoyed this recipe, why not PIN IT FOR LATER! 🙂

Vegan Pumpkin Beer Pretzels
Vegan Pumpkin Beer Pretzels
Ingredients
1/4

c

Warm Water

1

tbsp

Brown Sugar

1-1/8

tsp

Dry Yeast

1/2

c

Pumpkin Beer

check Barnivore.com to be sure yours is vegan

1/4

c

Melted Vegan Margarine

1/2

tsp

Salt

2-1/4

c

Flour
FOR BOILING THE PRETZELS:
Large pot of boiling water

1/4

c

Baking Soda
PRIOR TO BAKING:
1

tbsp

Melted Vegan Margarine

for brushing prior to baking the pretzels

Coarse Salt

pretzel salt if you can find it
FOR THE VEGAN APPLE HONEY MUSTARD DIPPING SAUCE:
1/4

c

Vegan Apple Honey (link in post)

plus more to taste

3

tbsp

Vinegar

1/4

c

Vegan Mayonnaise

1/4

c

Vegan Sour Cream

1

tbsp

Yellow Mustard
Instructions
In the bowl of an electric mixer, add the water, brown sugar and yeast mixing until combined. Let sit for 5 minutes.


Add the pumpkin beer, melted vegan margarine, salt and flour and mix on low speed until incorporated.

Continue kneading on medium speed until the dough is smooth and begins to pull away from the sides of the bowl, about 3 to 4 minutes. NOTE: If the dough appears too wet, add additional flour, 1 tablespoon at a time. I ended up needing about 3 more tablespoons.


Remove the dough from the bowl, place on a lightly floured surface and knead into a ball with your hands a few times.


Spray a large bowl with cooking spray, add the dough and turn to coat. Cover with a clean towel and place in a warm spot until the dough doubles in size. About an hour.


Preheat the oven to 425 degrees F. Bring a large pot of water to a boil.

Divide the dough into 8 equal pieces. Roll each piece into a long rope and cut into about 1" pieces. You can make them larger if you like, or even form them into traditional pretzel shapes.

Slowly add the baking soda to the boiling water. Boil the pretzels in the water solution, a few at a time for 30 seconds, tossing so that all sides are boiled.


Remove with a slotted spoon or spider. Place on a lined baking sheet and after they dry for a minute or so, brush the tops with the melted vegan margarine and season with salt.


Bake for 10 to 15 minutes or until pretzels are golden brown.

Combine all of the ingredients for the Vegan Apple Honey Mustard Dipping Sauce.