Did you know that many frozen puff pastry sheets are accidentally vegan?  I used Pepperidge Farm, but there are others on the market as well.
I had dozens of leftover cherry tomatoes and this was the perfect, simple and oh-so-elegant end of summer meal!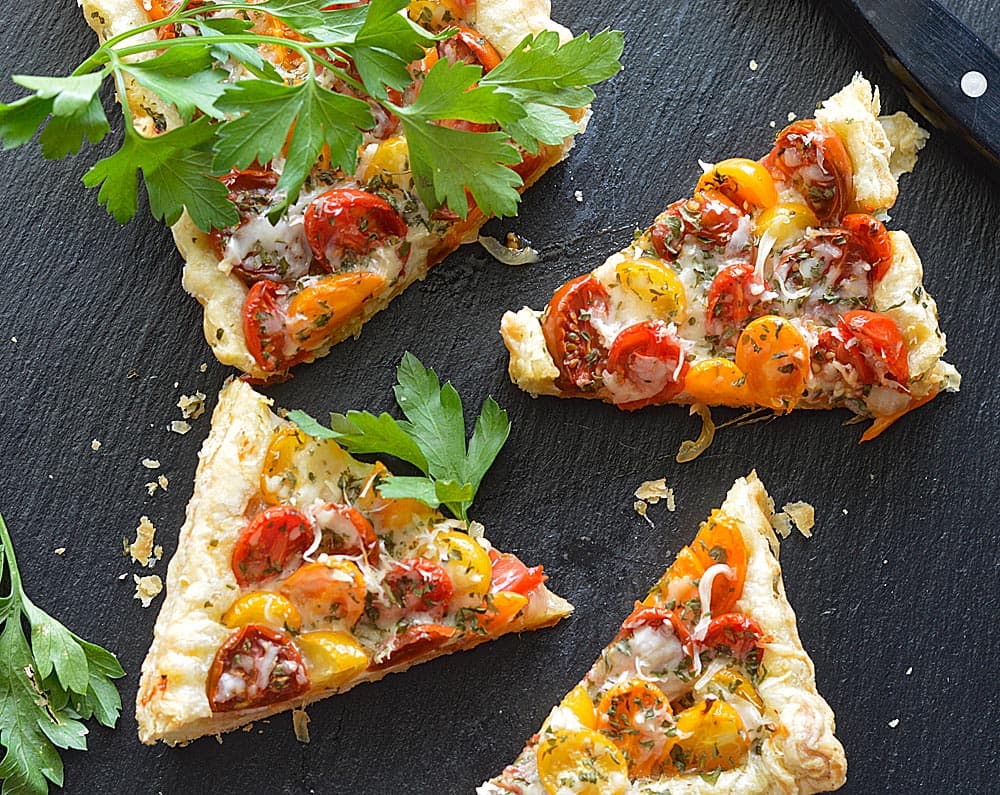 Since I am using this rectangular tart pan (linked down below), I had to fit the thawed sheets and pinch them together.  You'll also want to dock (or prick) the dough with a form on the bottom so that it doesn't puff up. Otherwise, you wouldn't have room for your filling. Then, it gets par-baked until golden.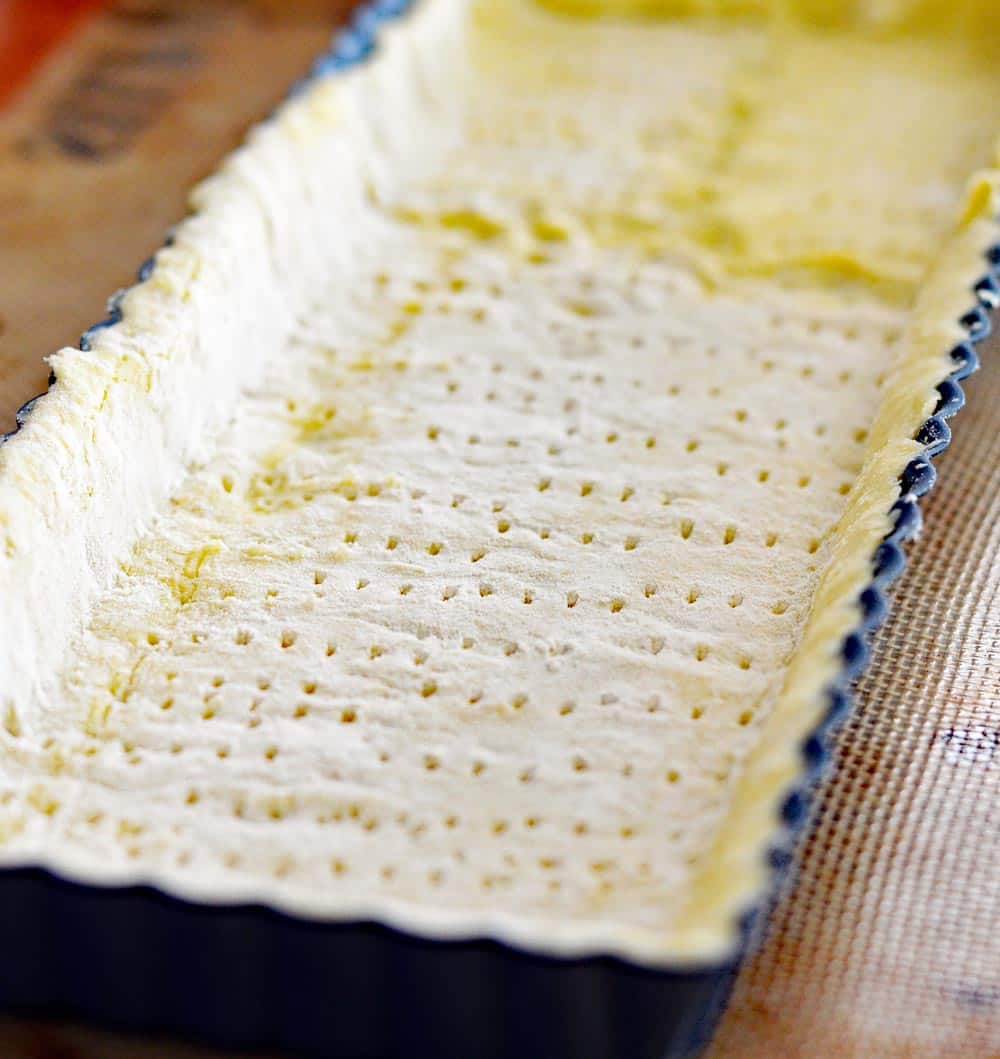 While that's baking, I saute onions until they are sweet and caramelized.  I could eat these like candy right out of the pan!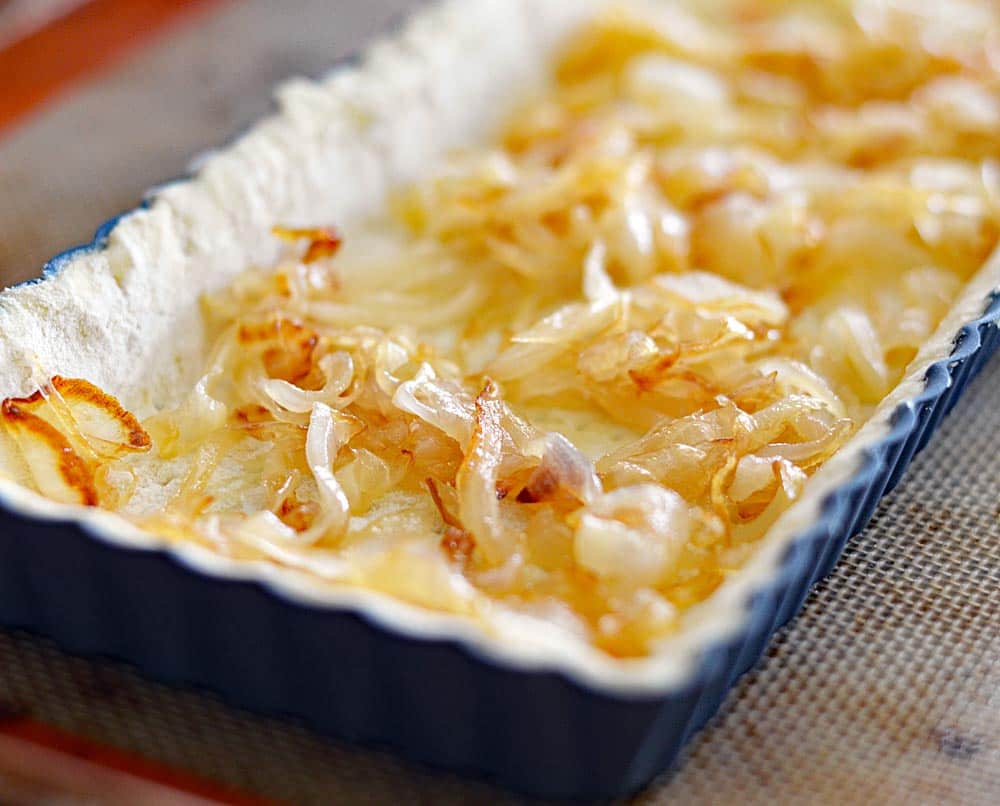 So let's talk about vegan cheese for a moment.  I generally am not a fan.  However, I recently did a review on my sister site, Living Vegan about CHAO Cheese from Field Roast.  To date, this is the only one I consume.
To turn the slices into shreds, I stack them all up and grate them on a box grater.  They need to be reallllly cold for this step.  Half of the cheese goes under the tomatoes and the rest, on top.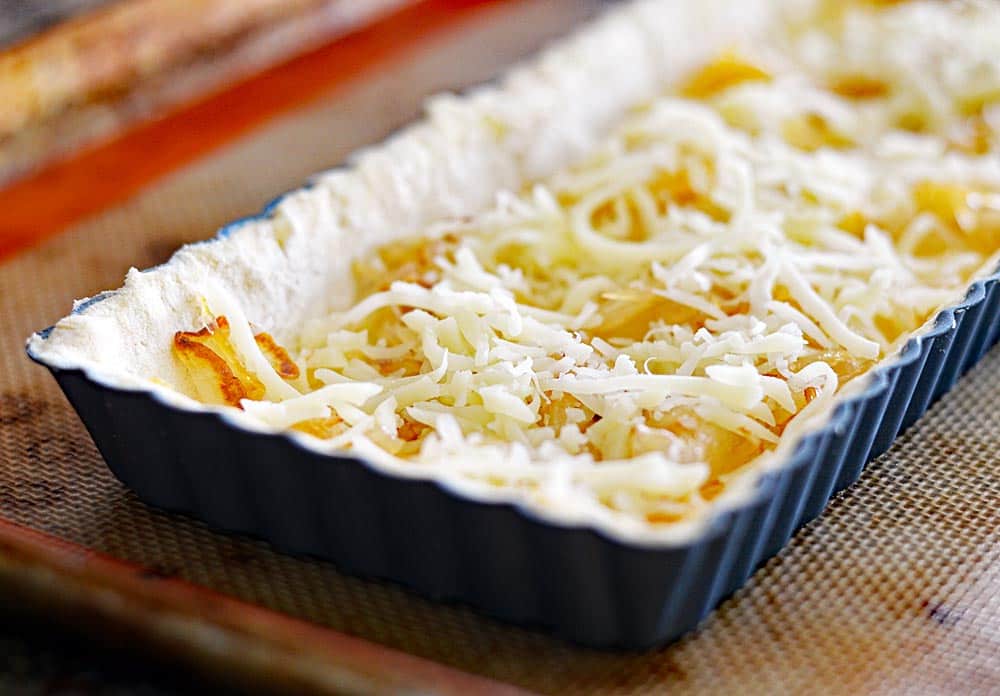 These little tomatoes were so stunningly beautiful and really flavorful (kind of a rarity in Arizona).  I simply sliced them in half and then layered them over the onions and cheese.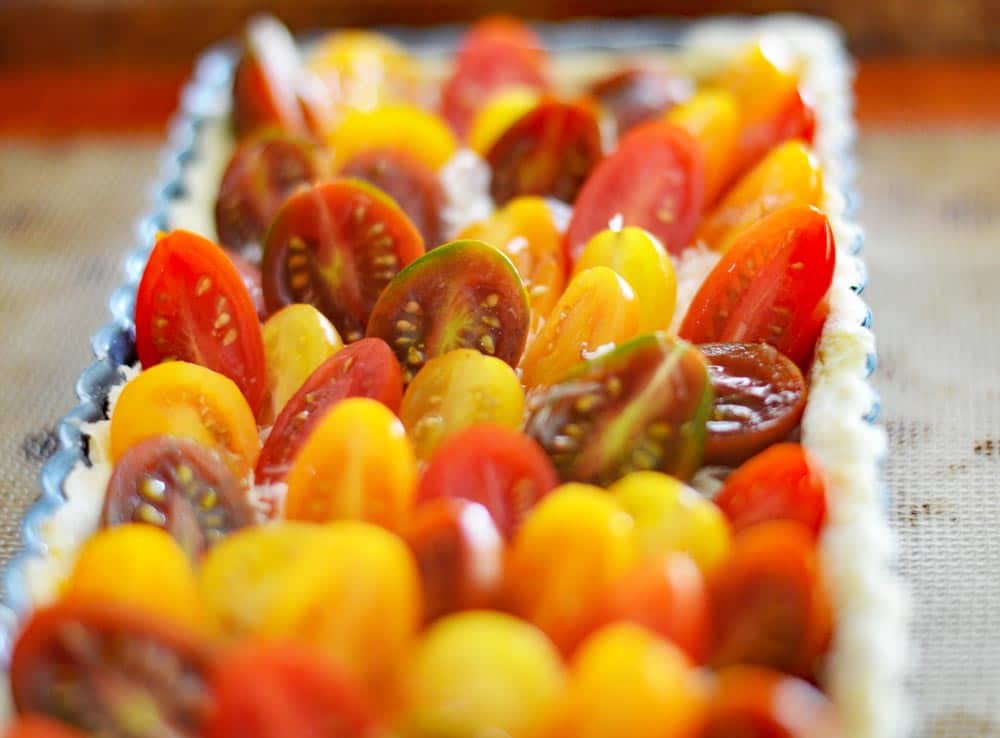 Next up, the rest of the shredded cheese.  I also add a bit of vegan parmesan at this point.  Lastly, the herbs and parsley.  Bake until puffed and golden.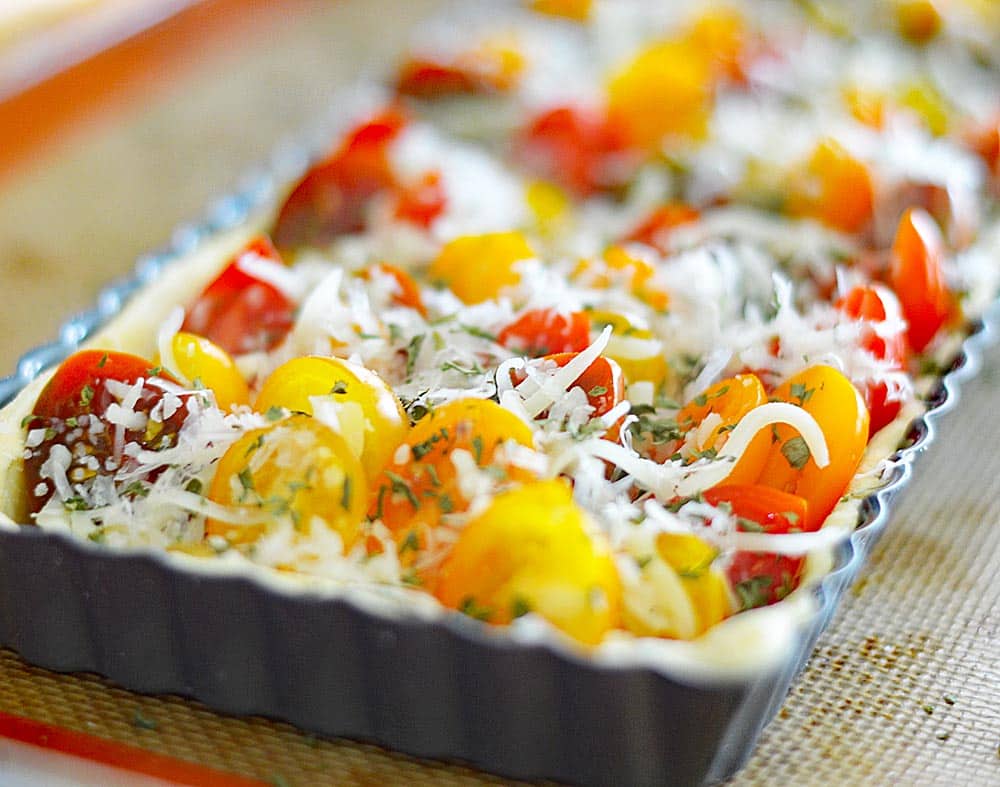 Isn't it pretty?  It looks like you spent a ton of time creating this masterpiece, but it's so easy.  This would be a great tart to serve to guests.
Use a sharp serrated knife to slice into triangles.  You should get about 8 nice sized wedges from this recipe.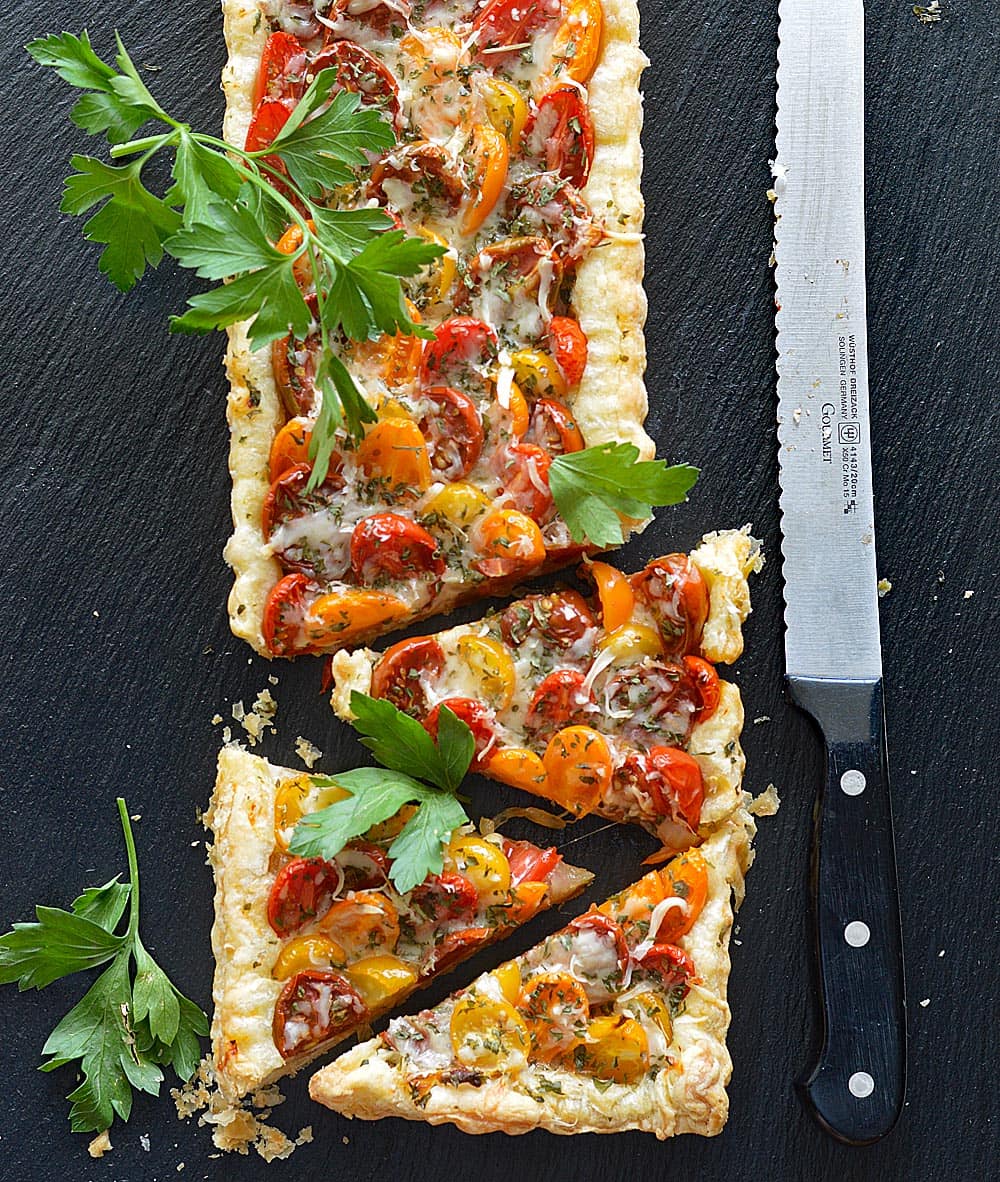 Did you make this recipe for Vegan Tomato & Caramelized Onion Puff Pastry Tart?  Let me know in the comments section below.
*Some of the links on this page are affiliate links.  Clicking on them does not affect your purchase price, it just means we get a very small percentage that assists in keeping The Veg Life! creating new recipes for you each week.
If you liked this recipe, PIN IT FOR LATER!

Vegan Tomato & Caramelized Onion Puff Pastry Tart
Vegan Tomato & Caramelized Onion Puff Pastry Tart
Ingredients
1

Tbsp

Vegan Margarine or Oil of your choosing

1

Large

Onion

halved and sliced thin

1

sheet

Puff Pastry

cut to fit pan if necessary

1

c

Vegan Provolone or Mozzarella Style Cheese

grated

2

tbsp

Grated Vegan Parmesan

2

c

Cherry Tomatoes

halved

Salt And Pepper

to taste

Additional Herbs and Chopped Parsley

to taste
Instructions
30 minutes prior to making this recipe, you should thaw the puff pastry sheet. Depending on the room temperature, this may take more or less time than this. It should not be allowed to get too warm.

Preheat the oven to 425 degrees.

Fit the puff pastry into your desired pan. A pan with a removable bottom such as this tart pan makes life easier, but it's not required. (Once baked the puff pastry should remove easily from the pan). Bake until puffed and pulling away from the sides of the pan.

Heat a skillet over medium heat. Add the butter/oil, onions, salt, and pepper and cook until the onions are golden and caramelized.

Arrange the onions evenly on top of the pastry. Follow with shredded cheese.

Arrange the halved tomatoes and top with the remaining shredded cheese and vegan parmesan, if desired.

If you'd like to add additional herbs and/or parsley, this is the time!

Bake until puffed and golden, about 30 minutes. This may take more or less time depending on your oven.

Remove the tart from the oven and allow it to sit for 5 minutes before cutting into triangles.

To reheat any leftovers, just place into the oven (I used a toaster oven).