This first in a new monthly series, it's time for the August 2016 IPSY Glam Bag Review and un-boxing!  Or should I say, un-bagging.  These little bags are one of my favorite aspects of this service.  As a little disclaimer, not all products in the IPSY bags may be vegan, but this month…they just happened to be!
If you are unfamiliar with Ipsy, they are a monthly subscription service offering beauty bags, just like this one.  5 beauty products are delivered to your door each month for $10 with free shipping.  When you sign up, you are asked a series of questions such as your skin tone which help the folks at IPSY to customize your bag.  Additionally, instead of a box, these beauty products come in a different little bag each month.  They are perfect to reuse for everyday or even travel.
The bags contain a range of products from skin care to high-end cosmetics.  It's the easiest way I know to learn about and experience products you may never have heard of before committing to purchase their full-size counterparts.   For me, it's all about getting that surprise each month in the mail.  I am a subscription addict!  The bag retails for just $10 (with free shipping in the U.S.).   You can learn more about IPSY here, but first … let's get into the review!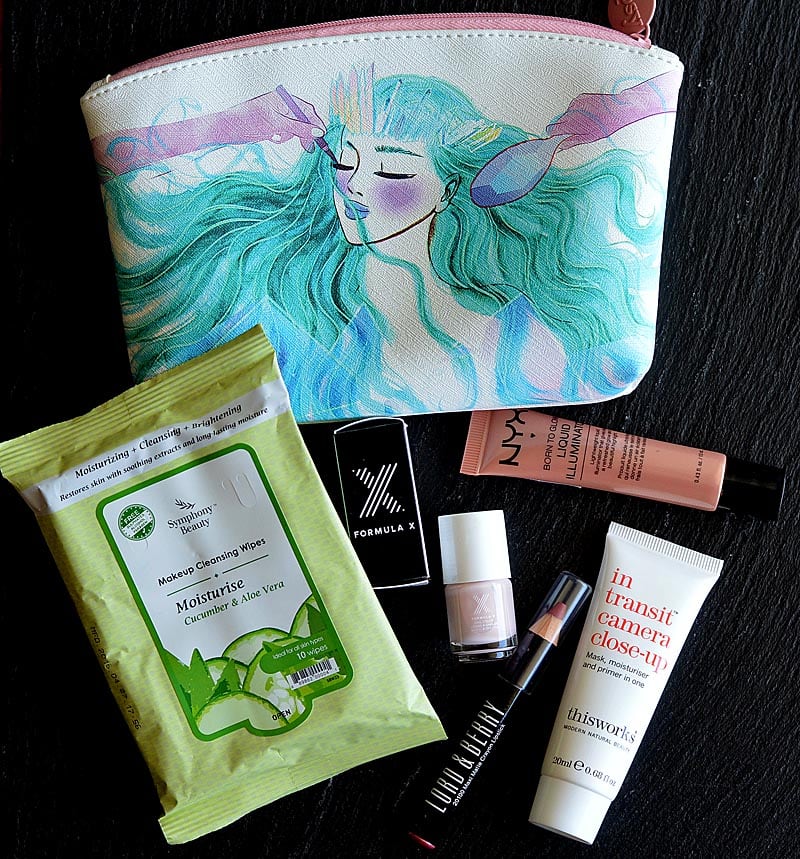 THE AUGUST 2016 IPSY GLAM BAG INCLUDED:
First of all, can we talk about this month's bag? Lovin' it! 🙂
Symphony Beauty Makeup Cleansing Wipes – These gentle facial wipes instantly cleanse, removing makeup and oil while they nourish and hydrate.  They also help unclog pores and clarify.  Soothing extracts deliver long-lasting moisture.  Sulfate-free. Alcohol-free. Paraben-free. Plus these little wipes smell A-M-A-Z-I-N-G!
This Works In Transit Camera Close-Up – This mask-moisturizer-and-primer-in-one instantly preps your skin for photo-perfect makeup. Evens, plumps and brightens skin instantly!
Lord & Berry 20100 Maximatte Crayon Lipstick in Intimacy – The subtle pink goes with absolutely everything. Our favorite shade for summer and fall.  I love this lipstick and it's incredibly moisturizing and softening on the lips.  It has a matte finish that won't dry out, so it's long-lasting.
FORMULA X Nailpolish in Dollface – This pretty baby pink is what I would call a neutral. This long-lasting formula is free of parabens, sulfates or phthalates.  Enriched with ShineXcel™—a luminescent ingredient that amps up the shine.
NYX Professional Makeup BORN TO GLOW LIQUID ILLUMINATOR in GLEAM – This lightweight formula blends into skin for a natural look.  A radiant look with minimal coverage. It's a pigmented golden peachy pearl shade that is perfect for summer!
OVERALL IMPRESSION:
I really loved this bag and was pleasantly surprised that everything in it was vegan-friendly.  As I mentioned above, this is not a vegan service per se, but I will detail which items aren't as I proceed with these monthly reviews.
If you are interested in learning more about the IPSY Bag , head on over there now to take a look & subscribe!  You will love unzipping these little bags just as much as I do.  There is no commitment and you can cancel at any time – though I don't think you will want to! 🙂
*Post contains affiliate links.