Why have plain oatmeal when you can have this fun and delicious twist on a breakfast favorite?
Our Cranberry Oatmeal takes on that soft burgundy color as well as the sweet, tart flavor.  If cranberries aren't in season when you want to make this, you can always substitute frozen.  The method for this recipe would accommodate most fruit, including blueberries.
Cinnamon, ginger, brown sugar and vanilla provide warmth and depth of flavor.  Top with roasted walnuts and a few fresh cranberries.  You could also add a drizzle of maple syrup if you prefer it a little sweeter or even a splash of almond milk for a thinner consistency.
If you missed my previous post, I'm embarking on a new project for the site called "Vegan On A Budget" proving that you can enjoy healthy and delicious well-rounded meals without a high price tag.  The project assumes you will have some of the basics on hand (i.e. salt, pepper, basic spices).  Anything that will incur a greater expense, such as sugars, are included in the grocery budget.  Stay tuned for our "Building a Vegan Pantry" series coming soon…
This Cranberry Oatmeal comes in at $1.33 for TWO people…that's just a little over 66 cents per serving.  Add a banana for another 22 cents per serving.  You could also enjoy a cup of tea for an additional 3 cents per tea bag.
Fresh (or frozen) cranberries are simmered on the stove top with a bit of water, sugar and spices until they soften and begin to burst.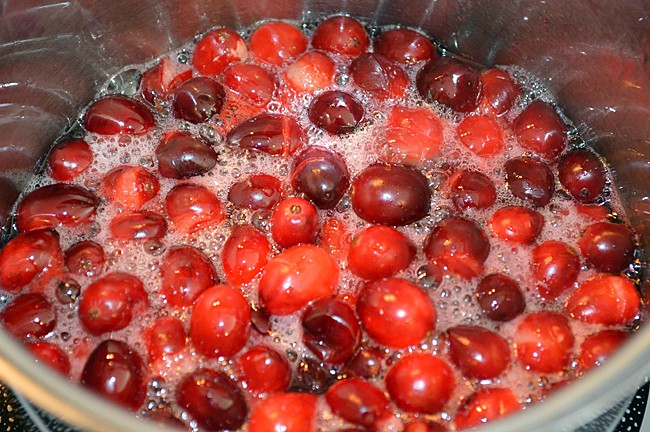 In another pan,  we bring water to a boil, then add the rolled oats and a pinch of salt, turning the heat down to a medium simmer.  Once cooked, we add in the cranberry mixture and a splash of vanilla.  We topped our with 1-1/2 tsp more of brown sugar.  The tartness of the cranberries along with your personal preferences will dictate how much sugar you add.  I also added toasted walnuts.
This recipe has 6.4 grams of protein and just 283 calories per serving!  If you are trying to maintain a low-sodium diet, feel free to omit the salt.  A medium banana will add another 105 calories to your breakfast.
Before you go, why not check out some of our recent videos and be sure to subscribe to the YouTube Channel! 🙂
Cranberry Oatmeal {Vegan}
Ingredients
2

C

Water plus 1/4 C

1/3

C

Cranberries

1-1/2

Tbl Sugar

1-1/2

Tbl Brown Sugar

1

C

Old Fashioned Oats

3/4

tsp

Cinnamon

1/16

tsp

Ginger

1/4

tsp

Vanilla Extract

Pinch of Salt

1

Tbl Brown Sugar

1

Tbl Chopped Roasted Walnuts
Instructions
To a small sauce pan over medium heat, bring 1/4 C of water, sugars, spices and cranberries to a boil.

Cook until cranberries begin to burst and the mixture thickens.

In a medium sauce pan, add 2 C of water and bring to a boil.

Add the oats and a pinch of salt and reduce heat to a simmer.

Cook approximately 5-8 minutes.

Remove from the heat and add the vanilla extract.

Fold cranberry mixture into oatmeal.

Top with toasted walnuts.

Optional toppings: brown sugar or a drizzle of maple syrup