Lonnnnng before TheVegLife.com was born, and until this past October, I spent a large portion of my adult life working at animal hospitals.  If you've read the 'about me', you know I am a huge dog lover and support rescue work.  All three of my dogs were rescued.  My youngest, Sparky made his VegLife debut in this post 😉
Anyway, during my time in the veterinary industry, I had a business making and selling dog treats.  At one point, I had an account with a local pet boutique and was spending much of my time fulfilling those orders. I did cookies, cupcakes, birthday cakes, special requests, you name it!  I've also done them for rescue fundraisers in the past.  There were the every day bagged treats and those for special occasions.  I would like to emphasize "special occasion" as these are occasional treats.  As in 1 or 2 per day.
These are baked low and slow to both give them that crunch that dogs love and to help preserve them.  Baked until completely dried and kept in an airtight environment (either in a cello bag like this one or a covered container), these will last for months.  Trust me, I paid to have them professionally shelf-life tested at a lab 🙂
Anyway, I thought as the holidays approach, I'd share some of the recipes with you (assuming you are so inclined to bake for your fur-baby 😉
My only goal at the time was to create a treat made with human-grade ingredients.  And many humans have eaten them LOL   Not even kidding there!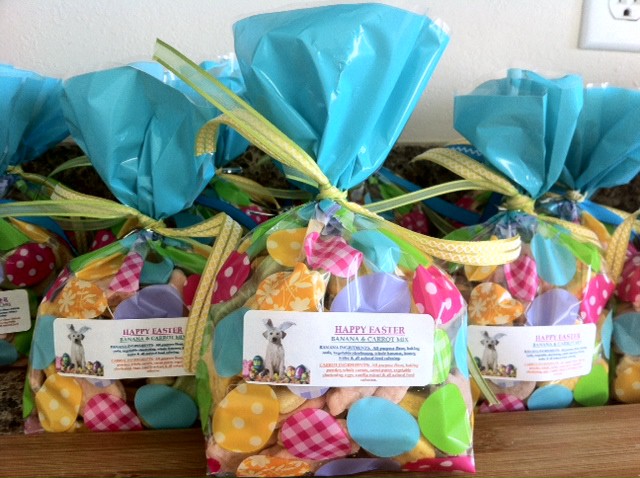 I had a client request these easter shapes in pastel colors.  They are basically a banana cookie tinted with all natural food coloring. Aren't they cute?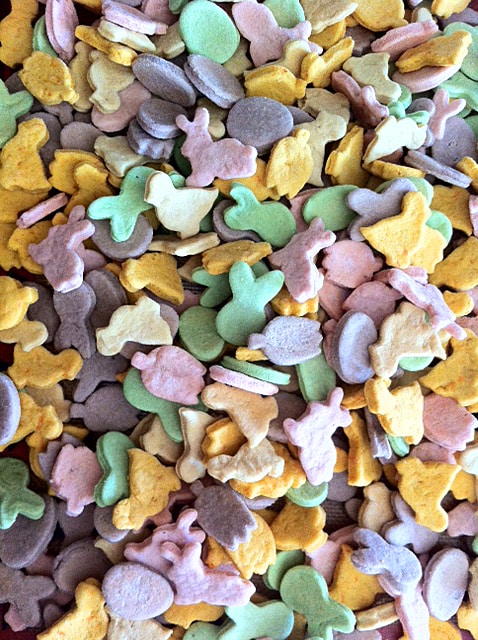 I would make labels like these.  If you wanted to do these little bags as gifts, you can easily print labels similar to these off of your printer onto standard address labels.  At the time, I wasn't vegan (or even vegetarian for that matter), so the ingredients have changed in accordance with that change in my own life.

One year, I did them in peanut butter for a client – no pastel colors.  I just love the pastel cookies though. Such a nice gift to both give and receive.

DISCLAIMER:  If your pet has ANY medical condition or is on a special diet please consult with your veterinarian prior to feeding these (or any other) treats.
That being said, here's the re-invented recipe for the banana cookies.
Easter Dog Treats {Vegan}
Ingredients
2

c

Flour

you could use a whole wheat or other flour, but it will alter the color slightly. Whole wheat also give them more body. I really don't think the dogs will mind :

1/8

tsp

Baking soda

2

mashed

very ripe Bananas

2

Tbl Unsweetened Applesauce

2

Tbl Warm water

All natural food coloring
Instructions
Preheat oven to 350 degrees.

Combine all ingredients except food color in the bowl of an electric mixer. Blend to form a dough that will hold together in a ball. If your dough is too moist, add more flour. Too dry? Try adding more applesauce. The dough is very forgiving.

Roll the dough to about 1/4". They will puff up when baked.

Cut into shapes using miniature Easter shaped cookie cutters. These are about 1-1/2" cutters. You can get these on Amazon.com or at most craft stores that carry baking supplies. I think even Walmart might carry them in this small size.

You can also get the bags there as well.

Arrange cookies on a parchment or Silpat lined cookie sheet.

Bake for 5-6 minutes until they are just set and move easily on the cookie sheet. Do not let them brown.

Reduce the heat of the oven and once it's at the lowest setting (175 degrees), continue to bake until completely dry. We are basically dehydrating the cooking removing all of the moisture so they are crunchy and have some shelf-stability. Any moisture that remains could cause them to mold after a few days. If you are unsure, take one of the thickest cookies and snap it in half to test. I usually turn the oven off at this point and let them cool in the dry residual oven heat overnight.

Allow to cool completely before giving to your pup! 🙂