I have been wanting to do this recipe for some time now.  I was really pleased with how well the carrots did as fries, very similar to sweet potatos.
The easiest way to create fries, is to trim the ends off of each carrot and peel.  Slice lengthwise in half and lay the flat side down.  You can make them longer or cut the carrot in half for shorter sticks.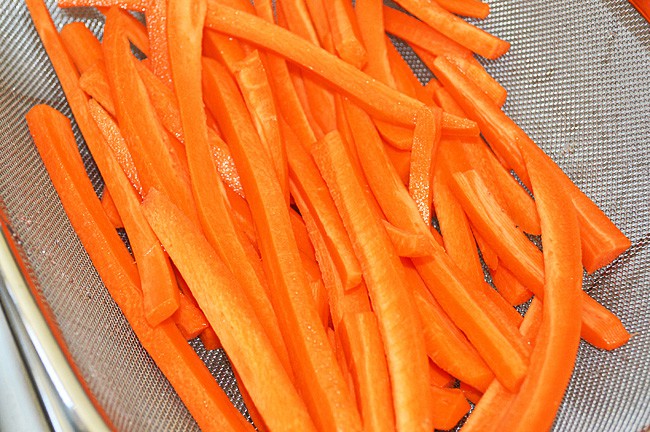 Now, I can't talk about carrots without introducing you to my youngest dog Sparky 🙂  He's quite a character and LOVES carrots.  And by loves, I mean obsessed.  If I am in the kitchen and cut anything remotely sounding like a carrot….he's there.
Isn't he cute?  He's a 2 year old, apricot Miniature Rat Terrier.  You'll get to meet his two sisters soon 🙂
Anyway….ahem, back to the carrots!!
I used Chickpea (Garbanzo Bean) Flour, but you can use any finely ground flour such as rice flour, etc.  Coat and then transfer directly into coconut or soy creamer.  I chose creamer because it's a bit thicker than the milk.  However, it is also harder to find.  My Safeway grocery store carries them, so I'm lucky.  If you can't find it, by all means, use almond, soy or coconut milk.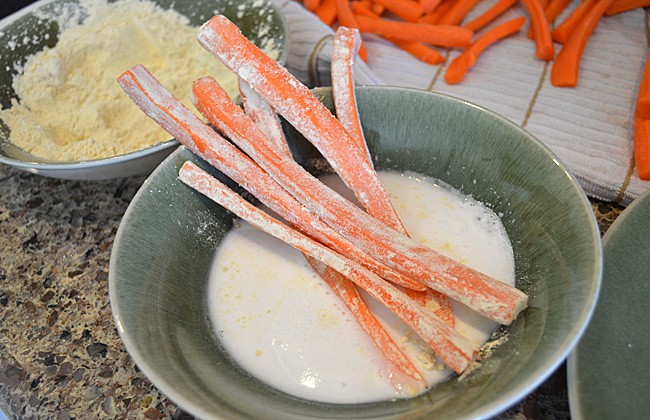 From the creamer, directly into Panko bread crumbs.  I like Panko because it gives more texture to the fries.  You could also try regular bread crumbs or even cornmeal here.  It's important to place the breaded fries in a single layer and not too close together or they won't brown.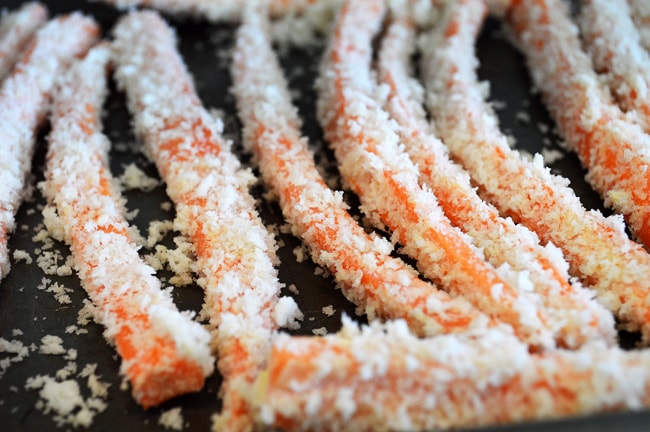 Bake at 450 for 10 minutes, turn once and bake for another 10 minutes or until golden.
While those are baking, prepare the homemade ranch dressing.  I have to admit, I was skeptical that this could taste like the original.  Unbelievably close!  It took me a long time to try Vegenaise, but I am a believer!!! 🙂
Look at this crispy yumminess!  Soooo good…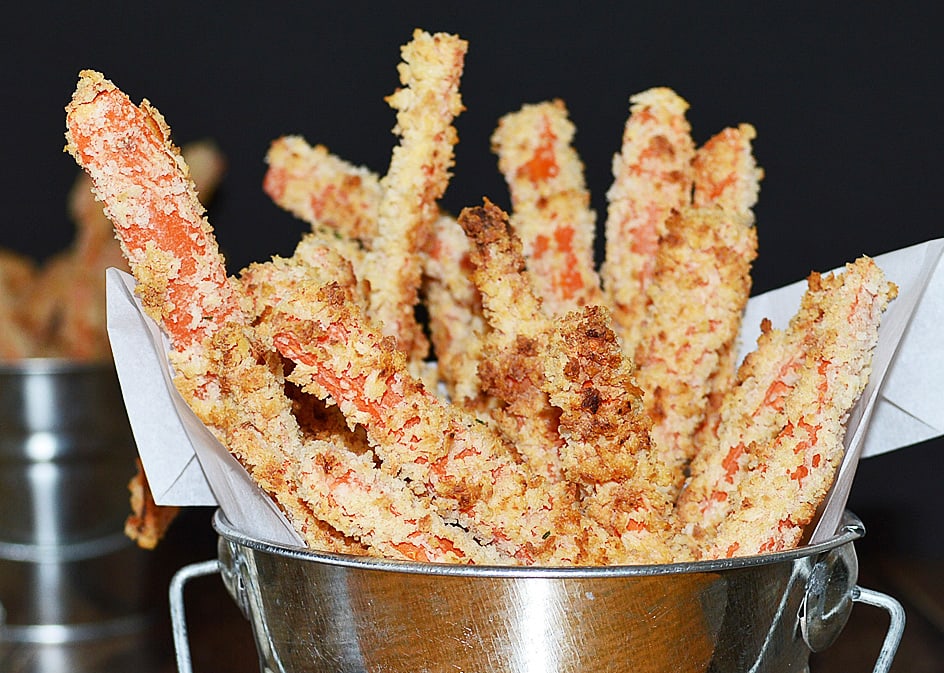 Baked Carrot Fries with Vegan Ranch Dressing
Ingredients
FOR THE RANCH DRESSING:

1/2

C

Vegenaise

or other vegan mayonnaise product

1/8

C

Almond

Soy or Coconut Milk

1/4-1/2

tsp

Garlic Powder

to your taste

1/8

tsp

Salt

1/4-1/2

tsp

Onion Powder

to your taste

1/8

tsp

fresh Black Pepper

1

tsp

fresh chopped Parsley

1/2

Tbl Cider Vinegar

Apple Cider or White is fine

1/4

tsp

fresh chopped dill

or 1/8 tsp if you are using dried

FOR THE CARROT FRIES:

2

Lbs

of large Carrots

trimmed, peeled and cut into fries

1/2

C

Chickpea Flour

or Rice Flour, etc.

1/2

C

Coconut or Soy Creamer

use coconut, soy or almond milk if you can't find it

1

C

Panko Bread Crumbs
Instructions
Preheat the oven to 450 degrees.

Trim the ends off the carrots and peel. Cut into fries.

In three separate containers (bowls or plates), add the flour to one, the creamer to the next and lastly, the panko bread crumbs.

Dip the carrot sticks into the flour to coat, followed by the creamer. Coat well. Immediately place into the breadcrumbs and coat. Transfer to a cookie sheet, spacing them so they don't overlap. Bake at 450 degrees for 10 minutes, turn once and then another 10 minutes or so until they are golden and the carrots tender.

To make the ranch dressing, combine all ingredients with a whisk and refrigerate until ready to use.