This Easy Carrot Soup Recipe was so delicious and builds upon simple ingredients to create a flavorful entree. We're using fresh, organic carrots and ginger as our base. To bring out the flavors, I start by roasting and then sauteeing the vegetables in broth before pureeing the mixture. Let me show you how to make it.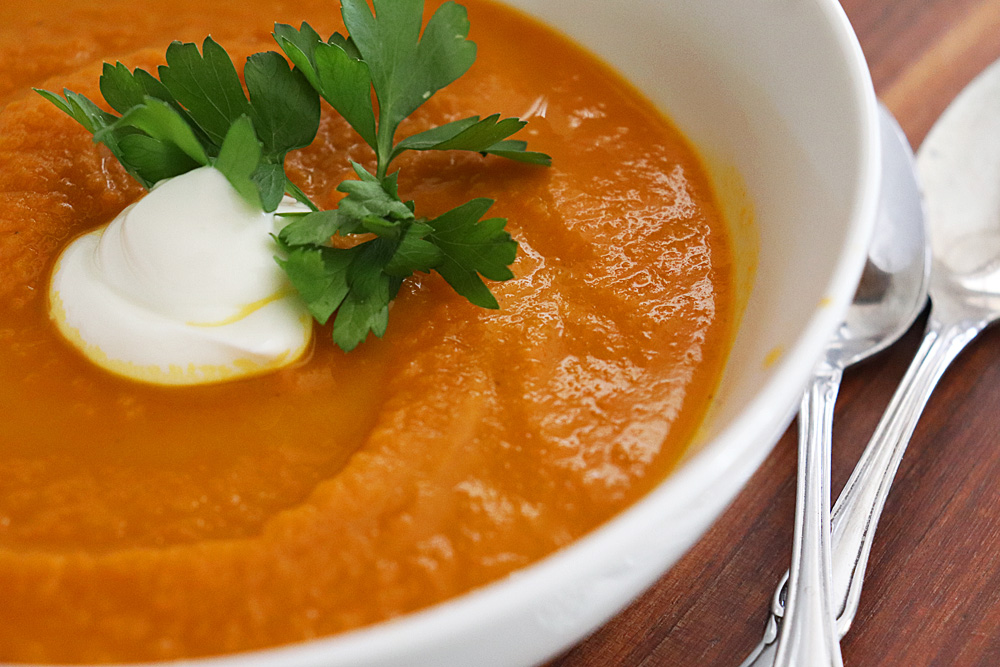 Ingredients you'll need to make this recipe
To make this recipe, you will need the following ingredients:
Organic Carrots, peeled and diced
Extra Virgin Olive Oil
Garlic Clove
Salt and Black Pepper, to taste
Fresh Italian Parsley
Onion, diced
Fresh Ginger, peeled and grated
Lemon Juice
Water
Vegetable Broth
For garnish, I used:
Vegan Sour Cream
a Sprig of Fresh Parsley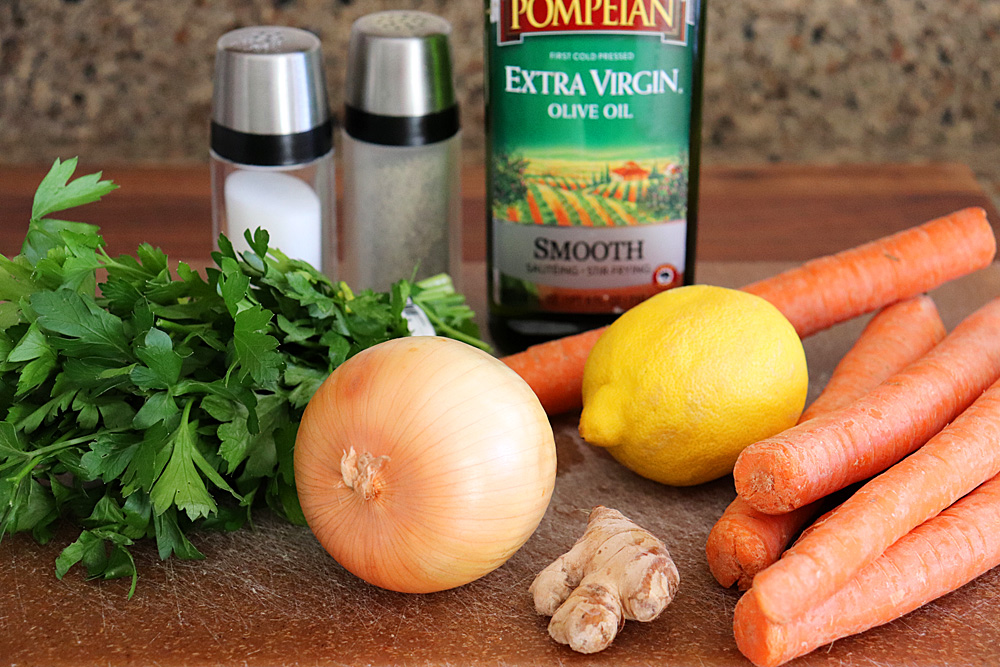 How to make my Easy Carrot Soup Recipe
For the broth, I love making my own with this Better Than Bouillon Reduced Sodium Base. You simply combine one teaspoon per one cup of boiling water. The best part, is that you can control the strength of the broth by adding more and I highly recommend the reduced sodium so you can control your own salt. If you can't find it, use the highest quality broth you can find.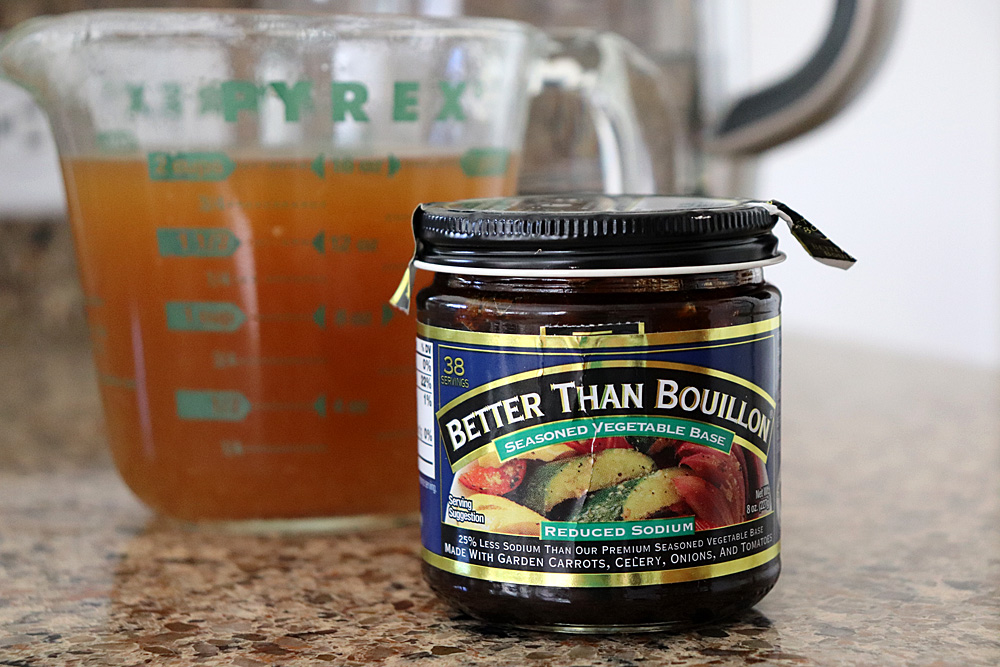 If you have never worked with fresh ginger before, it might seem intimidating at first. I promise you, it couldn't be simpler. You'll just take soup spoon and scrape away the skin from a knob of ginger. You can buy small pieces in the produce section of your grocery store. Any excess can be stored in a freezer bag and used as needed. I grated mine after peeling using a microplane.
I add chopped onion to the diced carrots  with a bit of oil, the salt, pepper and parsley to a bowl to toss. Give a squeeze of lemon juice. Toss and place on a lined baking sheet. Roast at 400 degrees until the vegetables are tender and golden, about 30 minutes.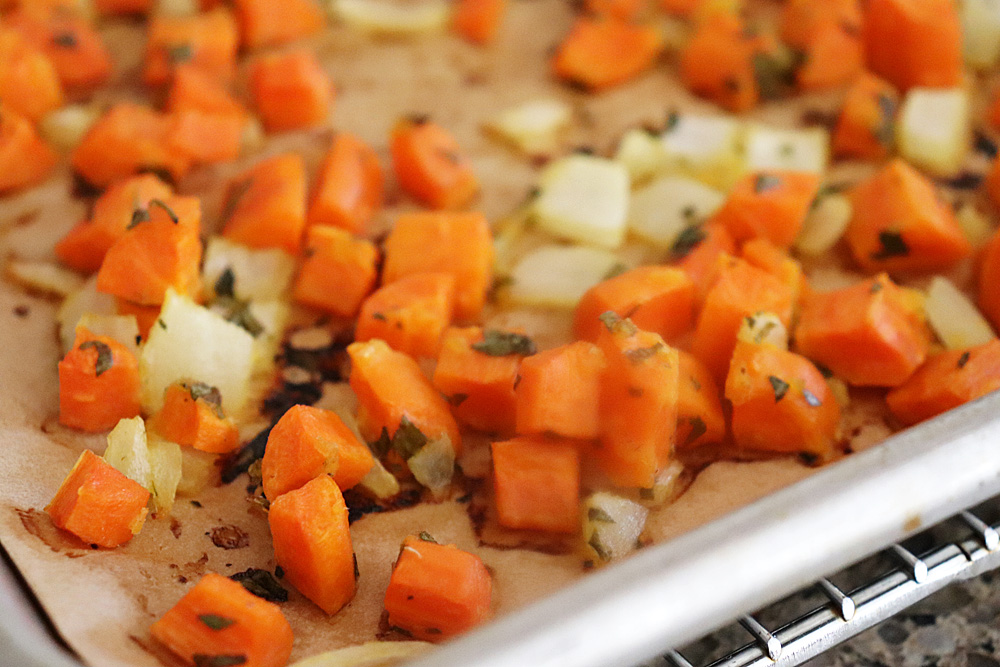 Add the vegetables to a sauce pan along with the water and broth, bringing to a boil for another 10 minutes or so. We want those veggies really tender and the broth to take on the roasted flavor.
I have tried this recipe using a hand held blender and it just wasn't as smooth in my opinion, so I highly recommend a food processor. As always, take care in pureeing hot liquids as they will expand and you could get burned. It's best to do this in batches. Puree until completely smooth.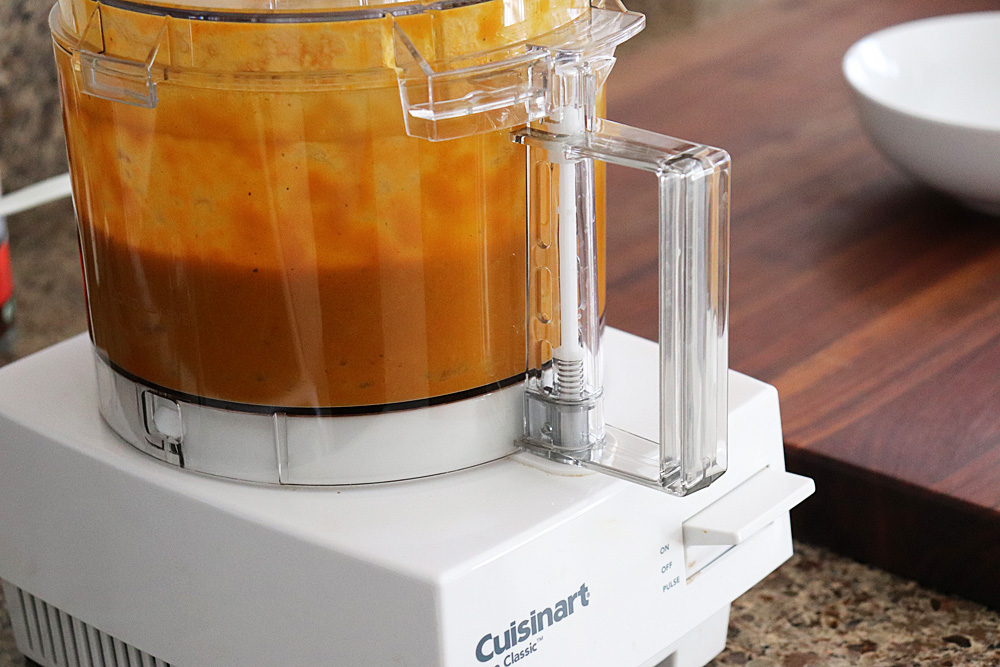 Add the soup to a serving bowl along with a dollop of vegan sour cream or coconut cream. Garnish with a sprig of fresh parsley.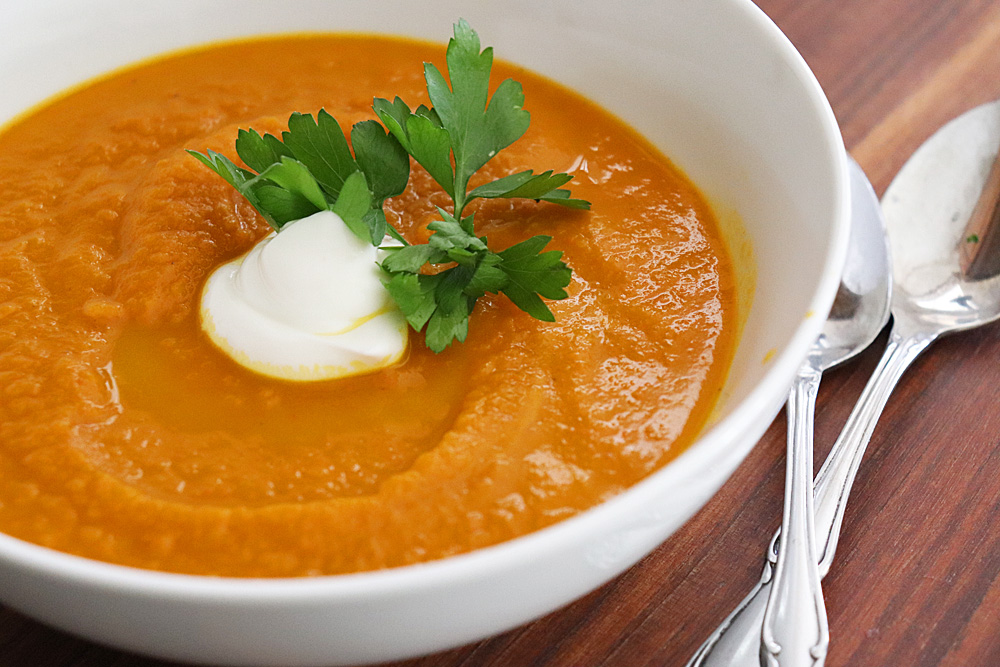 Did you make my Easy Carrot Soup Recipe? Leave a comment below and let me know what you thought.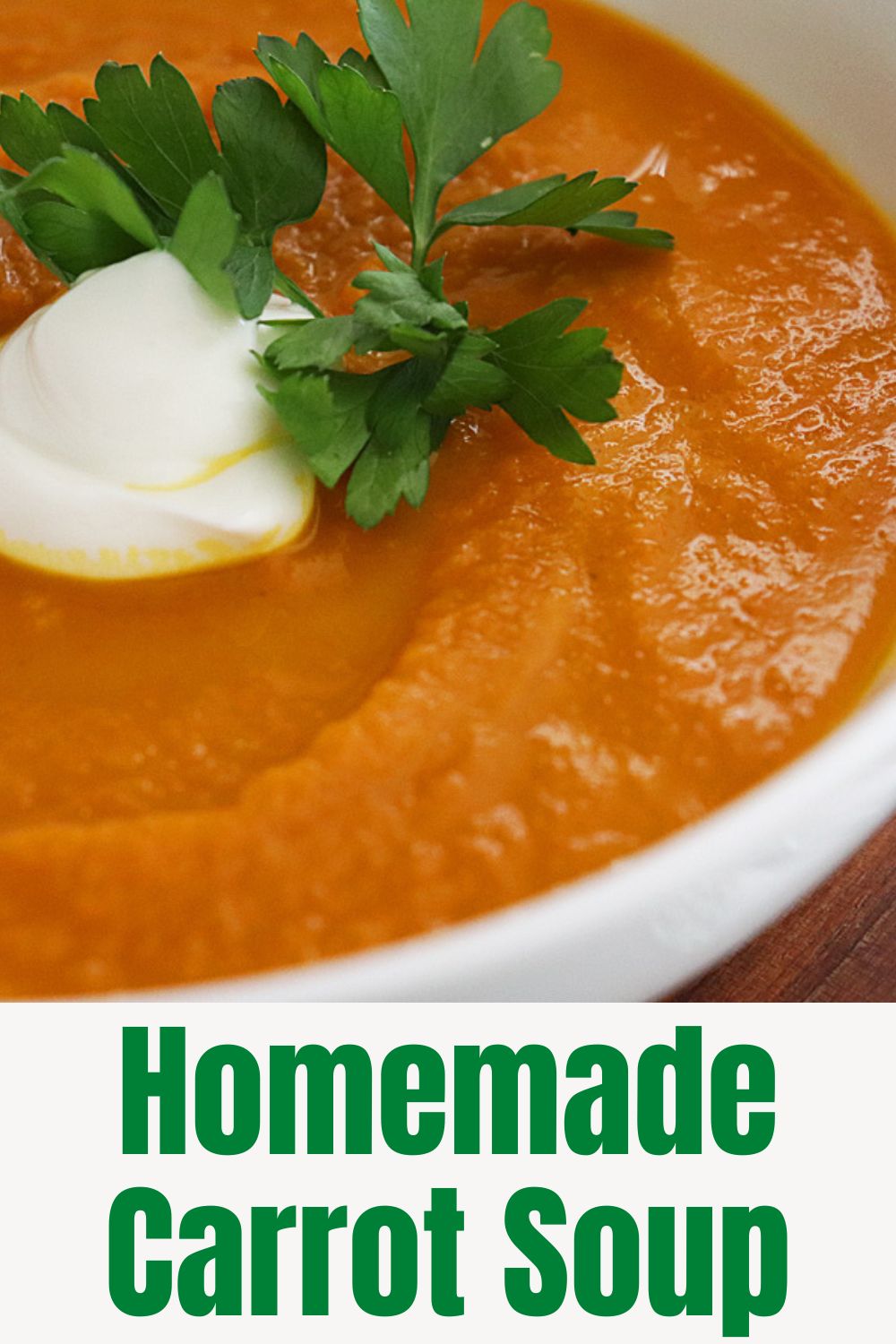 Easy Carrot Soup Recipe
Ingredients
4

large

Carrots

peeled and diced

1/2

medium

Onion

diced

1

tbsp

Olive Oil

1/2

tsp

Salt

or to taste

1/4

tsp

Pepper

or to taste

1

tbsp

Parsley

chopped

1

squeeze

Lemon Juice

Garlic

or Garlic Powder, to taste

Fresh Ginger

or Powdered Ginger, to taste

2 1/4

c

Vegetable Broth

1/2

c

Water
FOR SERVING:
Vegan Sour Cream

Sprig of Fresh Parsley
Instructions
Preheat oven to 400 degrees and line a baking sheet with parchment or a silicone baking mat.

Toss diced carrots and onion with olive oil, salt, pepper, ginger, garlic, parsley and lemon juice. Be sure all of the vegetables are lightly coated in oil. If not, add a bit more oil. Spread onto a lined baking sheet and roast for about 30 minutes or until softened.

Place the roasted vegetables into a sauce pan with broth and water, bringing to a boil and reducing to a simmer for about 10 minutes. We want those vegetables very, very tender.

Cool this mixture slightly and place into a food processor, pureeing until smooth. Do this in batches.

Serve with a dollop of vegan sour cream and garnish with a sprig of fresh parsley.