These Easy Hasselback Potatoes are par-cooked, smothered in a vegan butter, parsley and parmesan mixture – not once, but twice – then baked until golden and crisp. If you are new to Hasselback style potatoes, then this is a great recipe to start with. I serve with vegan sour cream, but feel free to use your favorite dipping sauce. Let me show you how I make them.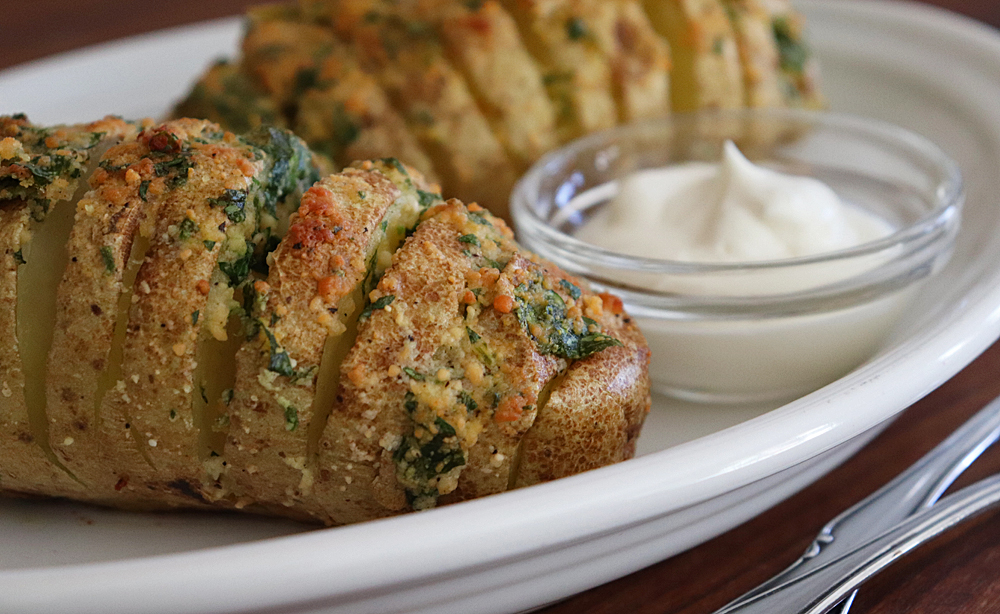 How to make Easy Hasselback Potatoes
Since we will be enjoying these potatoes with the skin on, you'll want to really scrub them under running water and then dry with paper towels.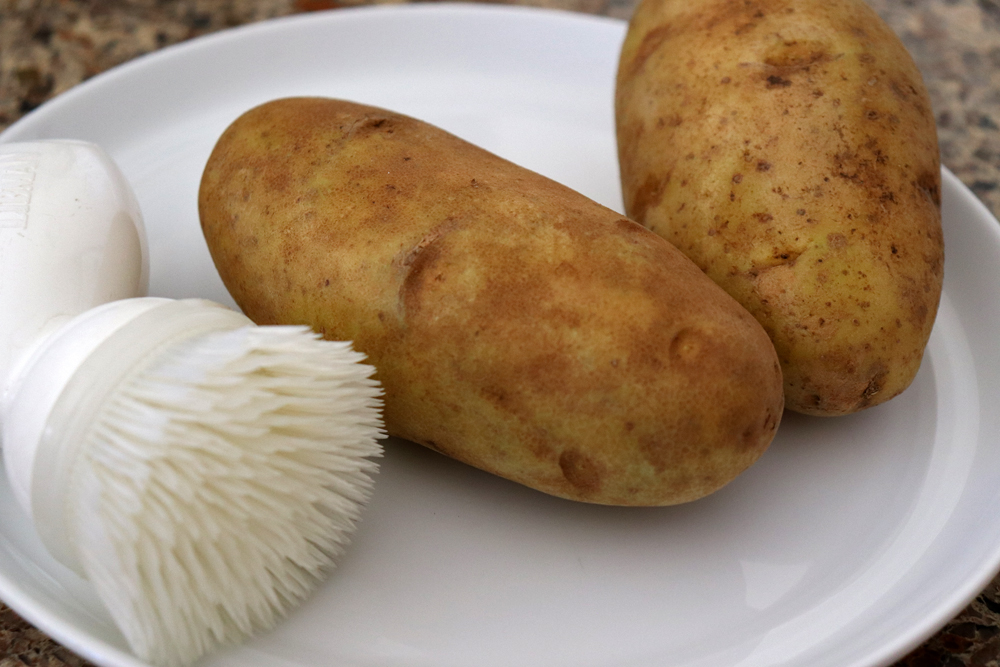 How to slice a Hasselback Potato
This step might seem daunting at first, but there are two tips I can give you to make it easier.
#1 Microwave the potatoes until they are par-cooked. This makes them softer and a breeze to slice. The remainder of the cooking is done when they are baked.
#2 Use something like skewers or chopsticks to guide your slices. You want 1/4″ slices that stop just shy of going all of the way through the potato.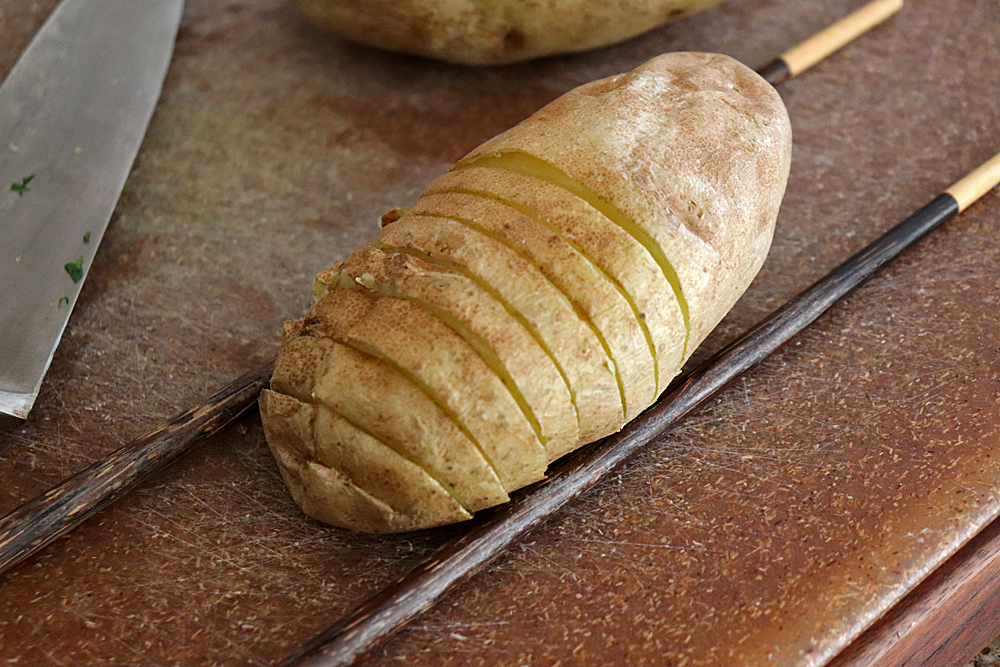 I am using vegan margarine that I have melted. I season with salt and pepper, add a bit of chopped parsley for color and finally, vegan parmesan. Most grocery stores carry it these days.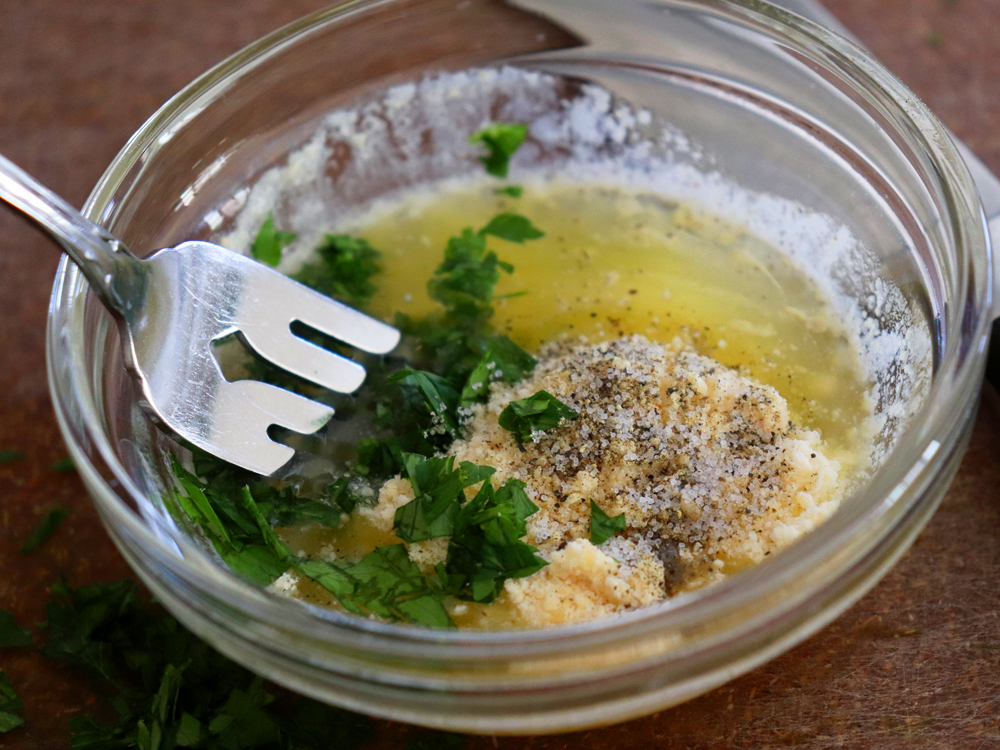 Place your potatoes into a baking dish sprayed with cooking spray, then brush half of the mixture onto the potatoes. Bake for 10 minutes, then brush the other half of the mixture onto the potato. Bake for another 10-15 minutes or until golden and tender. Allow to cool slightly before enjoying.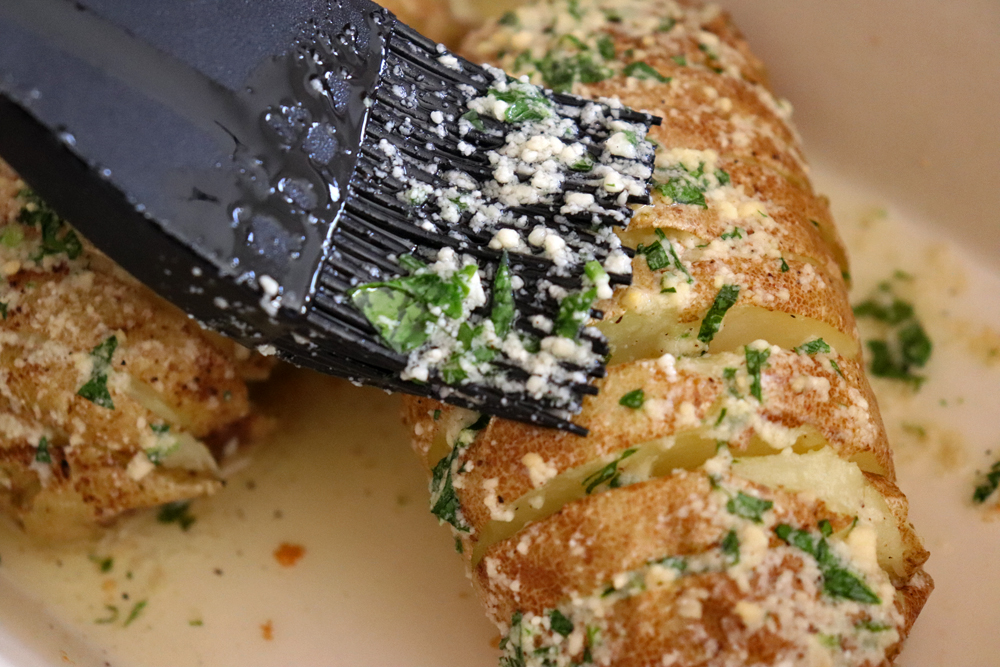 I like to take some of the browned butter in the bottom of the pan and drizzle it over the potatoes. Serve with vegan sour cream for dipping.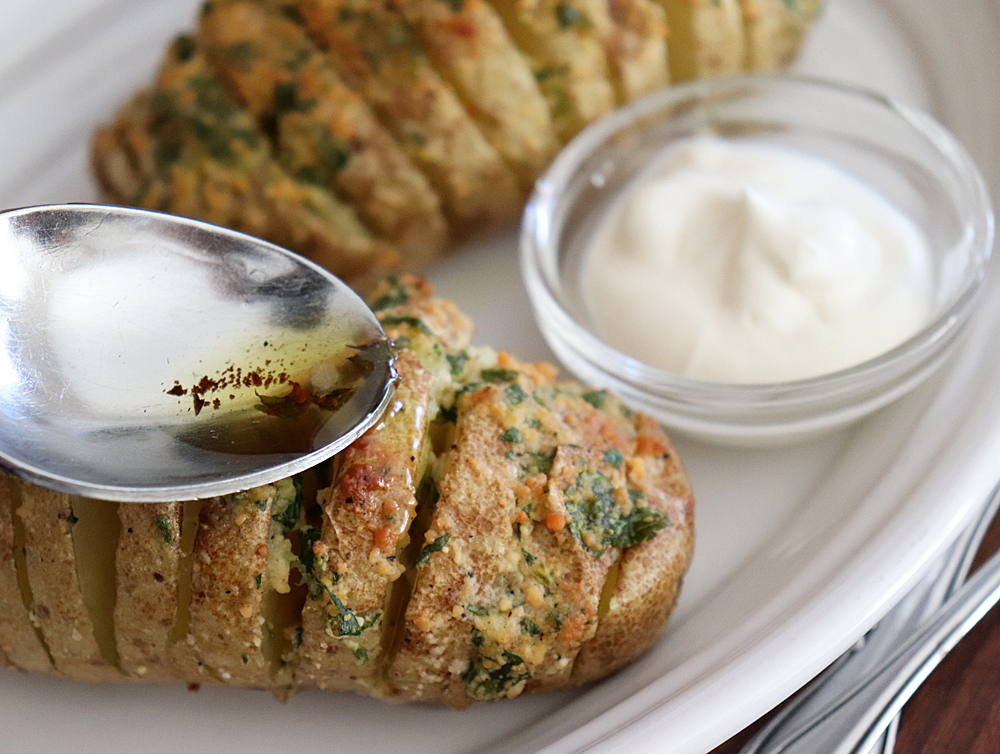 Doesn't that look amazing? They are so delicious! I really hope you give them a try.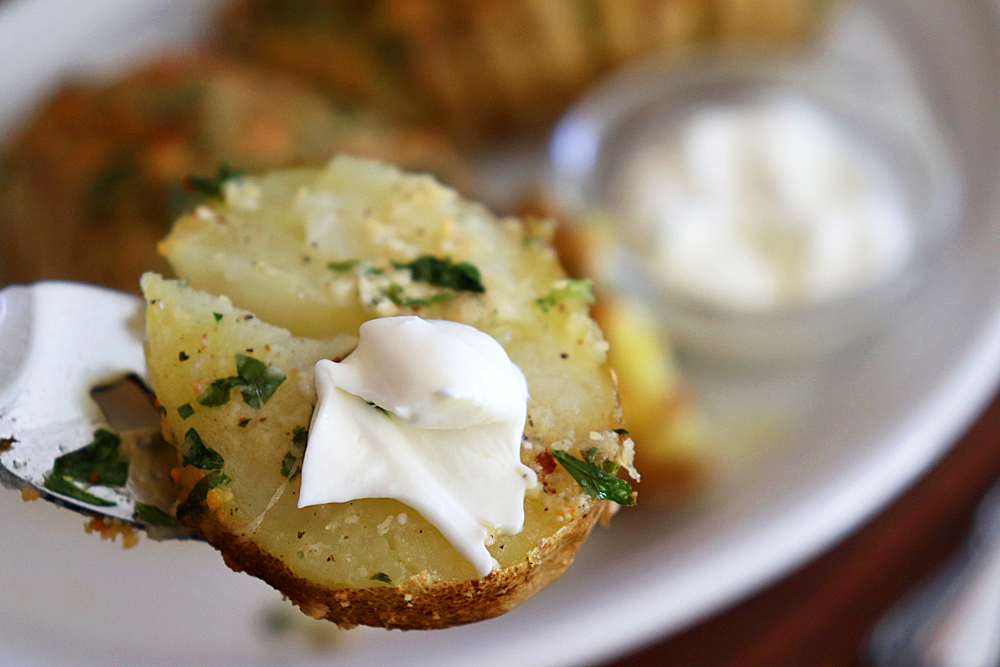 Did you make my Easy Hasselback Potatoes? Leave a comment below and let me know what you thought.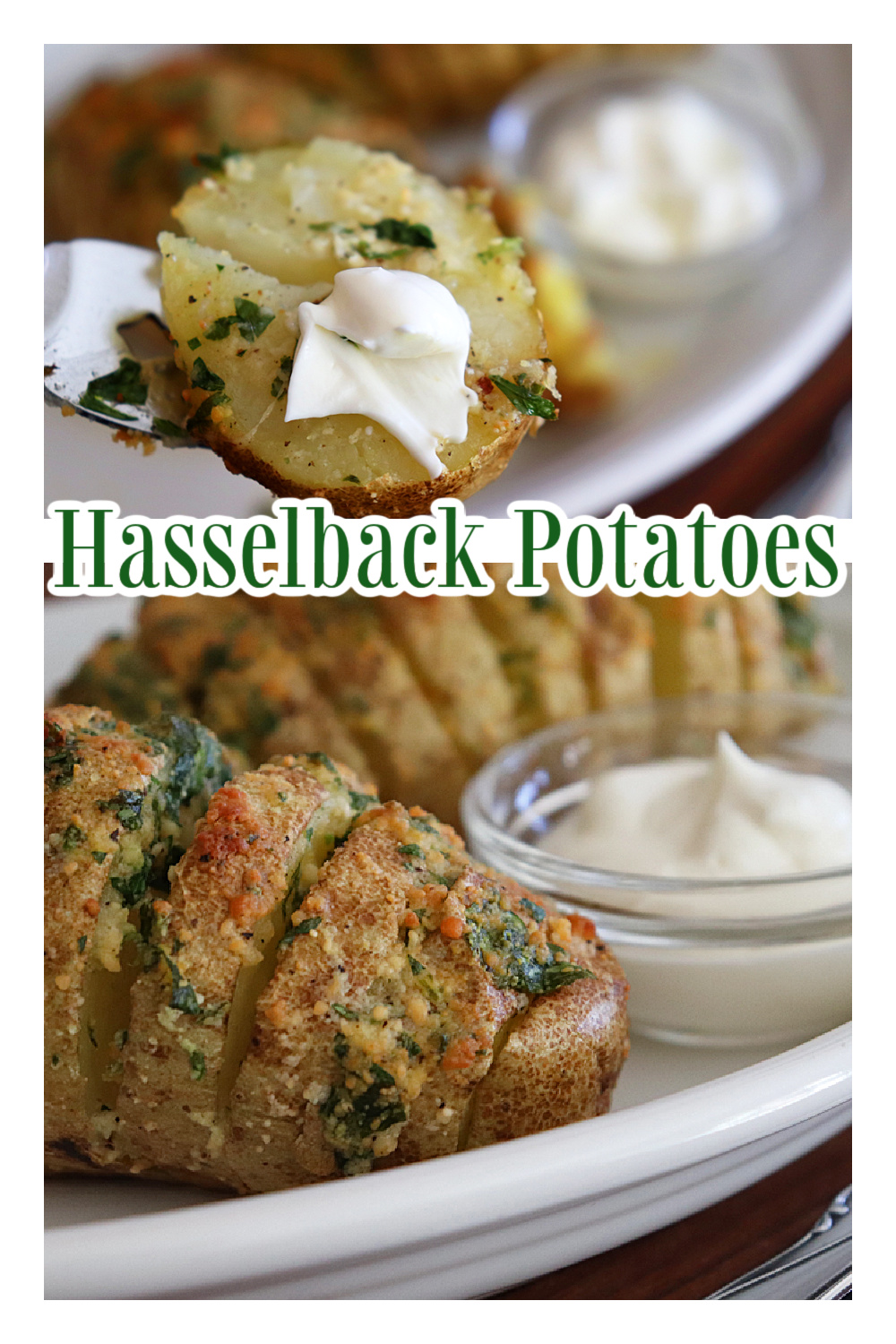 Easy Hasselback Potatoes
Ingredients
2

medium

Russet Potatoes

washed, dried and cut into 1/4" slices 3/4 of the way though the potato

2

tbsp

Vegan Margarine

melted

1

tbsp

Vegetable or Olive Oil

1

tbsp

Vegan Parmesan Cheese Alternative

1 tbsp

Parsley

Chopped

Salt & Pepper

to taste

Garlic

minced, optional
Instructions
Preheat oven to 425 degrees.

Wash and dry the potatoes. Microwave for 6-8 minutes (depending on size), flipping half way through. Cool enough to handle.

Cut Russet potatoes into 1/4" slices 3/4 of the way though the potato. Use two skewers or chopsticks to keep from slicing all of the way through the potatoes. Carefully place into a baking dish that you have prepared with cooking spray.

Make vegan margarine/parsley/parmesan mixture and season with salt and pepper. Brush half of the mixture onto the sliced potatoes, trying to get as much as you can in between those slices.

Bake for 10 minutes, remove and brush the remaining vegan margarine mixture onto the potatoes. Return to the oven and bake for another 10-15 minute or until golden and cooked through.

Serve with some of the butter from the baking pan drizzled over top and with a side of vegan sour cream. Add a sprig of fresh parsley for garnish, if desired.