I am about to blow your mind with this semi-homemade 4 Ingredient Vegan Black Forest Cake. How is that even possible you might ask? Little known fact. There are several boxed cake mixes on the market that are what I like to call "accidentally vegan". They don't set out to be vegan, but there are no offending ingredients in the product. The secret to this recipe though, is the method in which we will be replacing the eggs and liquid ingredients. Hint. It's carbonated 🙂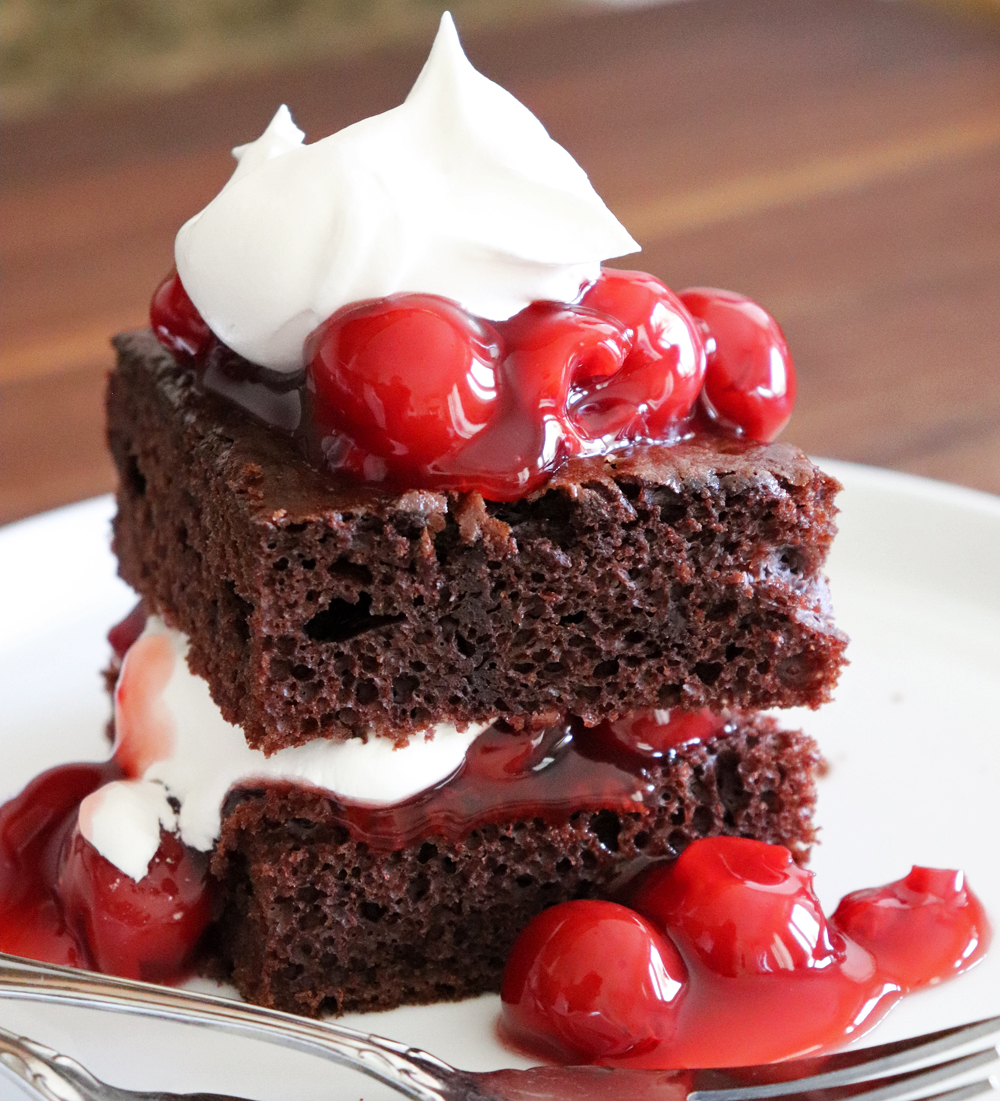 Ingredients needed to make my 4 Ingredient Vegan Black Forest Cake
Boxed cake mix (please read the ingredients as brands often change their recipes. Many Duncan Hines are accidentally vegan) PETA is usually on top of the most current list, but do your research
AND THE SECRET INGREDIENT IS…a 12 oz. can of cola or lemon lime soda (which is what I used today) Ignore the instructions on the box. It's just the cake mix and the can of soda. It produces a light cake which you can see in the photos below.
I'm using a non-dairy whipped cream and
another little known fact, many cherry pie fillings in a can are also accidentally vegan. There are many natural jarred or organic cherry pie fillings available. You could also make your own. There are tons of recipes online.
That's it! Bake according to the box instructions.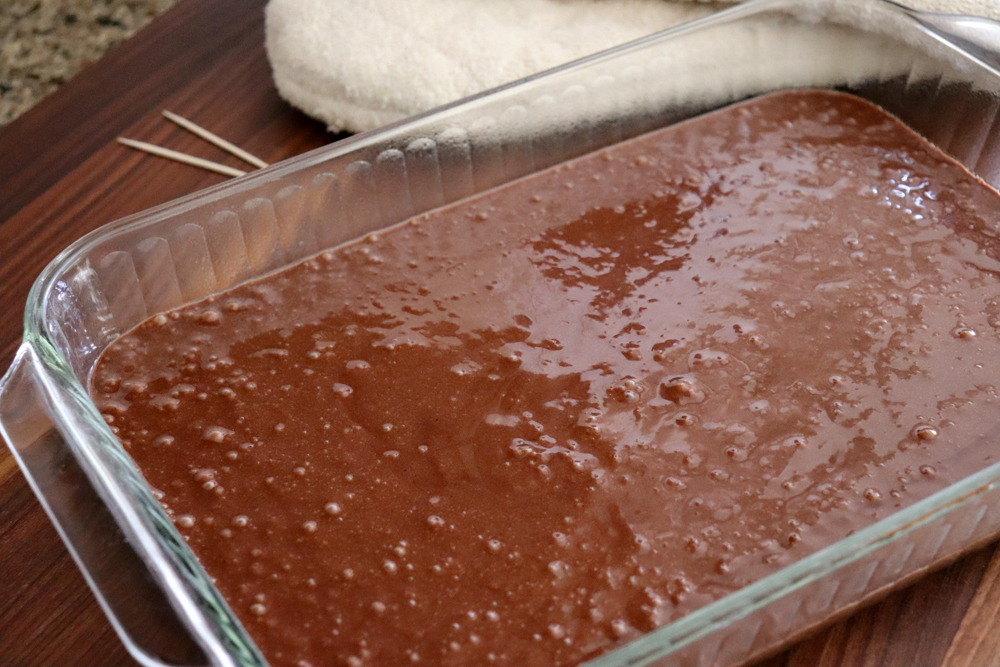 Looks just like the original, doesn't it? Let this cool completely.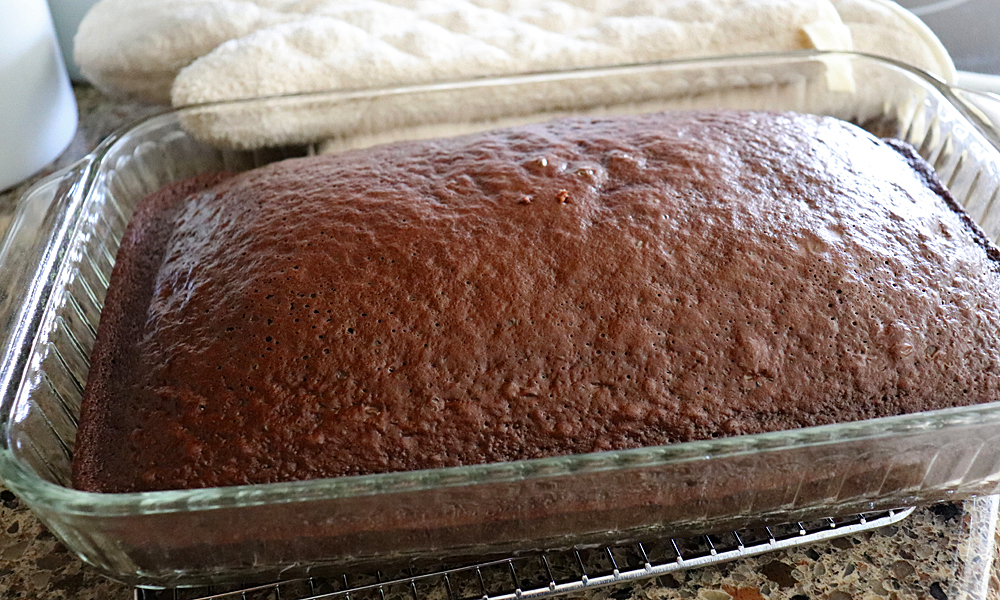 Look at that texture!
TIP! Don't cut these until you are ready to serve. It's better if you build and serve.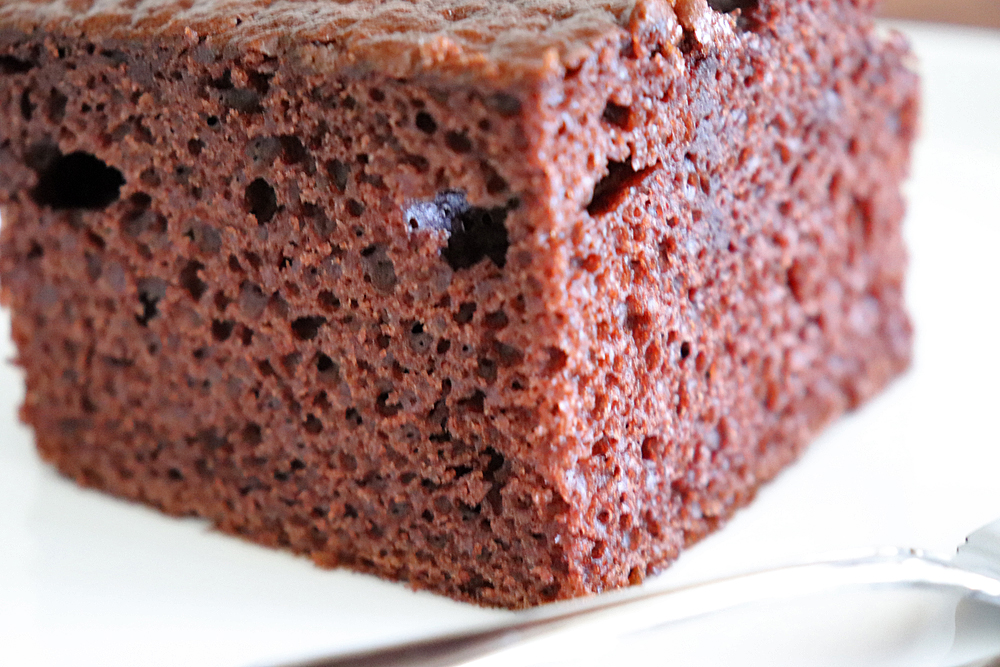 Slice a square of cake in half so that we can create layers. The first layer is the pie filling.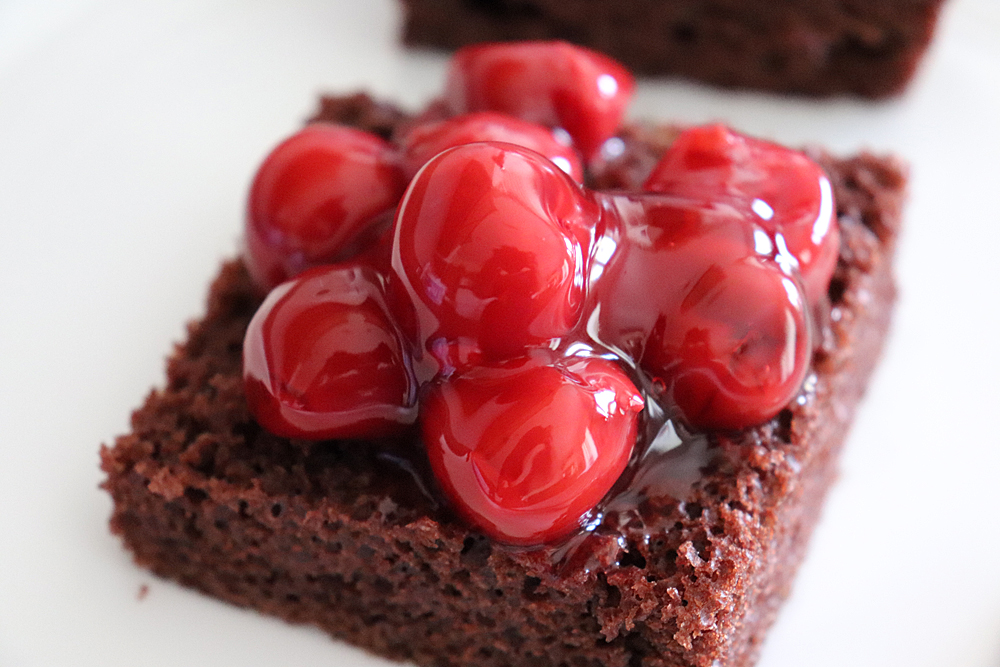 Follow up with the non-dairy whipped topping.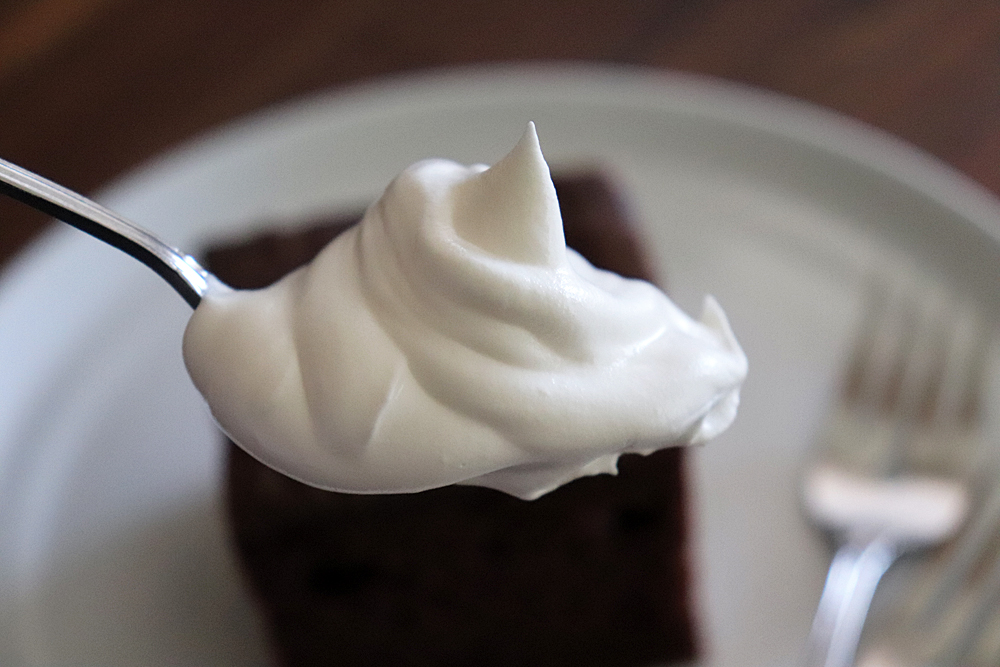 Top with the next half layer of cake and repeat. Add a few extra cherries to the plate, if desired.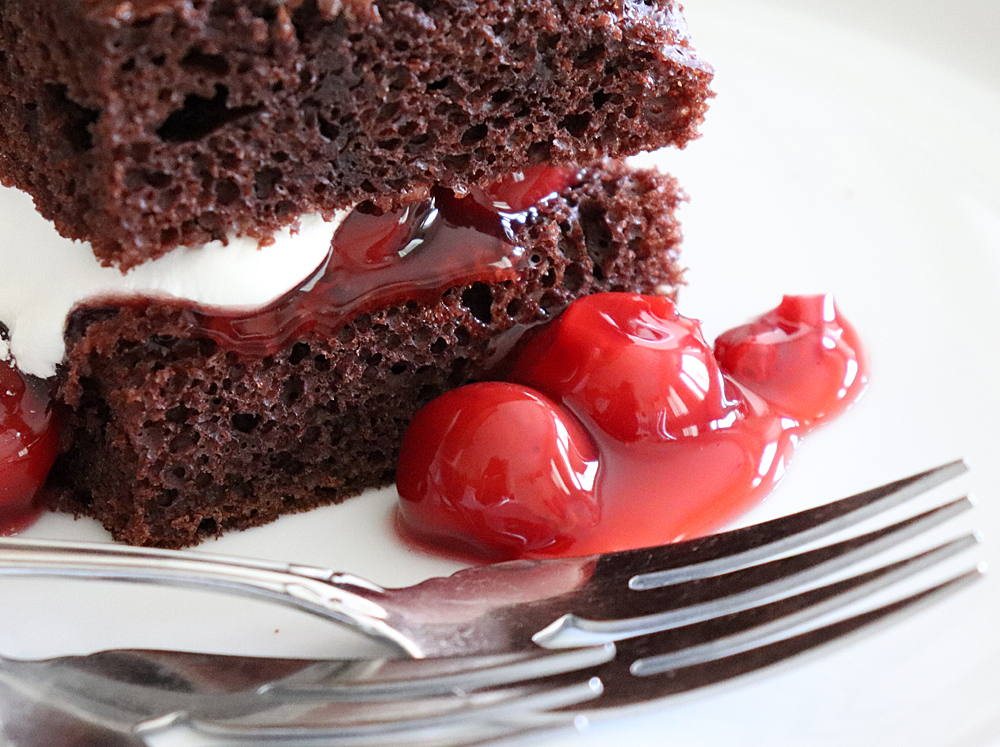 Doesn't that look amazing? Trust me…it didn't last long in this house! So good.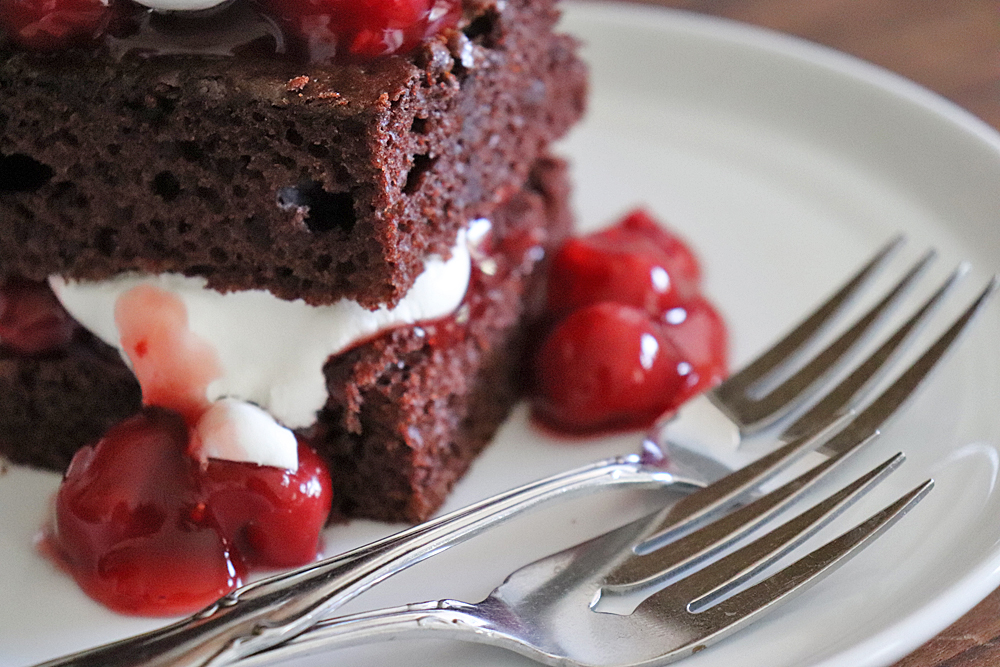 Did you make my 4 Ingredient Black Forest Cake? Leave a comment below and let me know what you thought.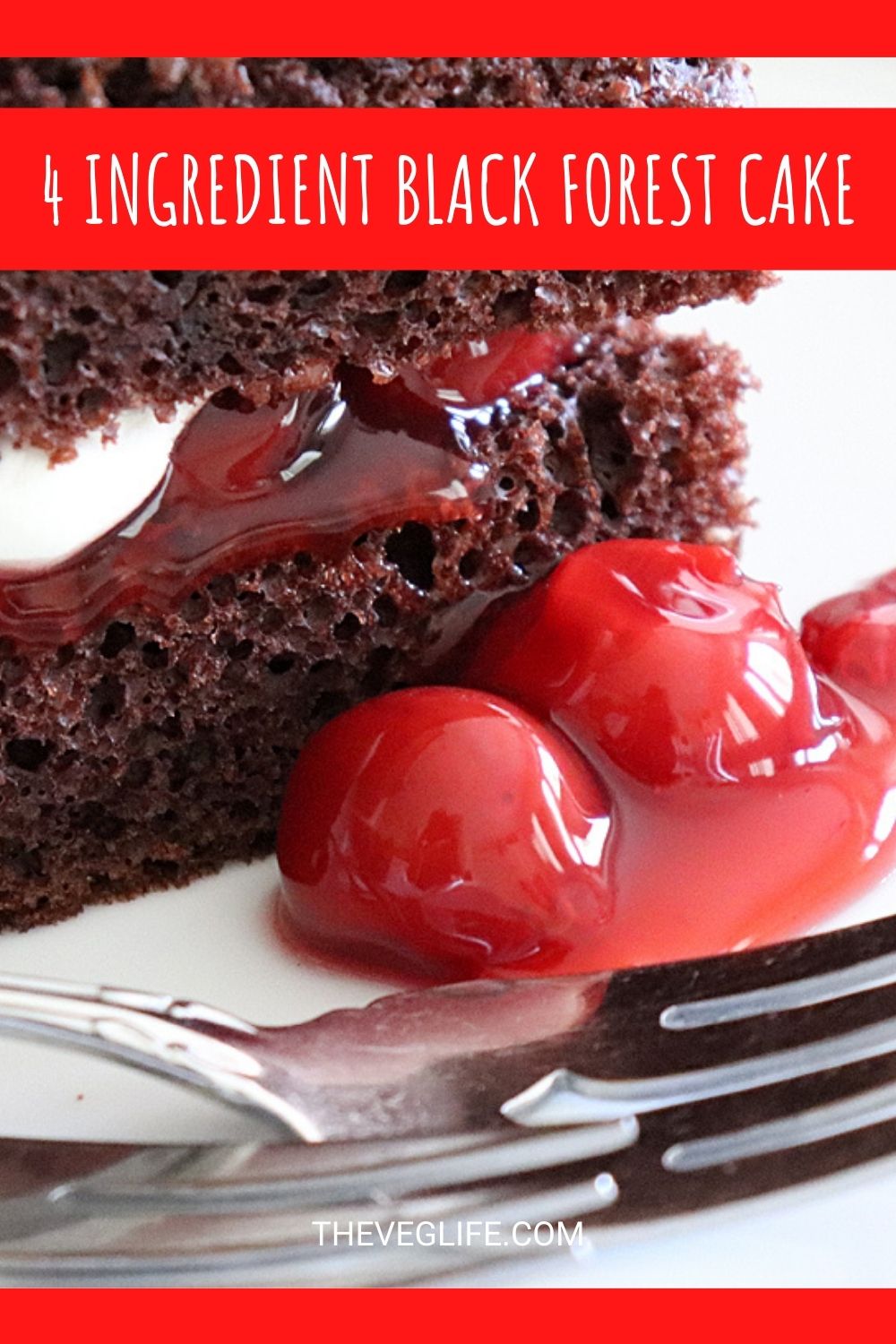 4 Ingredient Black Forest Cake
4 Ingredient Black Forest Cake
Ingredients
1

box

Cake Mix

check the ingredients

12

oz

Can of Cola OR Lemon Lime Soda

you can use a vegan version if you prefer

1

container

Non-Dairy Whipped Cream

1

can

Cherry Pie Filling

check the ingredients
Instructions
Preheat oven to 350 degrees and spray a 9x13 pan with cooking spray.

In the bowl of an electric mixer, add the cake mix and soda. Ignore the box instructions.

Bake for 23-28 minutes or until a toothpick inserted comes clean.

Cool completely on a rack.

To serve, cut a square of cake and slice in half to create two layers. Add cherries and whipped cream to the first layer, top with the other layer of cake and add more cherries and whipped cream. Serve immediately.