This Easy Make Ahead Gravy is my favorite on both mashed potatoes and stuffing alike. It's so simple to make, you will add it to your rotation going forward. Using just a few simple ingredients, you can make the most flavorful gravy. It's just so delicious. Let's make this!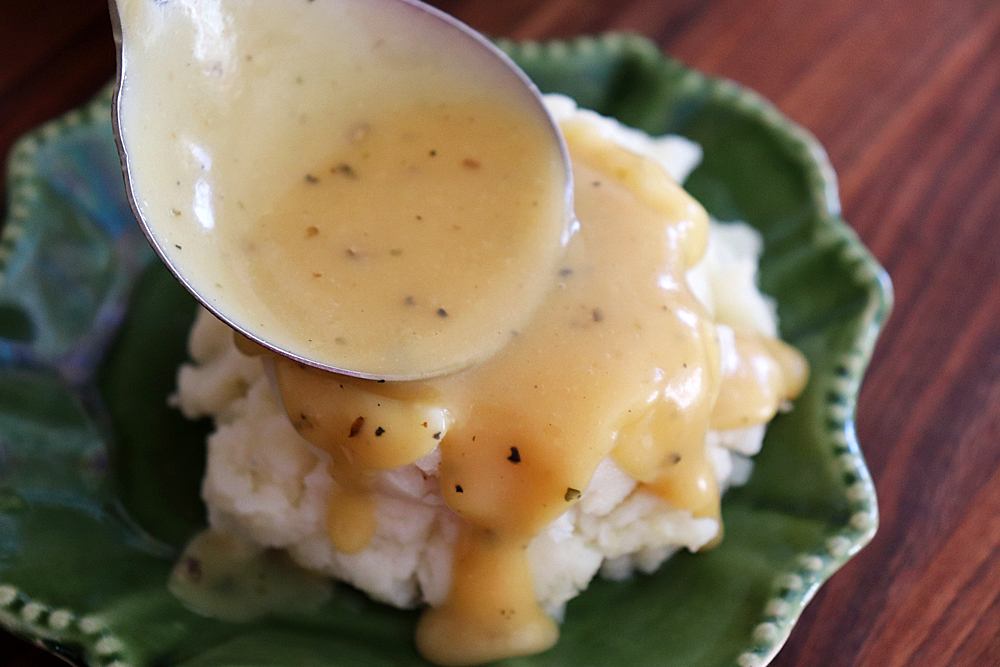 Ingredients you'll need
Vegetable Bouillon Cubes (be sure they are vegan)
Vegetable Broth
Vegan Margarine
All Purpose Flour
Onion Powder
Italian Seasoning Blend
Salt
and Pepper
I'm using both a bouillon cube AND a bouillon base to really bump up the flavor level in this gravy. Traditional gravy would utilize the flavor from the pan drippings which we don't have, so this is a great way to add flavor. If you don't have bouillon base, you could use a prepared stock and just dissolve the bouillon cube in it.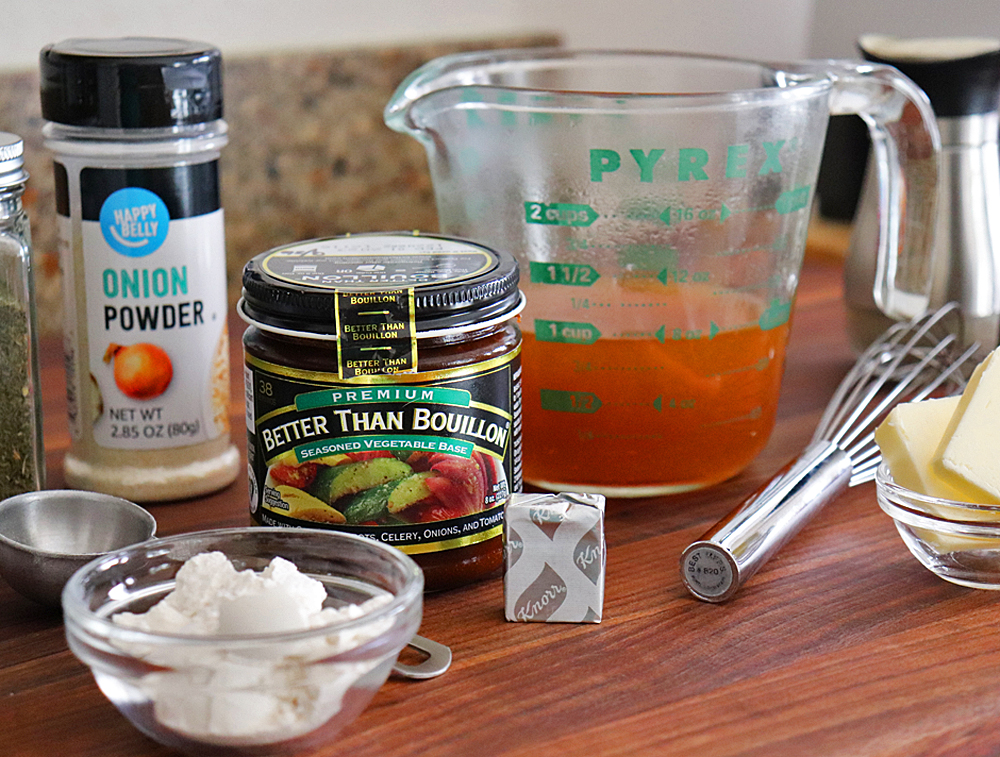 How to make Easy Make Ahead Gravy
Add bouillon cube and vegetable base to hot water to dissolve. Set aside.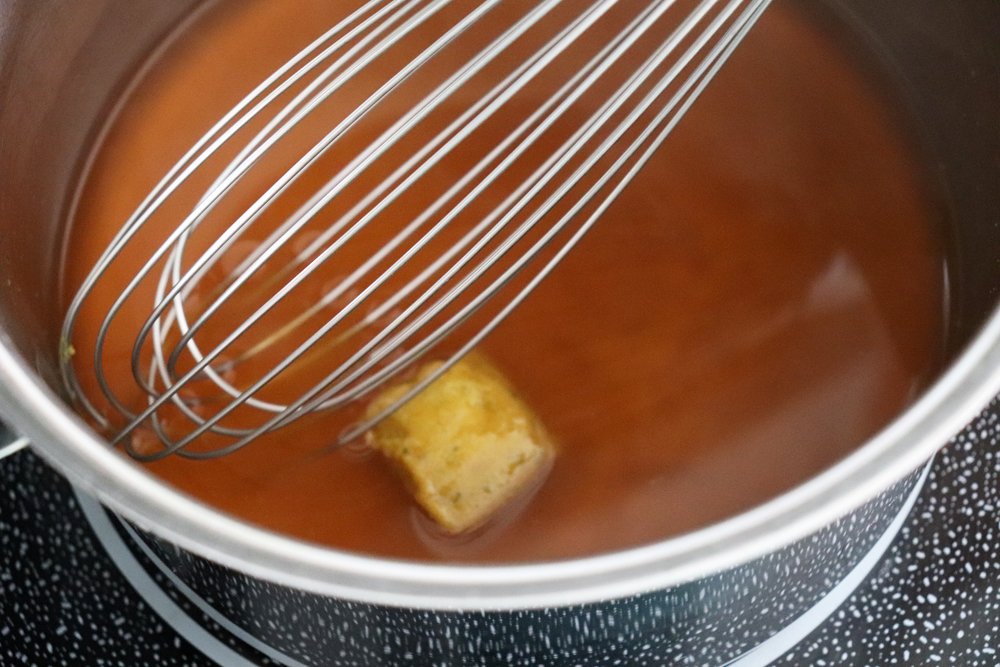 Melt vegan margarine in a skillet.
If you can find one of these flat whisks, they are made for making gravies and sauces. It's a great addition to your kitchen. I use mine all of the time!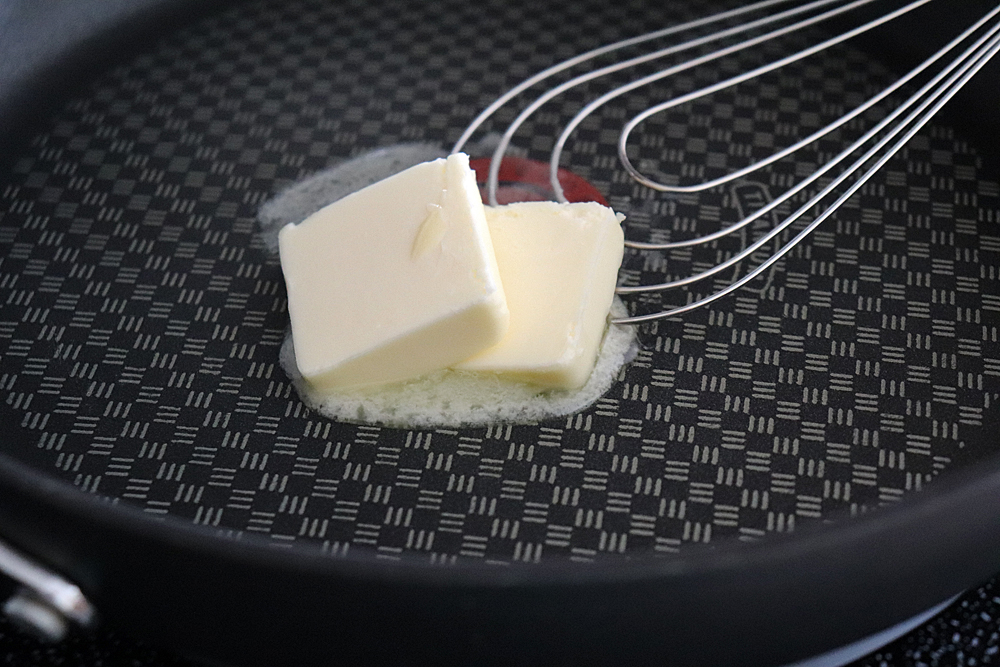 Add all purpose flour and whisk to combine, cooking for 1 to 2 minutes. This is simply to cook off that raw flour taste. It will appear clumpy and that is normal. They will cook out in the next step.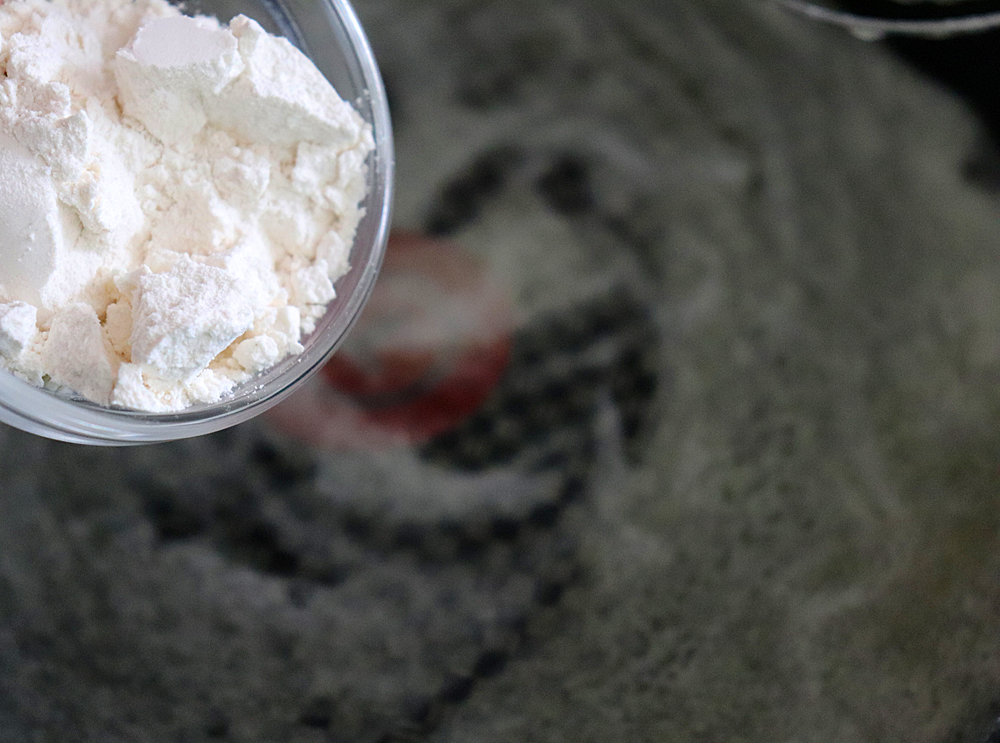 Whisk the hot broth into the roux and add seasonings. Whisk until it thickens slightly.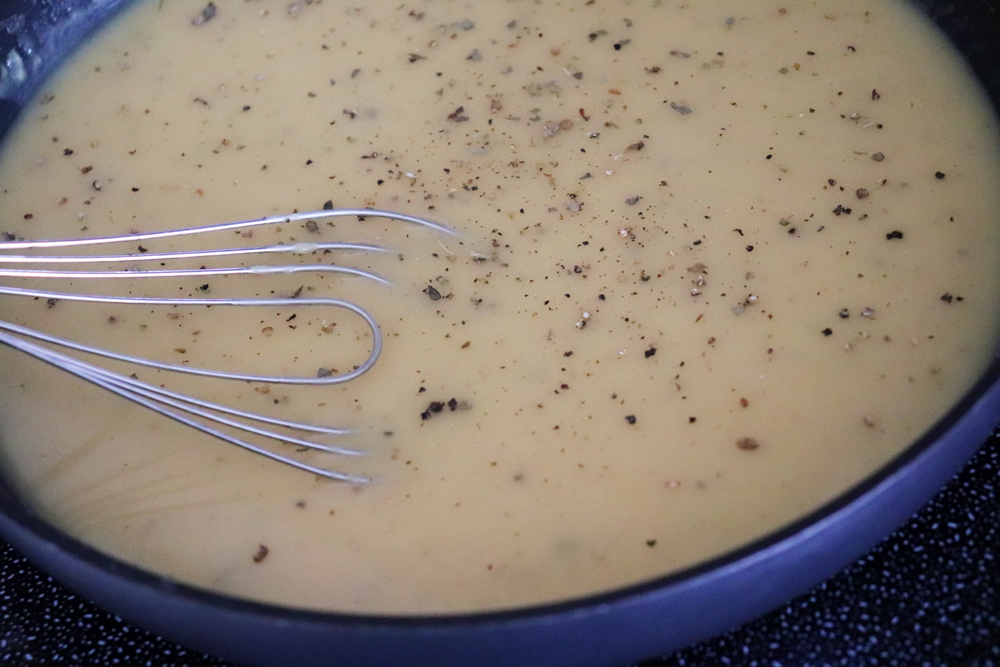 What you end up with is a rich, flavorful all purpose gravy that is awesome on mashed potatoes, veggies or my favorite, stuffing.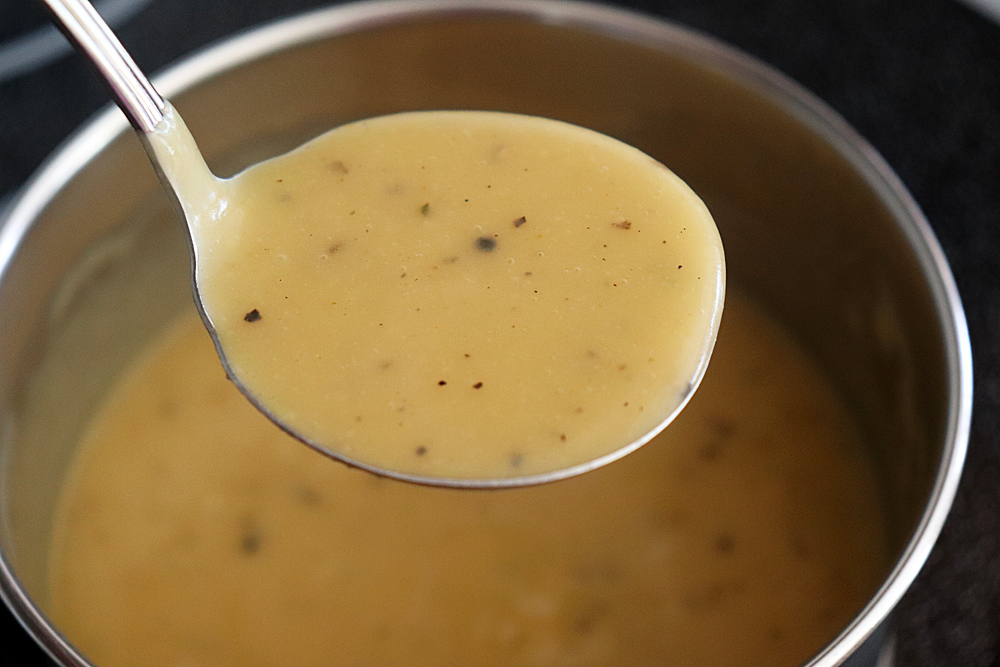 Did you make my Easy Make Ahead Gravy? Leave me a comment below and let me know what you thought. I love seeing what you come up with! 🙂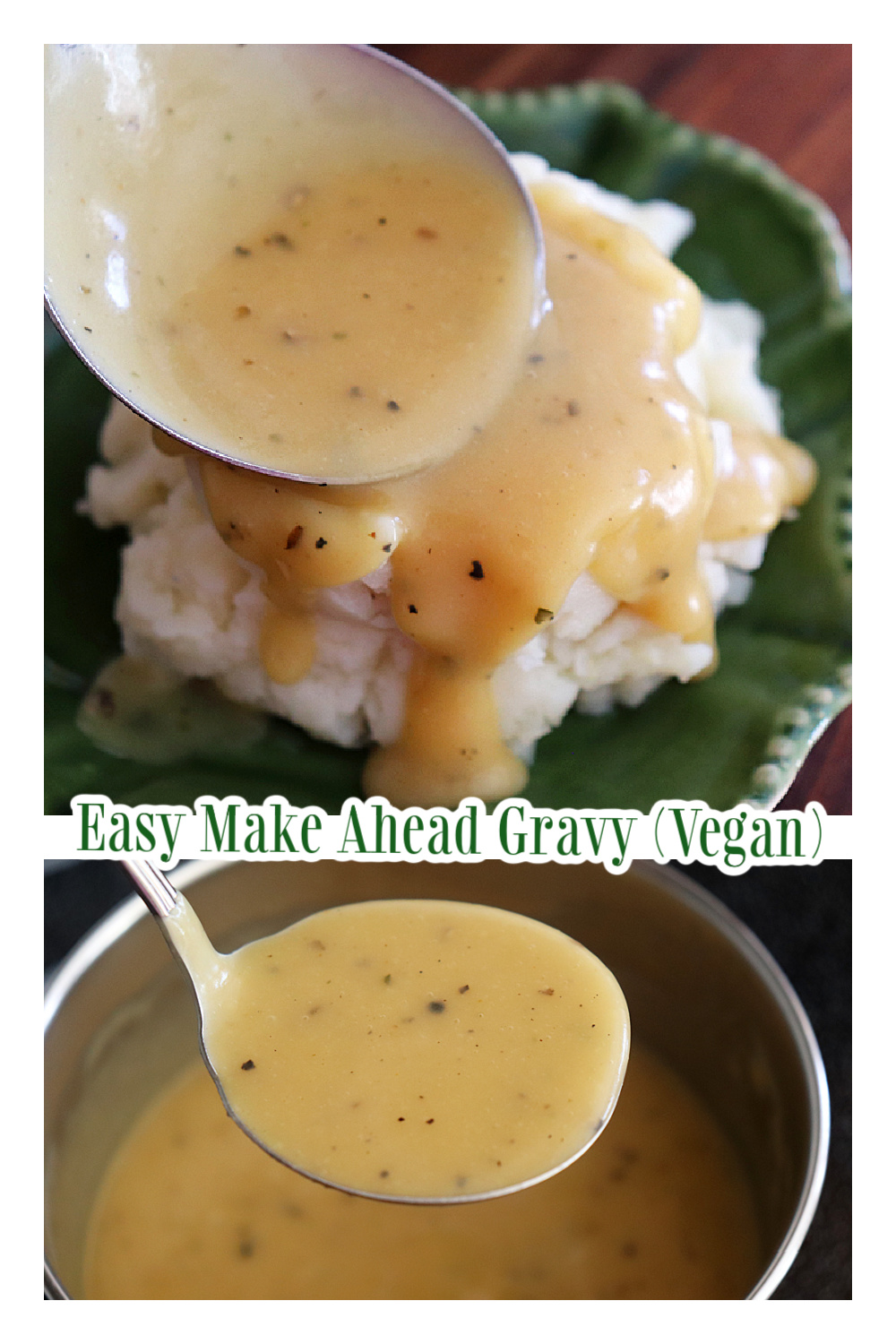 Easy Make Ahead Gravy
Servings
1
serving (about 1 1/2 cups)
Ingredients
1

Vegetable Bouillon Cube

1

tsp

Vegetable Bouillon Base

1 1/2

c

Boiling Hot Water

1

tbsp

All Purpose Flour

1/2

tsp

Onion Powder

1/2

tsp

Italian Seasoning Blend

Salt

to taste

Pepper

to taste
Instructions
Dissolve the vegetable bouillon cube and the bouillon base into hot boiling water. We're using both for and bolder gravy flavor. Set aside.

In a skillet, melt vegan margarine and using a whisk, incorporate the all purpose flour. Cook, stirring, for one to two minutes to eliminate that raw flour taste.

Add the hot liquid slowly to the pan, whisking to remove any lumps. They should dissolve as you cook and whisk. Allow to thicken slightly.

Add the onion powder, Italian seasoning blend and season to taste with salt and pepper.

Serve over mashed potatoes, vegetables or even stuffing!