It seems everyone is already searching for Thanksgiving recipes (including me), so I decided to start my holiday recipes a tad earlier this year.  We're starting with my all-time favorite side, Vegan Mushroom Stuffing.  I L-O-V-E mushrooms.  I could eat this stuffing with every single meal.  Add a side of brussels, vegan gravy and some cranberry jelly and I am good!  Yes, that was literally my dinner tonight 🙂
This recipe is so simple and comes together really quickly.  No one wants to spend hours in the kitchen, especially with friends and family around.  Sometimes it's fun to do the cooking together though.  A crusty loaf of bread, onions, celery and carrots mixed with mushrooms and broth.  Seasoned with herbs like sage and thyme, the flavors are just amazing together.  It smells heavenly in here right now!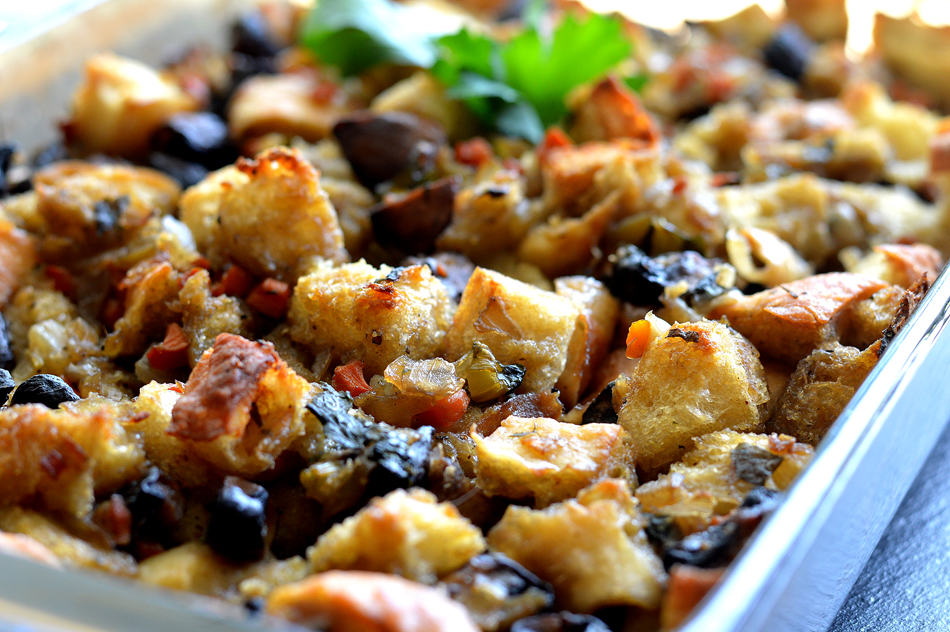 I like to saute the onions, celery and carrots in vegan margarine.  I think it gives more flavor.  I know some of you either can't find it or would prefer not to use it.  I'll leave that up to you.  But you can use oil to do this or even vegetable broth.  Recipes are meant to be a guideline, not a hard and fast rule.  I like to give you options.
Season with salt, pepper, sage and/or poultry seasoning (which has no poultry in it, by the way).  Most consist of: Thyme, Sage, Marjoram, Rosemary, Black Pepper, And Nutmeg.  Allow the veggies to become tender.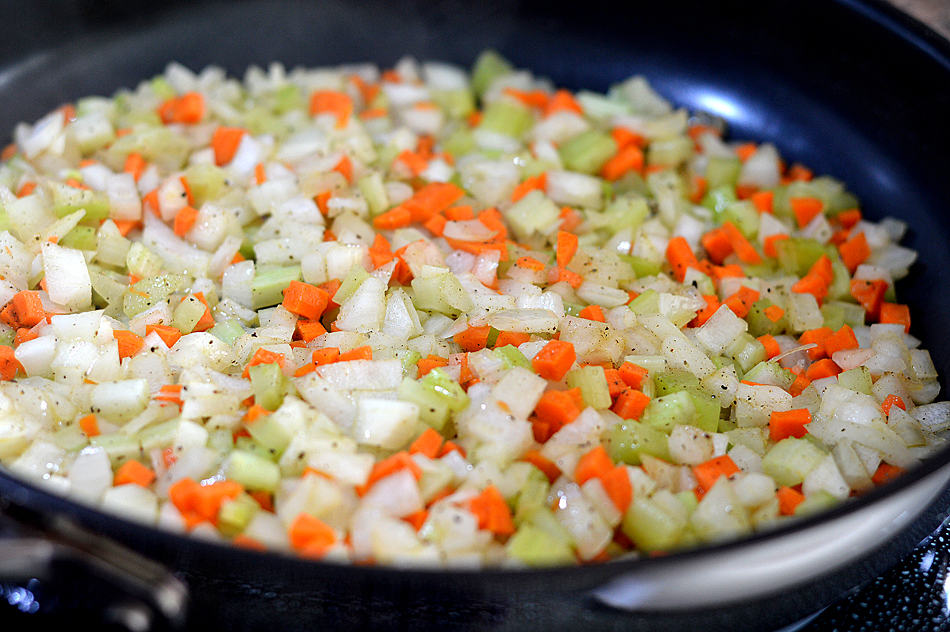 Next come the mushrooms.  I had hoped to get wild mushrooms but alas, none to be found at my grocery store. *sigh*  Soooo, plan B … baby bella mushrooms.  They work just as well and give a bit more body to the stuffing actually.  I remove the stem, clean the caps and quarter them.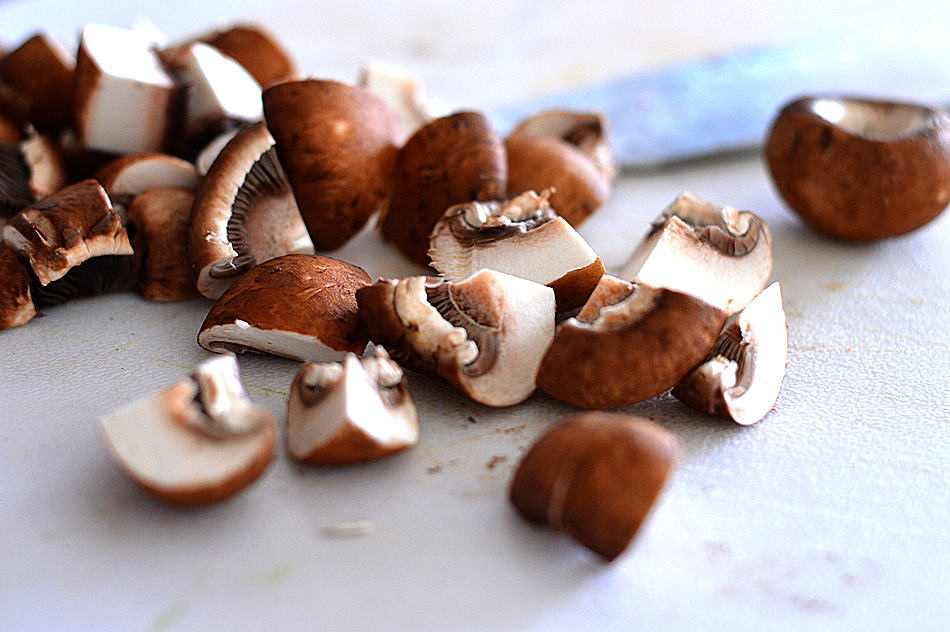 They get added the veggies and cooked until just barely tender.  They'll continue to cook in the oven.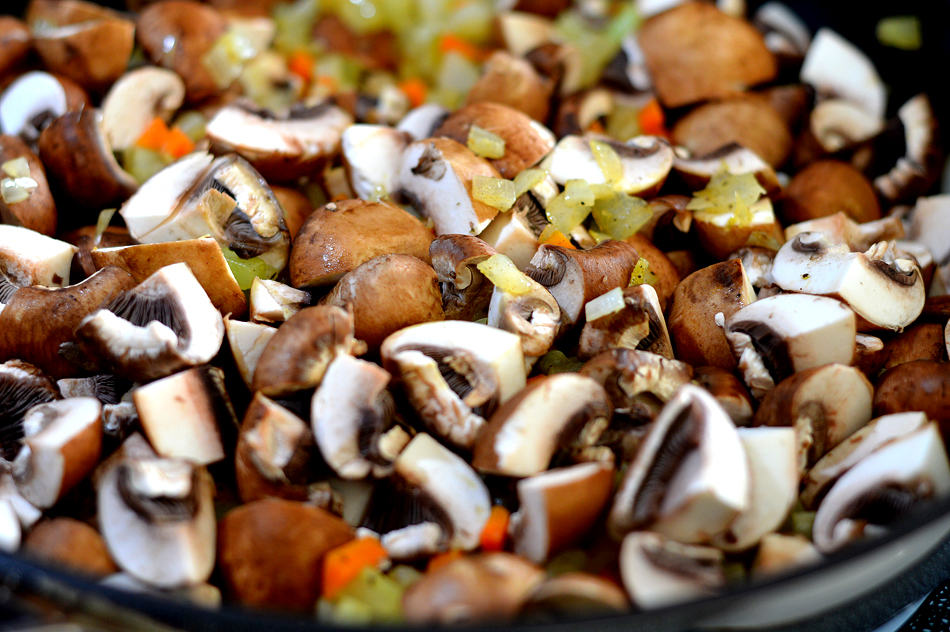 Last comes the fresh herbs such as parsley.  It should look a little something like this…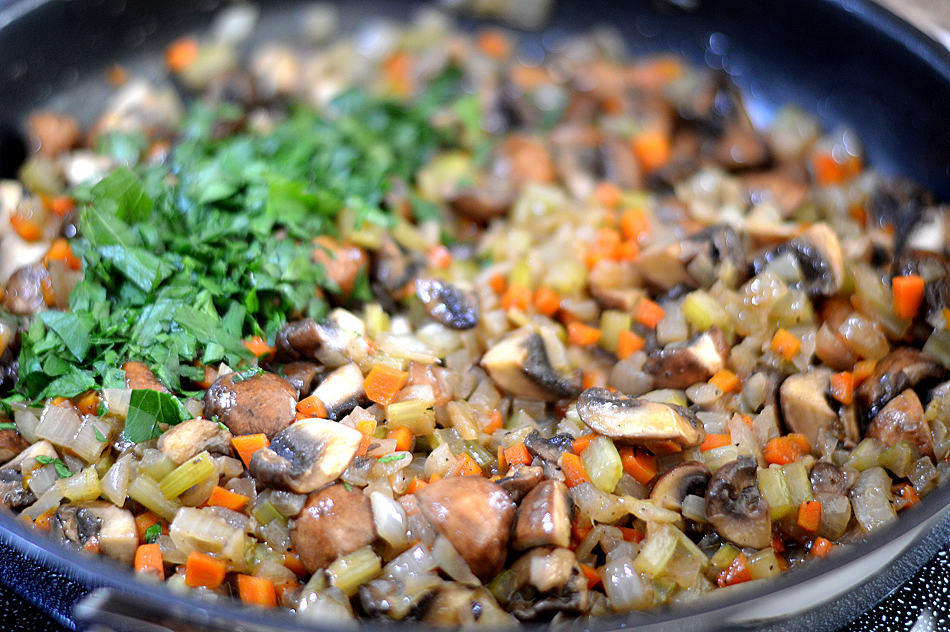 I chose a crusty loaf of bread and cut it into cubes.  Everything gets mixed together in a large bowl with the vegetable broth.  I would love to say there is an exact measurement for this, but it really depends on your bread of choice.  You want enough so that when it bakes, it doesn't get too dry BUT, also not so much that it gets mushy.  Eyeball it.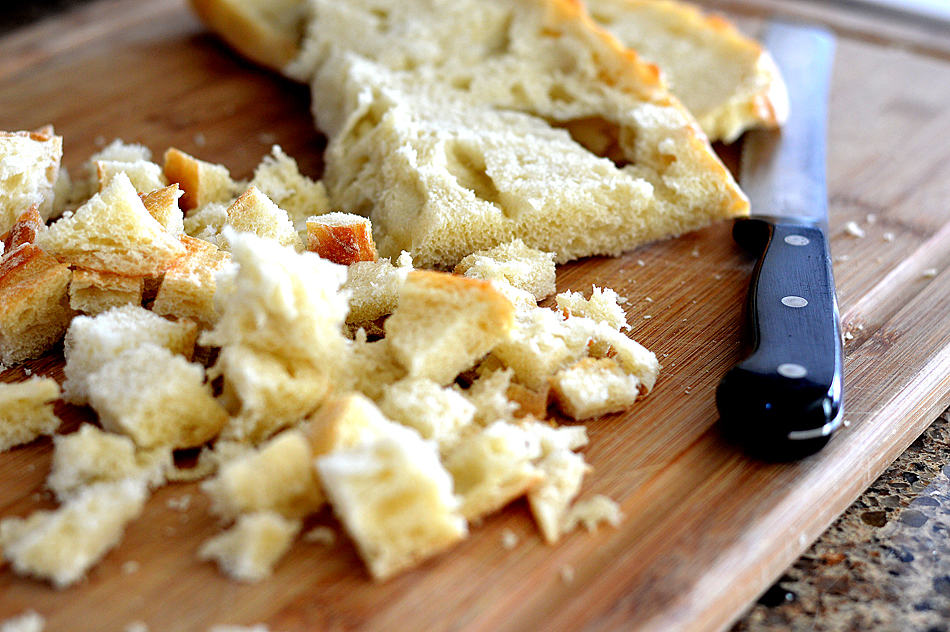 I cover and bake for the first 30 minutes, uncover and bake for another 30 minutes or until the moisture is all but gone.
Serve with a ladle full of your favorite vegan gravy.  I'll have some new recipes coming for you very soon.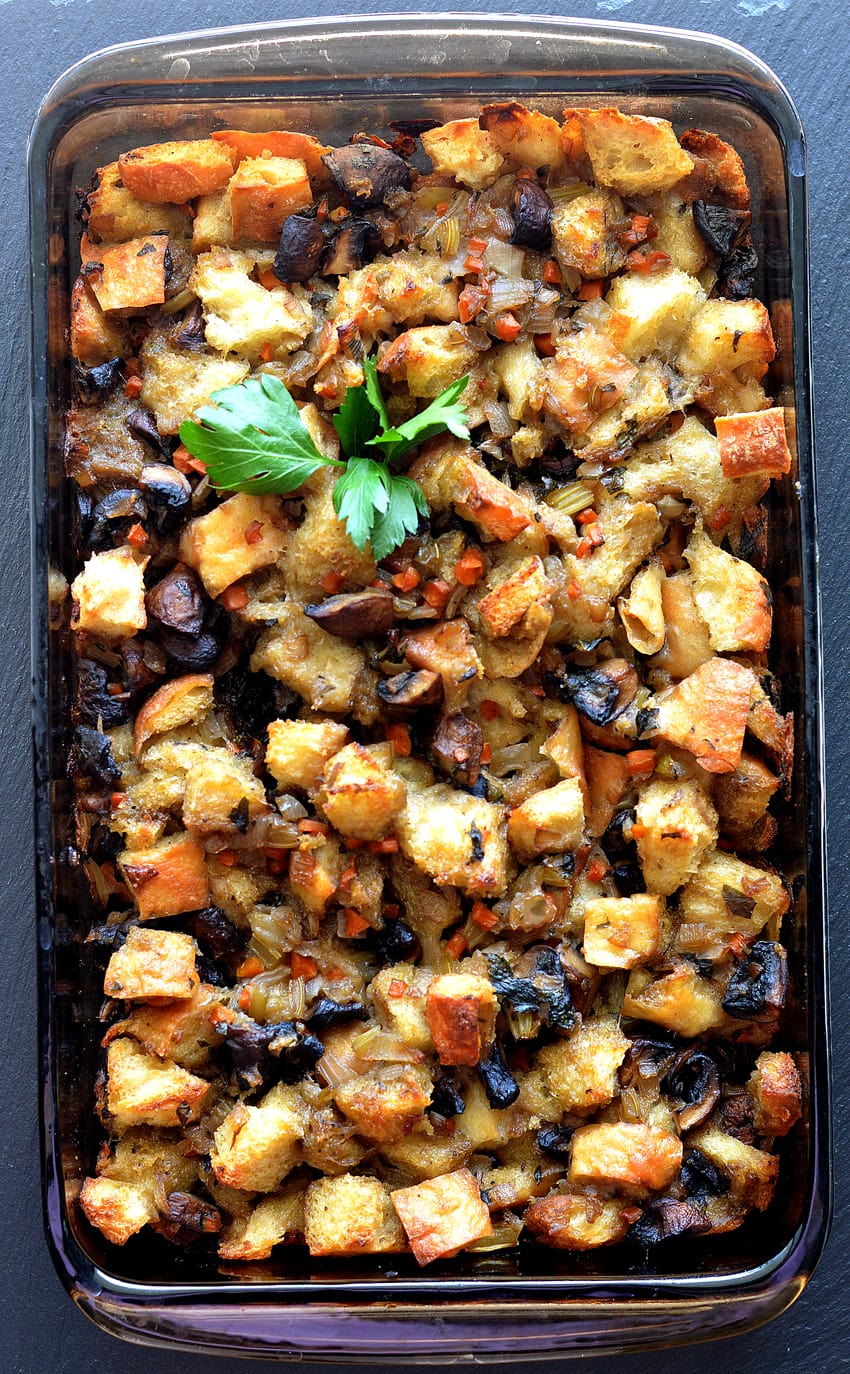 Did you make this recipe for Vegan Mushroom Stuffing?  Did you make any changes?  Any additions??  If so, please leave a comment below and let me know what you thought.  It's often your feedback that encourages other readers to try my recipes, so I really appreciate your input and feedback 🙂
Vegan Mushroom Stuffing
Ingredients
2

Tbl Vegan Margarine

1

large Onion

diced

1

C

Celery

diced

1/2

C

Carrots

diced

1/2

tsp

Sage

1

tsp

Poultry Seasoning

16

oz

. of Mushrooms

stems removed, cleaned & quartered, approximately

1

C

to 2 Vegetable Broth

1/4

C

Fresh Italian Flat-Leaf Parsley

minced

1

medium loaf Crusty Bread

cubed (about 4 cups )
Instructions
Melt margarine in a large skillet over medium heat along with the onions, celery and carrots. Saute until tender. Season with salt, pepper and herbs.

Add the mushrooms. Saute until just tender.

Add the fresh parsley.

Add cubed bread, then pour in the vegetable broth, tossing well to combine. Start slow with the broth and add more as needed. You may not need all 2 cups.

Transfer to a baking dish and cover with foil.

Cover and bake 30 minutes at 375 degrees.

Uncover and bake until golden, about 30 more minutes.