I first started making Naan Bread as the base for homemade pizzas. If you are new to bread making, this is the perfect recipe to start with because this Easy Vegan Naan Bread is literally a no-fail recipe! You don't need any special equipment or flours, just a hot skillet. So let's get started.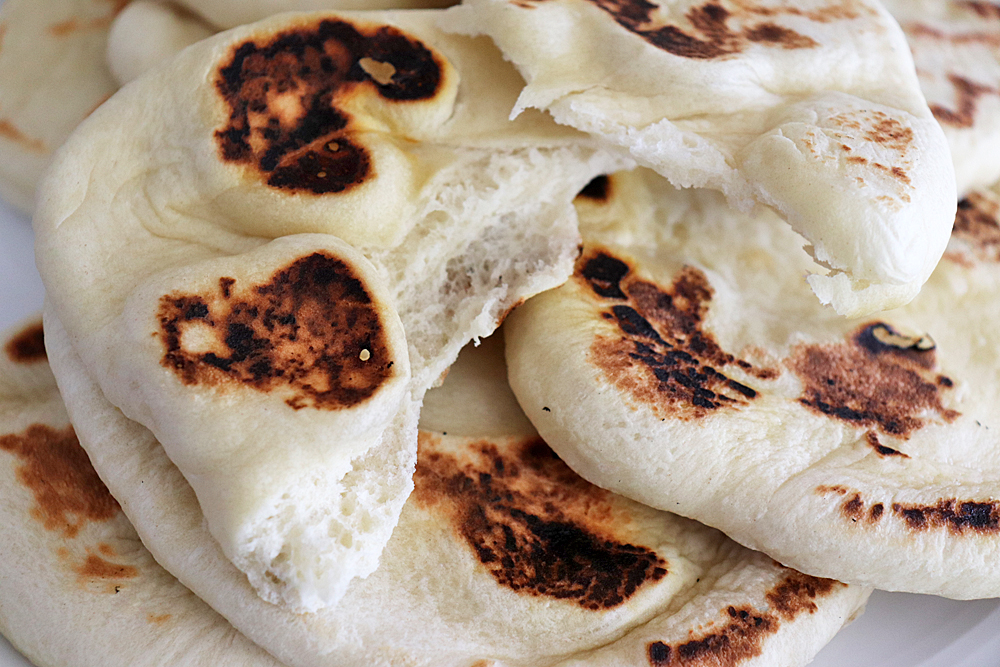 What ingredients do I need to make Easy Vegan Naan Bread?
You will most likely find every thing you need for this recipe right in your pantry or fridge. All purpose flour, water, yeast packet, sugar, olive oil, salt, baking powder and either a vegan Greek Yogurt, sour cream or canned coconut cream.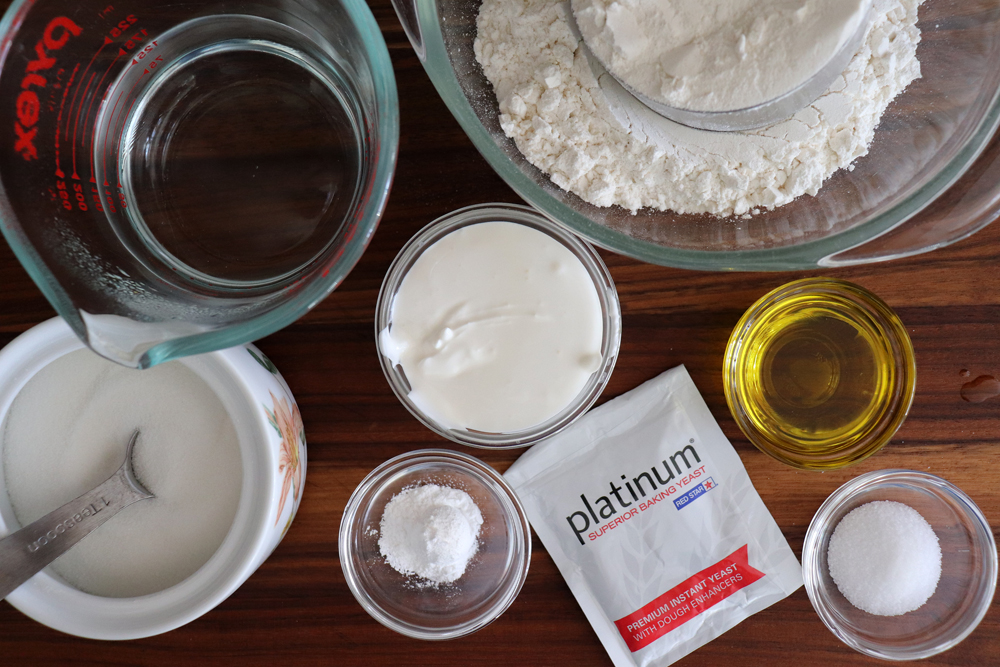 The first thing you always want to do with a yeast bread is to check your yeast. You want room temperature water which is about 105 degrees Farenheit. Too cold and it won't activate the yeast, too hot and it will kill the yeast. If you have a thermometer, you can use that or just your finger will tell you if it's too hot or cold 🙂
Once you see that foaming on the top of the water, you are good to proceed!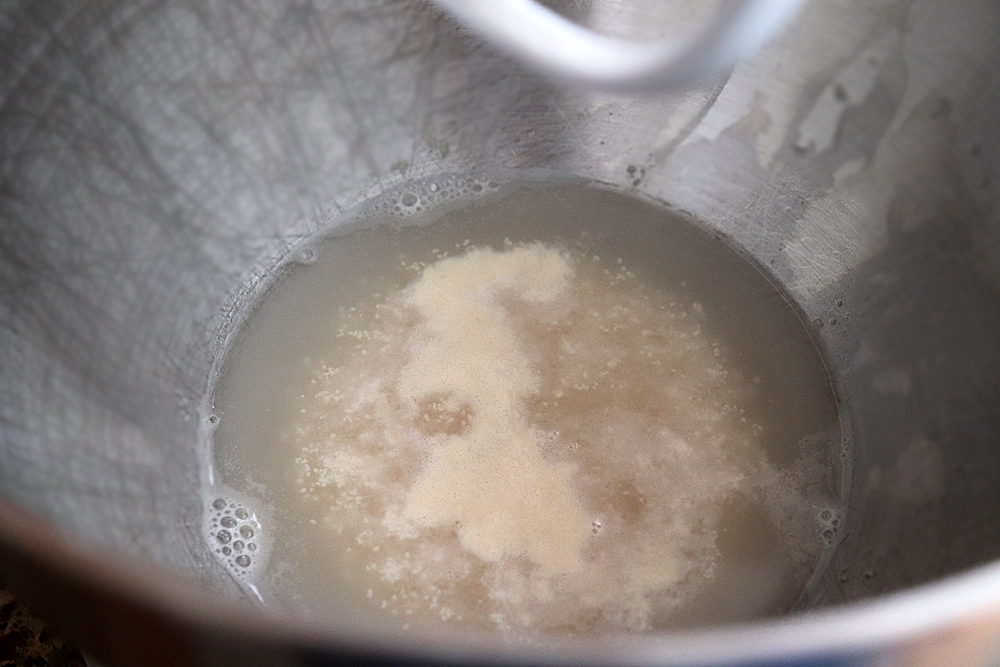 I use a stand mixer for this because it does all of the work FOR you. If you love to knead bread, feel free to do it by hand 🙂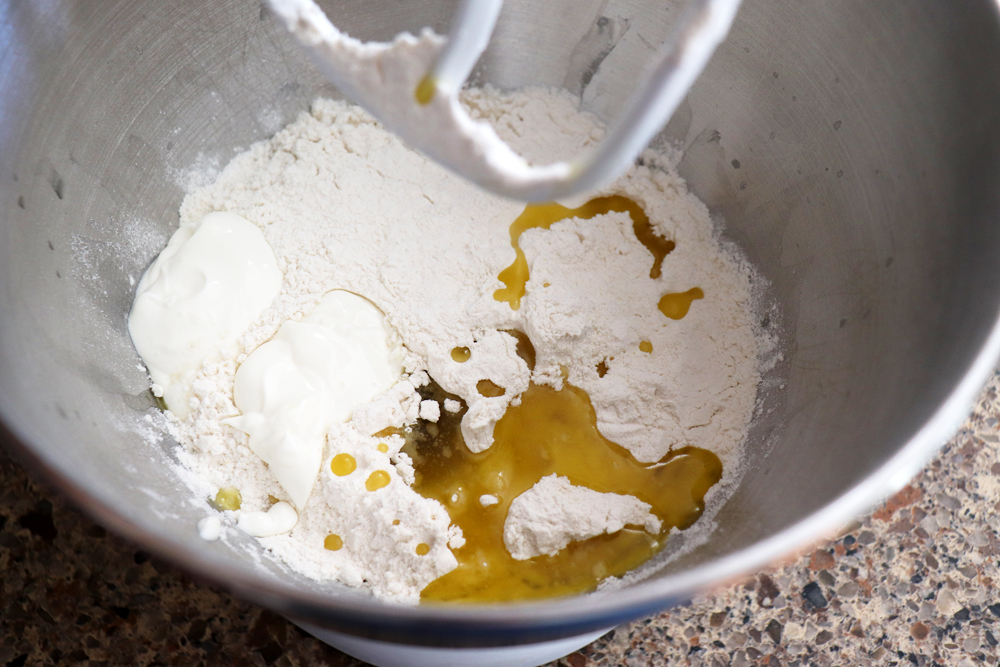 I always do the last few kneads by hand to give me this nice smooth ball. Place the ball of dough in a lightly oiled bowl, tossing to coat, and cover with a kitchen towel. It's important that the dough be in a warm, but not hot, place so that it has a chance to rise. Mine took about 90 minutes to double.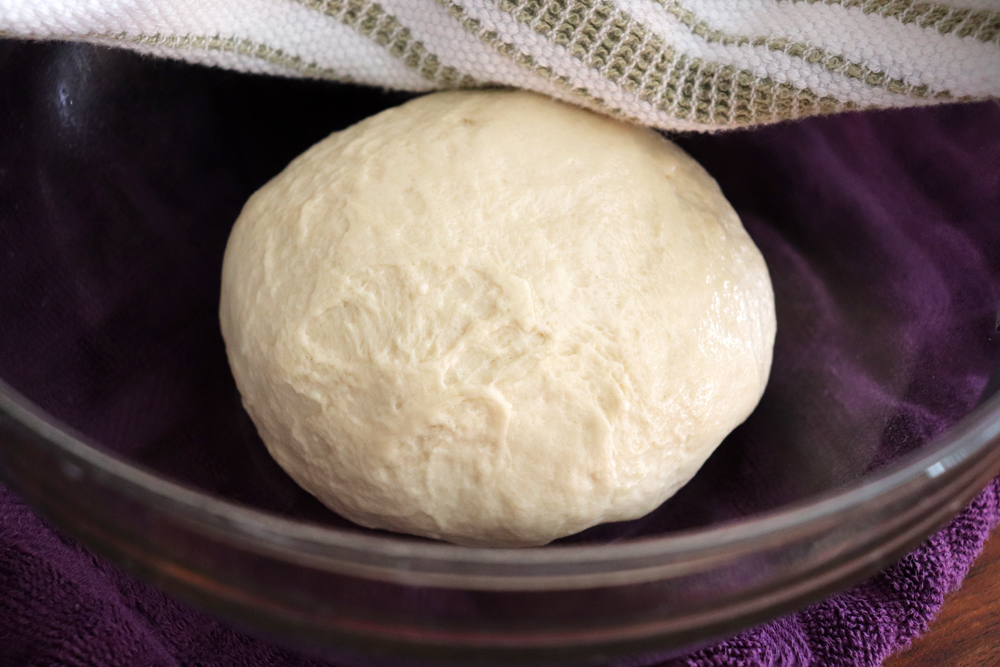 And this is what it looks like 90 minutes later. Isn't that spectacular? If you can find the yeast in my ingredients photo, I highly recommend it. I found mine on Amazon.com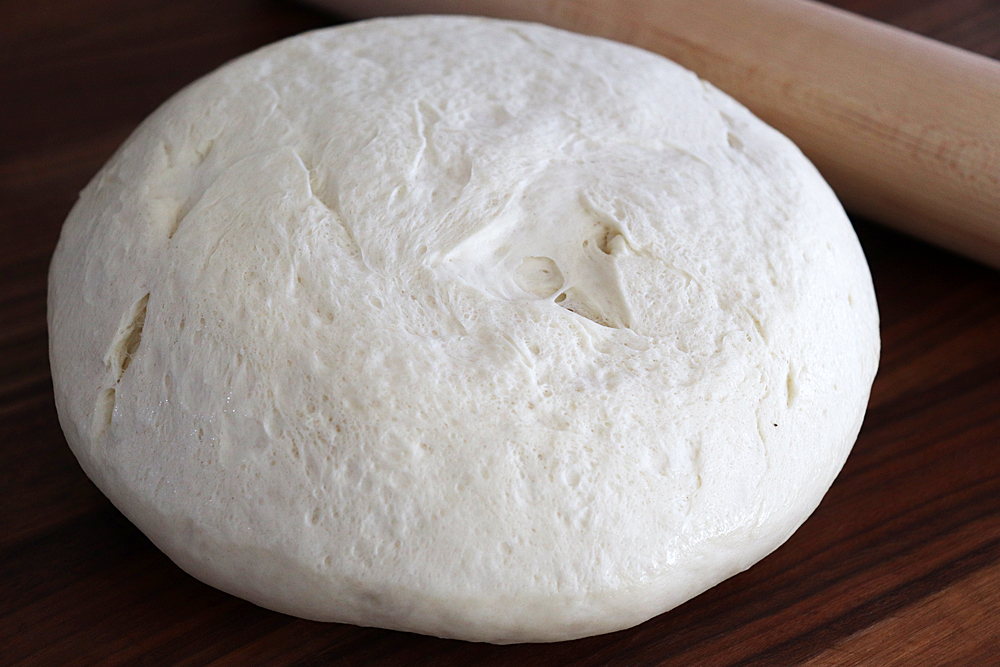 Knock down some of the air from the risen dough and cut it into 8 similarly sized pieces. This does not need to be an exact science and you could alternately choose to make four oval shaped pieces for pizza as I often do.
Roll as thin as you can. If the dough seems to be fighting you and is too elastic, give is just a few minutes to rest and try again.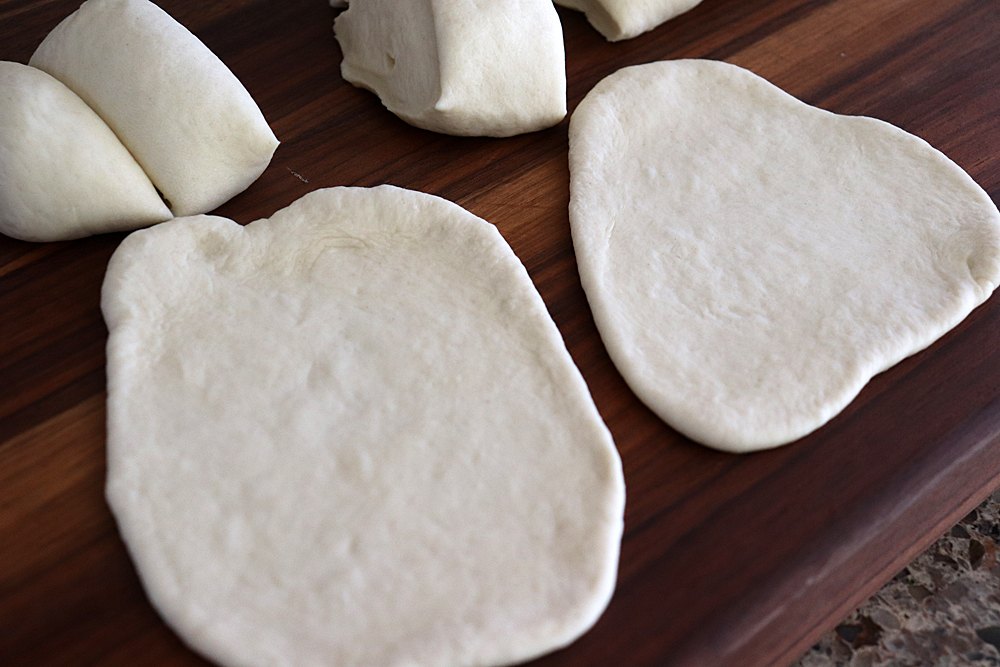 Preheat a skillet on high heat. I tried medium high, but for those traditional bubbles to appear, they really only happened on a higher heat. Once you see those bubbles, it's time to flip.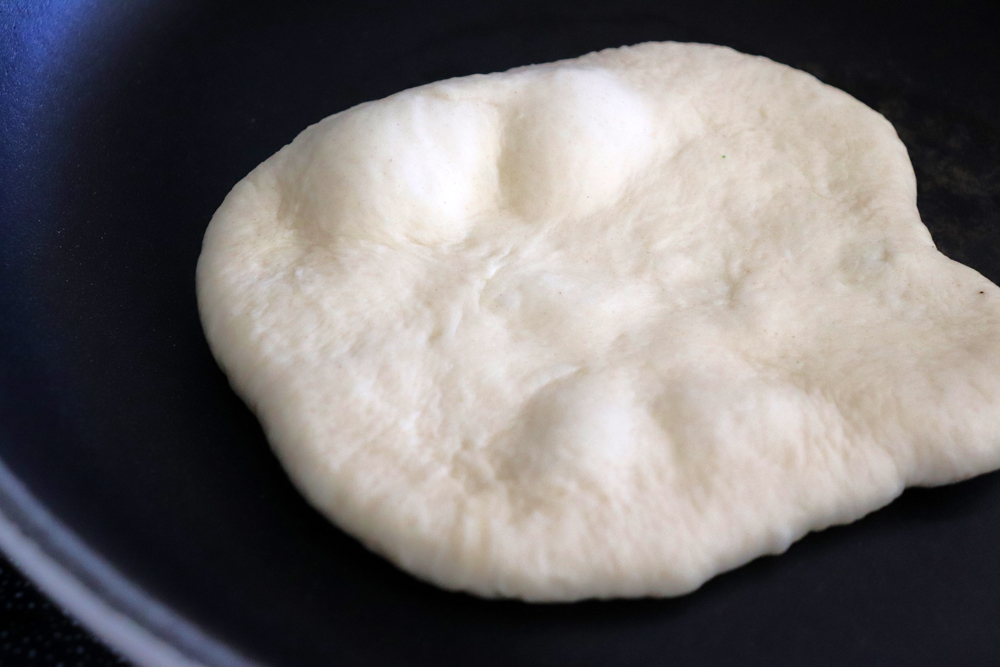 Your Easy Vegan Naan Bread should look something like this. No two are alike, but I dare you not to indulge in one (or two) while they are still warm. Oh my gosh, I am a bread fanatic and could not get enough of these. So good!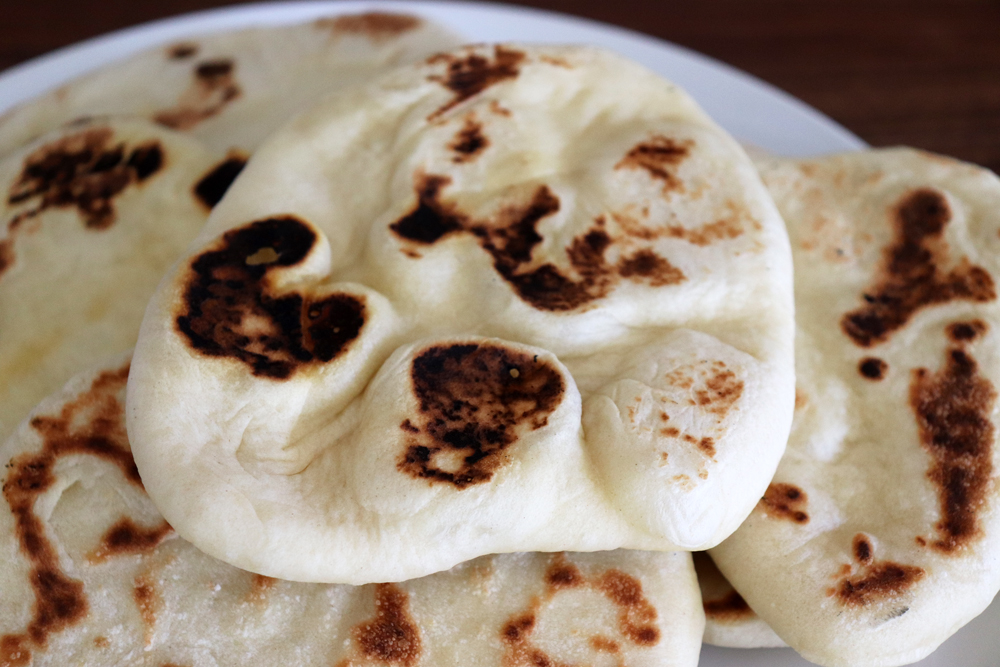 Did you make this recipe for Easy Vegan Naan Bread? If so, leave a comment below and let me know what you thought. And, if you enjoyed the recipe consider pinning it for later 🙂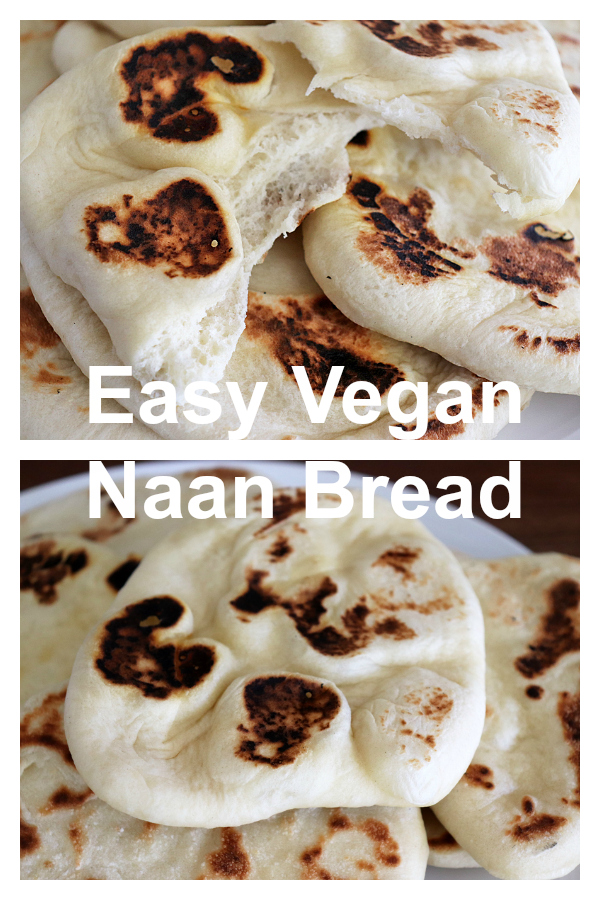 Easy Vegan Naan Bread
Easy Vegan Naan Bread Recipe
Servings
8
6" Naan Breads
Ingredients
1

tsp

Active Dry Yeast

if using a packet, be sure to measure out 1 tsp

3/4

c

Water

105 degrees Farenheit

1

tsp

Sugar

2

C

All Purpose Flour

1

tsp

Salt

3/4

tsp

Aluminum Free Baking Powder

3

tbsp

Vegan Greek Yogurt, Vegan Sour Cream OR the creamy part of Canned Coconut Milk

any of these will work just fine

2

tbsp

Olive Oil
Instructions
In the bowl of your electric mixer, add the yeast and warm water. Allow to sit until it becomes foamy on top.

Add the remaining ingredients and mix (I used the paddle blade, not the dough hook attachment) until you get a uniform dough. If you wish, you could do this all by hand.

I always finish my dough by kneading with my hands until it is smooth and rounded in shape.

Place a small amount of olive oil in a bowl and coat the dough ball with it. Cover with a kitchen towel and place in a warm spot to rise. About 90 minutes.

Once doubled in size, punch down some of the air in the dough and divide into 4 to 8 equally sized pieces and roll thin.

If you have a cast iron pan, this is the perfect time to use it! Preheat until very hot (no oil needed) and place one piece of rolled dough at a time.

Once bubbles start to form on the top and the bottom is browned in areas, quickly flip and repeat. Do not over cook.

Repeat with the remaining dough.

Some serving options include brushing with garlic butter and herbs OR, you can use Naan Bread as the base for homemade pizzas or even sandwiches. The options are endless 🙂