Vegan baking can be challenging sometimes and when I am researching new recipe, I always start with classics that tend to be "accidentally vegan" and/or use few non-vegan ingredients. Such is the case with these Vegan Chocolate Sugar Cookies. Deep, dark, and rich chocolatey cookies that are tender on the inside with a slightly crisp exterior. The only question is to frost? Or not to frost? 🙂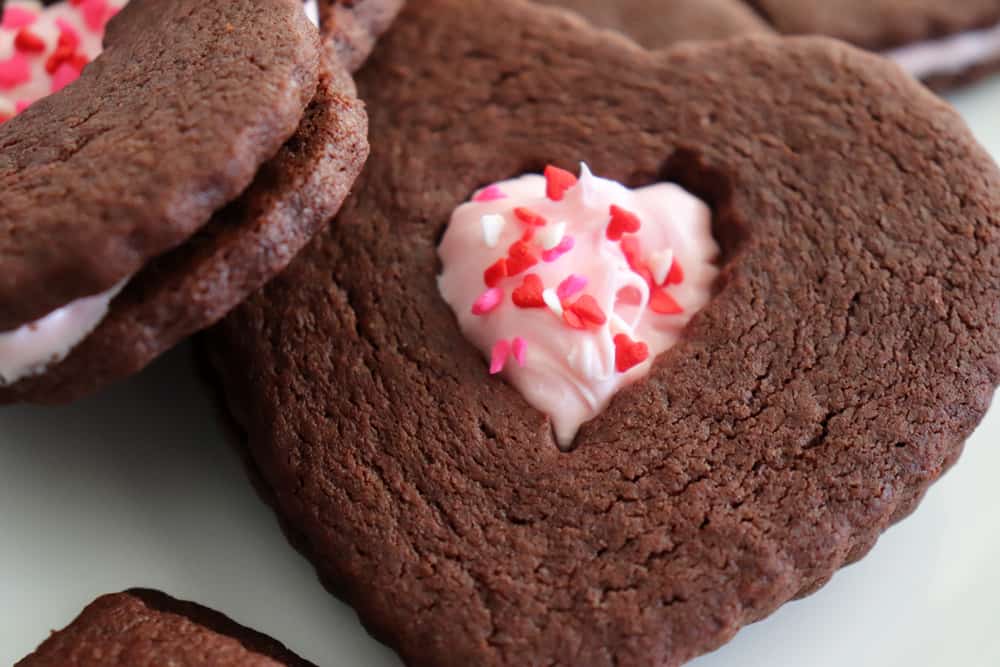 The process is pretty straightforward. It begins with sifting the flour and cocoa powder. Since the flavor of this cookie is dependent on the quality of the cocoa powder, try to find the highest quality you can. It really does make a difference.
Whisk in baking powder and salt, then set aside. In the meantime, cream together room temperate vegan margarine and sugar until it's light and fluffy.
For an egg-replacer, I always default to unsweetened applesauce when making cookies. It just works! A bit of vanilla goes in and then simply combine the dry ingredients with your vegan butter/sugar mixture.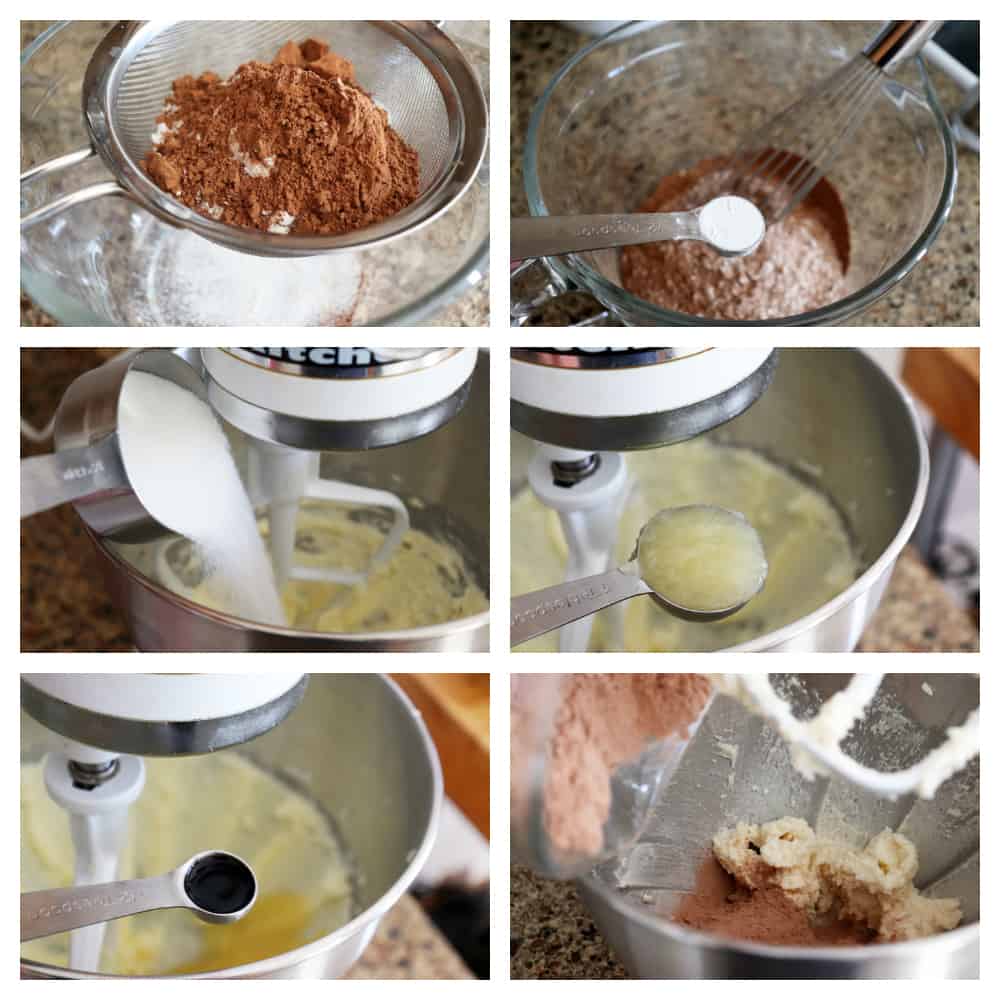 The dough is pretty sticky at this point and I've tried this a few different ways. I prefer to roll the dough between two sheets of parchment, chill and then cut out your hearts directly on the parchment. You can absolutely roll out the unused portions, but chilling the dough is imperative in this recipe so that our cookies hold their shape.
Also, try to keep the dough about 1/4″ thick if making these into sandwich cookies.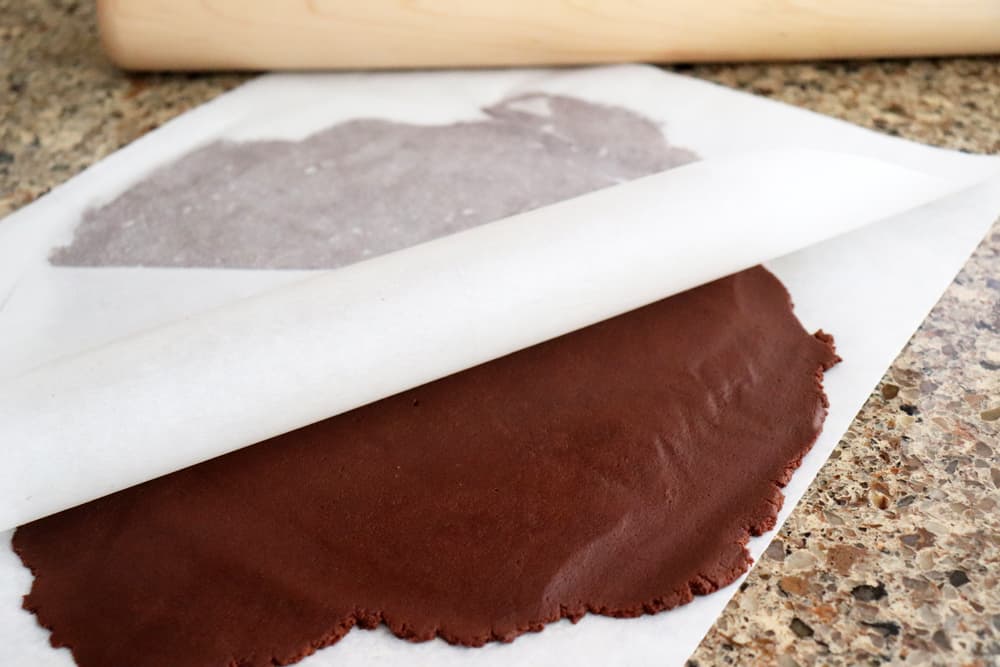 I cut large hearts and on half of them, used a small heart to cut out the centers. These were a nested set of fluted metal heart shaped cutters from Amazon.com
These turned out so well, but just know they will seem soft even after baking. You must allow these cookies to cool completely before handling. Once they are cool, they are slightly crisp and won't break when you attempt to frost them.
Now, you could certainly stop here and enjoy these rich chocolate cookies but…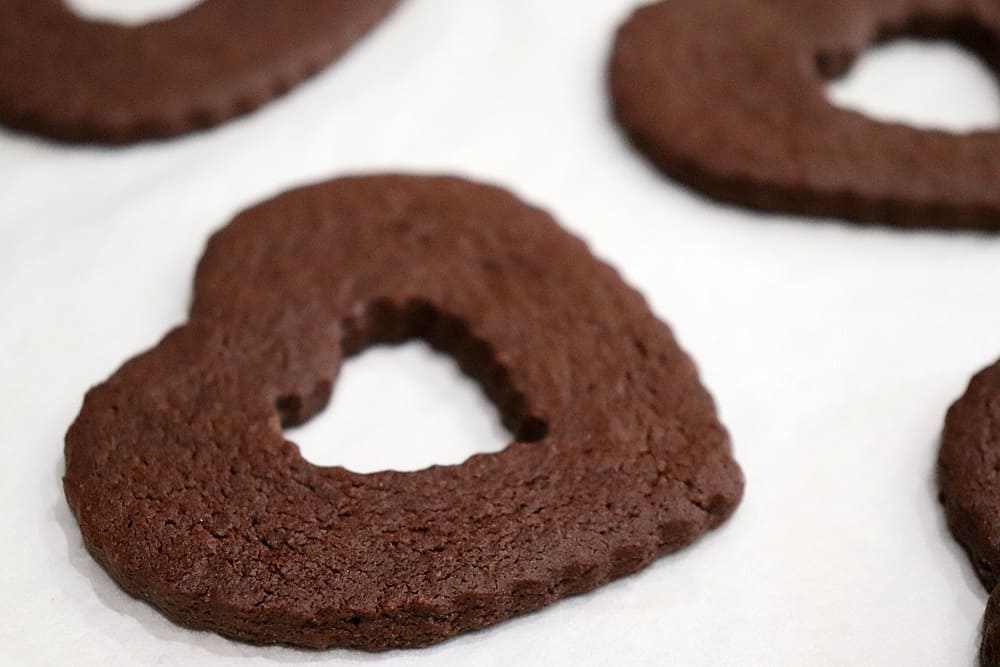 I decided to take it to another level and use a vegan frosting … with sprinkles! Did you know there are many commercially available frostings that are also "accidentally vegan"? It's true and they are delicious. They also make recipes like this one, super easy. I tend to use PETA's site for the most up-to-date vegan food lists.
I found the little vegan sprinkles locally, but many options for vegan sprinkles are now available online.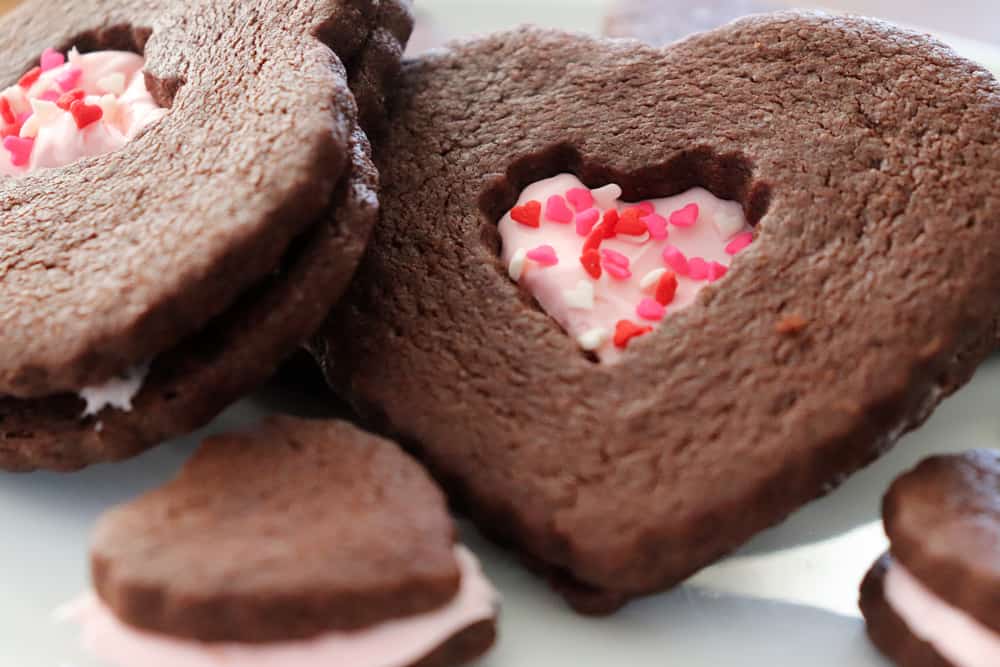 Did you make this recipe for Vegan Chocolate Sugar Cookies? Let me know what you think in the comments below and if you enjoyed the recipe, please share it on Pinterest!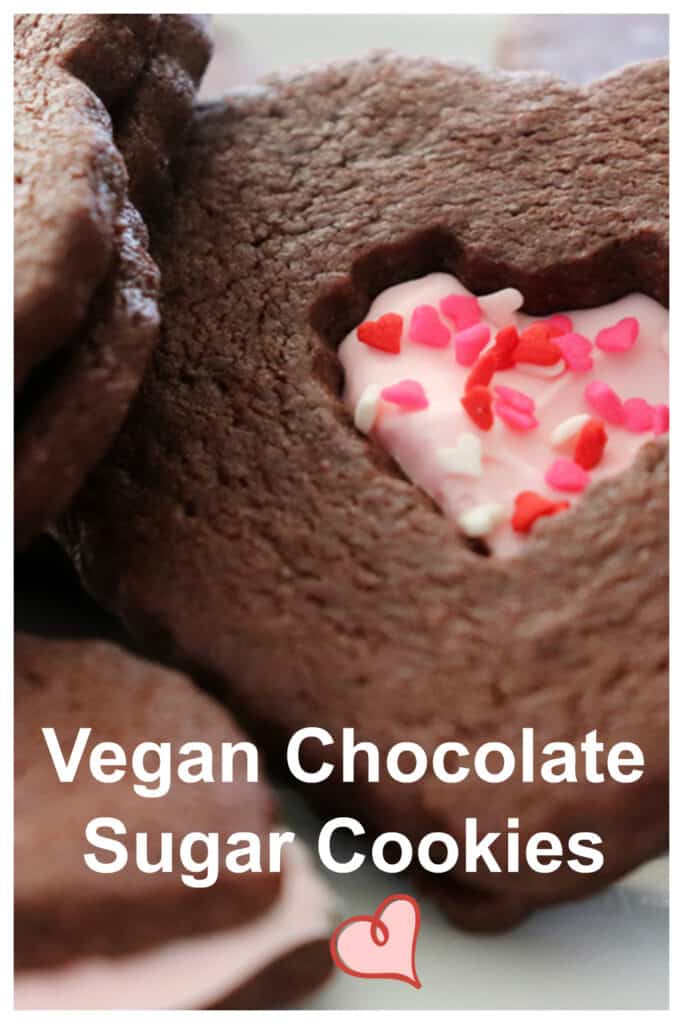 Vegan Chocolate Sugar Cookies
Vegan Chocolate Sugar Cookies
Ingredients
FOR THE VEGAN CHOCOLATE SUGAR COOKIES:
3/4

c

Vegan Margarine

1

c

Sugar

I recommend white sugar for this recipe

1/4

c

Unsweetened Applesauce

1

tsp

Vanilla Extract

1 1/2

c

All Purpose Flour

sifted

3/4

c

Cocoa Powder

sifted

1

tsp

Baking Powder

1/8

tsp

Salt
FOR THE FROSTING:
Commercially prepared frosting

(SEE LINK IN BLOG POST)
Instructions
Sift together flour and cocoa powder.

Whisk in salt and baking powder. Set aside.

In the bowl of an electric mixer, combine room temperate vegan stick butter and sugar. Cream until well combined and the sugar is dissolved.

Add the applesauce and vanilla.

Now add the flour/cocoa powder mixture in slowly.

Place the mixture between two sheets of parchment paper and roll to about 1/4" thick. Refrigerate for an hour or so.

Preheat oven to 350 degrees.

Remove the top parchment and proceed to cut your cookies into hearts, some solid and some with the center cut using a smaller heart.

You can re-roll the remaining dough, but I recommend chilling it again while the first batch bakes for best results.

Bake the cookies for about 10 minutes. They will still seem very soft. Set the sheet pan on a cooling rack and let cool completely before handling.

Enjoy 'as is' OR frost and sandwich them as I have here. Vegan sprinkles optional.

This recipe makes about 2 dozen larger cookie cutouts or many more if you use a variety of cutters as I have here today. Enjoy!