During the colder months, a nice warm and creamy pumpkin soup is a favorite for most. I remember each winter when I was growing up, my mother would cook at least one or two batches of pumpkin soup or vegetable soup. She would then freeze off soups in multiple containers and thaw them for easy lunches or dinners. For many people, pumpkin soup is a nostalgic food that reminds them of their mother, father or even grandparents.
Traditional pumpkin soup is not only vegetarian friendly, it is kind on the budget and the best part is any left overs can be frozen and thawed for another chilly day. While a soup alone is tasty, a piece or two or three of bread really completes the dish. If you have some spare time on your hands, our vegan roast pumpkin soup pairs deliciously with homemade vegan sour cream and chive bread. For those that don't wish to take the vegan approach when crafting your pumpkin soup simply swap out the coconut milk for cream.
The Star of the Dish
It can be easy to get carried away when creating a soup, although it is important to remember that the pumpkin should be the prominent flavor. You can add spice such as chili flakes or powder to your soup although be careful to add it in moderation, tasting after each sprinkle. We will be roasting our pumpkin in this recipe (which will only take approximately 50 minutes), although if you are pressed for time, canned pureed pumpkin can substitute in as the next best thing.
While our recipe does not include a sweetener such as maple syrup, if you have chosen a pumpkin variety that is notoriously bland, you may find the need to add a vegan friendly or vegetarian sweetener. The most popular soup sweeteners are sugar, maple syrup and honey. If you wish to create a healthy pumpkin soup, when shopping for your pumpkins, choose a variety that is naturally sweet such as butternut pumpkins.
A variety of other vegetables can be added to your vegan roast pumpkin soup and we've listed a few you may like to try and add below:
Leek
Carrot
Celery
Potato
Sweet Potato
If you wish to garnish your pumpkin soup you can choose from one of our suggested garnishes below:
Coriander
Parsley
Nuts
Pumpkin Seeds
Fresh Chili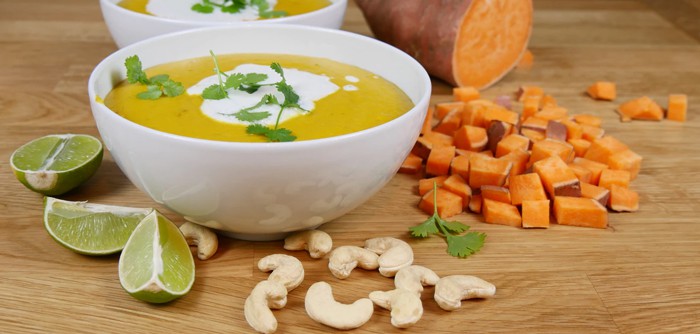 Benefits of Eating (Enjoying) Pumpkin
Pumpkins are not only delicious, they are in fact good for your health and well being. A single pumpkin contains vitamin A, vitamin C, vitamin B2, vitamin E, potassium and iron. While a single pumpkin will not meet your daily iron needs, vegetarians and vegans should always be looking for iron rich foods to add to their recipes. One cup of pumpkin will supply your body with 8% of the recommended dietary intake of iron. This is a good start or end to the day. While not only being jam packed with vitamins and minerals, pumpkin is also a low carbohydrate vegetable that is made up of over 90% of pure water. The vitamin A found within pumpkin can strengthen your immunity and protect your eyesight, the nutrient density of this vegetable can promote weight loss and the combination of antioxidants is linked to a lowered risk of cancer.
When is a Pumpkin Soup Suitable?
Pumpkin soup is often a staple food during the winter in many households. If you are a vegan yourself, or you must cater for other vegan family members, than simply using coconut milk rather than cream turns a traditional pumpkin soup into a animal product free alternative (for as long as honey isn't used). Many enjoy cooking up large batches of pumpkin soup for the family to enjoy for dinners and lunches, while others cook up a pumpkin soup at special celebratory times during the year. A pumpkin soup is a great house warming present or a nice gesture for someone returning from hospital or off work ill. This hearty pumpkin soup recipe will not only make the perfect gift for a friend who lives an animal product free lifestyle but also for those who are unable to have gluten in their diet.
A homemade soup is always tastier than those that come in can form: "There is nothing like soup. It is by nature eccentric: no two are ever alike, unless of course you get your soup in a can".
If you aren't a fan of pumpkins, take a look at some of our other vegan soup recipes perfect for the cold Winter weather:
How Can I Store my Pumpkin Soup?
If you live alone, or have a smaller family, you may opt to alter the recipe size so that you do not have copious amounts of leftovers. Others choose to cook a large batch that they can then freeze and enjoy over the course of a couple of weeks. It is important like any dish, to store it appropriately so that it does not become contaminated and lead to food poisoning. If you have made a large pot of our vegan pumpkin soup (using the recipe below), you'll need to dish up what you intend on eating that day into a bowl. The rest you will either choose to place in the fridge or freezer. If you are freezing your soup, it is a good idea to freeze it in portions, that way you can pick out a portion and thaw it without wasting what you will not eat.
Lay out a number of small containers and using a ladle, scoop the pumpkin soup from the saucepan into the containers. You will need to leave the soup sitting in the containers on the bench until they have cooled somewhat before placing them into the refrigerator or freezer. Ensure you place the container lid on firmly and that a gap of 1/2 and inch is left in the top of the container to allow for expansion. You may also choose to use freezer bags to store soup that will be frozen.
Vegan Roast Pumpkin Soup
A delicious, creamy and hearty pumpkin soup that is free from any animal products.
Ingredients
Vegetables
4

Garlic Cloves

(Chopped)

1

Brown Onion

(Thinly Chopped)

3

pounds

Sweet Variety Pumpkins

(Seeds and Skin Removed and Diced)
Liquids
2

cups

Vegetable Stock

(Gluten Free Variety)

1

cup

Coconut Milk
Seasonings
1/2

tsp

Salt

1/4

tsp

Ground Black Pepper

1/2

tsp

Nutmeg

(ground)
Optional Ingredients
1

tbsp

Olive Oil

(extra virgin)

2

tsp

Chili Powder

Sprinkle

Green Pumpkin Seeds
Instructions
Roasting
Line a large tray with baking paper and preheat your oven to 350 degrees Fahrenheit.

Place your pieces of unseeded, skinned pumpkin on the baking tray. Brush them with oil or give them a spray with canola oil. Place the tray into your oven for approximately 50 minutes or until a fork can easily pierce through the largest piece.
Frying
In a large saucepan over medium heat add a dash of oil and then add your thinly chopped onion and garlic. As it begins to cook sprinkle in the salt. Ensure you stir consistently until the onion becomes translucent. This should take approximately 5 minutes.

Add your pumpkin to the saucepan and stir it through using a wooden spoon. You may notice the pumpkin begin to break apart, this is a good sign that you have cooked the pumpkin for long enough.

Pour in the vegetable stock and bring the saucepan to a boil. Once it begins to boil, turn it down to simmer for approximately 15 minutes. Ensure you are stirring the ingredients regularly.

Pour in coconut milk, add your sprinkle of pepper and nutmeg and stir for approximately 1 minute on the heat. Remove the saucepan from the element and allow it to sit.
Blending
Once the soup has cooled some, you can use an immersion blender or you can use a standard blender to create the smooth and creamy texture of a soup.

Pour the soup into your blender (this may need to be done in multiple lots if you have a small blender).

Place the blender lid on firmly and hold a tea towel over the lid. Turn the blender on a medium setting and blend until the pumpkin soup becomes a creamy consistency free from lumps.

Pour your soup into approximately 4 serving bowls to be enjoyed or pour it into containers to be frozen off and thawed at a later date.
Serving
If you are serving the soup for visitors to enjoy you may choose to add some garnishes such as parsley, coriander or pumpkin seeds. A drizzle of coconut milk can add a nice pattern to the top of the soup.
Notes
This vegan pumpkin soup keeps well in a refrigerator for up to 5 days or can be frozen for up to three months. Adding other vegetables such as carrots and potato to the soup can enhance the flavor profile and nutritional value. If you find that you don't have vegetable stock (broth) on hand, you can use water as an alternative and instead of using coconut milk you can use other vegan milks such as hemp milk or soy milk.