The New Year is upon us and many are trying to get into that New Year, New You concept.  I am no different and that is why I am giving you a sneak peek at this Green Chile Portobello Posole.  While the rest of the world was indulging in sweets and treats, I was on the treadmill and counting calories…determined not to fall off the wagon, so-to-speak.
A few weeks ago, I shared that I will be launching a new website called Living Vegan! in January.  But I've been busy. I'll also be launching a third website called Vegan Meal Plans which I am super excited about.  When I first started on this path, finding vegan-friendly options wasn't the hard part.  It was putting it all together.  So that's what the aim of this site will be.  Occasionally, I'll share the recipes back and forth between sites, but ideally as I get the sites more established as their own entities, there will be all new recipes…each week…on all THREE sites.  Since I am a few weeks away from a formal launch, I thought I would share one of the recipes on The Veg Life.  Enjoy! 🙂
You will love this Green Chile Portobello Posole!
The only substitution I made from the classic posole was in the use of portobello mushrooms instead of pork.  Doing so not only makes this dish vegan, but it also lowers the calories. Since this recipe is part of our *upcoming* 7 Day Vegan Kickstart Meal Plan, this dish was formulated to come in at 189 calories per cup (including the tortilla strips).  The recipe makes 4 servings.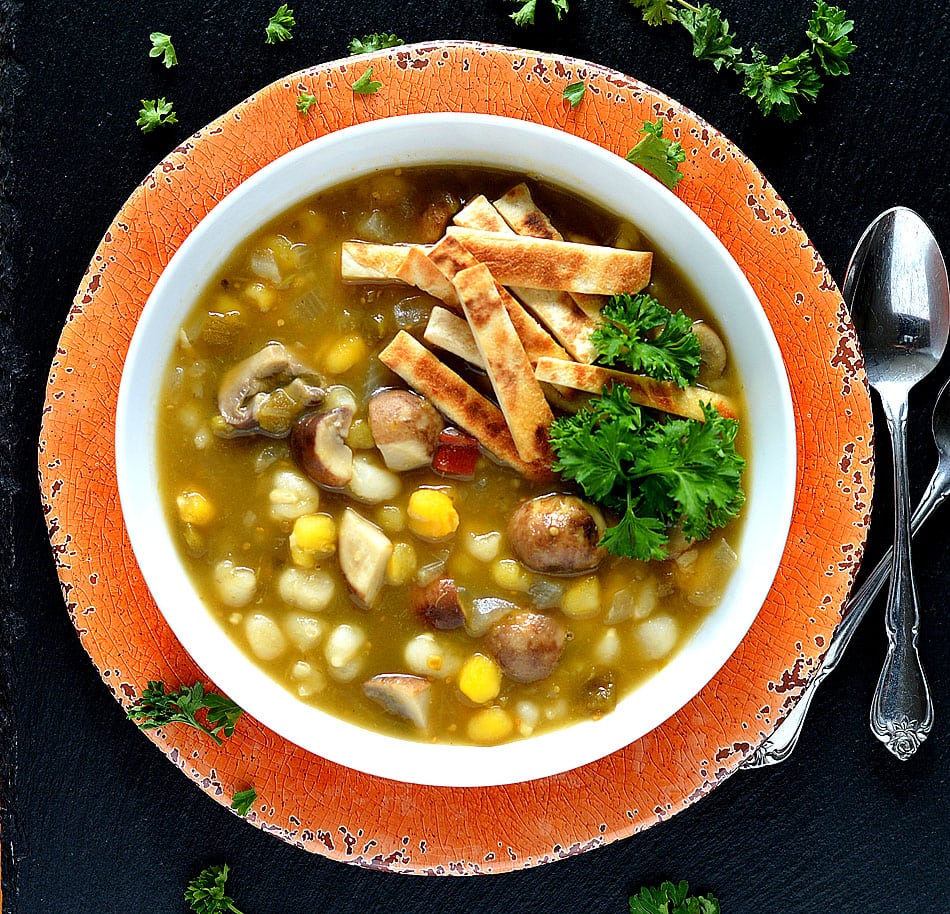 This Green Chile Portobello Posole is perfect for either lunch (or dinner) alone, or as part of our *upcoming* 7 Day Vegan Kickstart Meal Plan!  By the way, my can of chiles included a few red ones.  Not sure if that is normal, but I don't mind ?
COOKS NOTE:  If you are not used to spicy food, or prefer something milder, I would suggest going slow on adding the chile verde and green chiles.  It's really simple to make this recipe to suite your personal tastes.
Additionally, you could opt to make this into a cream soup by adding a small amount of canned coconut milk or non-dairy cream.  Both Silk & SO Delicious make great vegan alternatives!  Just be sure to edit your nutrition accordingly.
If you make this recipe for Green Chile Portobello Posole, leave me a comment and let me know what you thought! 🙂
PIN IT FOR LATER!

Ingredients
15

oz

Can Hominy white or yellow

drained

1

C

Salsa Verde (a/k/green salsa

1

C

Vegetable Broth low sodium if possible

4

oz

Diced Green Chile Peppers undrained

1/2

C

Onion diced and quickly sauteed

1-1/2

tsp

Cumin

2

Cloves

Garlic minced

1/2

tsp

dried Oregano

1/8

tsp

Red Pepper Flakes

8

oz

Portobello Mushrooms quickly sauteed

1

Flour Tortilla cut into strips

sprayed with cooking spray and baked for 8-10 minutes

1

tsp

Oil
Instructions
In a large stock pot with a small amount of oil, cook onions until translucent.

Add the mushrooms and saute for a few minutes, not fully cooked.

Add the remaining ingredients and simmer until the mushrooms are as tender as you'd like them.

Meanwhile, cut a tortilla into strips and place onto a baking sheet. Spray with cooking spray and bake at 400 degrees for 5 minutes. Toss and bake for 3-5 minutes more or until golden and crispy.

Serve with crispy tortilla strips and freshly snipped cilantro (or parsley).