This simple Grilled Portobello Steak with Tomato Corn Relish is so simple and yet incredibly flavorful.  These bowl-type meals are my absolute favorite way to eat these days.  More recipes like this one coming soon!
I cook the portobello mushrooms directly over a high heat on a lightly oiled grill.  The veggies are roasted on the grill in a pan.  They get that nice charred smokey flavor.  Serve with your favorite dipping sauce (today I chose barbecue) and a piece pulled off a crusty loaf of bread.  My local health food store sells vegan loaves.  You could also make your own.  This particular one has roasted garlic in it.  Dipped in a bit of extra virgin olive oil with fresh cracked black pepper….yum!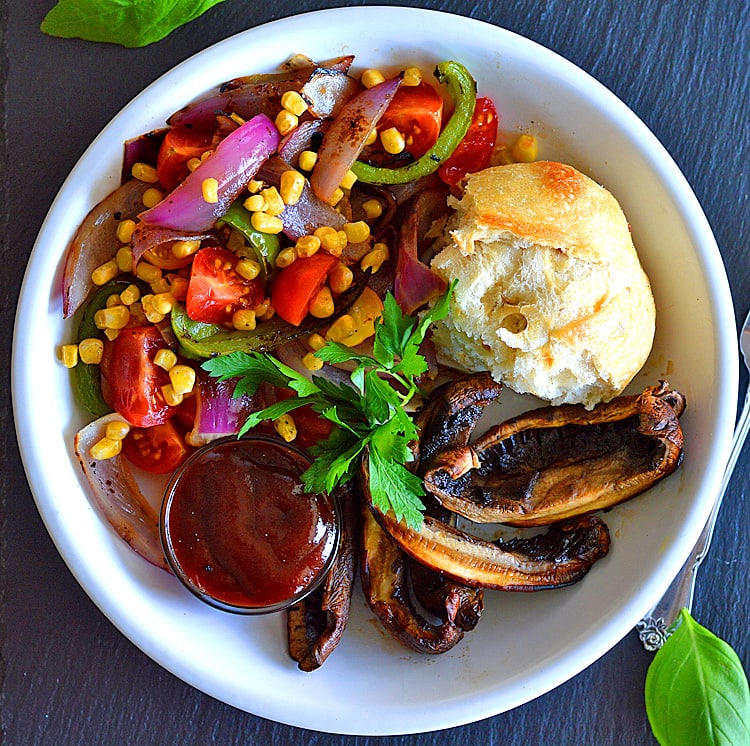 I seasoned the portobello steaks with a commercial peppery barbecue blend, but simple salt and pepper works too and quite frankly, would be a better choice for some of the alternate dipping options below. Just be sure when cooking the portobellos that you lightly oil the grill.  I also give the mushrooms a light brushing too.
I chose my favorite barbecue sauce to dip into today, but there are sooooo many options available to you here.  Caper mayonnaise, vegan butter, horseradish cream, vegan ranch, sweet and sour…the possibilities really are endless and boil down to personal preference.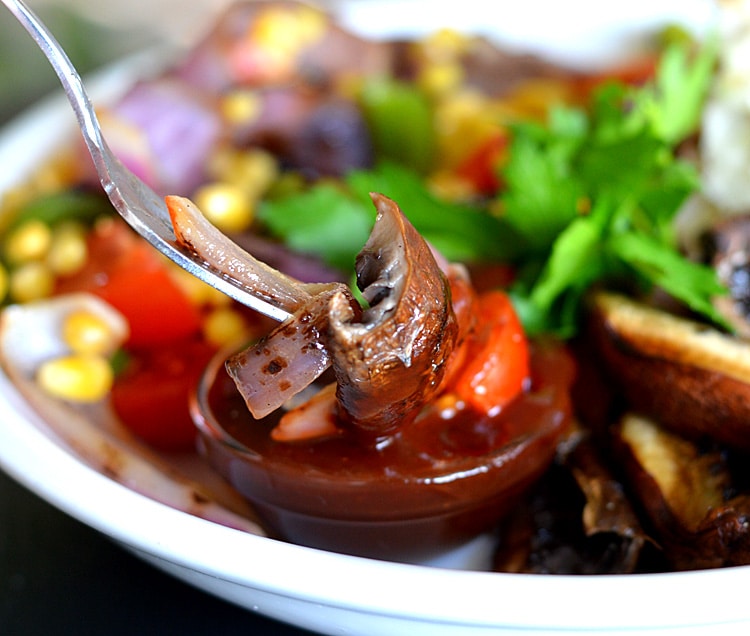 The tomato corn relish combines fresh sweet corn straight off the cob, red onions, red and yellow cherry tomatoes and a green pepper.  I grill the pepper and onion for a few minutes before adding the rest as they require a bit more cooking time.
Last but not least, tear off a piece of your favorite crusty loaf of bread.  You can give that a light brushing of olive oil and grill for a few minutes too.  I like to dip into a small amount of extra virgin olive oil with freshly cracked black pepper.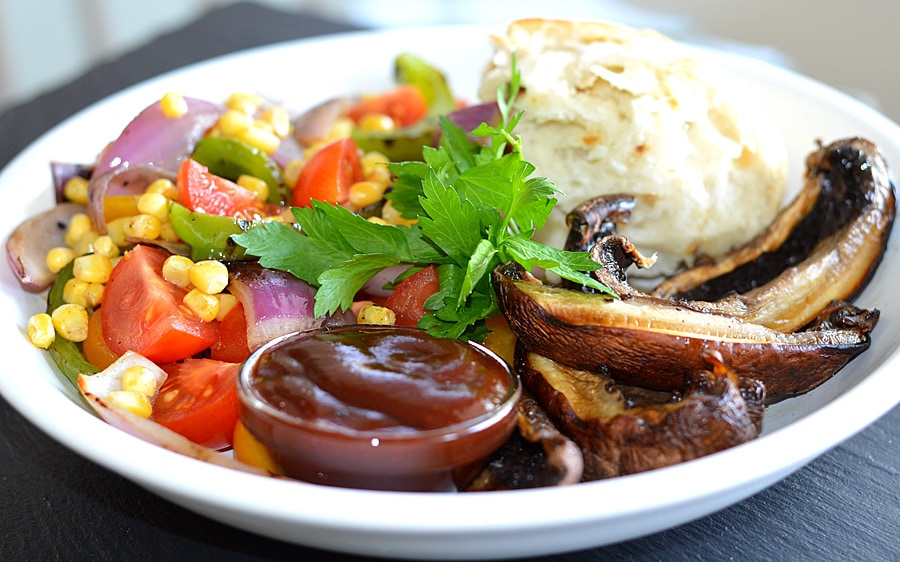 If you try this recipe for Grilled Portobello Steak with Tomato Corn Relish , snap a pic and tag me on Instagram @theveglife1.  I always love seeing what you come up with 🙂
For another barbecue portobello recipe (and a few summer sides), you might enjoy this recipe as well!
Grilled Portobello Steak with Tomato Corn Relish
Ingredients
2

Large Portobello Mushrooms

stem & gills removed with a spoon

Oil for grilling

Salt & Pepper

to taste, or grill seasoning

8-10

Cherry Tomatoes

halved

1/4

of a large Green Pepper

cut into strips

1/4

of a large Red Onion

cut into large pieces

Corn cut from 1 Cob

grilled

Sauce of choice

Optional: Crusty Bread
Instructions
On a lightly oiled hot grill (or indoor grill pan), lightly brush a small amount of oil on the mushrooms & season. Place the portobellos down without moving until they start to get tender and grill marks appear. Lightly oil 2nd side & season. Flip only once. Slice into long strips.

In a cast iron (or grill-safe) pan, add a small amount of oil and the onions and peppers. Once tender and browned, add the corn and tomatoes. Cook for just a few minutes. Remove from heat.

Serve with your favorite sauce and some crusty bread. You could also serve this on a roll sandwich-style as well if you'd prefer.