This shop has been compensated by Collective Bias, Inc. and its advertiser. All opinions are mine alone. #HolidayRITZ #CollectiveBias
Every so often, I get to challenge my own creativity and attempt something like this recipe Holiday RITZ Crackers Veggie Cream Cheese Appetizer Tree!  We're using full-sized, original RITZ Crackers in this recipe so it's perfect for entertaining your guests this holiday season.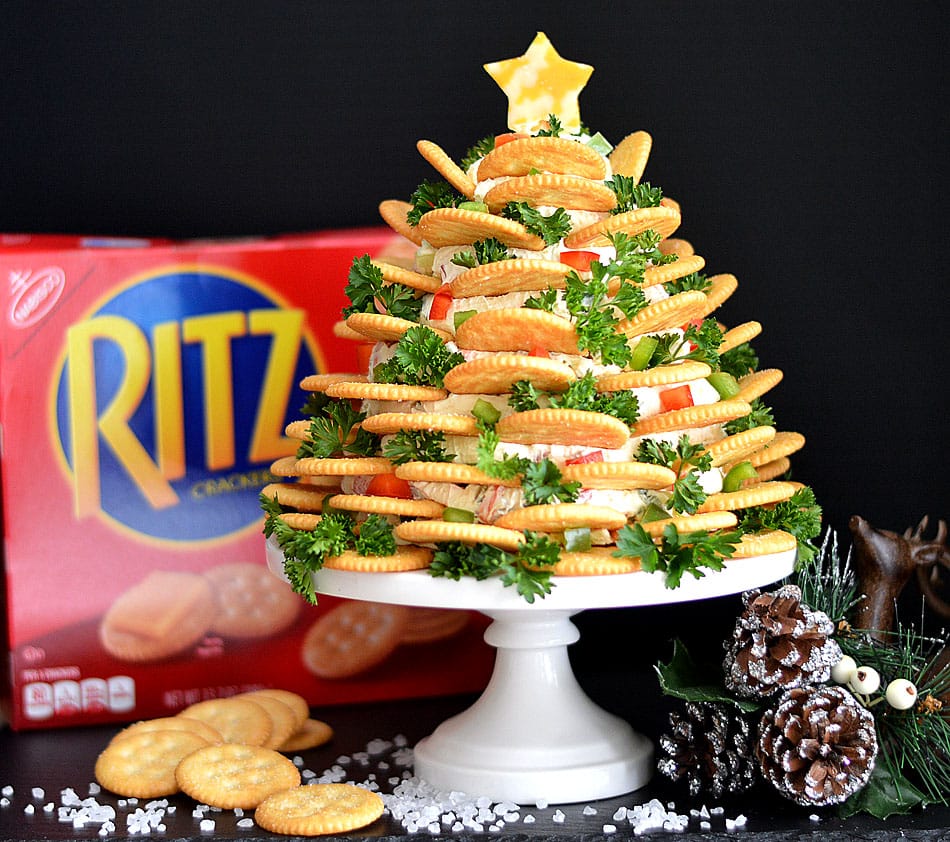 It all begins with a very traditional vegetable cream cheese.  I used 1 large red pepper, 1 large green pepper, green onions, shredded carrots and celery.  You might be thinking…that's a LOT of cream cheese.  I found it at Walmart for $1.00 per block and used 5 blocks, but you are serving a house full worth of guests off of an appetizer that costs less than $10 – plus, you get bragging rights to having created this masterpiece all by yourself!
I thought you might want a progress photo.  All I did was soften the cream cheese blocks to room temperature and placed them in the bowl of my stand mixer.  I added all of the diced and shredded veggies and combined until well incorporated.
From there, I channeled my younger self and imagined I was back in art class creating pottery 🙂  I placed the entire batch on my serving plate and using my hands, compacted and formed it into a tree-like shape.  This was surprisingly fun and quite simple to do.  The cream cheese is very forgiving, so don't worry about being too exact because you'll be able to fine-tune the shape after the crackers are inserted.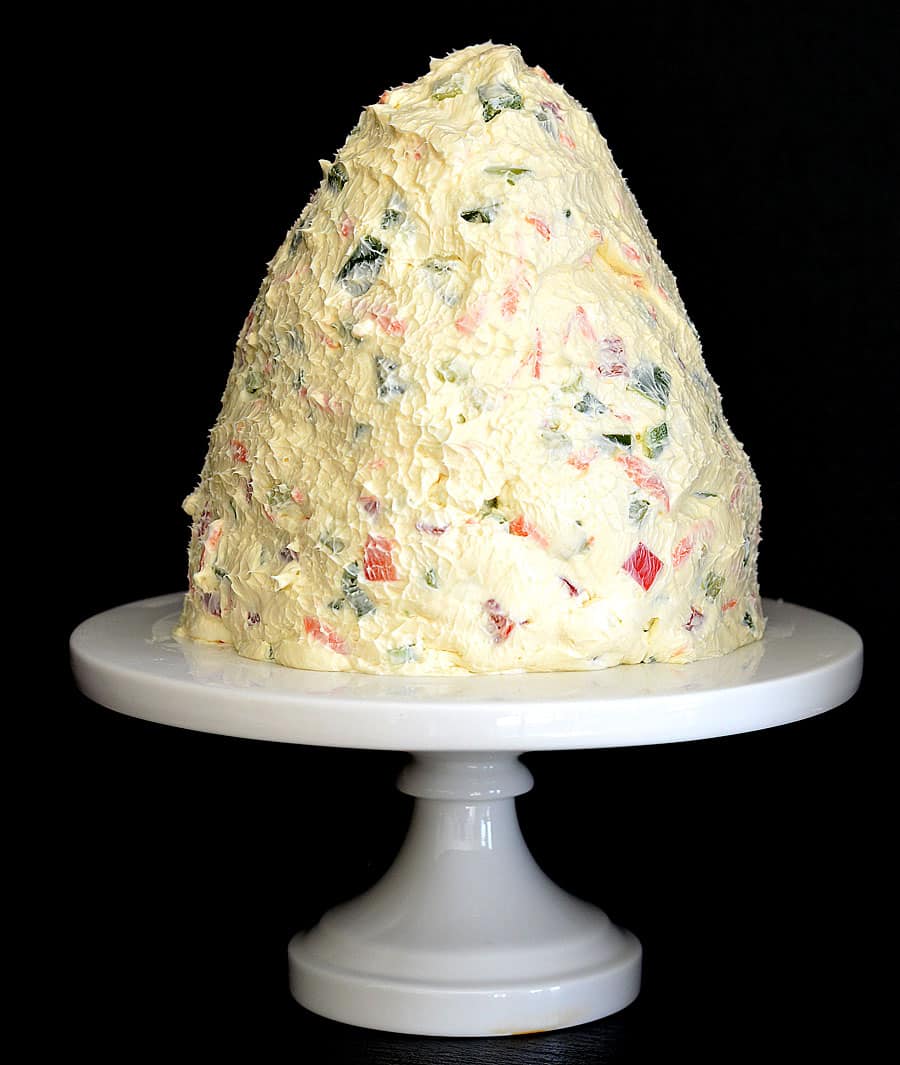 Want to make your appetizer creation even more affordable?  Here is a coupon for 50 cents off when you purchase one box of RITZ Crackers!


Everything for this recipe, including the RITZ Crackers, was purchased at my local Scottsdale, AZ Walmart.  Right down to the fresh produce!   This season, look for a handy-dandy holiday display with so many RITZ Crackers you won't know what to do with yourself!  My store unfortunately didn't have one that I could show you, but they are right there in the cracker aisle just waiting for you to make this recipe.  See that holiday-shaped cracker towards the bottom?  That would work amazingly well into this design.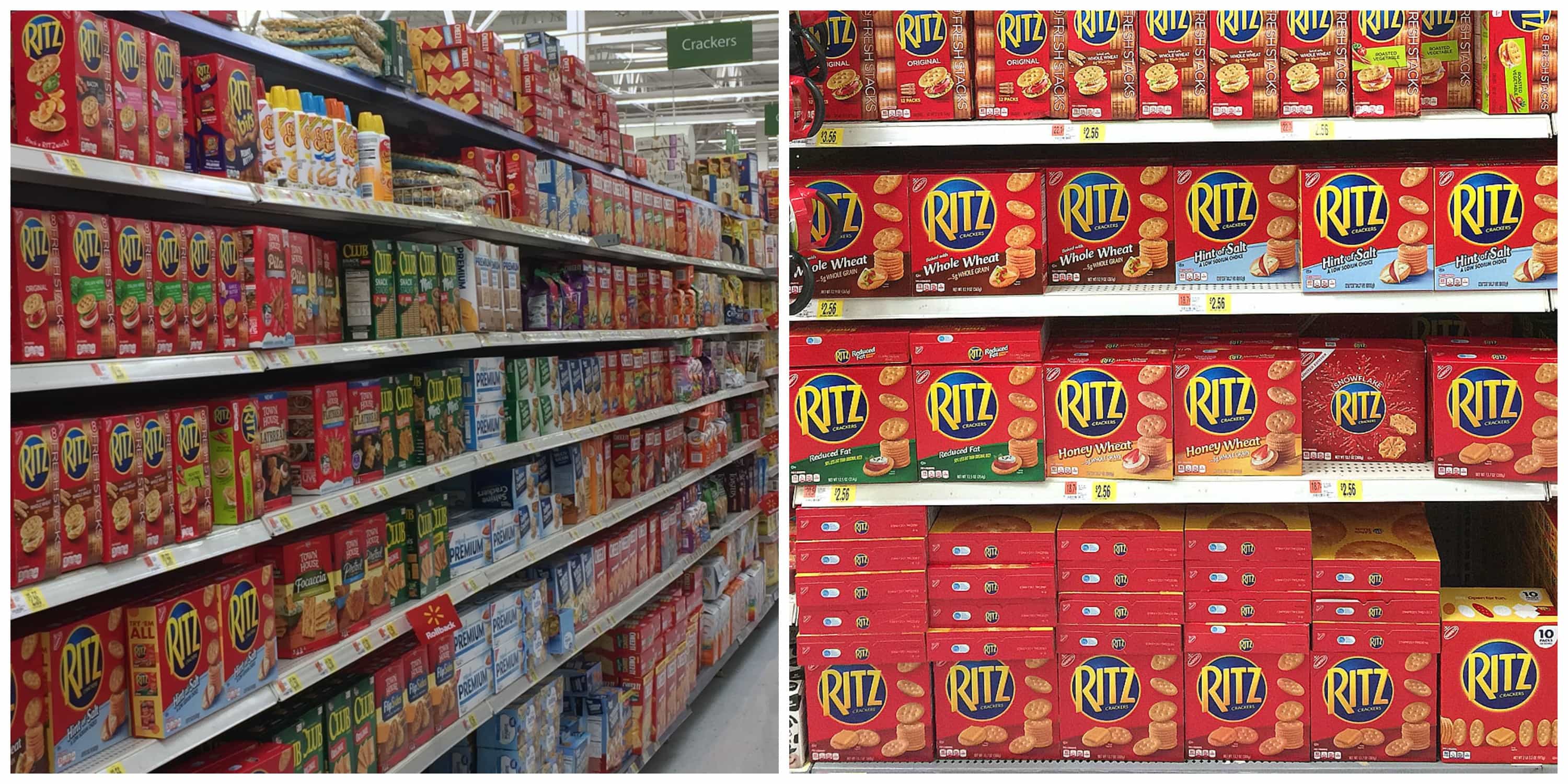 Back to the construction of our appetizer, here is a shot of how I layered the crackers.  I initially thought I might have to make slits for them to fit in, but if your cream cheese is properly softened, they are SO easy to insert.  If you are feeling some resistance, by all means, use a spoon to make an opening to get your cracker started.
For the first few bottom rows, I staggered the crackers and eventually went back and added another layer around the base.  Once all of your crackers have been inserted, it gives your structure a decent amount of stability and you are able to press them and re-shape your tree.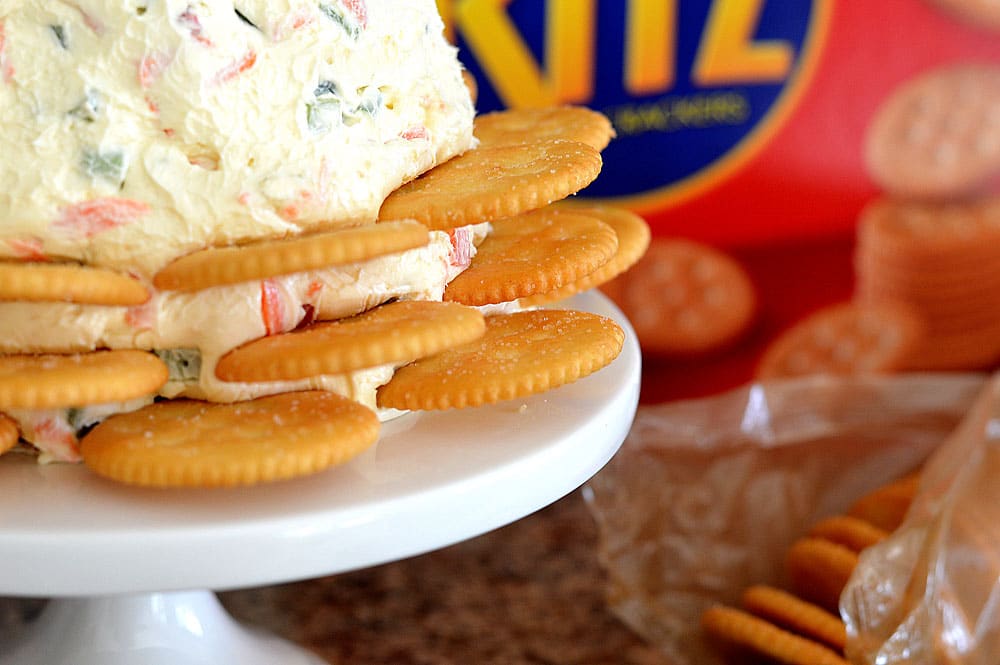 I found this bright green curly parsley which I thought further enhanced my artistic vision of a Christmas tree.  I had reserved a few of the red and green peppers to strategically place my "ornaments".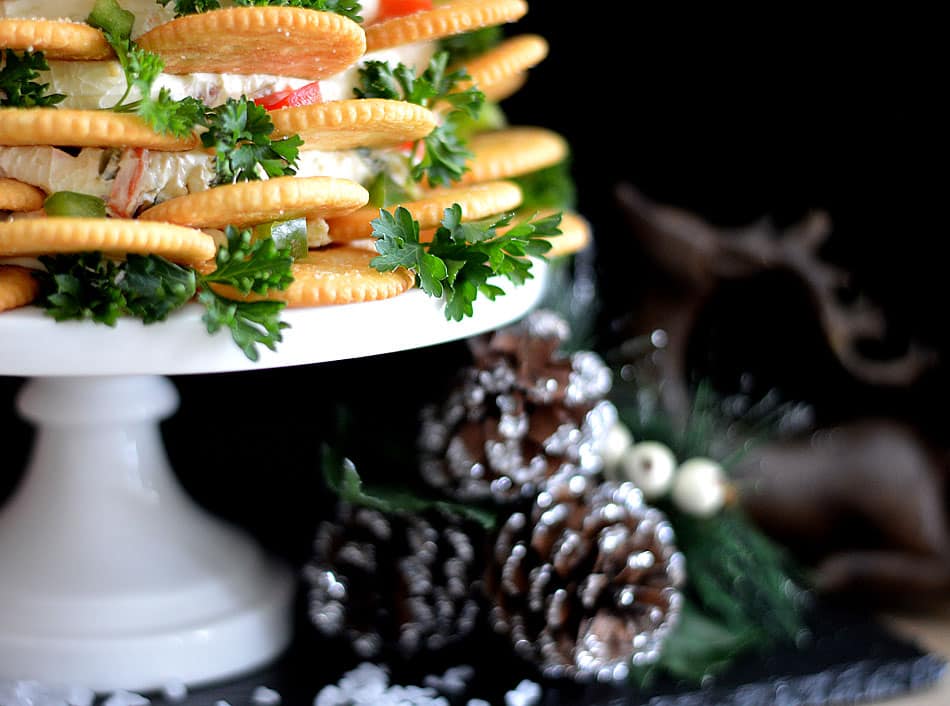 For the star, I chose a marbled cheese and used a 1″ star cookie cutter.  I inserted a toothpick into the bottom of the star and then, into the cream cheese tree.  By the way, this vegetarian recipe can be made entirely vegan by substituting the cream cheese and marbled cheese for their vegan counterparts!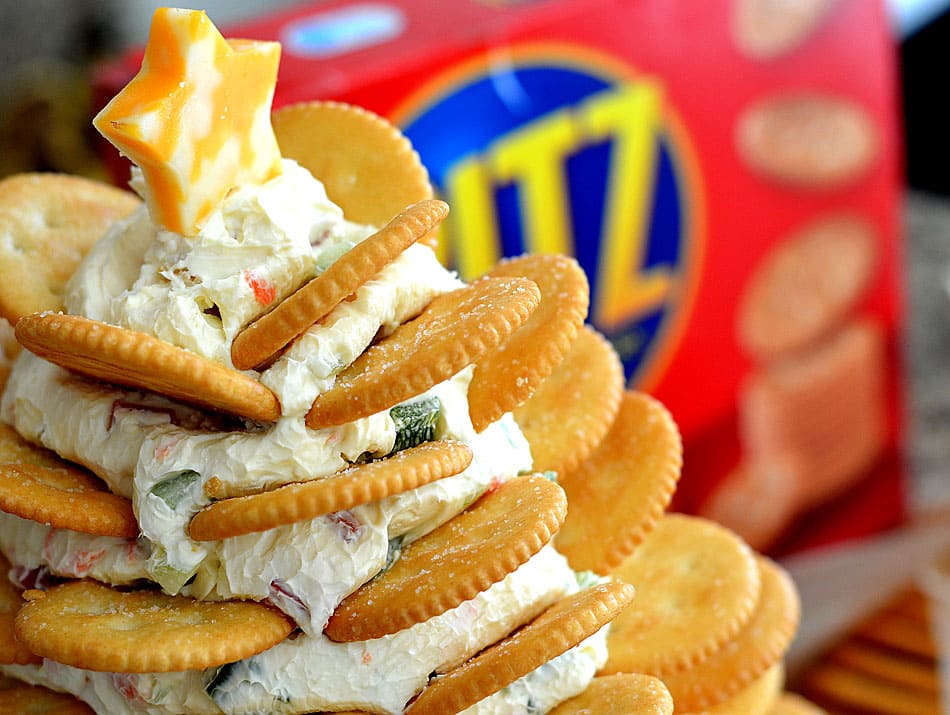 I am really happy with how this turned out and it was as delicious as it was beautiful!  The salt on the RITZ Crackers gave the indication of a dusting of snow and on my black slate cutting board, I added a bit of sea salt to further indicate wintry weather.  You can get really creative with your holiday displays.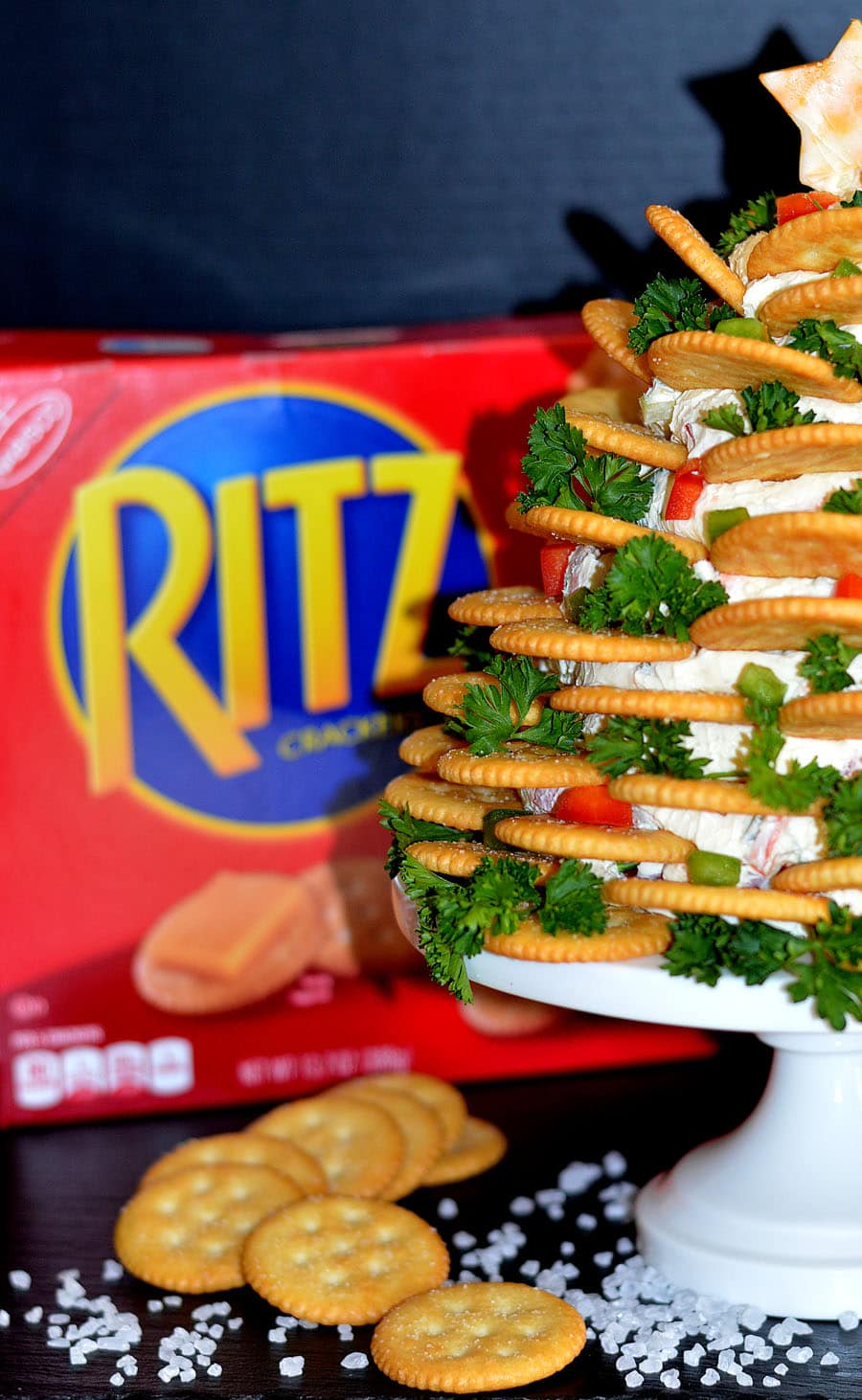 So you may be asking yourself, exactly how do we go about serving this Holiday RITZ Crackers Veggie Cream Cheese Appetizer Tree?  I like to provide my guests with these little butter knives.  As the cracker is pulled out of the tree, you bring a little bit of the veggie cream cheese along with it.  I'd advise beginning from the top of the tree to avoid structural issues.
As your guests enjoy the appetizer, be sure to keep a sleeve or two of additional crackers nearby.  This recipe will easily serve at least 20 people.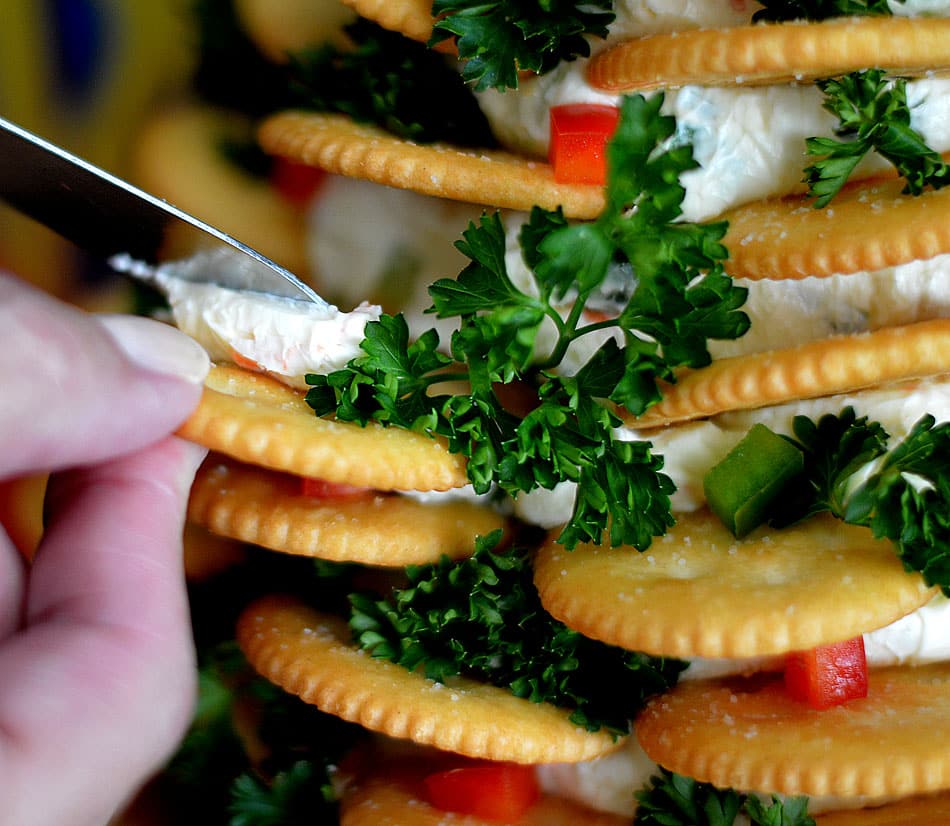 I really hope you give this Holiday RITZ Crackers Veggie Cream Cheese Appetizer Tree a try!  It's simple, delicious and inexpensive.  Oh, and don't forget to get yourself a coupon for 50 cents off a box of RITZ Crackers here.
If you make the recipe, I would LOVE to see what you came up with.  You can tag me in your photo on Instagram @theveglife1 or on Facebook @theveglife
Holiday RITZ Crackers Veggie Cream Cheese Appetizer Tree
Ingredients
1

large

RED Bell Pepper

small dice

1

large

GREEN Bell Pepper

small dice

2

medium

Carrots

peeled and grated

4

Green Onions

white and green, chopped

1

large

Stalk of Celery

small dice

five

8 oz. blocks

Cream Cheese

(or VEGAN cream cheese alternative)

1

small star

Marbled Cheese

cut into a star shape (or VEGAN cheese alternative)

1

bunch

Curley Parsley
Instructions
Begin by taking out 5 blocks of cream cheese and allowing them to soften at room temperature. I don't let them get too soft, just enough to be able to mix in the veggies.

Meanwhile, I like to prep all of my veggies in advance.


In the bowl of an electric mixer, beat the cream cheese until softer.


Add the veggies and blend until well combined.


While the cream cheese mixture is still somewhat cold, place the entire mound onto your serving plate and using your hands, form into a Christmas tree shape. I like to compact it as much as possible to avoid air pockets. Don't worry about precision, you'll be able to fine tune the tree later.


Starting at the base of the tree, insert the whole RITZ Crackers, staggering them as you go. If your cream cheese is soft enough, you should have no trouble with this. If you are meeting with some resistance, perhaps veggies in the way, use a spoon to create a small slit to get your cracker a head start.


Once you've inserted your crackers in a spiral fashion all of the way to the top of the tree, you can then press and re-shape your tree.


Add in sprigs of curly parsley. I like to create "indications" of branches and not cover up the cream cheese.

I reserved just a few of the diced red and green bell peppers to add in as ornaments.


Finally, using a small cookie cutter, I created a star out of a marbled cheese. Insert a toothpick into the star and then insert the star into the cream cheese.