I took a few liberties when creating my Jackfruit Flautas with Sweet Corn Sauce.  The first, and most obvious being, the pulled jackfruit.  If you are unfamiliar with jackfruit, I give you some information and a few resources for purchasing below if you aren't able to find it locally.  Secondly, I tried to do this dish a bit healthier, so if you bake them…there's no oil.  If you pan fry them, it's takes one teaspoon for the entire recipe. They are traditionally fried in quite a bit of oil and I wasn't going there.
I keep the filling simple because I serve the Flautas over my flavorful Mexican Rice, and top it with the Sweet Corn Chile Sauce.  I also served some on the side, because you'll definitely want more sauce for dipping!  LOTS of flavor going on in this dish.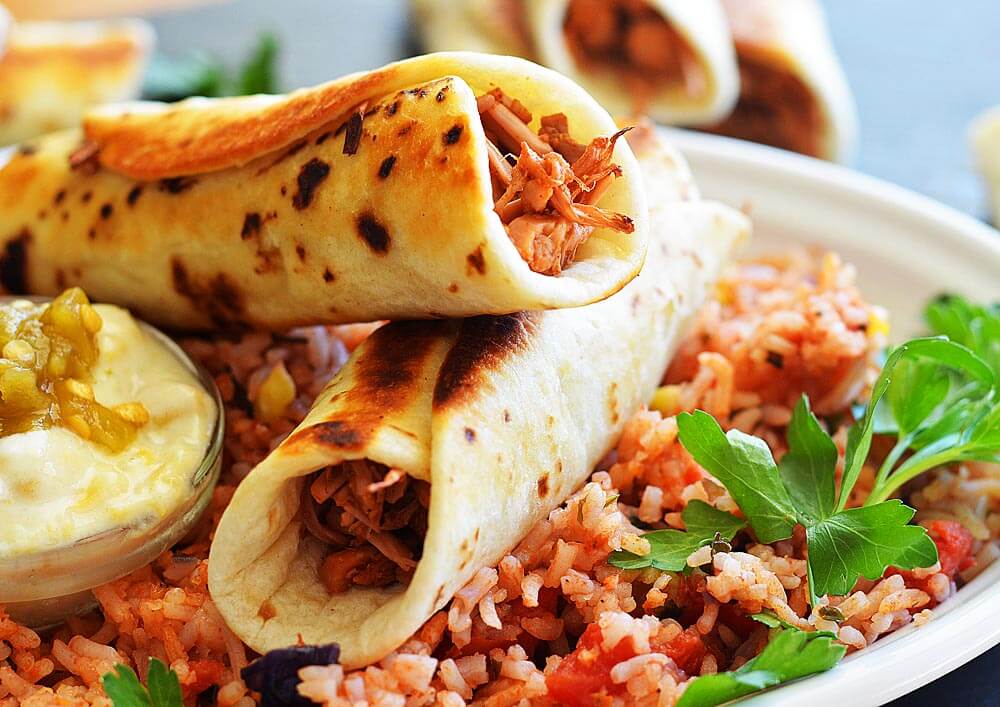 The key ingredient in our Jackfruit Flautas with Sweet Corn Sauce is of course, the canned jackfruit.  You can find it in some grocery or health food stores, I just buy it by the case on Amazon.  Here is a great deal on a 6 pack. You'll need 2 full cans to make 9 or 10 small flautas.  Aroy-o and Native Forest are both great brands.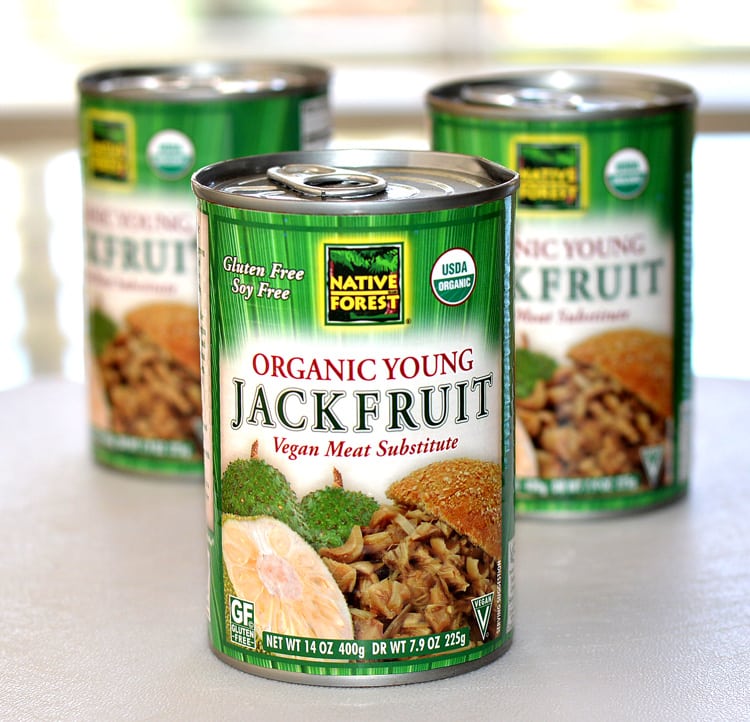 Here's what it looks like when you drain it.  It looks like, I don't know, chunky tuna?  But it pulls apart and shreds. While it is technically a fruit, it has a very, very neutral taste and lends itself well to taking on whatever flavors you add to it.  I promise, you won't taste any fruit 🙂
I went into detail about jackfruit in my post for Vegan Pulled Jackfruit Sandwiches if you'd like to learn more.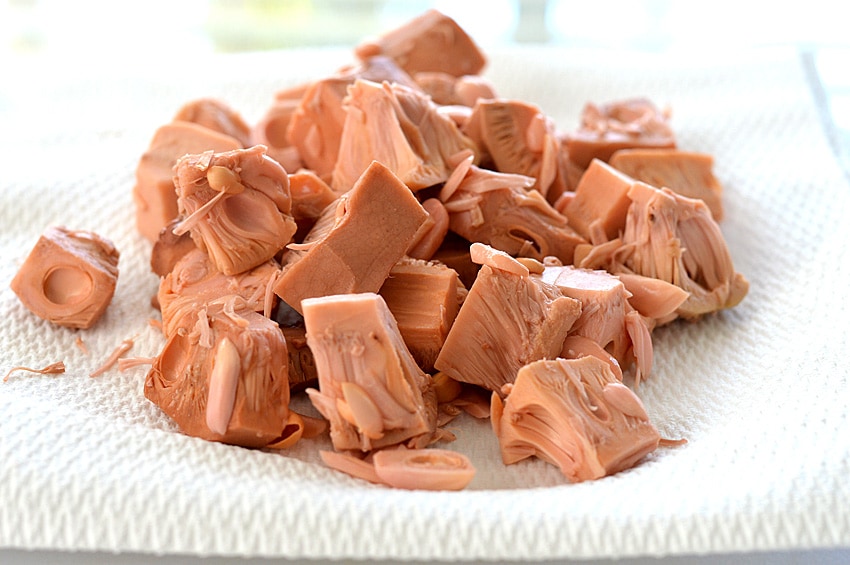 And here is what it looks like seasoned and cooked.  I just chose a prepared and also kind of generic flavored dry rub from McCormick.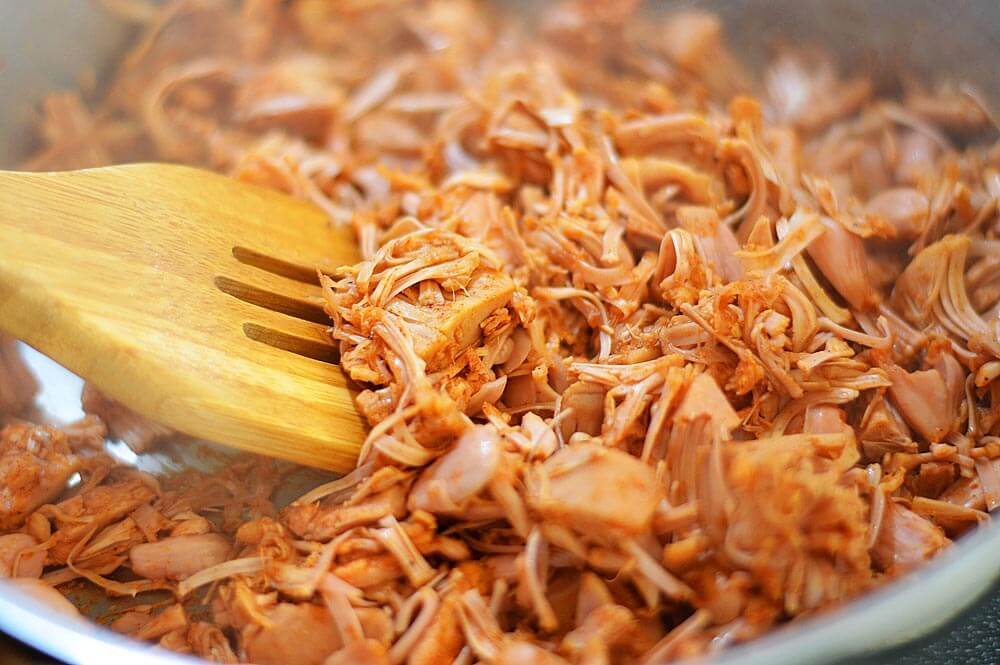 While the jackfruit is cooking, I make this super simple sweet corn sauce.  Corn, vegan sour cream (cashew cream or even coconut cream work well too), canned green chiles and a bit of sugar are all you need.  It complements this dish so well.  Don't skip it!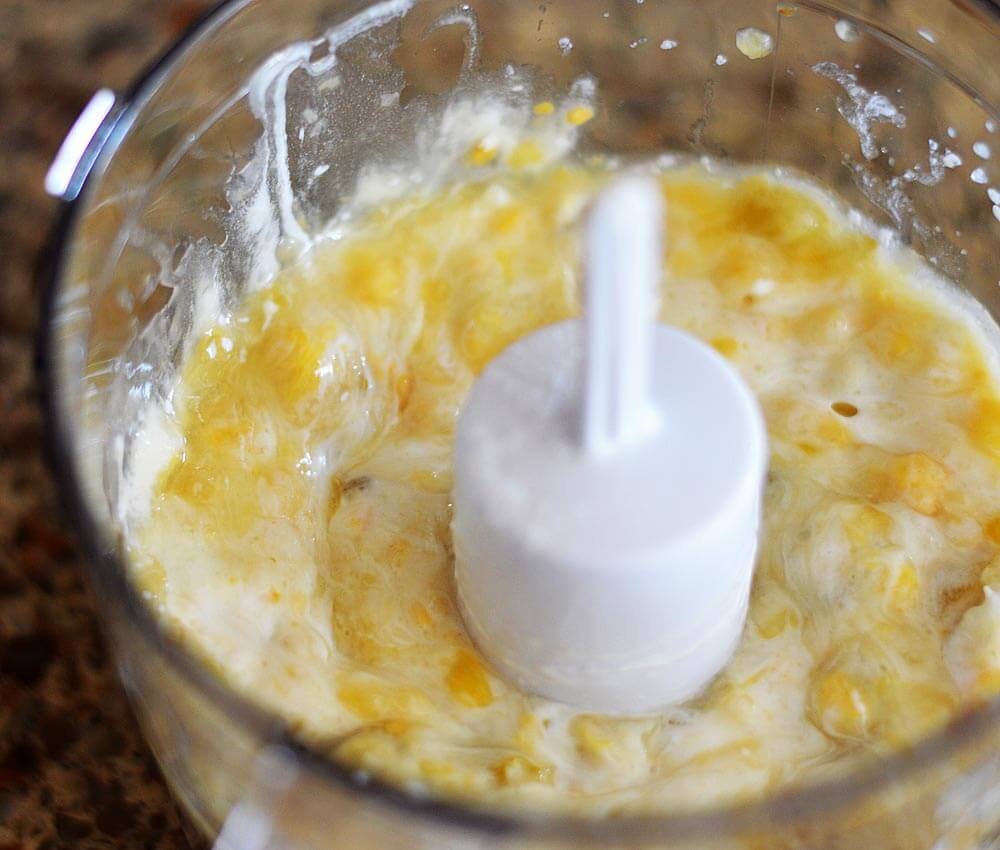 Now it's ready to assemble. I used the small street taco sized flour tortillas.  Load them up as full as you can and compact it.  Now just tuck and roll them tight.  Place in the pan seam side down.
You can either bake the flautas, or in a very hot pan with a very small amount of oil, pan fry them.  You could probably pan fry them without oil now that I think about it. Regardless, check and flip often or they will scorch and they go fast. You just want to give them a bit of color, but more importantly, seal the free edge so they don't burst open when you eat them.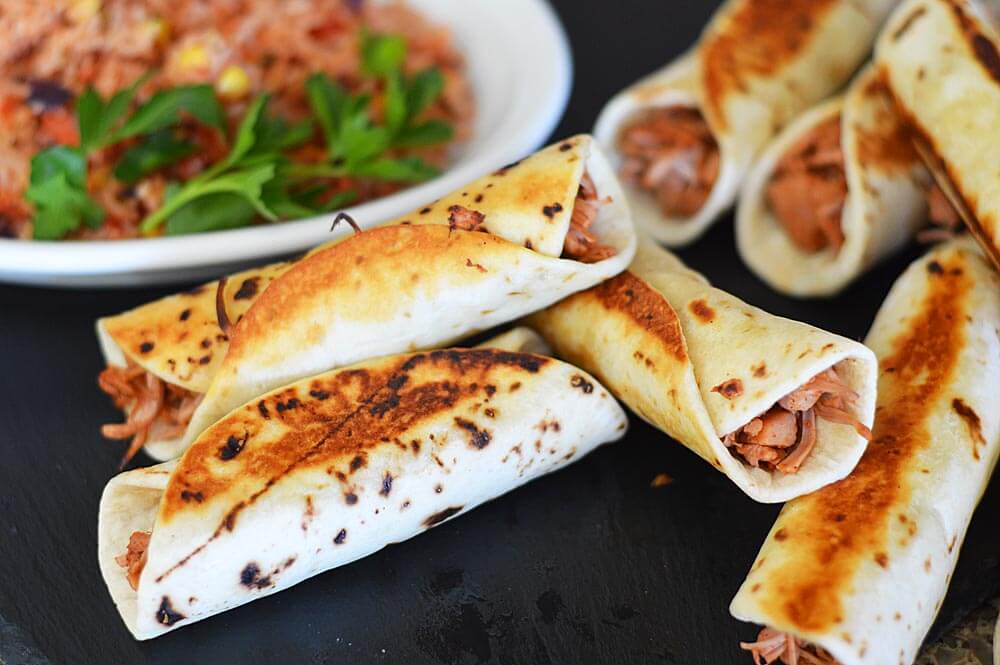 Since I am using the small street-sized tortillas, I served three to a person and it was the perfect portion. Again, you can find the Mexican Rice recipe here.
Did you make this recipe for Jackfruit Flautas with Sweet Corn Sauce?  If so, leave me a comment below and let me know what you thought.
*Some of the links on this page are affiliate links.  Clicking on them does not affect your purchase price, it just means we get a very small percentage that assists in keeping The VegLife! creating new recipes for you each week.
PIN IT FOR LATER!

Jackfruit Flautas with Sweet Corn Sauce
Jackfruit Flautas with Sweet Corn Sauce served over Mexican Rice
Ingredients
FOR THE SWEET CORN SAUCE:
1

c

Sweet Corn

2

tbsp

Canned Chopped Green Chiles

1

tbsp

Sugar

3/4

c

Vegan Sour Cream OR Cashew Cream OR Coconut Cream

1

tbsp

Parsley or Cilantro
FOR THE PULLED JACKFRUIT:
2

cans

Jackfruit

(see blog post for link)

1

tbsp

Dry Rub

additional

Paprika or Chili Powder

to taste, if desired
Instructions
TO MAKE THE PULLED JACKFRUIT:
Drain the jackfruit and pat dry.

Place a large skillet of over medium high heat and add the jackfruit. Using two forks, mash and pull apart the fruit. Add the dry rub seasoning, to taste cooking for about 5 minutes.
TO MAKE THE SWEET CORN SAUCE:
In the bowl of food processor, add the vegan sour cream, sweet corn, sugar, green chiles and parsley or cilantro. Pulse a few times to combine, but leave a little chunky.

Either in a warm pan or microwave, soften each tortilla so that they are easier to roll.

Place a large amount of the filling in each tortilla and roll tightly. Since we aren't using any additional ingredients for the filling, pack them as full as you can.

In a hot pan, spray with cooking spray or use a small amount of oil. Place the rolled flautas in the pan with the seam side down, holding it for a few seconds to be sure you get a good seal. Turn frequently and keep a close eye on them as they tend to scorch quickly. You just want a little color.

Serve on top of our Mexican Rice with a side of the Sweet Corn Sauce. Garnish with a sprig of fresh cilantro or parsley.