This post was sponsored by Dave's Killer Bread as part of an Influencer Activation for Influence Central and all recipes and opinions expressed in my post are my own.
I was so excited when the opportunity came along to bring you this post for my Loaded Veggie Club Sandwich featuring Dave's Killer Bread! I have been enjoying Dave's 21 Whole Grains and Seeds bread toasted with peanut butter (best peanut butter toast ever) or my favorite red currant jelly (yum!), but my immediate thought was that it was long past time for another sandwich on The Veg Life! This one contains my favorite secret ingredient 🙂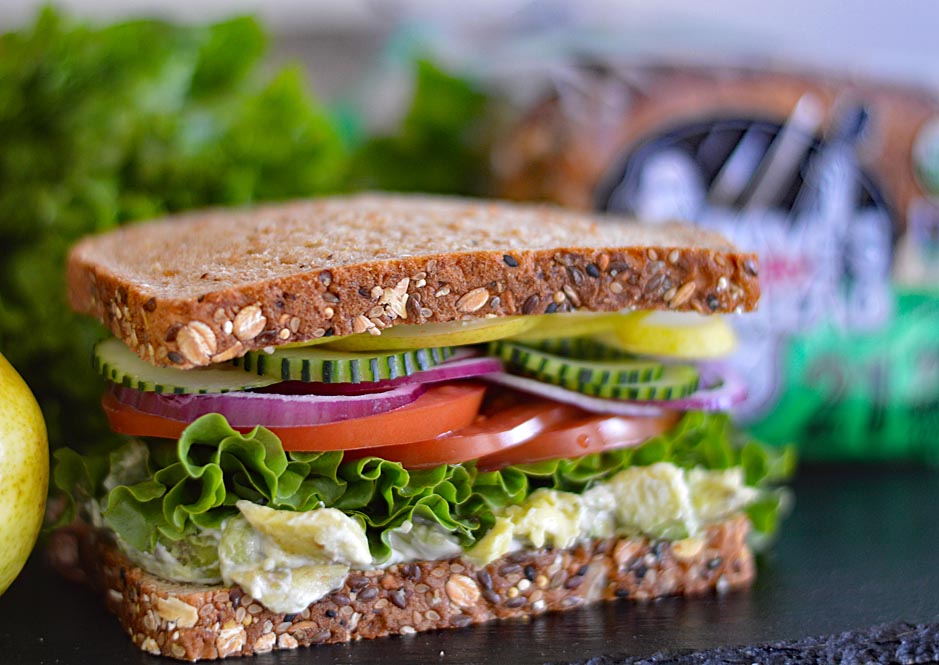 I shop for Dave's Killer Bread's at my local Walmart right there in the bread aisle. I am a huge fan of all that texture – the more the better! Dave's Killer Bread is USDA Organic, Non-GMO project verified, contains no artificial anything and has a whopping 5 grams of protein per slice. Did you know that it's the number 1 selling organic bread in the country? I didn't either, but I knew it was really good 🙂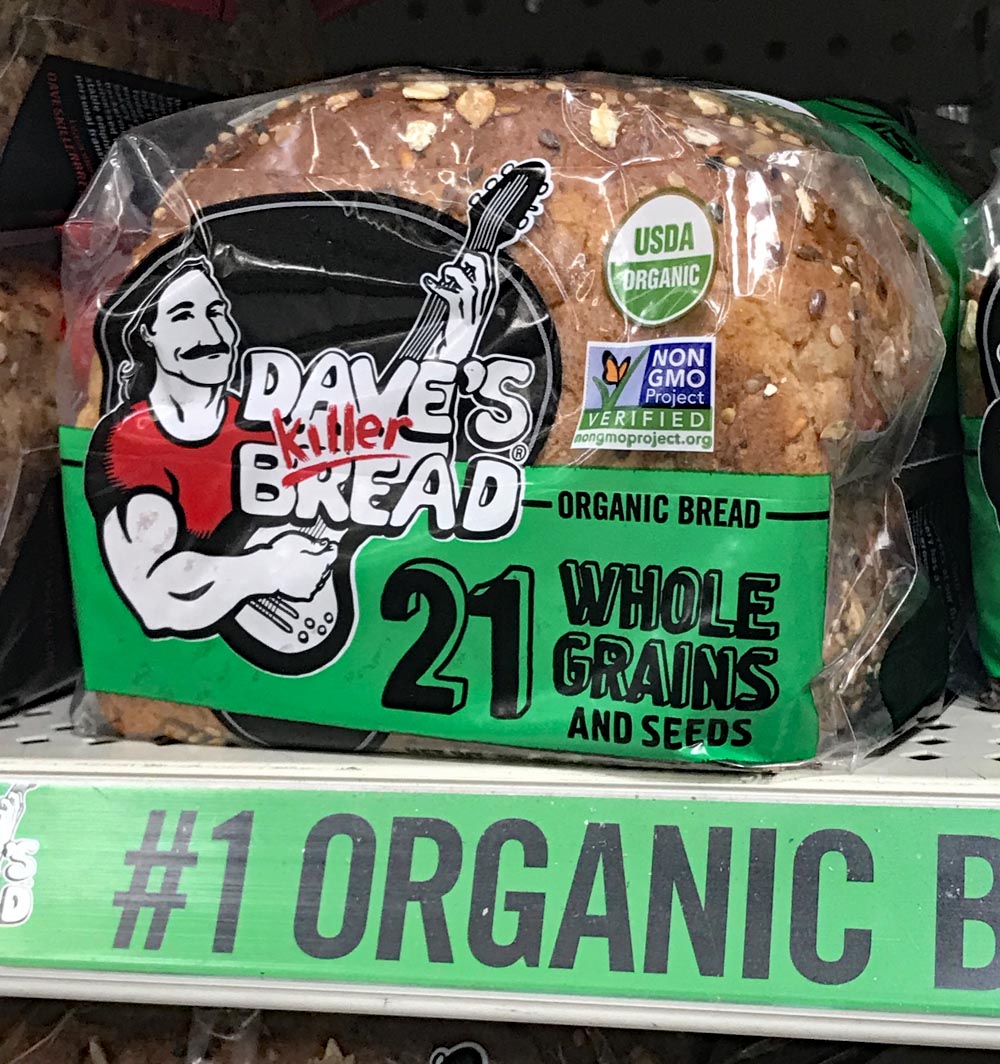 I like to get all of my ingredients prepped and ready to go. Today I am using all organic produce – green leaf lettuce, tomatoes, red onions, cucumbers and an avocado mayonnaise (vegan, of course). And that secret ingredient I told you about earlier? Thinly sliced pears! This brings a mild sweetness to the sandwich, so there's that salty and sweet thing going on. I promise you, this is a keeper!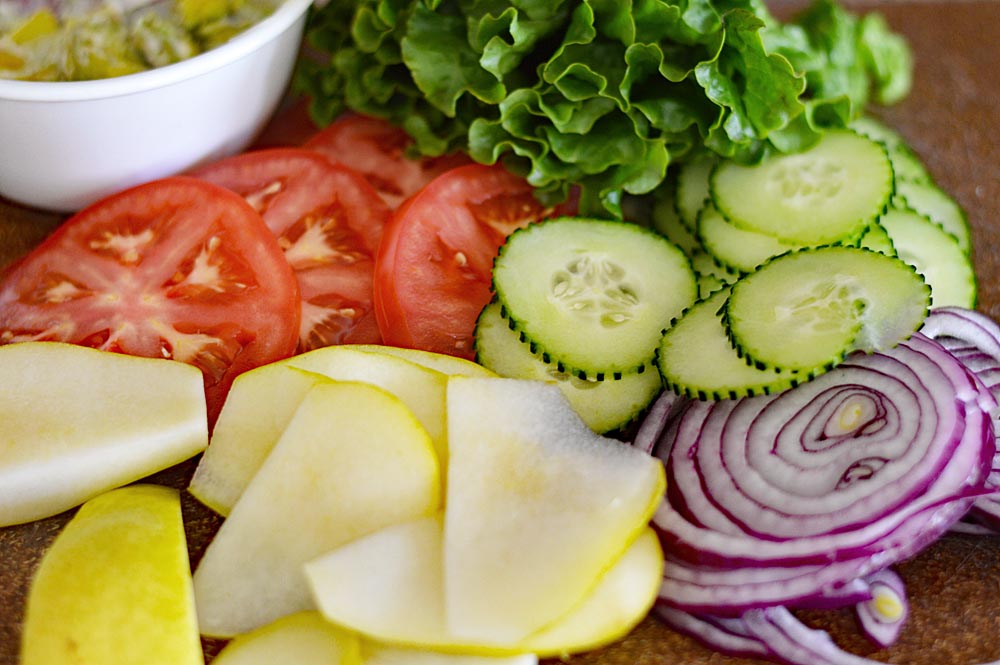 Were you wondering how I got those decorative designs on my cucumbers? It's simple. I just used a citrus zester and "peeled" the cucumber. Just slice and voila!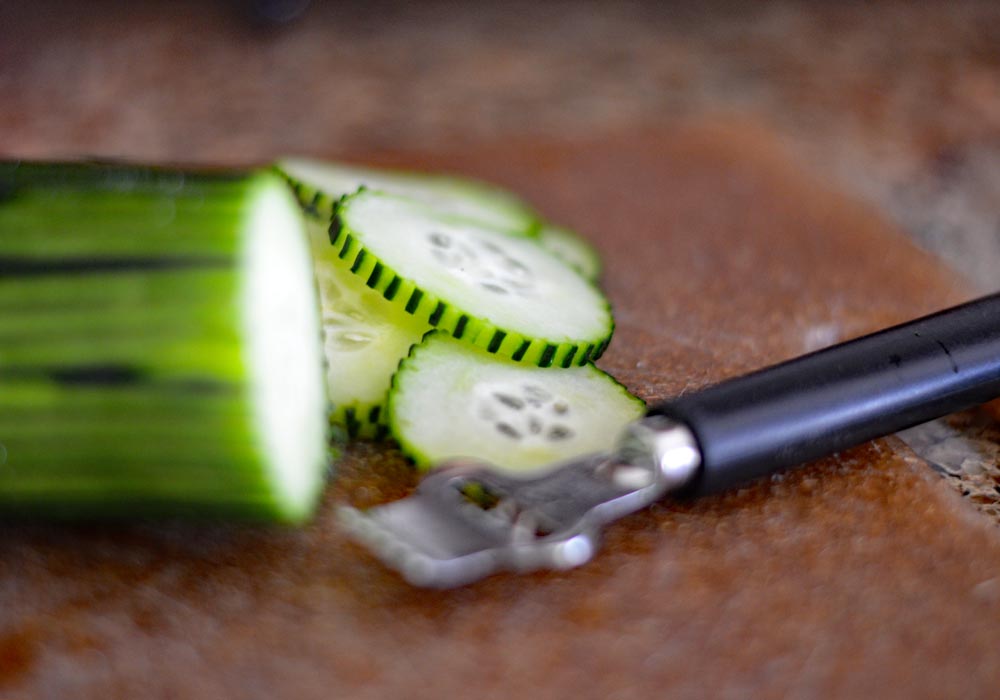 Vegan mayonnaise and fresh avocado chunks are folded together with a pinch of salt and pepper. I also recommend giving those avocados a squeeze of lemon juice to help retain their color while you are doing the prep portion of this recipe. You don't need a lot, just a touch will do. I like lots of pepper – I think I get that from my grandfather who literally put pepper on everything!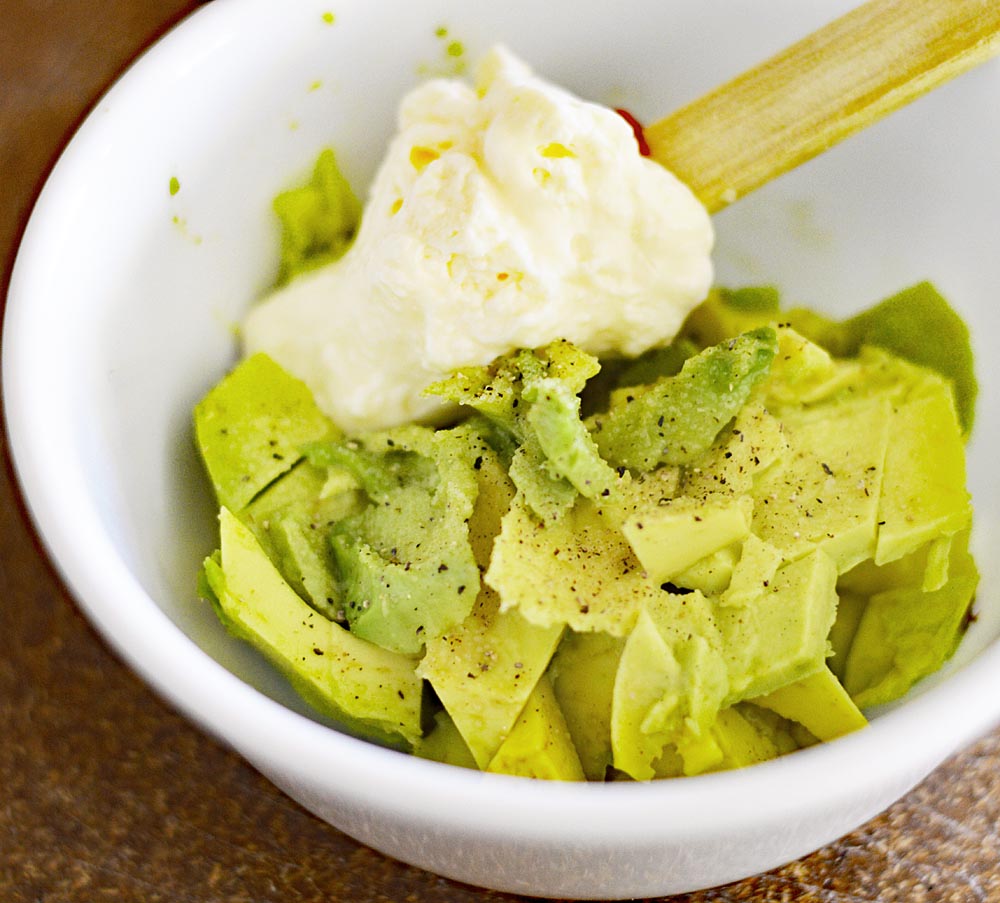 Lets make our Loaded Veggie Club Sandwich featuring Dave's Killer Bread!
So we are ready to begin assembly of our loaded veggie club sandwich. I am drooling just thinking about it 🙂 I am such a bread fanatic. Anyone who knows me will tell you that. Sandwiches are my go-to meal!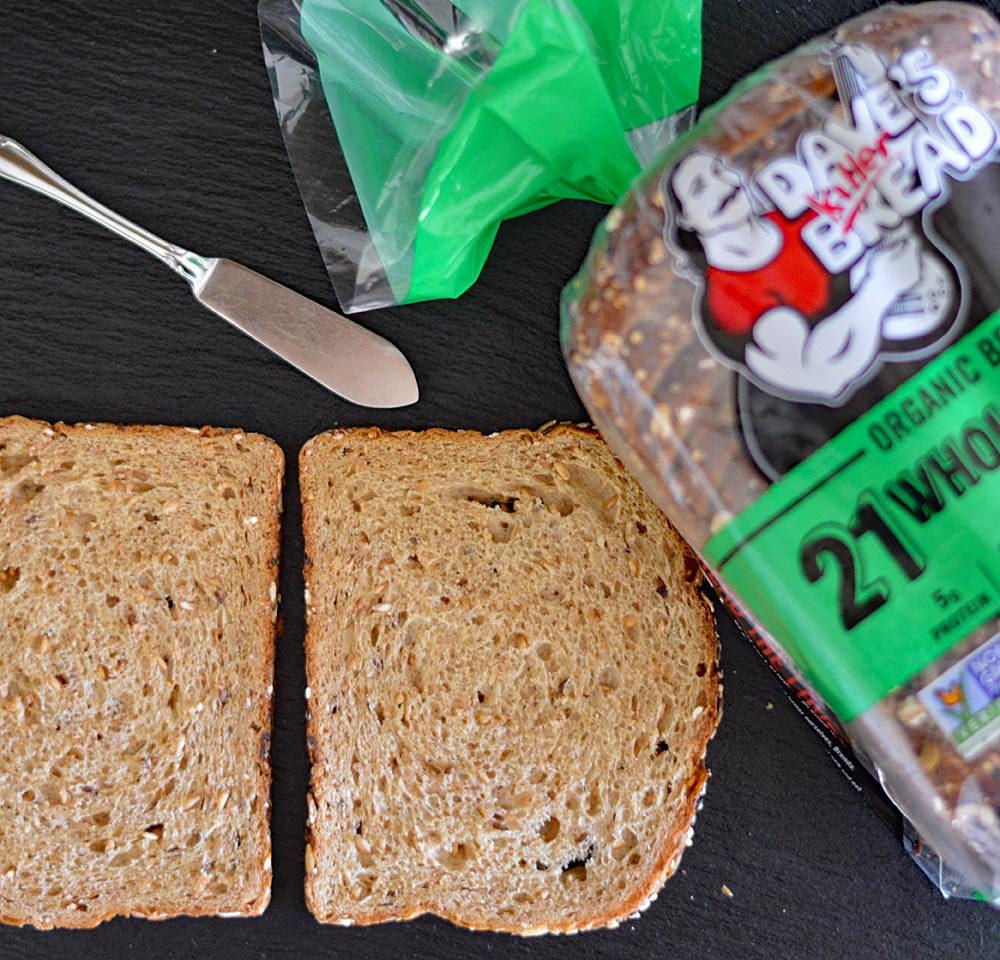 I began with my avocado mayonnaise, then the lettuce, tomato (stop here and season with additional salt and pepper), red onion, cucumbers and finally, our pears. I like a pinch of salt on them. It just enhances the flavor, but you can omit this step if you prefer. It's that salty/sweet thing I love so much.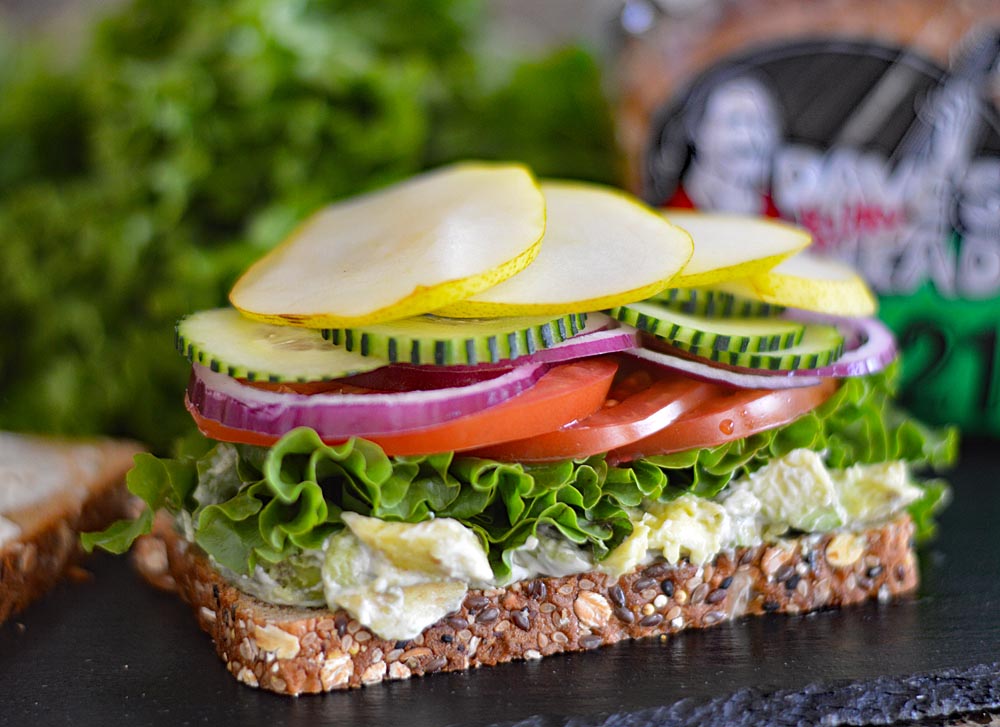 Now this sandwich is LOADED (as the title suggests), so you may want to secure it with a sandwich skewer. Be sure to enjoy it right away!
Two of my other favorite accompaniments to a sandwich are dill pickles (a must) and barbecue potato chips. Doesn't this look amazing? I assure you – it was 🙂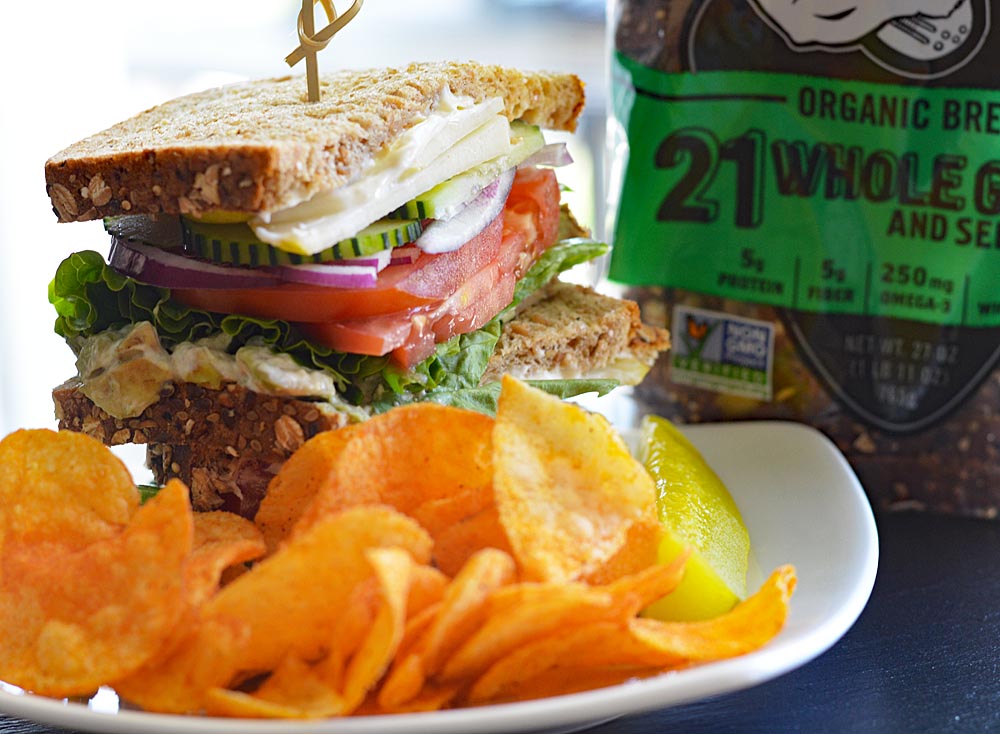 Did you make this recipe for my Loaded Veggie Club Sandwich featuring Dave's Killer Bread? Leave me a comment below and let me know how you enjoy your Dave's Killer Bread sandwiches.
For even more delicious  inspiration, be sure to follow Dave's Killer Bread on Facebook, Instagram, Twitter and Pinterest!
And if you enjoyed this recipe, why not PIN IT FOR LATER! 🙂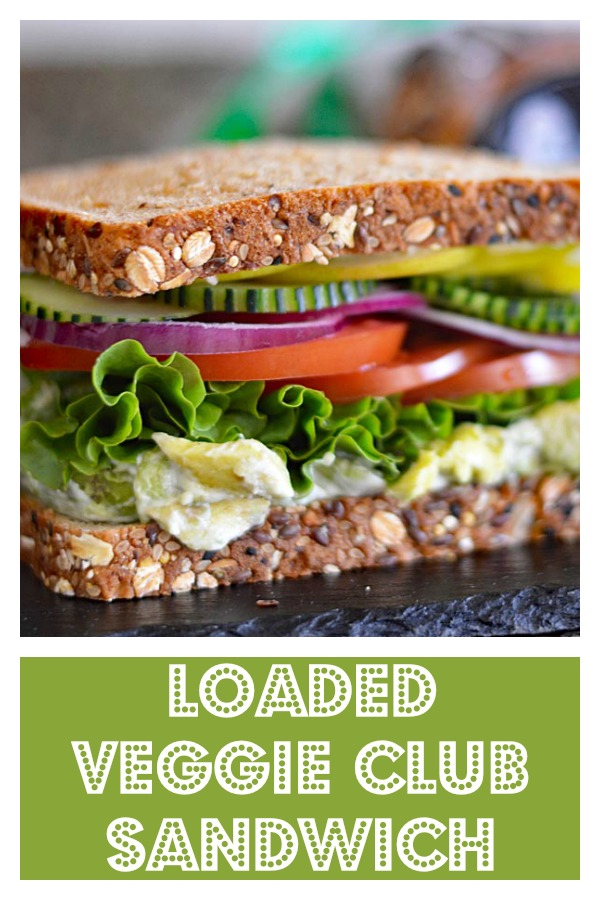 Loaded Veggie Club Sandwich featuring Dave's Killer Bread
Loaded Veggie Club Sandwich featuring Dave's Killer Bread

Ingredients
FOR THE AVOCADO MAYONNAISE:
1

large

Avocado

cut into chunks

squeeze

Lemon Juice

(helps to keep the avocado from discoloring)

1

tbsp

Vegan Mayonnaise

Salt & Pepper

to taste
FOR THE SANDWICH:
2

slices

Dave's Killer Bread 21 Grains and Seeds Variety

Green Leaf Lettuce Leaves

1

large

Slicing Tomato

1/4" slices

1

medium

Cucumber

thinly sliced

slices

Red Onion

thinly sliced - it can be overpowering

1

large

Ripe Pear

cored and thinly sliced

Vegan Mayonnaise

for the other slice of bread
Instructions
TO MAKE THE AVOCADO MAYONNAISE:
Slice the avocado in half and cut into chunks, using a spoon to remove them from the outer skin. Give them a squeeze of fresh lemon juice which will help them from discoloring too quickly. Add a pinch of salt and pepper and about 1 tbl (or more to taste) of vegan mayonnaise.
TO ASSEMBLE THE SANDWICH:
On one slice of the bread, add a thin layer of vegan mayonnaise. Spread all of the avocado mayonnaise on the other half. This is the half we will be building on.

Next add a few leaves of lettuce, slices of tomato (stop here and add salt & pepper, to taste. Continue with red onion and pear slices.

Top with the other half and give it a skewer. Serve with dill pickles and your favorite potato chip.