I happened upon a really simple recipe via Better Homes & Gardens for Spiced Beef Kabobs and thought … I can do this with mushrooms! So into the kitchen I went to experiment and came up with my version of marinated Grilled Portobello Kabobs with a Chimichurri Sauce. I also decided to try out their concept for mashed carrots, but spiced mine up a bit – sweet potato style. It's a nice contrast of savory and sweet.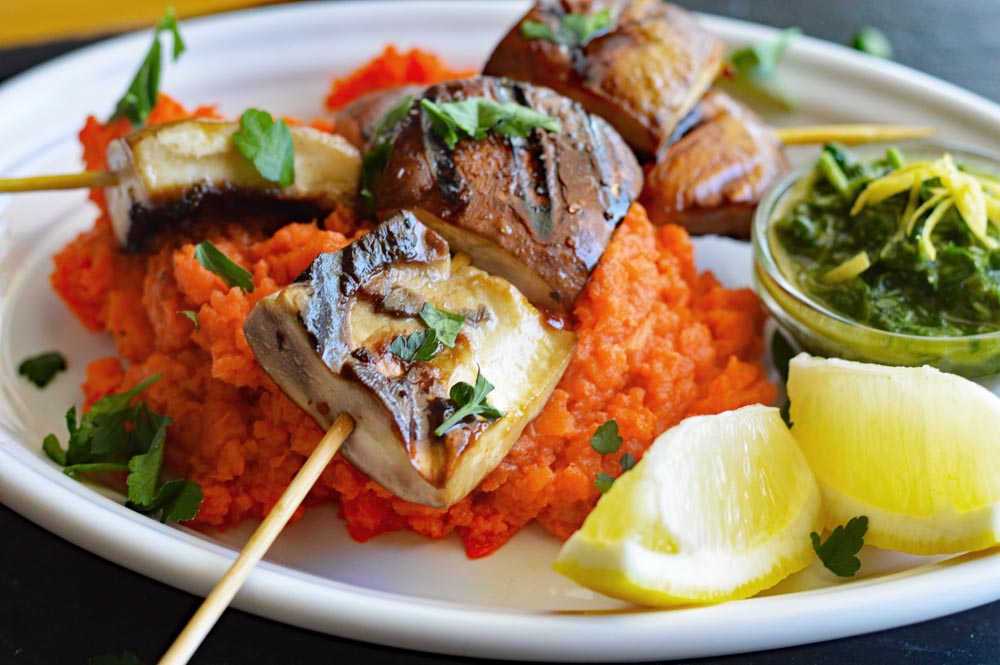 My first order of business was to create the marinade. I began with low-sodium soy sauce, a touch of oil, lemon juice, brown sugar, minced garlic and a pinch of red pepper flakes.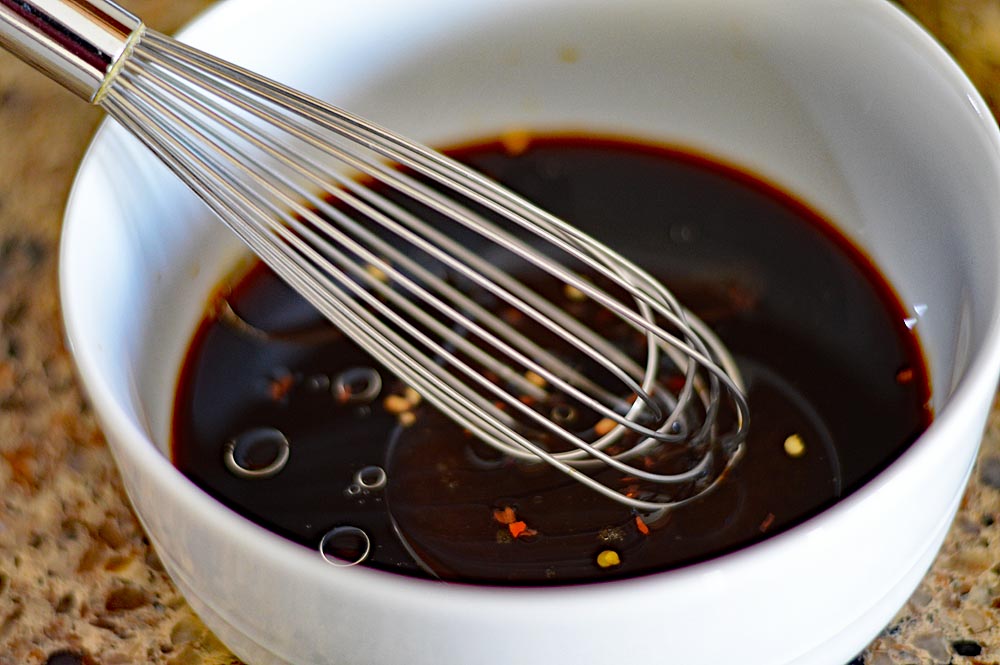 I cut my portobello into squares and tossed them in the marinade.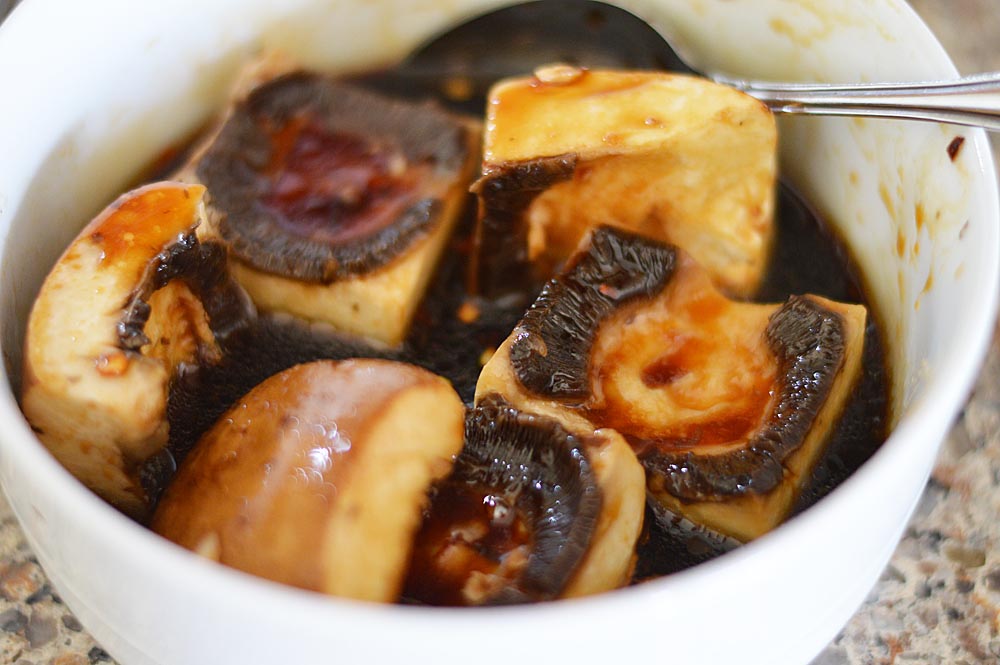 Before I forget to mention it, you will need to soak the skewers or they will burn. I give them about 30 minutes or so.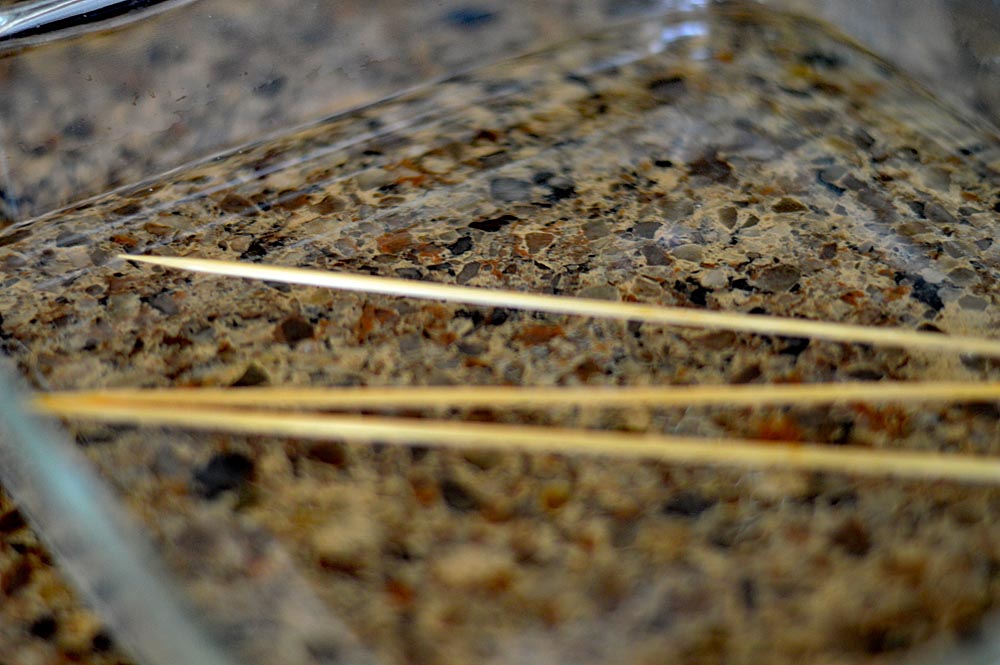 I simply peeled and sliced my carrots, boiled them, drained and finally mashed. Season with salt, pepper and add a bit of vegan margarine. I sweetened mine ever so slightly with agave nectar. Want a little heat? Add just a pinch of chili powder.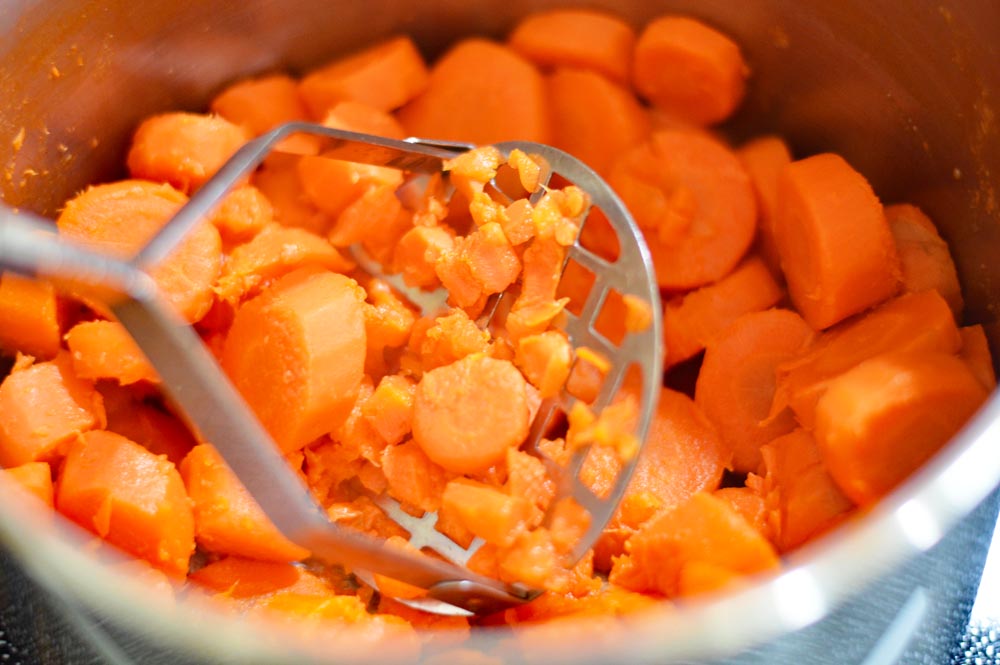 The chimichurri sauce could not be simpler! Italian parsley, olive oil, basil leaves, shallot, garlic cloves, red wine vinegar, lemon juice, salt and red pepper flakes. Everything goes into the food processor and that's it! You're all set.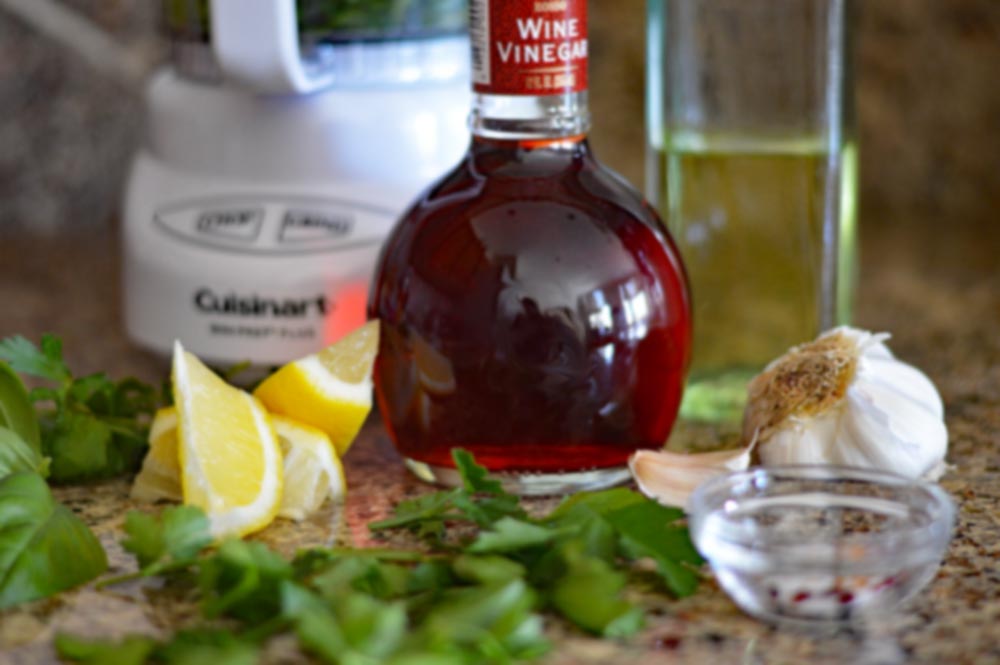 I think it came out really beautiful (and flavorful) which proves you can veganize just about any recipe! 🙂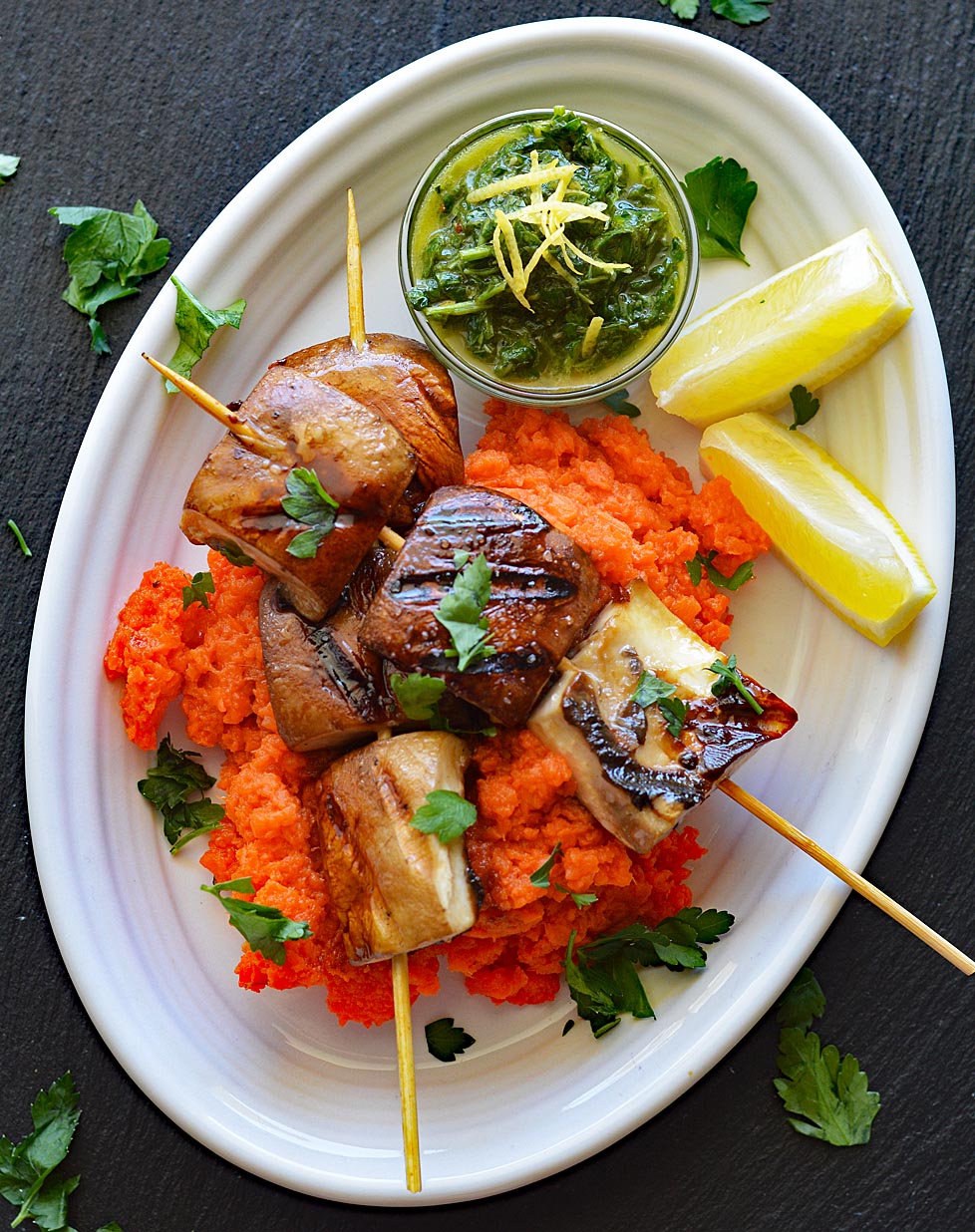 Did you make this recipe for Grilled Portobello Kabobs with a Chimichurri Sauce? Leave me a comment below and let me know what you thought!
And if you enjoyed this recipe, why not PIN IT FOR LATER? 🙂
Grilled Portobello Kabobs with a Chimichurri Sauce
Grilled Portobello Kabobs with a Chimichurri Sauce
Ingredients
FOR THE MARINATED PORTOBELLOS:
2-3

large

Portobellos

cut into large squares

1/4

c

Low Sodium Soy Sauce

1-2

tbsp

Oil

2

tbsp

Lemon Juice

2

tbsp

Brown Sugar

Garlic

minced, to taste

Crushed Red Pepper Flakes

to taste

1/2

lb

Carrots

peeled, sliced and boiled

1

tbsp

Vegan Margarine

Salt & Pepper

to taste

pinch

Chili Powder

Agave Nectar

to taste
FOR THE CHIMICHURRI SAUCE:
1 1/4

c

Italian Parsley

2

tbsp

Basil Leaves

2

tbsp

Oil

1

Shallot

Garlic Clove

to taste

2

tbsp

Red Wine Vinegar

you could also use apple cider vinegar

1

tbsp

Lemon Juice

Salt & Pepper

to taste

pinch

Red Pepper Flakes

or to taste
Instructions
Soak the skewers (if using wood or bamboo) so that they don't burn. Set aside.

Peel and slice the carrots, placing them into boiling water until tender. You should be able to pierce with a fork. Drain and mash. Add your spices.

Clean, de-stem and trim the portobellos.

Whisk together the marinade and add the cut portobellos. I only did mine for about 15 minutes, but you could certainly do them longer. Skewer the mushroom pieces and discard the remaining liquid.

Meanwhile, in a food processor, add the ingredients for the chimichurri and puree until well combined.

Grill the portobellos a few minutes on each side. The amount of time will depend on how large they are, but if you have a hot grill (or grill pan), this should only take a few minutes.

Serve the grilled skewers over the carrot mash immediately and serve with the chimichurri sauce. I also like to add a few lemon wedges for squeezing. Enjoy!