February 22nd is National 'Cook A Sweet Potato Day' and so I figured … why settle for ordinary, when you can have extraordinary?!  This Maple Glazed Sweet Potato with Miso Butter Sauce was one of those moments when I see a non-vegan dish (in this case, asian-glazed salmon) and am inspired to veganize it.  I think a sweet potato was the perfect vegan swap.  I chose to plate mine with steamed green beans and topped it off with a pineapple salsa.  It's a mix of sweet (the potato and the salsa) with savory (the tamari-based miso sauce, lightly salted green beans and a hint of red onion).  Freshly squeezed lemon juice completes this dish.  I just love how it all came together!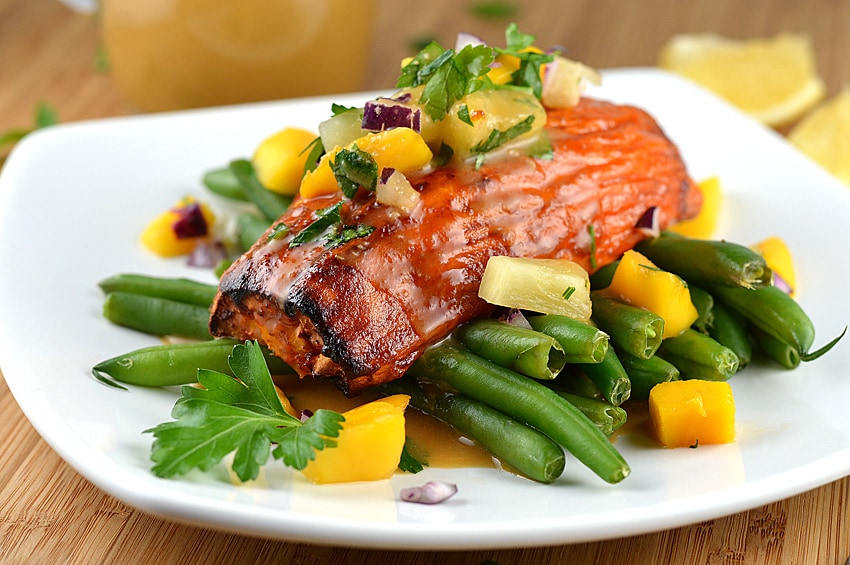 It may look complicated, but it was super easy to make.  I first peeled a large sweet potato and sliced it in half lengthwise to get that flat on the bottom shape.  Line a baking sheet with foil and roast at 350 degrees until halfway cooked.
Meanwhile, prepare the Miso Butter Sauce.  In this recipe, we're using a non-dairy vegan margarine which works equally as well as its dairy counterpart.  The sauce consists of white (or mellow) miso, tamari, sesame oil, brown sugar and a bit of minced garlic.  I also used just enough vegetable broth to thin the sauce.  The amount will vary based on your preference, so you can just eyeball it.
I kind of cheated on the pineapple salsa.  I already had one of those little fruit cups with pineapple and pears in it.  I simply drained them of their liquid, added diced red onion and fresh parsley.  Done!
Steam the green beans at this point.  When the sweet potato is halfway done, I baste it with the miso sauce and put it under the broiler.  During the last 5-10 minutes, I drizzled just a small amount of maple syrup over the sweet potatoes and allowed it to further caramelize around the edges.  The baking time will vary based on the size of your potatoes.  Just keep an eye on it so it doesn't burn!
All that's left to do is plate it, add a few lemon wedges and a sprinkle of fresh parsley for garnish.  I like to serve it with additional miso sauce.  You can add as little (or as much) as you'd like!  I think you'll really enjoy this take on the sweet potato.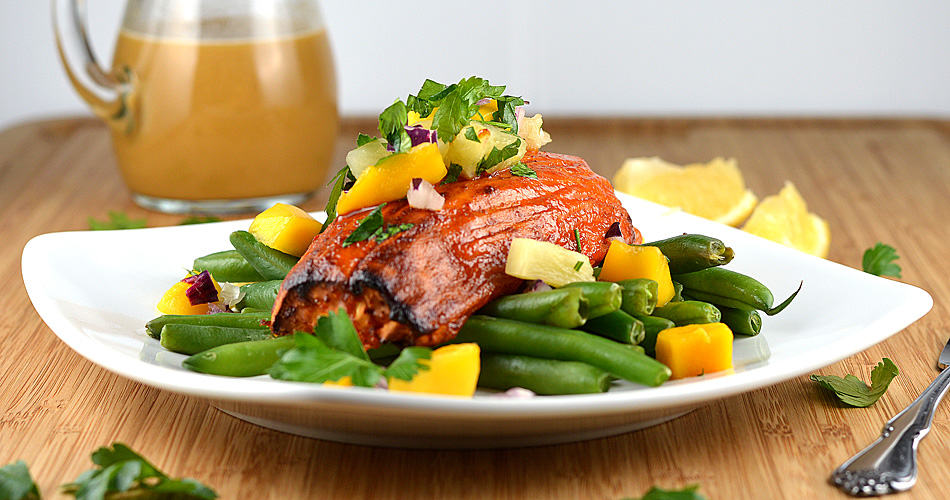 But wait! If our Maple Glazed Sweet Potato is not your cup of tea, you might also like…
Roasted Sweet Potatoes with Tangy Plum Sauce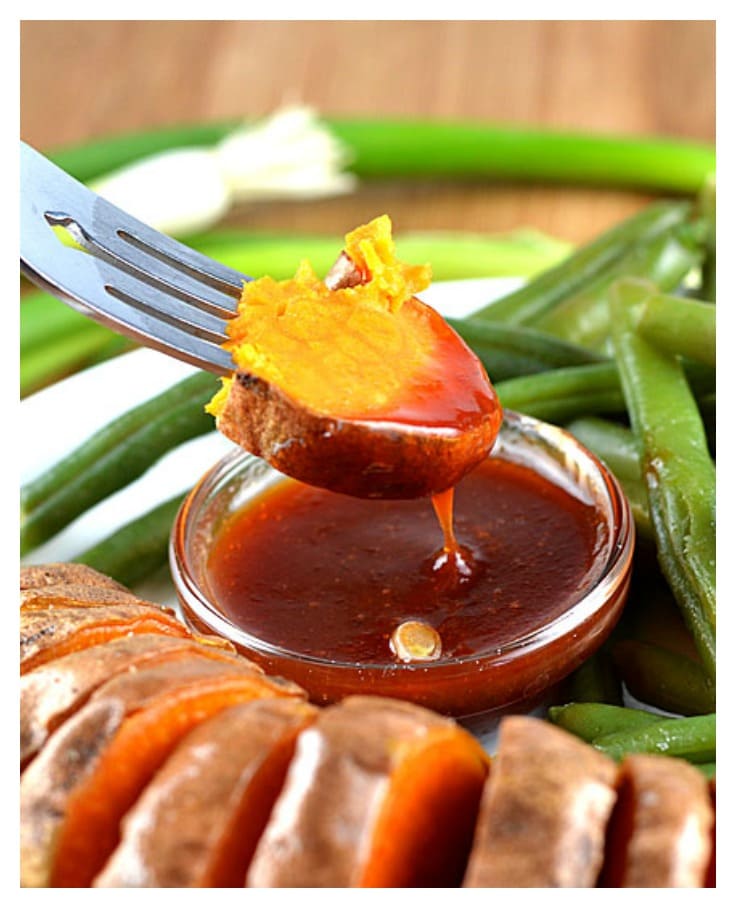 or these Sweet Potato Pierogi…my all-time personal favorite recipe I've done to date!
Maple Glazed Sweet Potato with Miso Butter Sauce
Ingredients
2

Large Sweet Potatoes

peeled and sliced in half lengthwise

2

Tbl White Miso Paste

or "mellow"

2

Tbl Tamari Sauce

2

Tbl Vegan Margarine

non-dairy

1

Tbl Brown Sugar

1

Tbl Maple Syrup

1/4

tsp

Sesame Oil

1/4

tsp

Garlic

or more to taste

Vegetable Stock

to thin out the sauce

Fresh Green Beans

steamed

2

Tbl Pineapple Chunks

1

Tbl Pear Chunks

1

Tbl Red Onion

diced

1

Tbl Fresh Parsley

chopped

Lemon wedges for serving
Instructions
Preheat the oven to 350 degrees.

In a small sauce pan, add the miso, tamari, vegan margarine, brown sugar, sesame oil and garlic whisking until it comes together. Add enough vegetable stock to thin. Set aside keeping it warm.

Peel the sweet potato and slice lengthwise.

Roast for about 20 minutes. It should be under cooked at this point.

Baste with a small amount of the miso sauce and return to cook for another 10 minutes.

Drizzle with maple syrup and place under the broiler until the edges are caramelized and the sweet potato is tender.

Steam the green beans.

Meanwhile, in a small bowl add the pineapple, pears, red onion and parsley.

To plate, place the green beans down first. Top with the sweet potato and the salsa.

Garnish with lemon wedges and fresh parsley.

Pour over desired amount of miso sauce.