Lately I've been working on alot of fall recipes that call for Pumpkin Pie Spice and how many of us really have that on hand?  And if we do, it probably expired when we used it LAST year.  Did you know that spices have an expiration date?  According to the McCormick Spice Company, each package or jar has a "Best By" date imprinted on it.  If it doesn't, it was manufactured PRIOR to 2004.  Yikes!
I go through my spice cupboard every six months to be sure what I'm using is fresh.  In fact, we take a black Sharpie marker and write the date across the front so it's very visible.
Pumpkin Pie Spice is just one of those seasonal things that many of us don't want to purchase for a single use (or two).  It's so easy to make your own and you will likely already have everything you need to make it right there in your spice cupboard!
The ingredients are few and simple.  Ground cinnamon, ginger, nutmeg, allspice and cloves.  That's it!  It's the proportions that make it Pumpkin Pie Spice.
Hang on to this recipe! You'll never purchase Pumpkin Pie Spice again 🙂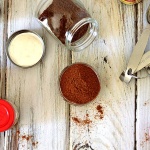 Homemade Pumpkin Pie Spice!
Ingredients
How To Make Your Own Pumpkin Pie Spice!

 

Serves: 8 tsp

1-1/2

Tbl Ground Cinnamon

1

tsp

Ground Ginger

1

tsp

Ground Nutmeg

3/4

tsp

Ground Allspice

3/4

tsp

Ground Cloves
Instructions
Whisk well to combine and store in an airtight container. This recipe makes 8 teaspoons.