My love for cooking came later in life, but now I am hooked and I find inspiration literally everywhere! So, I decided to head over to my local Whole Foods for a look around and there were fresh spring vegetables as far as the eye could see. I was excited to find the frozen Dorot Garlic and Herb Cubes, which if you aren't familiar, are little pre-portioned frozen garlic and herbs.  Such a unique idea, I just love it!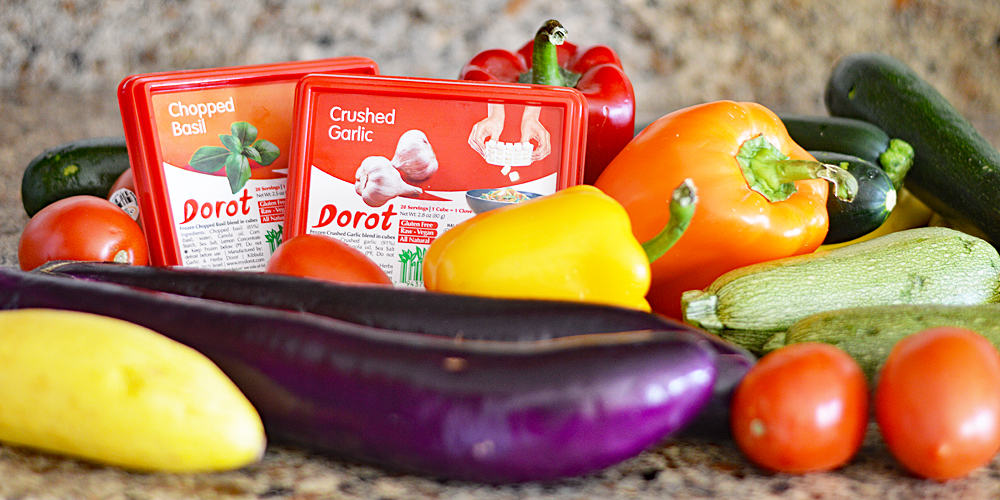 I ended up with quite an array of fresh vegetables and all of a sudden, all I could think of was Remy's Ratatouille! You remember the movie, right? Maybe it's the child in me, but there was something magical about the love and passion that little guy put into creating his masterpiece.  It was a spectacular version of what was essentially a simple "peasant dish."  So, I decided to recreate Remy's Ratatouille for you today just as he did in the movie using the DOROT Garlic and Herb Cubes 🙂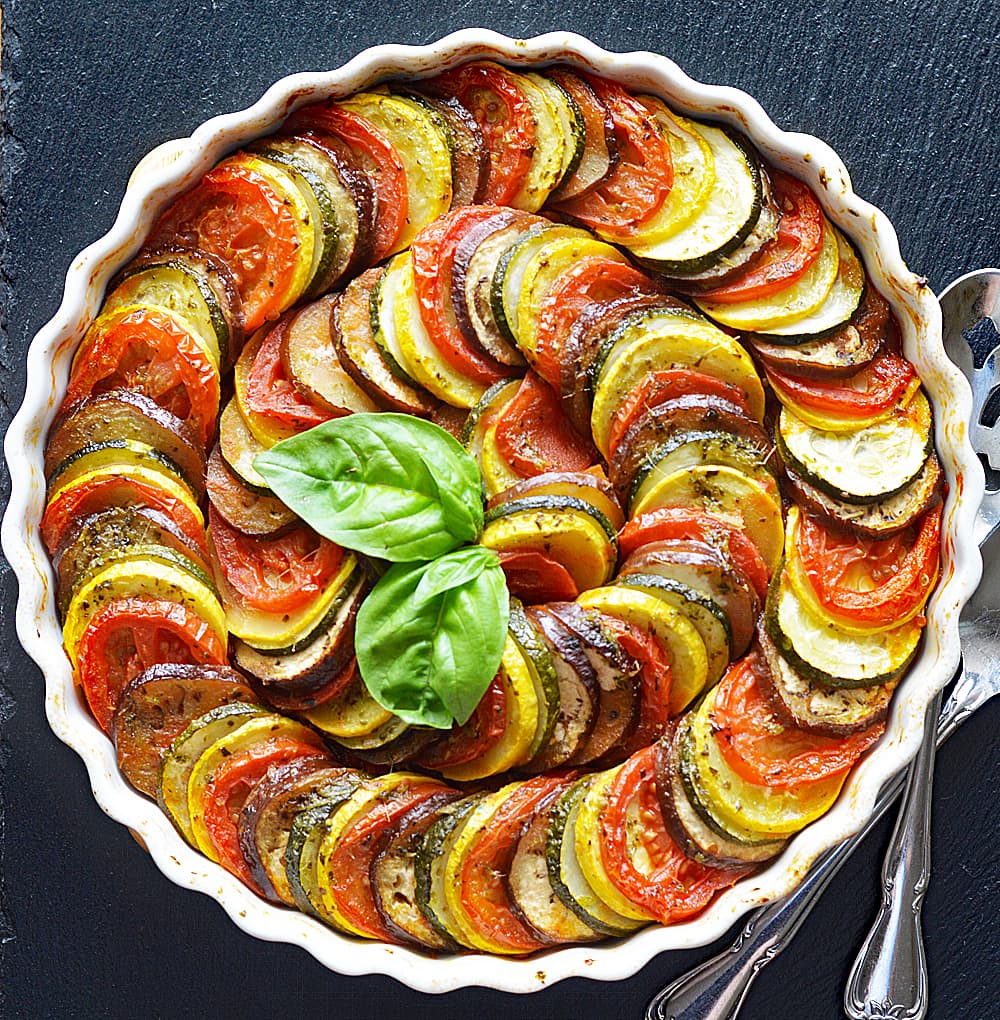 Ratatouille is one of those recipes that looks like it took a long time to make, but really comes together quickly. Dorot Garlic and Herb Cubes are so easy to use and what I love about them, is that they provide the perfect amount of herbs (1 tsp each), with no prep or cleanup.  You just pop them out and they are ready to use!
So let's get started, shall we?
The first step is to add oil, diced onion and peppers to a pan over medium high heat along with two (or more to taste) of the Dorot Garlic Cubes.  Once the veggies cook down, add a can of diced (or crushed) tomatoes. Congratulations! You just created a piperade (i.e., fancy French cooking term).  Spread this in the bottom of a quiche or casserole pan. Easy, right?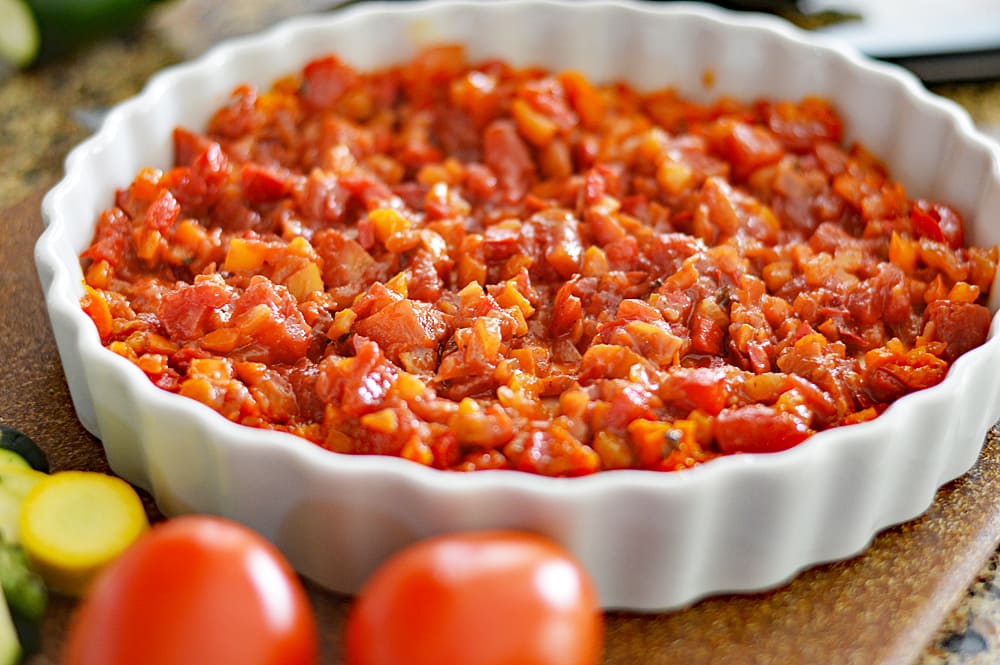 Where to find DOROT…
The Dorot Garlic and Herb Cubes were really easy to locate right there in the frozen section.  In my store, they were in among the frozen vegetables and the bright red packaging immediately caught my eye.  I bought one of each available flavor!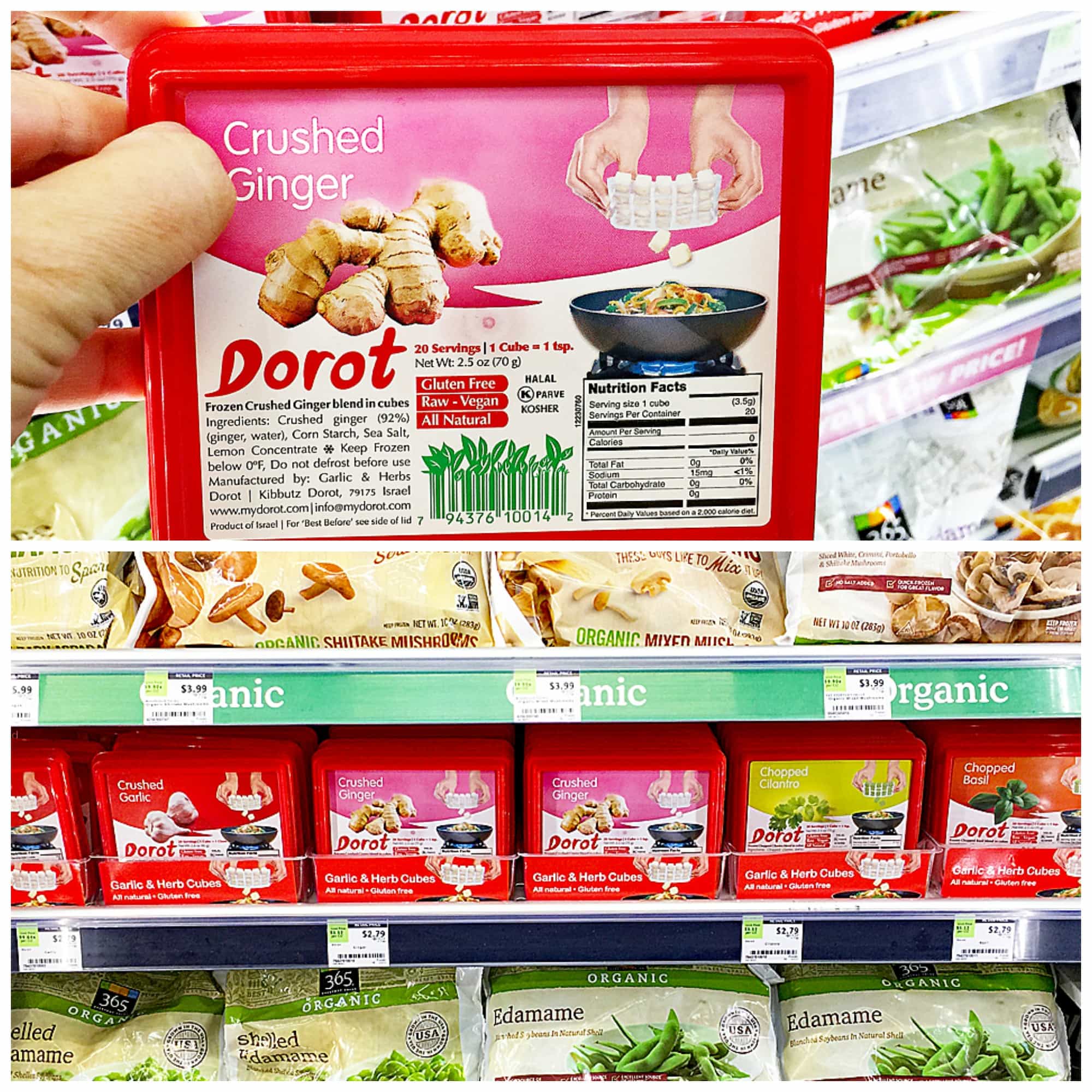 The next step in our recipe is to simply slice the vegetables (a serrated knife makes quick work of this) and then layer them on top of the piperade.  5 minutes start to finish!  This would be a fun task if you have kids 🙂

The final step is to melt two of the DOROT Basil Cubes with 1 Tbl of vegan margarine and brush over the entire dish. The cubes are flash-frozen when fresh, are super easy to pop out and are equal to 1 tsp, so you don't even have to measure.  I can already think of a few other dishes I want to use these in!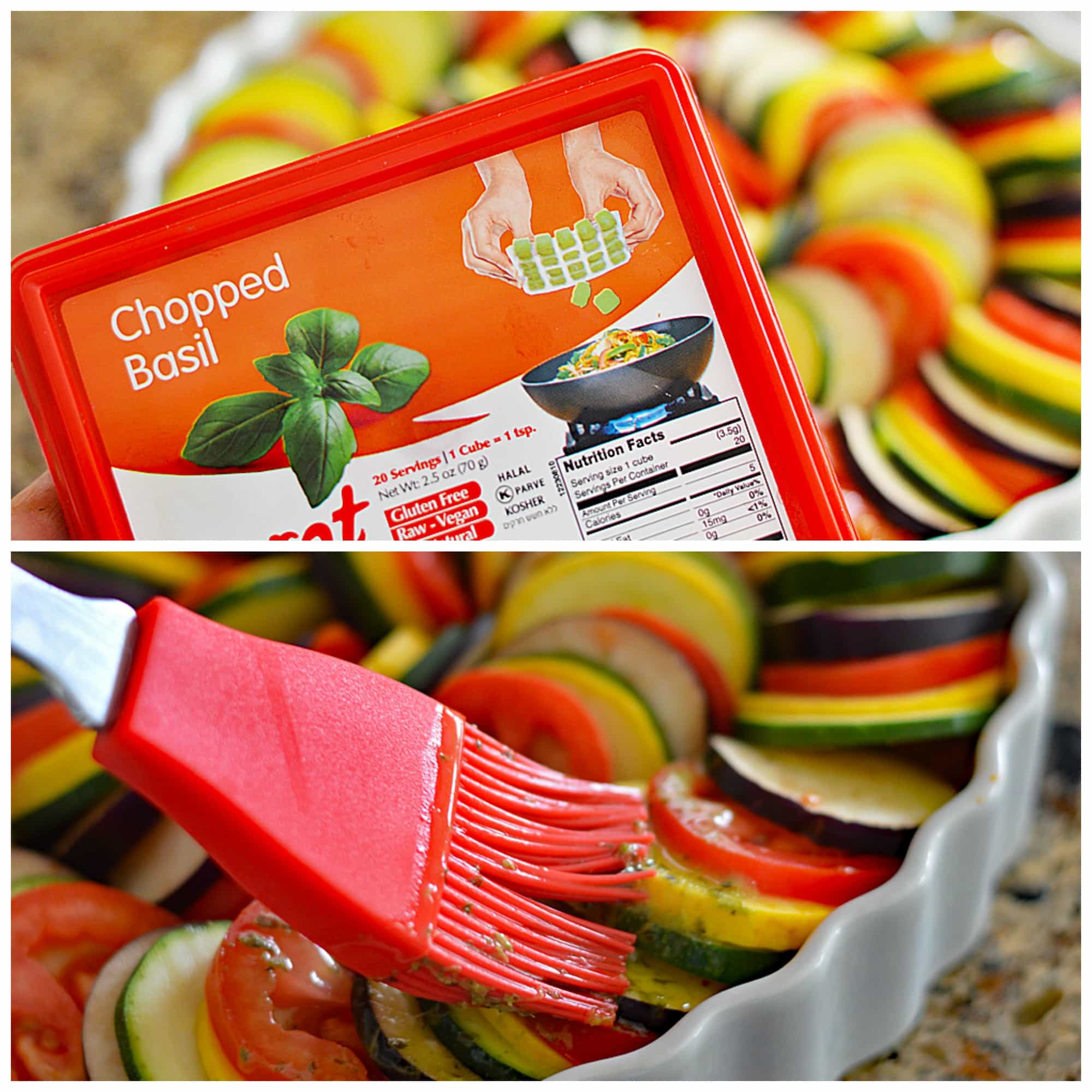 Bake at 400 degrees for about 30 minutes and voila!  Isn't it pretty?  Now little Remy plated his ratatouille atop couscous placed in a ring mold, drizzling reserved piperade he had turned into a vinaigrette around the plate. However, I prefer family-style, so I did make couscous and just spooned it over top.  So delicious!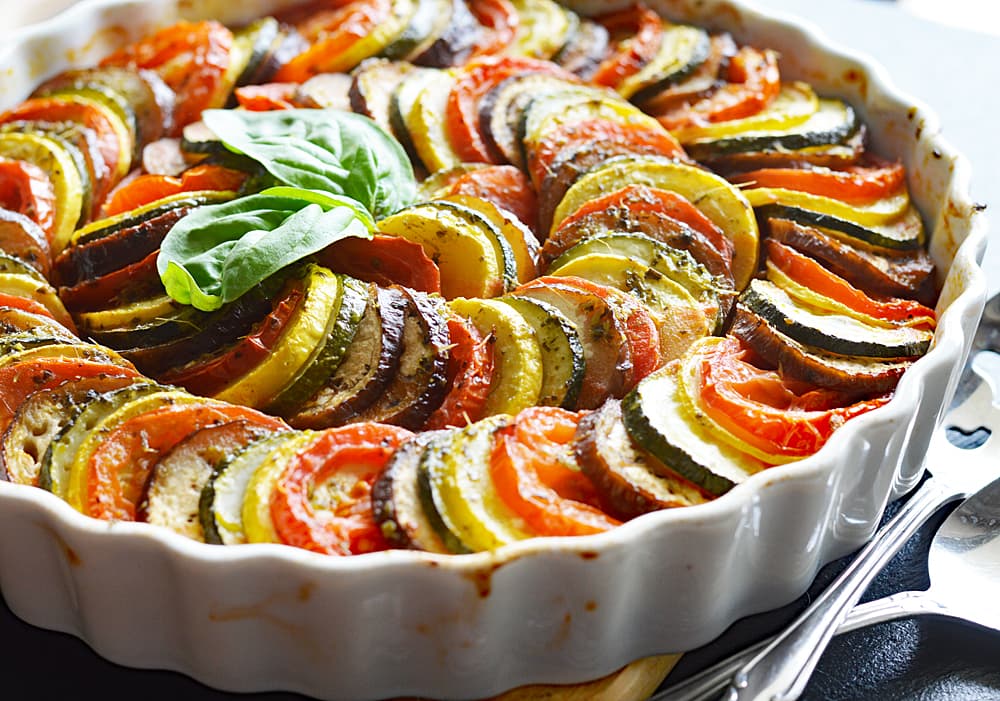 By the time I stumbled across the Dorot Ginger Cubes, I had already planned out my recipe in my head.  But since I am creating this lovely spring dish, we need a light refreshing, cool beverage to pair with it, right?
BONUS RECIPE!
This simple Sparkling Ginger Ale is the perfect complement to our vegetable Ratatouille.  In a medium sauce pan, combine 1/2 C sugar, 1 C water and 4 Dorot Ginger Cubes.  Bring to a boil,then remove from the heat to cool. Combine 1 part of the ginger syrup to 2 parts sparkling water, serving over ice and in under 5 minutes, you have Homemade Ginger Ale!  The syrup mixture makes enough for 2 eight ounce servings, but can easily be doubled, tripled, etc.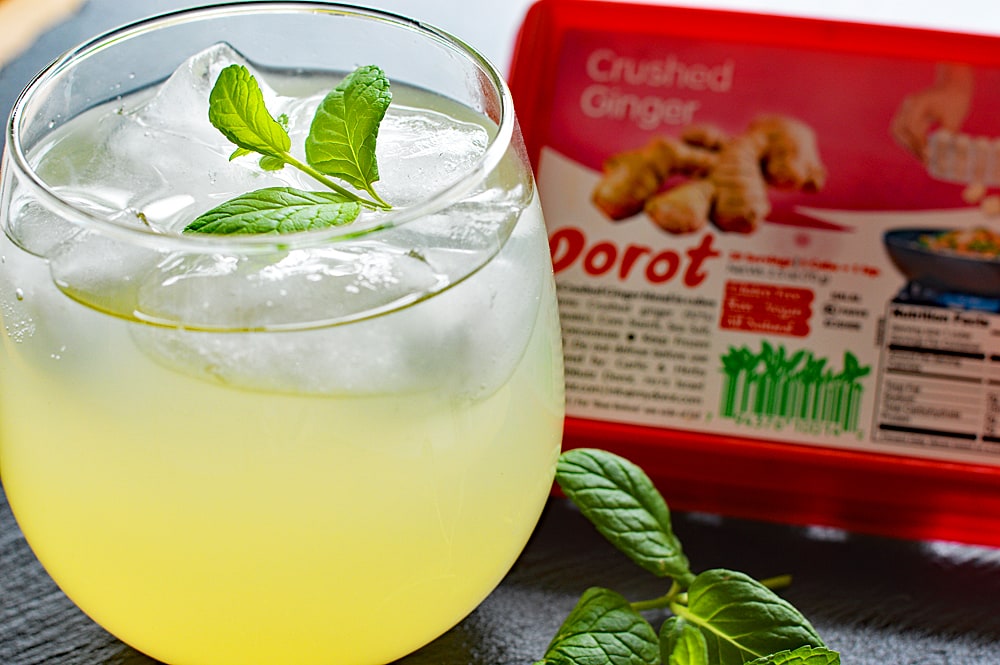 So, did you try this recipe for Remy's Ratatouille featuring DOROT Garlic & Herb Cubes or the Homemade Ginger Ale??  What do you make with DOROT Garlic and Herb Cubes? Let me know in the comments section what you thought.
If you'd like to learn more about Dorot Garlic and Herb Cubes, visit them here!
PIN IT FOR LATER!


Remy's Ratatouille
Ingredients
FOR THE ONION/PEPPER "PIPERADE"
1-1/2

tsp

Oil of your choosing

1

small

Onion

diced

1

medium

Red Bell Pepper

diced

1

medium

Yellow Bell Pepper

diced

1

medium

Orange Bell Pepper

diced

2

cubes

DOROT Garlic

15

oz

Canned DICED or CRUSHED Tomatoes

Salt & Pepper

to taste
FOR THE VEGETABLES
2

medium

Zucchini

sliced 1/4" thick

2

medium

Yellow Squash

sliced 1/4" thick

1

Chinese/Japanese Eggplant

sliced 1/4" thick

4

Roma Tomatoes

sliced 1/4" thick
FOR THE BASIL TOPPING:
2

cubes

DOROT Basil

1

tbsp

Vegan Margarine

melted
Instructions
TO MAKE THE ONION/PEPPER "PIPERADE"
In a large skillet over medium high heat, add the oil, onion, peppers and garlic. Saute, stirring occasionally until they have reduced down and are softened.

Add the diced (or crushed) tomatoes and season with salt and pepper. Cook for a few more minutes. Spread into a 10" quiche or other round baking dish.
TO PREPARE THE VEGETABLES:
Slice each of the vegetables about 1/4" thick. They do not need to be perfect, just similar in size.

Layer one slice of each: eggplant, zucchini, yellow squash and tomato. Repeat and place in the pan as shown. Continue until you have completed the exterior circle. I went the opposite direction for the middle circle and filling in the center.
PREPARE THE BASIL BUTTER:
Melt 1 tbsp of Vegan Margarine with 2 of the DOROT Basil Cubes.

Using a pastry brush, apply evenly over the veggies.

Cover with parchment to keep the moisture in. I just cut a round of parchment the size of the dish and placed over top. It does not need to be air tight.

Bake at 400 degrees for about 30 minutes or until the vegetables are tender.
FOR SERVING:
Serve over couscous or with a slice or homemade garlic bread. Brush the slices with the same Basil Butter above, but add garlic. Toast until crisp and golden.