This recipe for Vegan Roasted Garlic Asparagus Soup was a reader request.  One that was all about the asparagus and this one is just that! This soup is so simple to make and full of fresh in-season ingredients.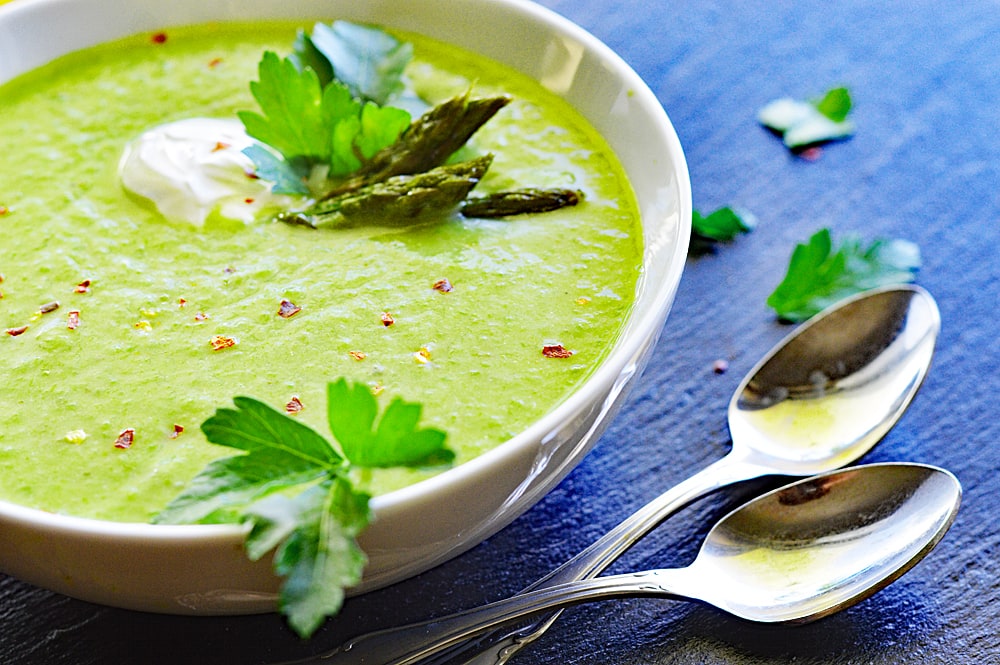 What I love about this recipe was that I came home from the grocery store, trimmed the asparagus and placed them on the lined baking pan.  I drizzled them with a bit of olive oil and give a generous sprinkling of salt and pepper. Boom! In the oven at 450 degrees to roast until tender. The cooking time will vary greatly depending on the size of the asparagus.  Just keep checking them after about 20-30 minutes or so and toss occasionally.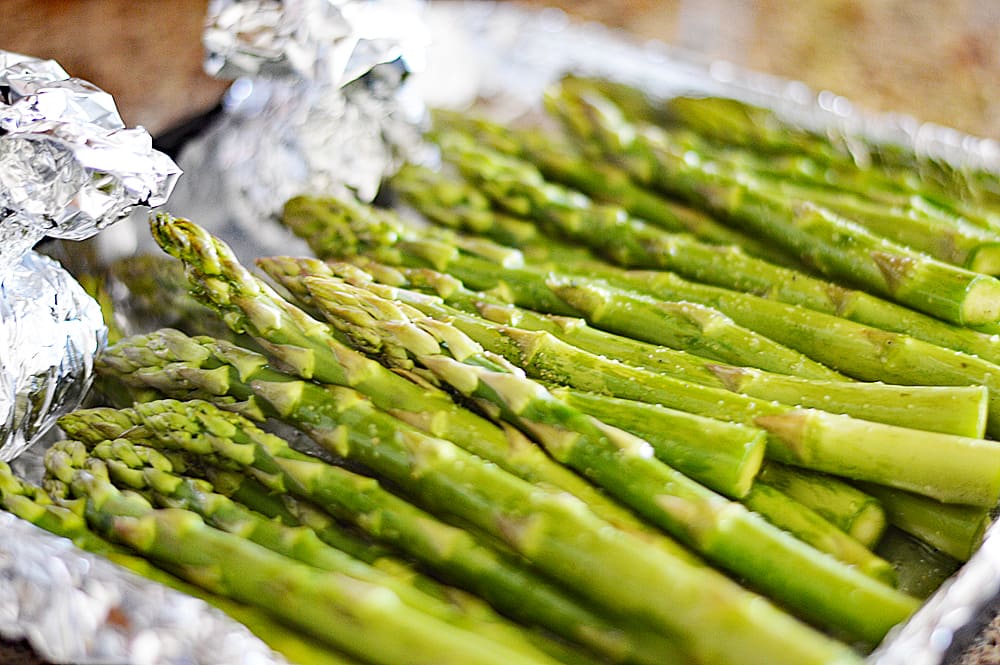 On that same sheet pan, take two small heads of fresh garlic, trimmed about 1/4″ off the top and again, drizzle with oil, hit it with some salt and pepper. Then, I wrapped each head in foil and placed them on the pan with the asparagus. The garlic will take about 20 minutes more than the asparagus, but check it every so often.  There is a fine line between caramelized and burnt…and a big difference in taste 😉
Once they cool slightly, you just pinch at the root base and they squeeze out like butter! Any leftover roasted cloves can be spread on toasted french bread, etc.  It's so sweet at this point.  I don't love raw garlic, but I love roasted garlic.  In fact, I must admit I was enjoying some of the cloves while photographing this very shot.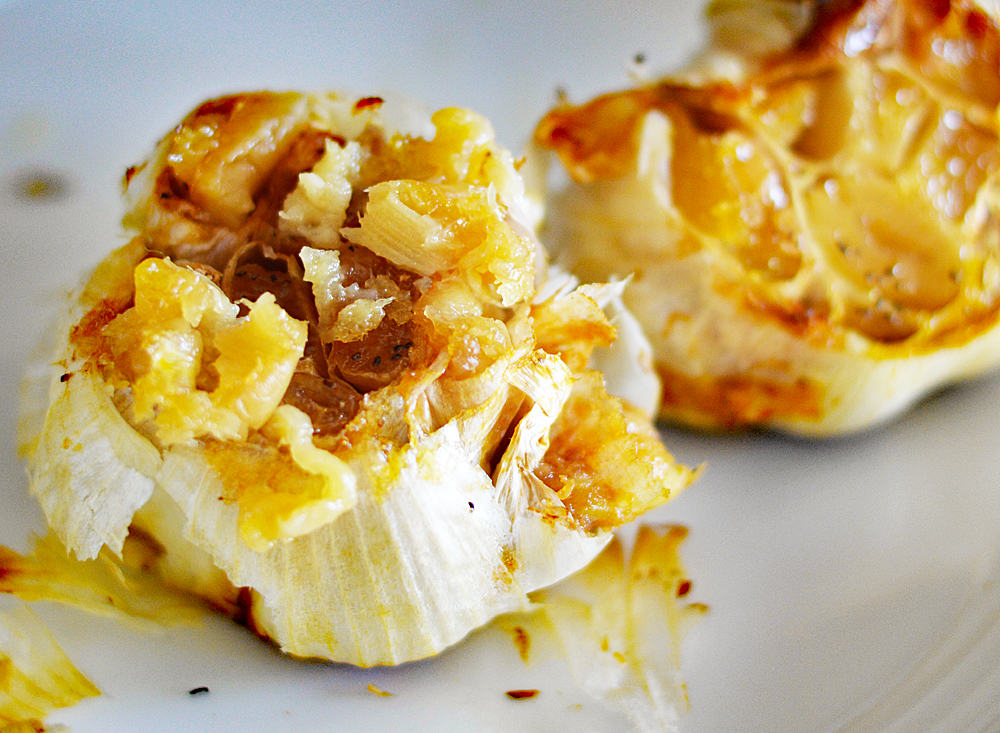 So everything was roasted, but I wasn't quite ready to prepare the soup.  It was getting late in the day, the light wasn't quite where I wanted it for photography purposes, etc, etc, etc.  I just wrapped everything up and prepared it the next day, so it's a great make-ahead meal!
I used a food processor, but you can also use a blender for this.  I give the asparagus a few pulses before adding the remaining ingredients just to get it started.  The roasted garlic goes in and rather than give you an amount, I will say…add 'to taste'.
To make it creamy and still keeping it vegan, I used canned coconut milk but if you make your own cashew cream, that would be perfect too.  Also, if you can get your hands on the vegan non-dairy creamer by SO Delicious, that's actually one of my favorite products to use in applications like this.  Season with salt and pepper.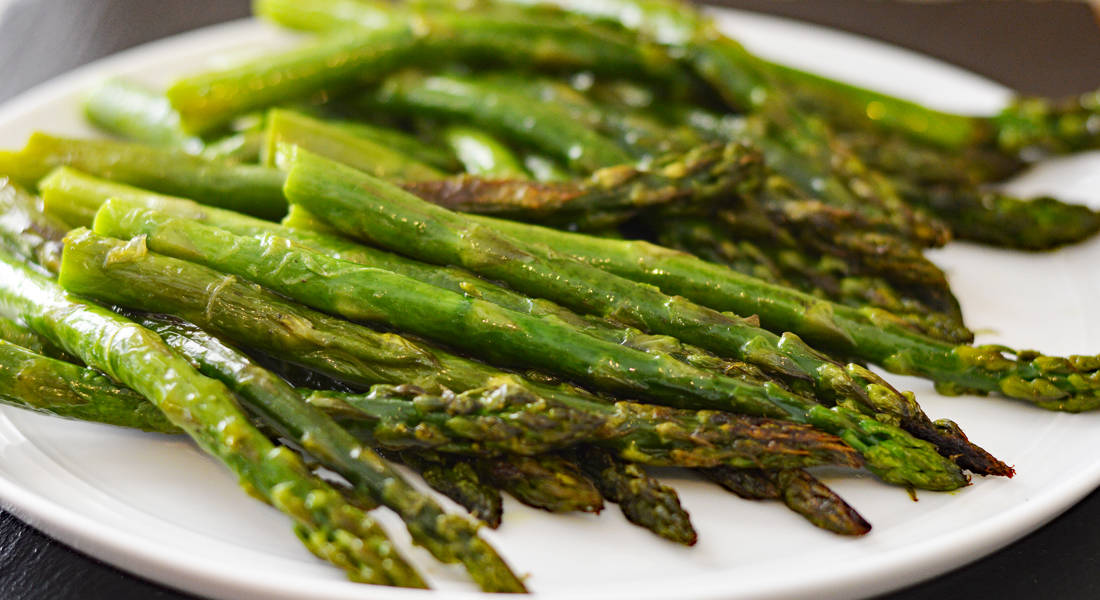 I know not every vegan approves or has access to it, but I really enjoy the vegan sour cream alternatives out there in the market these days.  They are SO very close to the original.  You can also use it instead of the coconut cream mentioned above and/or garnish your soup with it as I did here.  A sprig of fresh parsley and a sprinkling of red pepper flakes and my soup is complete!  If you'd like to kick it up a notch, how about a drizzle of olive oil? Completely optional, of course.  I enjoyed mine with my go-to, homemade garlic toast.  It was a delicious and comforting meal.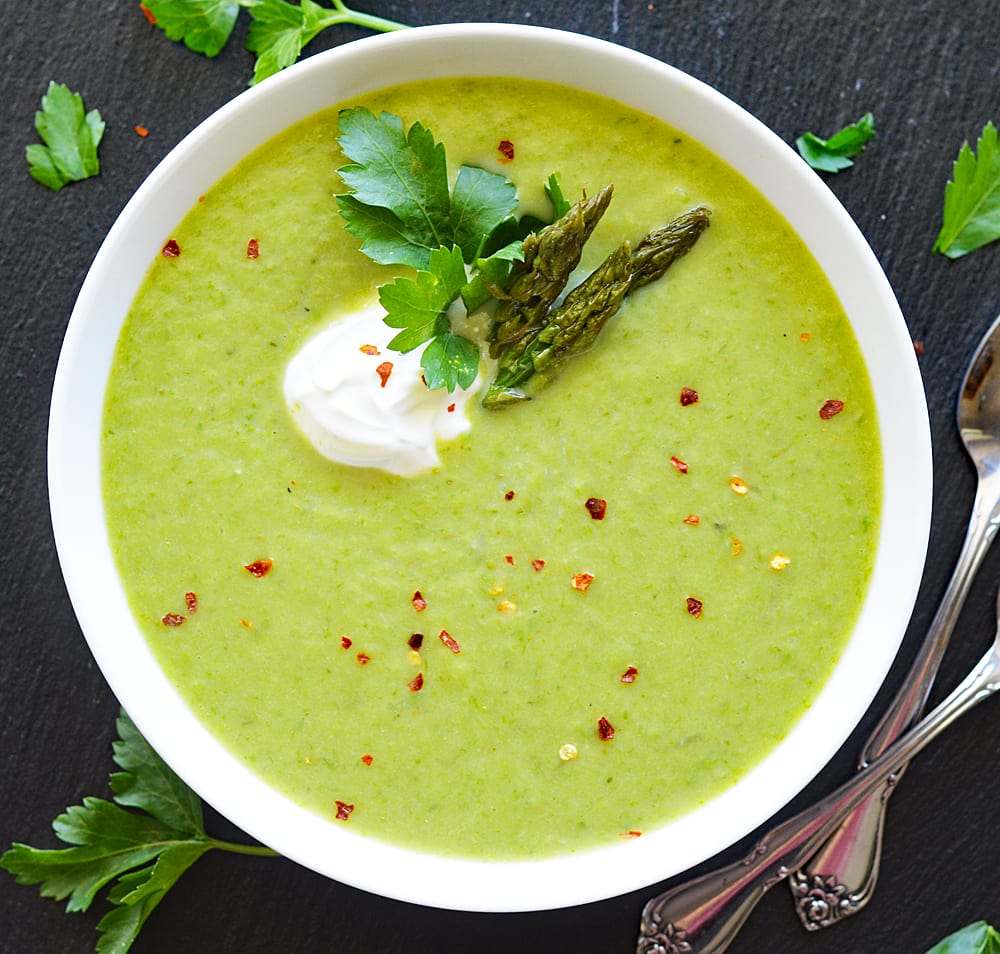 Did you make this recipe for Vegan Roasted Garlic Asparagus Soup?  Did you switch it up at all??  If so, let me know in the comments below.
Also, if you'd like to request a recipe (yes, I do take requests!), you can email me directly at [email protected] or how about joining almost 300 of your fellow readers in our VIP Facebook Group specifically created for The Veg Life?  It has been a lot of fun getting to know you 🙂
Pin it for later!


Vegan Roasted Garlic Asparagus Soup
Vegan Roasted Garlic Asparagus Soup
Ingredients
2

lbs

Asparagus

trimmed

1-2

heads

Garlic

roasted

1

tbsp

Olive Oil

divided, plus more for drizzling

Salt & Pepper

2-1/2

c

Vegetable Broth

you can use more to thin

1

c

Canned Coconut Milk, Vegan non-Dairy Cream, Cashew Cream or OTHER non-Dairy alternative

Fresh Parsley

Red Pepper Flakes

to taste
Instructions
TO ROAST THE VEGGIES:
Preheat oven to 450 degrees.

Trim the asparagus, place on a lined baking sheet and toss with 1-1/2 tsp of olive oil. Generously sprinkle with salt and pepper. Roast until tender, about 20-30 minutes, tossing occasionally.

Trim off the top of garlic heads, drizzle with remaining olive oil and season with salt and pepper. Wrap in foil and place on the baking sheet with the asparagus. Roast until golden and caramelized, about 20 minutes longer than the asparagus depending on size.

In the bowl of a food processor, add the asparagus, as many of the roasted garlic cloves as you'd like and non-dairy milk choice. Also add the salt, pepper and vegetable broth. Puree until smooth.

Garnish the soup with fresh parsley, vegan sour cream (optional) and a drizzle of olive oil and/or red pepper flakes as desired.