What could be more comforting than Mac & Cheese?  How about our lightened up Creamy Vegan Roasted Butternut Parmesan Mac & Cheese with Caramelized Onions and Ricotta Cheese version?  I mean, seriously…this was delicious.  I had never attempted a macaroni and cheese dish since going vegan because, well, quite frankly…I am not a fan of vegan cheeses.  Granted, I have not tried them all, but they do seem to leave a lot to be desired.  And they don't really melt, do they?  You'll notice I don't do alot of faux anything on this site.  I'd rather reinvent the recipe entirely.  And this one took some creativity, but it worked!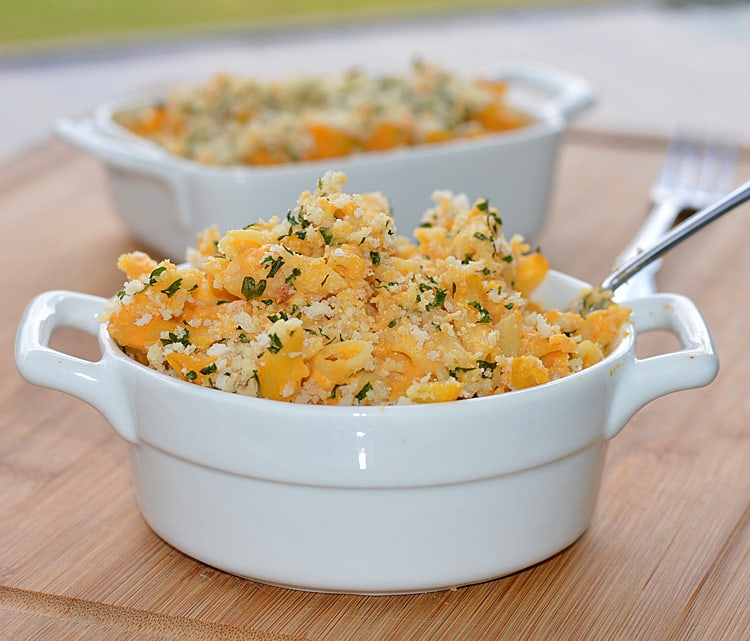 It all starts with caramelized onions, which I think gives it depth of flavor.  We also roasted the squash for additional flavor and continued building from there.  Vegan ricotta, parmesan, coconut creamer and vegetable broth round things out.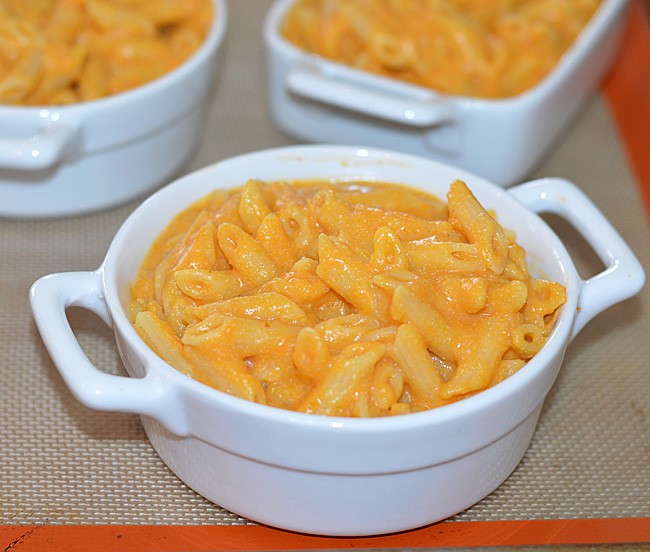 Now you could stop right here and it's completely cooked and ready to eat, BUT…we made a topping mixture of panko bread crumbs, melted margarine, parmesan and parsley.  Bake at 350 degrees on the top rack until crisp and golden brown.  Season with a bit of salt, if desired.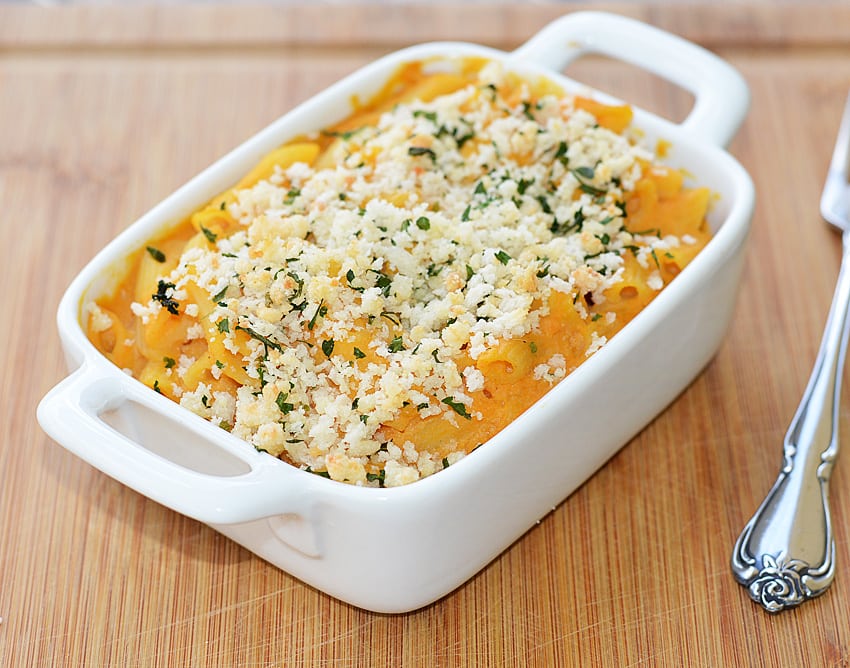 Roasted Butternut Parmesan Mac & Cheese
Ingredients
1

C

Mini Penne

or you can always use traditional macaroni

1/2

Tbl vegan Margarine

such as Earth Balance

1/2

of a small Onion

or 1 large shallot, minced

1

very small Butternut Squash

roasted

1/3

C

Coconut Creamer

we love the So Delicious brand

1/2

tsp

Salt

1/3

C

vegan Parmesan

1

Tbl Nutritional Yeast

2

Tbl vegan Ricotta

1

C

Low Sodium Vegetable Broth

2

Tbl Panko Bread Crumbs

1

Tbl vegan Parmesan

1

tsp

melted vegan margarine

1

tsp

Parsley

chopped (or dried)
Instructions
Cut the butternut squash in half lengthwise. Scoop the seeds out with a spoon. Brush with a small amount of vegetable oil and sprinkle with salt and pepper. Place cut side down on a baking sheet and bake until tender, about 25-35 minutes at 375-400 degrees.

Meanwhile, in a large saute pan, melt the butter and saute the onion until golden and caramelized.

Let the squash cool enough to handle and scoop out the flesh directly into a food processor. Add the caramelized onions to the squash and puree.

Cook the penne pasta (or macaroni) per the instructions on the box. Drain, but do not rinse.

Using the same large pasta pot, add the broth, creamer, salt, parmesan and ricotta on low heat, whisk to combine. Add the pureed squash and stir until incorporated.

Add the pasta. Toss until combined. If necessary, add a bit of additional broth to adjust the consistency if it's too thick. Season with salt and pepper, to taste.

You could stop right here and it's ready to eat. Or….

Transfer to a baking dish.

Mix together the panko bread crumbs, parmesan, melted margarine and parsley. Top the mac and cheese with the breadcrumb mixture.

Bake at 350 degrees just until the top is golden brown.