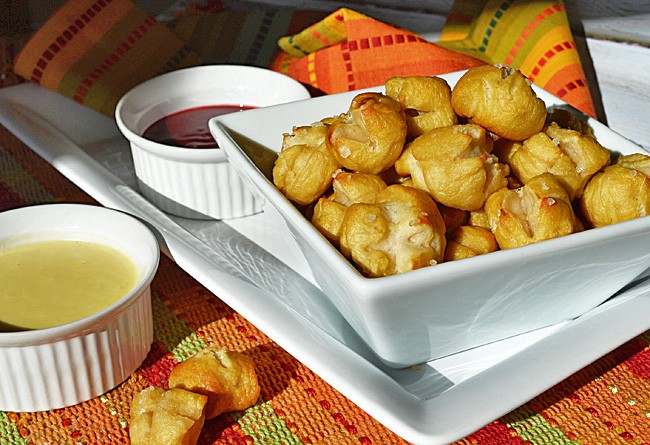 Soft Pretzel Bites {Vegan}
Ingredients
For the dough:

¼

C

plus 3 Tbl Warm Water

¾

tsp

Brown Sugar

¼

Pkg of Dry Yeast

1

Tbl Vegan Butter

such as Earth Balance, melted

1-1/8

C

All-Purpose Flour

¼

tsp

Salt

Water Bath:

4

C

Water

1/8

C

of Baking Soda

Almond Milk

to use in place of egg wash

Coarse Sea Salt
Instructions
In the bowl of an electric mixer fitted with a dough hook, combine the warm water and brown sugar. Sprinkle the yeast on top and let stand for 5 minutes. The yeast should look frothy. Then add the melted butter, flour and salt. Mix on low speed until combined. Increase speed to medium for 3-4 minutes until the dough becomes pliable. Remove the dough, lightly grease the bowl and return the dough to the bowl. Cover and let rise in a warm place until doubled in size, about an hour.

Preheat oven to 425 degrees. On a lightly floured surface, divide the dough into 2 pieces and roll into a long rope. Cut into 1 inch pieces and roll into rounds to create the pretzel bites.

If doubling this recipe, cover the cut pieces with a cloth to avoid drying out while finishing the rest of the dough.

In a large pot, bring 4 cups of water to a boil. Add baking soda. Boil pretzels in small batches for 30 seconds. Remove with a spider or slotted spoon and place on a baking sheet.

Repeat until all have been boiled. Using a very sharp knife or bakers blade, crisscross a slit in the top of each pretzel bite. Brush tops with the almond milk and sprinkle with the coarse sea salt.

Makes approximately 30 bites. This recipe easily doubles.
[bha size='234×60′ variation='05' align='aligncenter']