I get asked a lot about making Gluten-Free Vegan recipes and so I thought I would try to incorporate more on the blog.  I had every intention of making these Soy Nut Butter Quinoa Blondie Bites with almond butter, but in the process came across a nut butter made from Soy Nuts.  Sounded interesting, so I decided to give it a go.  I have to say, I was not expecting much flavor but was very pleasantly surprised.  It smells like peanut butter, tastes a lot like peanut butter and has the same consistency.  However, you could easily use another nut butter if you'd prefer.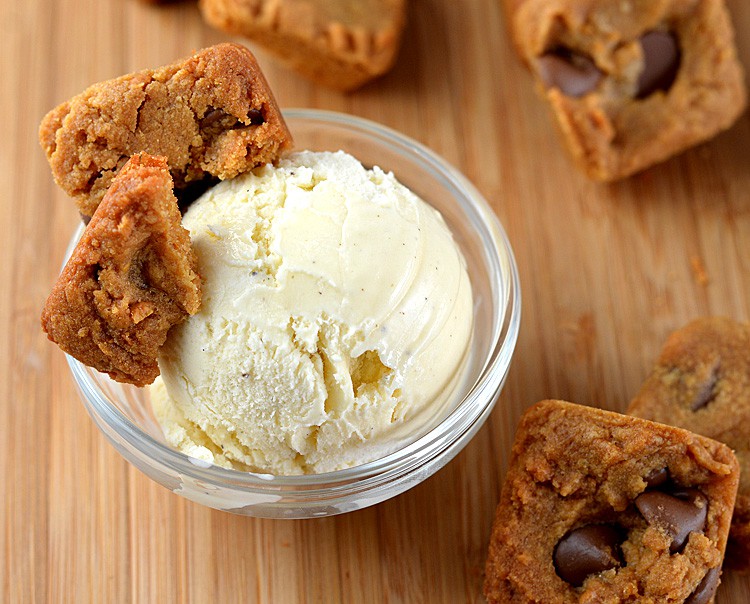 This recipe can be made in an 8″ square pan, but I found this super cute brownie bite pan from Wilton on Amazon and it's already portion-controlled. It's made of a flexible silicone, so it's really easy to remove them after baking.  I started off with plain bites and then decided to try a batch with dairy free chocolate chips.  Those were definitely the winner!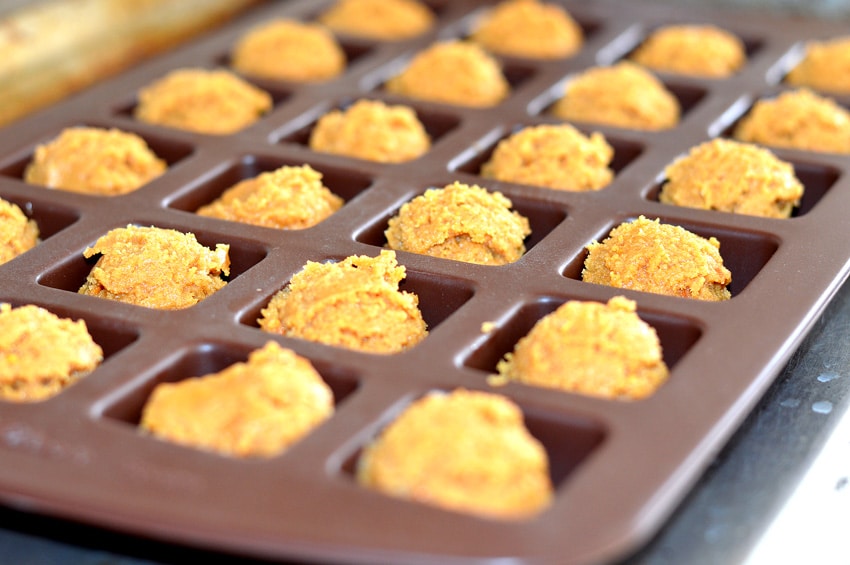 I shopped at my local grocery store and thought I would have trouble finding Quinoa Flour, but it was right there in the baking aisle with the rest of the Bob's Red Mill specialty flour selections.  But don't worry if you can't locate it. Just buy plain uncooked quinoa and put it in a spice/coffee grinder in small batches.  Instant quinoa flour!  I know I'll get asked, but I haven't tested it with other gluten-free flours and since I am still learning myself, cannot recommend another at this point.  Let me know if you have any suggestions or try this with another flour.  I'll update the post.
Another specialty ingredient I have been using (and loving) lately is the Ener-G brand egg replacer.  It works like a dream in baking.  Not sponsored, but really happy with the results it has been giving me.  It is basically just a mixture of leaveners that when combined with water, give the effect an egg would on your baking.  Also gluten-free.
You can use any dairy free chocolate chip.  If you can find them, Enjoy Life brand makes a dairy-free, gluten-free mini chip which would have been perfect for these little bite-sized treats.  I just didn't have any on hand.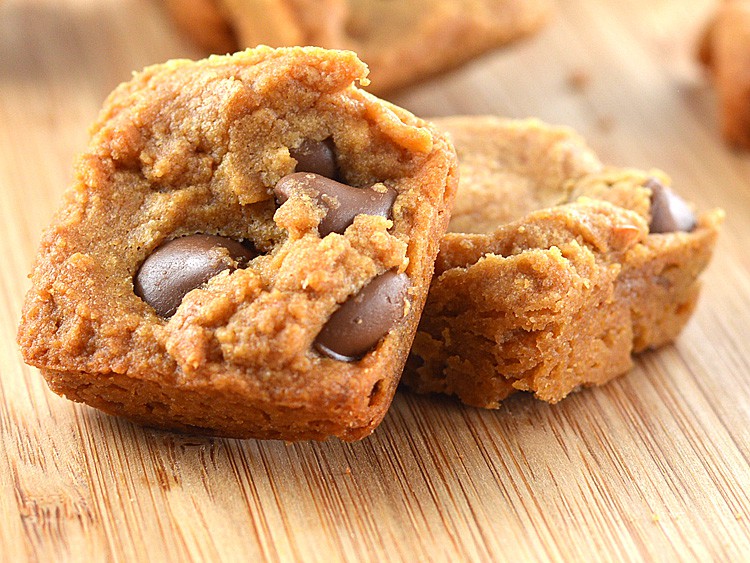 These bites were super soft coming out of the oven and when I tried handling them, didn't want to hold together.  So I left them in the pan to cool completely.  Then, they were the perfect blondie consistency as you can see below.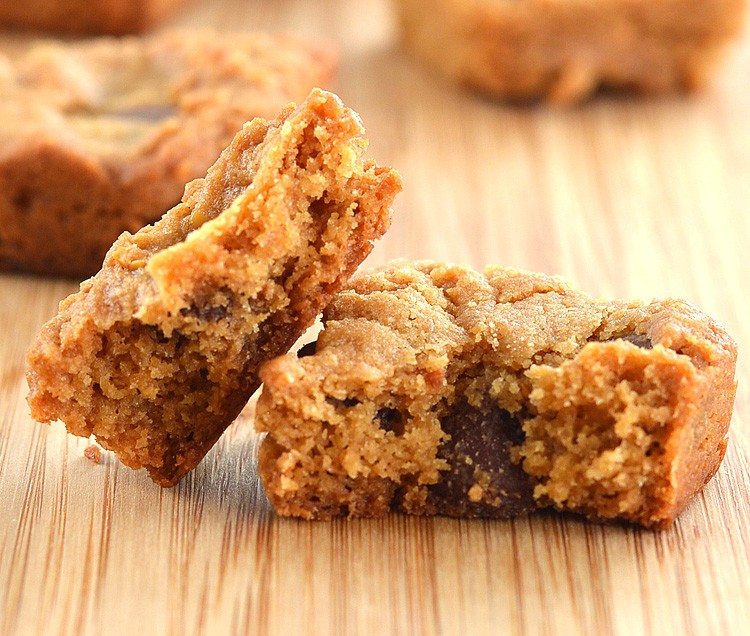 As we were sampling this, my mom actually suggested they would be great with a non-dairy vanilla bean ice cream…and they were!  They taste just like peanut butter chocolate chip cookies.  Yum!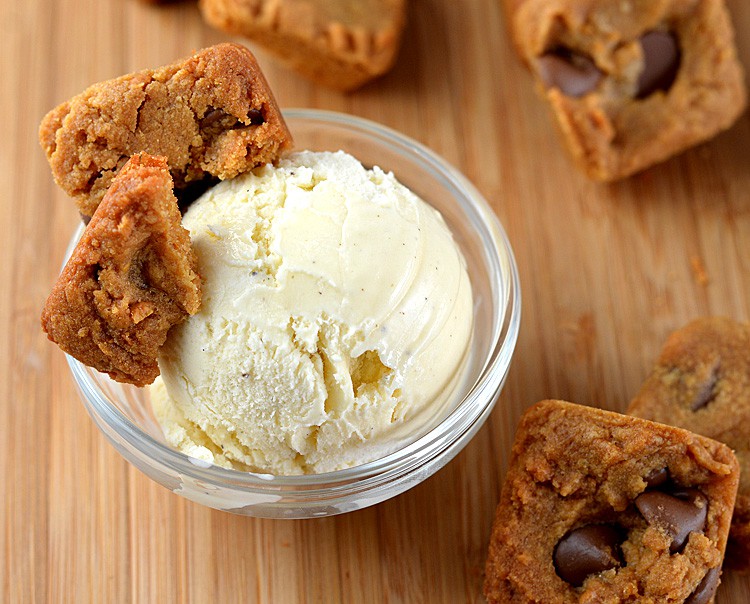 Inspired by this recipe.
Soy Nut Butter Quinoa Blondie Bites (Vegan + GF)
Ingredients
1/8

C

Vegan Margarine

softened

3/8

C

Soy Nut Butter

6 Tbl if you don't have a 3/8 measure, you could sub for any nut butter here

1

egg substitute

I used Energ-G Egg Replacer 1-1/2 tsp + 2 Tbl WARM Water

3/8

C

Brown Sugar

6 Tbl

1/2

tsp

Vanilla Extract

3/8

C

Quinoa Flour

6 Tbl

1/2

tsp

Baking Powder

1/8

tsp

Salt

1/2

C

Dairy Free Chocolate Chips
Instructions
Preheat oven to 350 degrees.

Mix together the egg replacer and water.

Combine all ingredients (adding in the egg replacer) either by hand or mixer. Do not over mix.

Spread into a prepared 8" baking pan lined with parchment or, as we have here today, scoop into a silicone brownie bite pan. If using the 8" pan, this will make a thin layer to cut into bites. For traditional blondies, just double the recipe.

Bake for 15-20 minutes for 8" pan, 12-15 minutes for bite-sized pans. Use a toothpick that when inserted, comes clean.

Allow to cool completely in the pan. This is important as they are very delicate until cooled.

Enjoy on their own or with your favorite vanilla bean flavored dairy free ice cream.