This shop has been compensated by Collective Bias, Inc. and its advertiser.  All opinions are mine alone.
#TeaProudly #CollectiveBias
Sparkling Basil Lemonade Iced Tea
We're in the dog days of summer here in Arizona and it's HOT!  Like, 115 degrees hot.  When I want to reach for refreshing beverage, I get tired of the same old juices and sugary sodas.  Even traditional iced tea gets boring after awhile.  So it's times like these that I like to get creative and make something like this Sparkling Basil Lemonade Iced Tea. Bigelow® Tea is my tea of choice & today I'm using their Lemon Lift tea bags to create a drink that sparkles! 🙂
Bigelow® Lemon Lift Tea
I found the Bigelow® Lemon Lift tea at my local Scottsdale, AZ Walmart in the coffee and tea aisle.  There were so many to choose from, I also decided to get the Orange & Spice tea bags to make a complementary tea.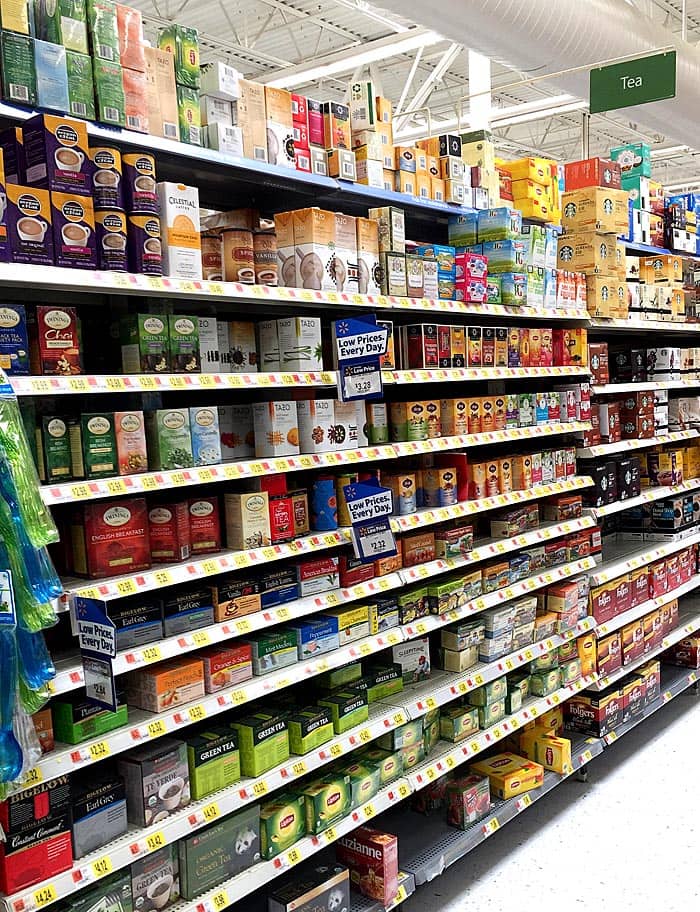 Brewing the Bigelow Lemon Lift Tea
I use 4 bags per 2 Cups of boiling water to brew the tea and allow them to sit for about 5-8 minutes (depending on how strong you like your iced tea).  Allow this cool before pouring into your pitcher.  We'll be combining these two cups with enough water to fill the pitcher about 3/4 full.

Basil and Lemon Infused Ice Cubes
What makes this lemonade special are the ice cubes that I've infused with fresh basil leaves and lemon zest.  Not only do they impart a special flavor as they melt, they are just really pretty in this drink.  The Bigelow Orange & Spice tea has ice cubes with orange segments in them.
At this point, you can decide if you'd like to sweeten your tea.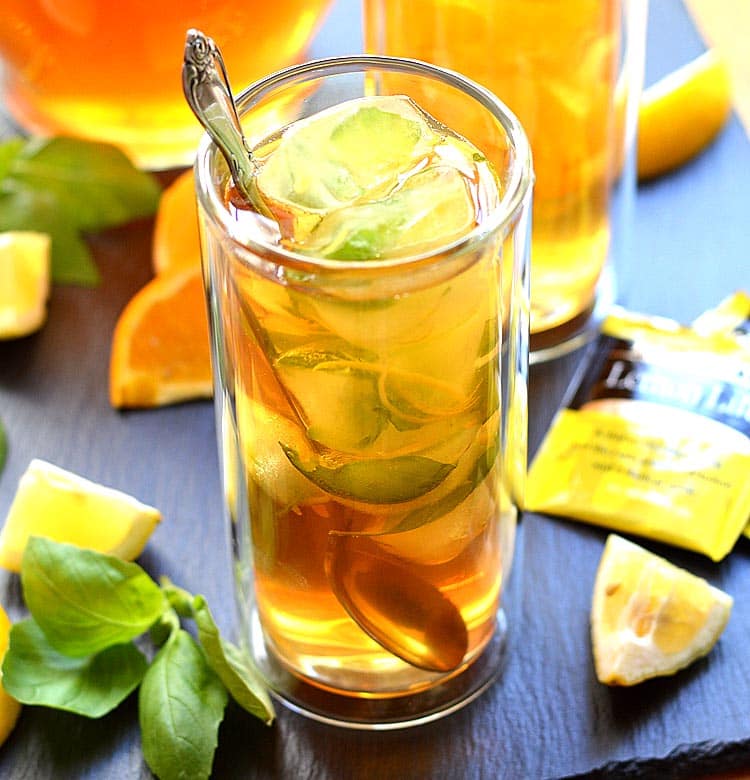 Add the "sparkle"…
For the "sparkle"in this Sparkling Basil Lemonade Iced Tea, I'm using a carbonated lemon water (which I also found at Walmart).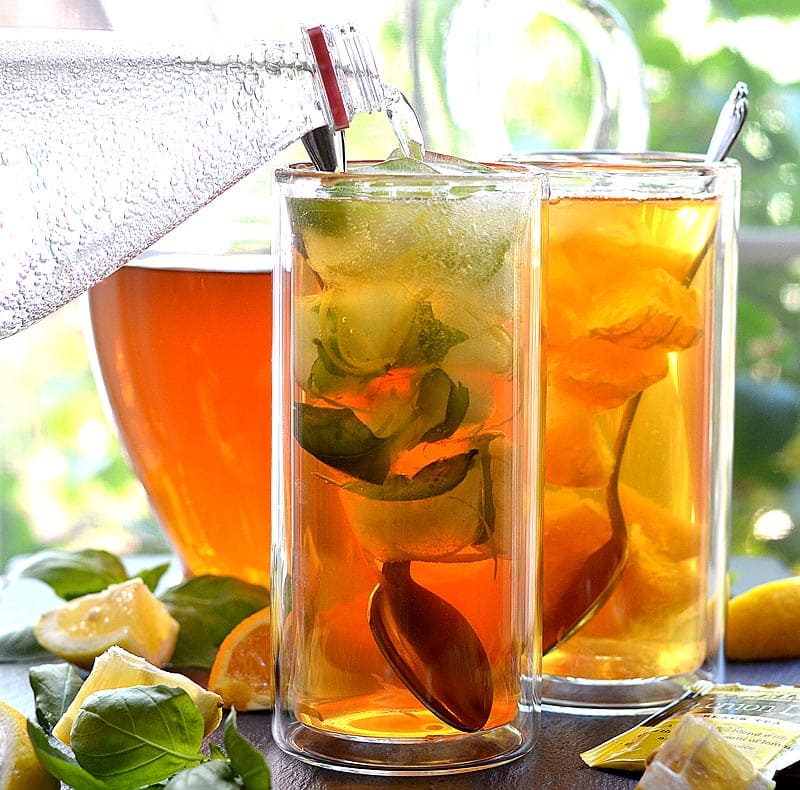 Learn more about Bigelow® Teas!
To learn more about Bigelow® Tea, you can find them on Twitter, Instagram and Facebook!
How do you enjoy your lemonade?  Leave a comment below and let me know 🙂  And if you make this recipe for Sparkling Basil Lemonade Iced Tea, snap a pic and tag me and Bigelow® Tea on Instagram!
Sparkling Basil Lemonade Iced Tea
Ingredients
4

Bigelow LEMON LIFT Tea Bags + 2 C Boiling Water to brew

Cold Water

the amount you use is up to you & depends on how strong you like your tea

Fresh Basil Leaves

try to choose the smaller ones

Lemon Zest

Bottled Water

for making clear ice cubes

Sparkling Water

Lemon Infused optional

Lemon Wedges

for garnish
Instructions
The first step is to prepare the lemon and basil infused ice cubes. I like to place the herbs and zest in an ice cube tray first, then top with water. You may have to coax them down so they aren't all floating. If you use bottled water, the ice cubes come out crystal clear!

For the orange cubes, just use orange segments and top with water. Allow to freeze for several hours.

To prepare the tea, boil 2 cups of water and using 4 tea bags, brew the tea for 5-8 minutes.

Once the brewed tea has had time to cool, add to a large pitcher and top off with enough cold water to fill 3/4 full.

Add the tea to your glass of choice filling half full.

If you would like to sweeten your tea, do so now.

Add the infused ice cubes and just before serving, add the sparkling water.

The process is the same for the orange & spice tea.

Garnish with fresh lemon or orange slices, if desired.

Serve immediately.