It's easy to create your very own Spicy Chipotle Portobello Burrito Bowl with Cilantro Lime Rice (or Cauliflower Rice) at home. This quick and simple version is ready in just under 30 minutes!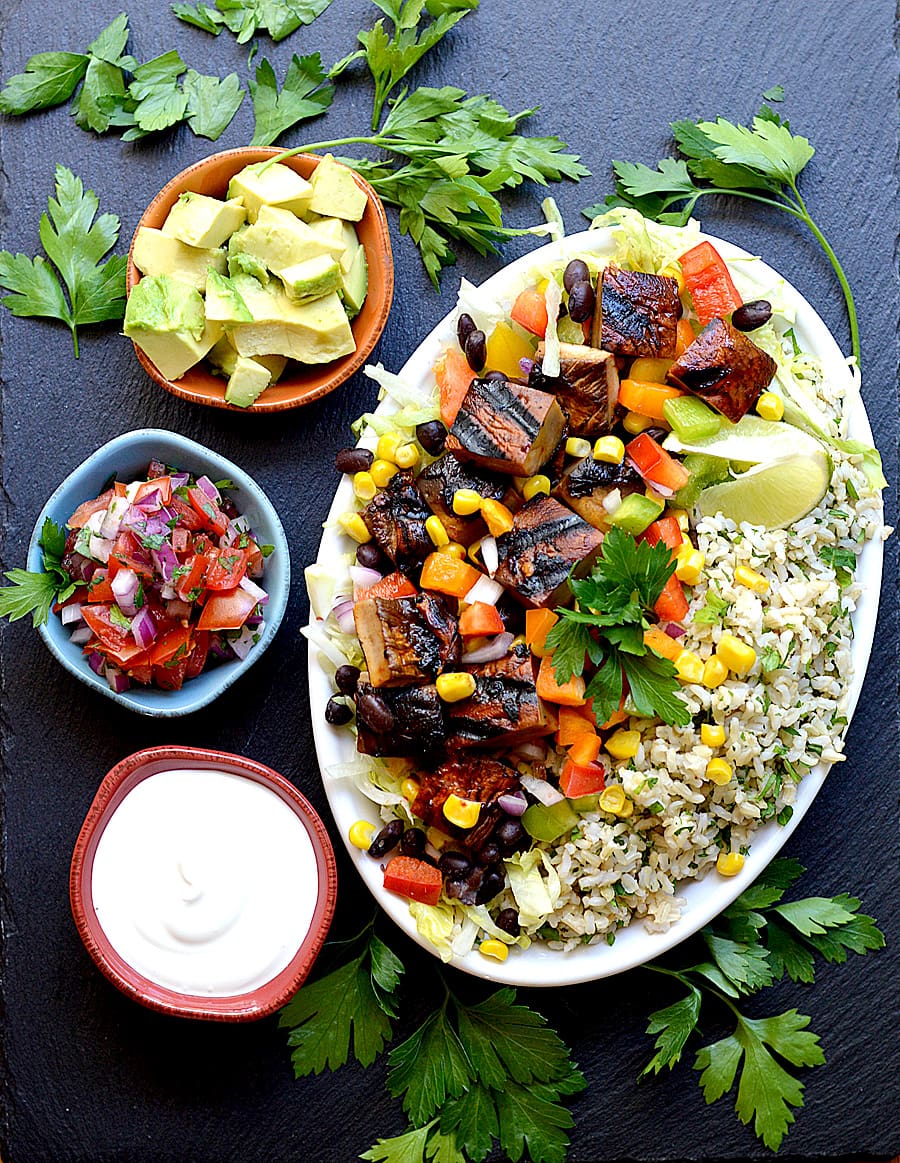 I love the incredible flavor combination of the cilantro lime rice, the fresh tomato salsa, the sweetness of the corn, the creaminess from the sour cream and guacamole, and the perfectly seasoned Chipotle Portobello mushrooms. Yes, you read that correctly. Portobello mushrooms. This Spicy Chipotle Portobello Burrito Bowl is completely vegetarian & vegan-friendly if you substitute the sour cream for a vegan alternative as I did here.
ALSO: Check out the printable recipe for a WHOLE30 compliant sour cream recipe!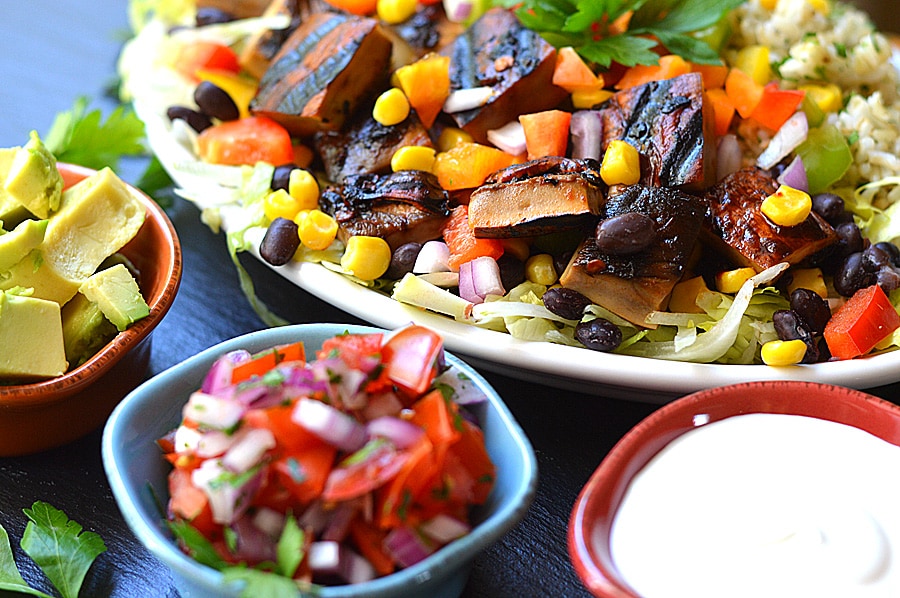 Spicy Chipotle Portobello Burrito Bowl with WHOLE30 OPTION!!!
You could choose regular brown rice OR…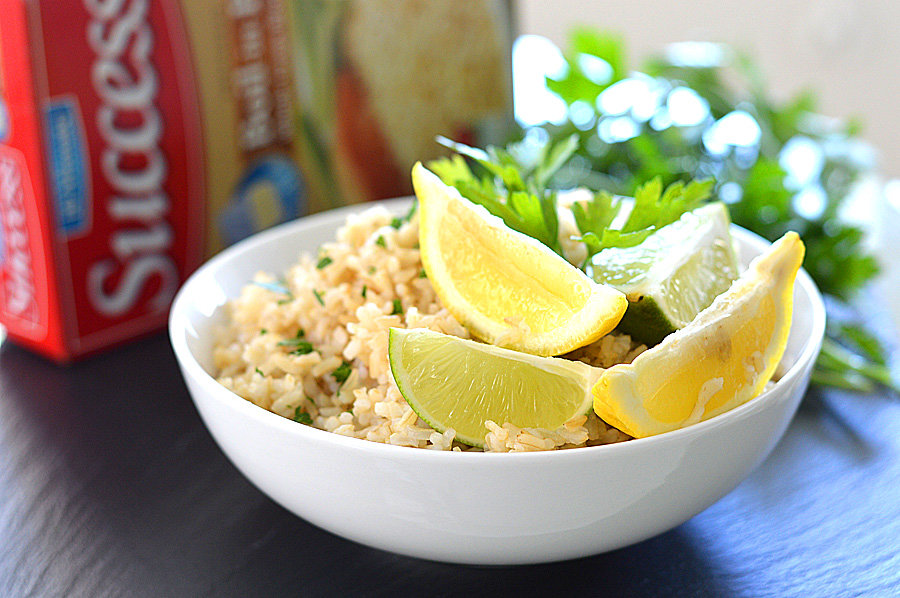 Make it WHOLE30 compliant with my Copycat Chipotle Cilantro Lime Cauliflower "Rice". Just remember to omit the beans and corn from the original recipe. They are not part of the WHOLE30 plan.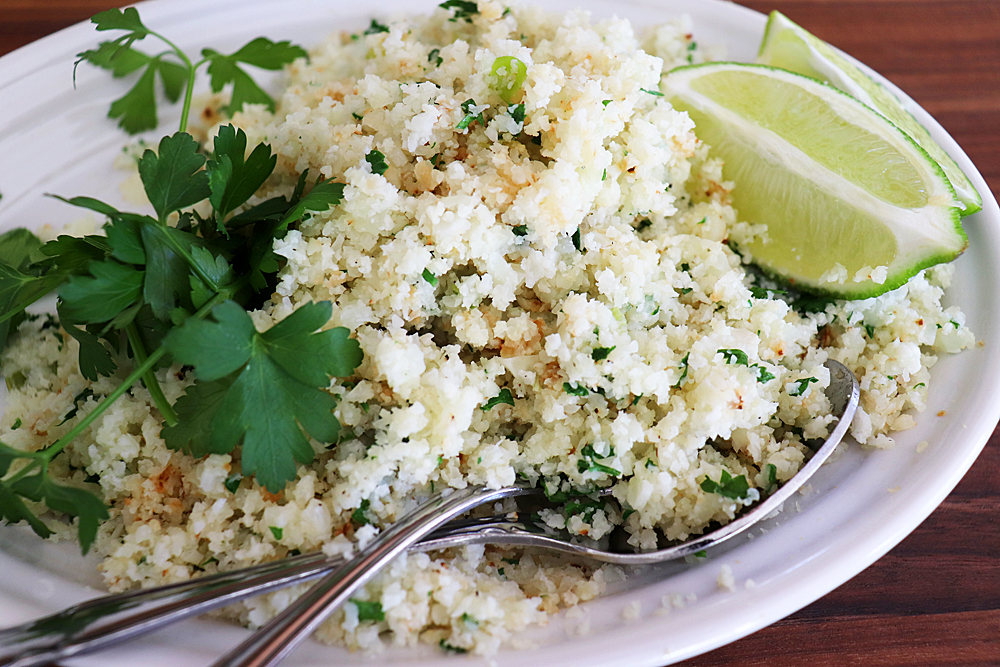 Grilled Veggies
Next up, we'll head to the grill. You can also use a grill pan as I have here. I grilled and charred Portobello mushrooms, which are marinated in a smoky, spicy chipotle in adobo sauce. That marinade becomes caramelized and delicious! I give it a minute or two to cool before cutting into large chunks.

I used red, orange, yellow and green peppers, along with red onions which I grilled just for a few minutes and allowed to cool enough to handle. Then, they are cut into a dice. While the veggies are grilling, I like to prep the fresh tomato salsa.
Tomato Salsa
The tomato salsa is quick and simple consisting of diced Roma or Campari tomatoes, red onions and chopped flat-leaf Italian parsley.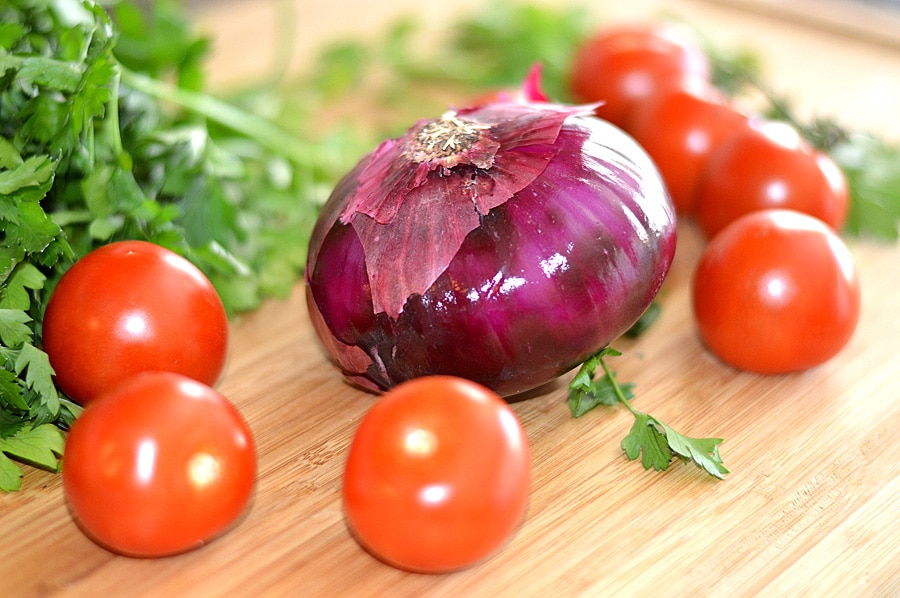 Drain and rinse the black beans. They are ready to eat as is, but you can heat through if desired. If you have corn on the cob, go ahead and grill that too! Just scrape the kernels off the cob right into your burrito bowl! Canned or defrosted frozen corn also works perfectly fine. All that's left to do is assemble your Spicy Chipotle Portobello Burrito Bowl!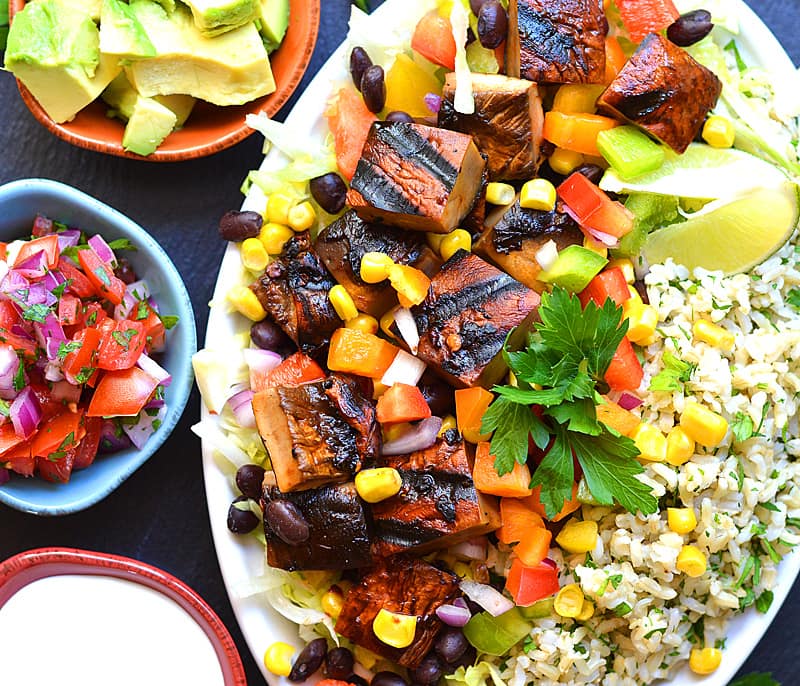 Did you make this recipe? Leave me a comment below and let me know what you thought!
And if you enjoyed the recipe, why not PIN IT FOR LATER! 🙂

Spicy Chipotle Portobello Burrito Bowl
Ingredients
FOR THE CILANTRO LIME RICE:
Brown OR Cauliflower Rice

link for Cauliflower Rice in post

2

Bay Leaves

OPTIONAL

Lime Juice

one or two, your preference

2

tbsp

Cilantro (or Parsley if you prefer)

chopped

1

close

Garlic

minced

Salt and Pepper

to taste
FOR THE PORTOBELLOS:
1-2

tbsp

Adobo Sauce

from a jar of chiptoles in adobo

2

Portobello Mushrooms

gills removed
FOR THE TOMATO SALSA:
2-3

Campari or Roma Tomatoes

diced

1/2

small

Red Onion

diced

2

tbsp

Cilantro (or Parsley if you prefer)

chopped
FOR THE FAJITA VEGGIES:
1/2

each

Red, Green, Yellow and Orange

diced

1/2

small

Red Onion

diced
WHOLE30 COMPLIANT COCONUT SOUR CREAM (or Vegan Sour Cream if you aren't doing Whole30)
3/4

c

Canned Coconut Milk

Refrigerate overnight upside down, take the thicken cream ONLY - discard liquid

1-1/2

tsp

Lemon Juice

1/4

tsp

Apple Cider Vinegar

pinch

Salt
TOPPINGS:
1

Avocado

cut into large chunks

Romaine Lettuce

sliced into shreds
OPTIONAL NON-WHOLE30 COMPLIANT ADD-INS:
1/4

C

Black Beans

drained and rinsed

1/4

C

Sweet Corn
Instructions
To make the Cilantro Lime Rice, prepare rice according to instructions. Add 2 bay leaves to the cooking water (OPTIONAL). Drain and remove bay leaves. Fluff rice and add minced garlic, salt, pepper, cilantro (OR parsley) and lime juice.

OPTIONAL WHOLE30 CAULIFLOWER RICE: Click the link in the blog post to visit the Copycat Chipotle Cilantro Lime Cauliflower "Rice" recipe for detailed photos and instructions.

Clean the mushrooms and using a spoon, scrape the gills out. I prefer the cleaner look without them, but it's merely for aesthetics.

Combine the three ingredients for the salsa.

Heat a grill or grill pan on high heat. Brush on a very small amount of oil to keep the mushrooms from sticking. Brush the top with adobo sauce. Cook for about 5 minutes on the first side. Flip and brush the other side. Cook just until the mushroom starts to become tender, but still has a firm texture to it. Remove from the grill, allow to cool for a minute or two and cut into bite sized chunks.

I also grill the peppers and red onion for the fajita veggies just until barely tender and cut into a dice.

Arrange romaine/iceberg lettuce shreds on your plate along with the rice. ***WHOLE30 will need to use Cauliflower rice instead of traditional rice***

Next comes the fajita veggies/beans and corn mixture. WHOLE30 will need to remove the beans and corn!!!

Top with the mushroom chunks.

Serve with a side WHOLE30 compliant/vegan sour cream, avocado, salsa and garnish with lime wedges.

Makes 2 generous servings.