Cauliflower rice. Everyone's doing it and now I know why! I thoroughly enjoyed my Copycat Chipotle Cilantro Lime Cauliflower "Rice" for lunch today. I am thinking it would pair well with my Spicy Chipotle Burrito Bowl (made with portobello mushrooms). Make that recipe Whole30 compliant just by subbing out the rice for this recipe and omitting the beans and corn!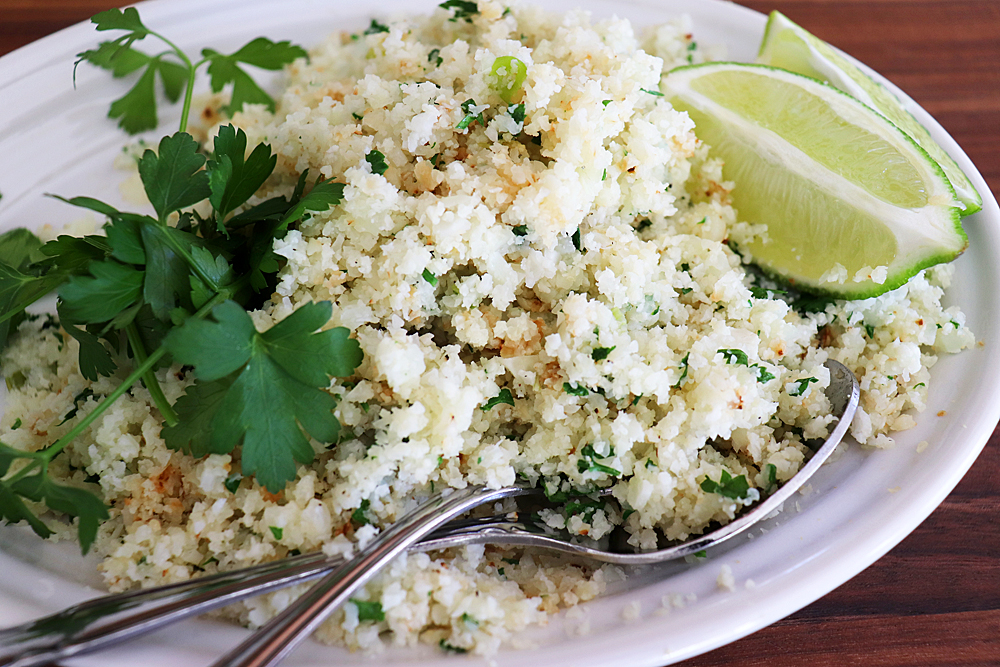 This recipe comes together fast. Literally in mere minutes!
The first step is to break down a whole head of cauliflower into florets. Discard the core and the greens.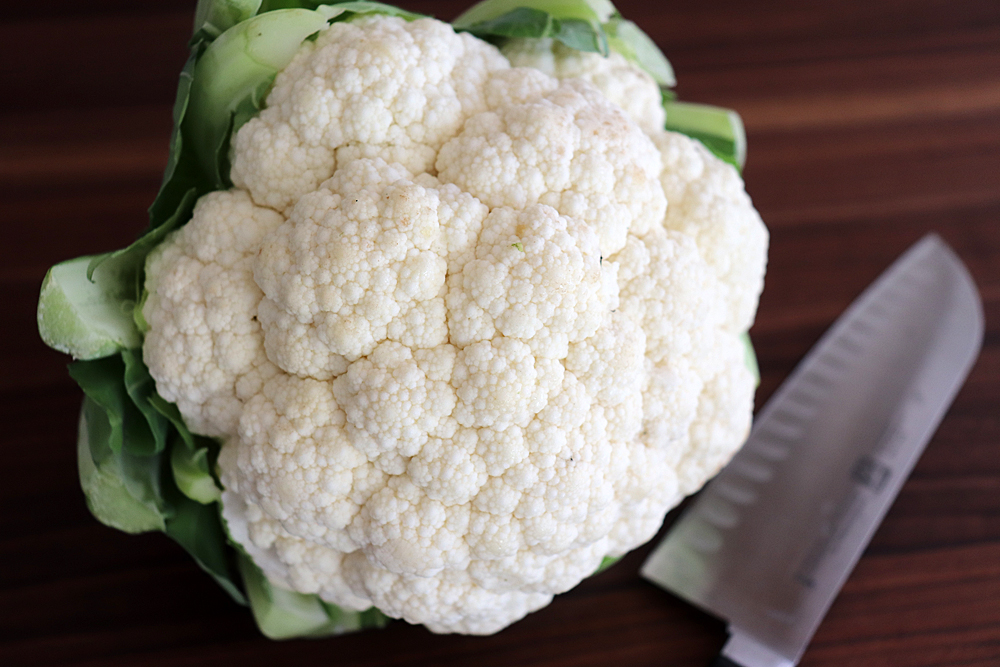 Once you have them cut into florets…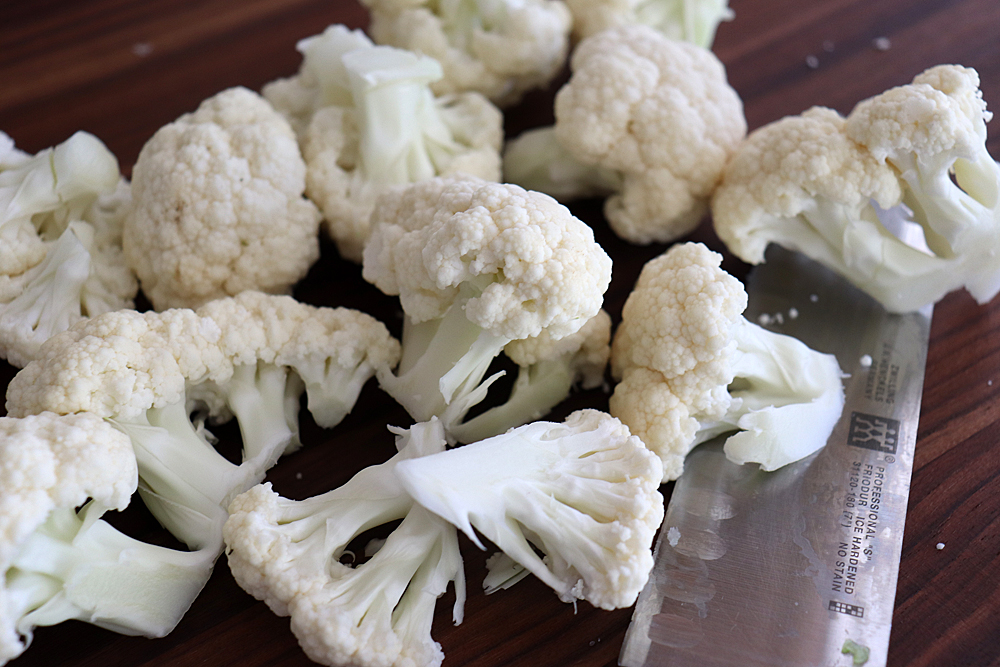 Into the food processor they go! This part is important. If you add more than this at one time, they will not become rice. You'll have some big pieces and if you keep processing trying to get them all, you'll have well…cauliflower mash, not cauliflower rice. This is half of the cauliflower florets.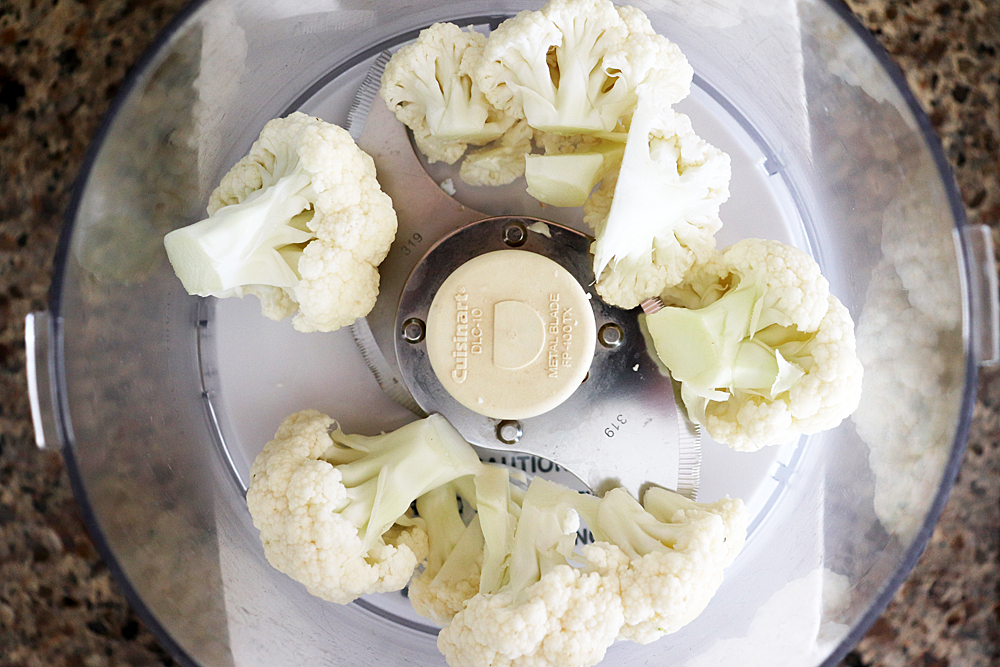 Now it's time to chop the herbs, quarter the limes and mince the garlic.
Again, the recipe moves fast so have everything, including your salt and pepper, ready to go.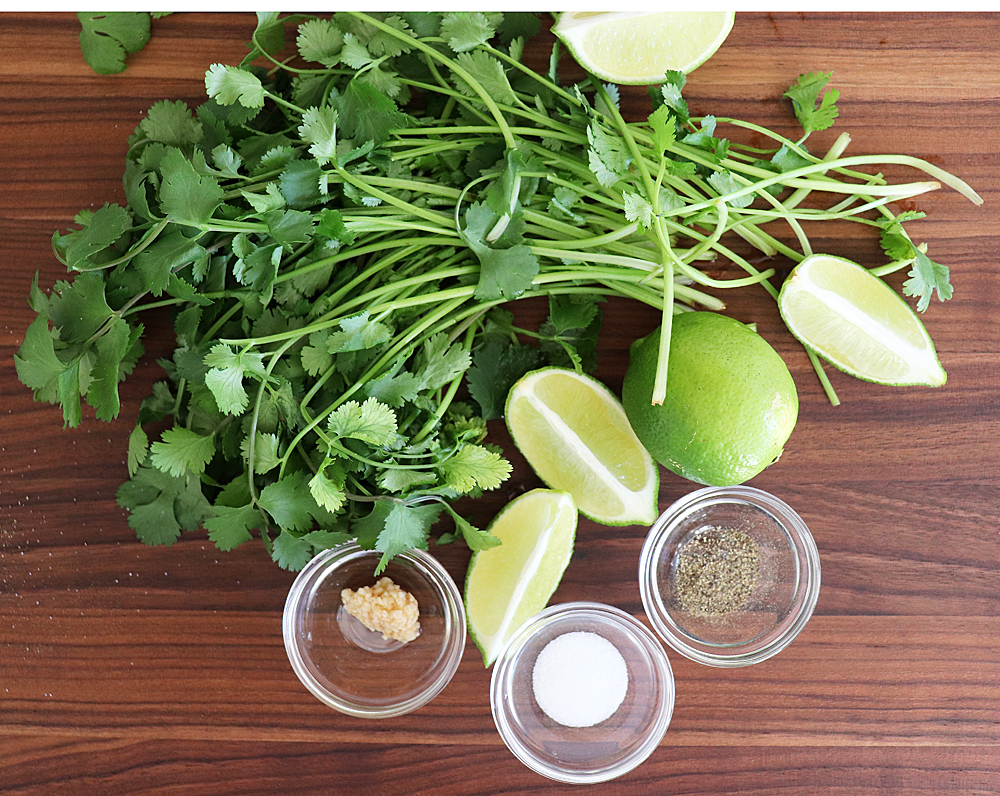 Into a small amount of oil, add the green onions (scallions) and the minced garlic. Just saute for a couple of minutes.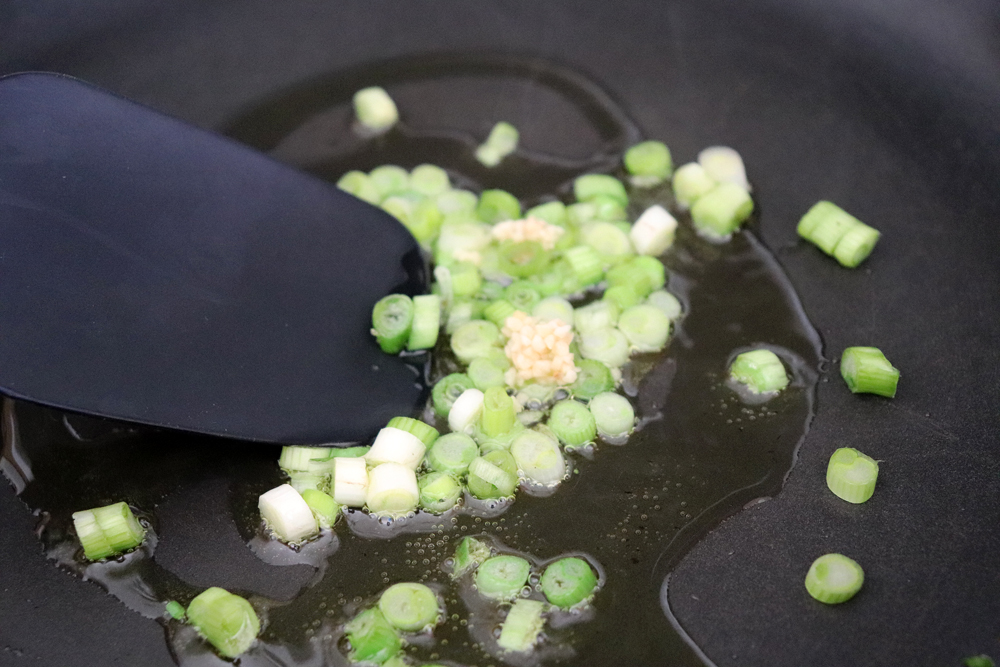 Add the rice cauliflower. Looking good! Just needs about five or six minutes of cooking under cover.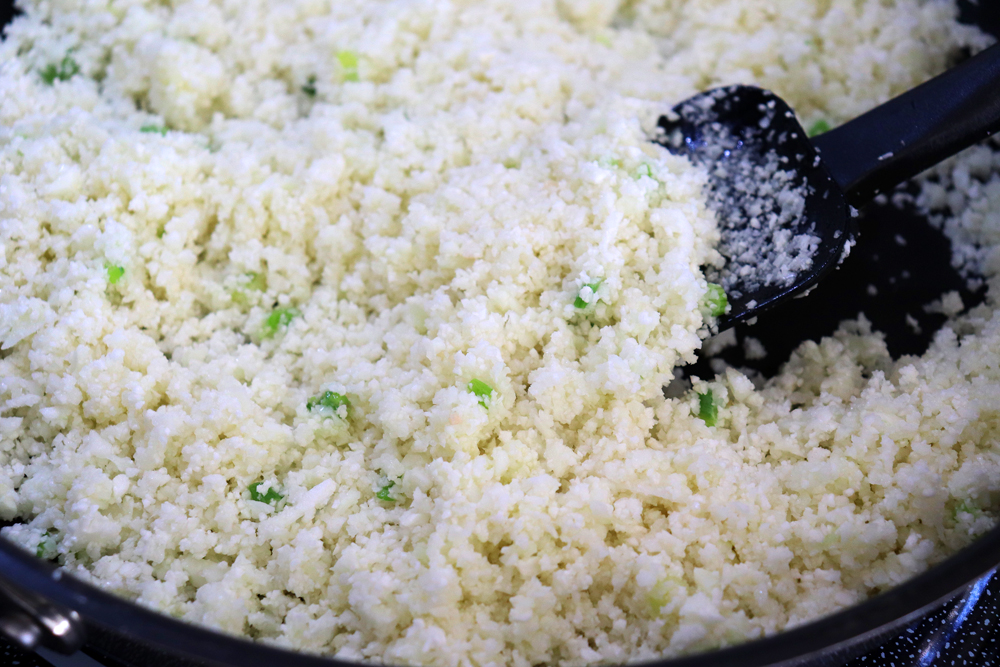 Add the salt, pepper and chopped cilantro. Also, squeeze in the juice of one (or two) limes. Your call.
Quick note, if you'd prefer not to have the black specs in your rice, there is always the option of omitting it, or invest in white pepper.
And just like that, you have Copycat Chipotle Cilantro Lime Cauliflower "Rice". Serve with some fresh parsley (or more cilantro if you didn't use it all in your rice 😉 and lime wedges.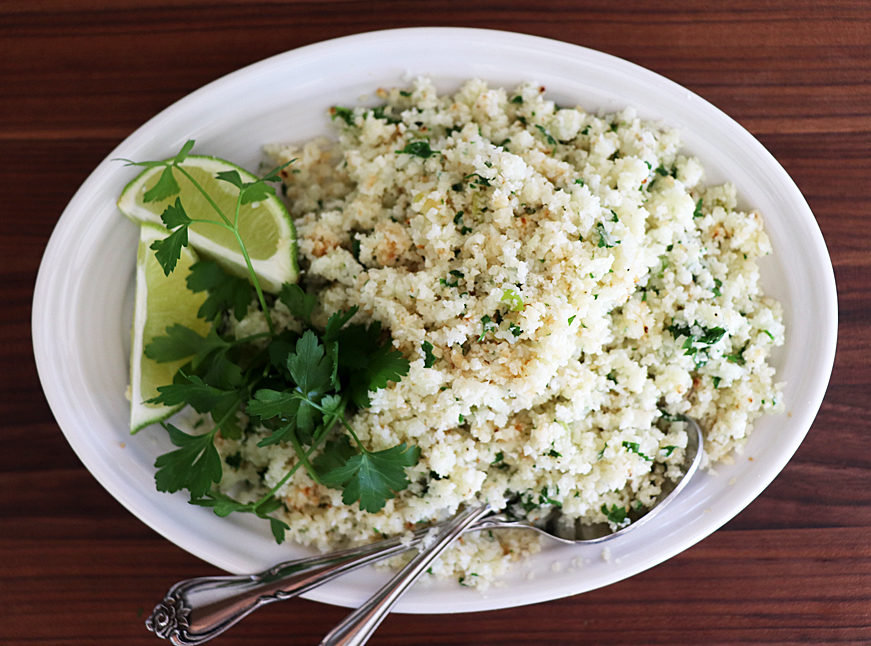 Did you make my Copycat Chipotle Cilantro Lime Cauliflower "Rice" recipe? Leave me a comment below and let me know what you thought.
And if you enjoyed the recipe, why not PIN IT FOR LATER! 🙂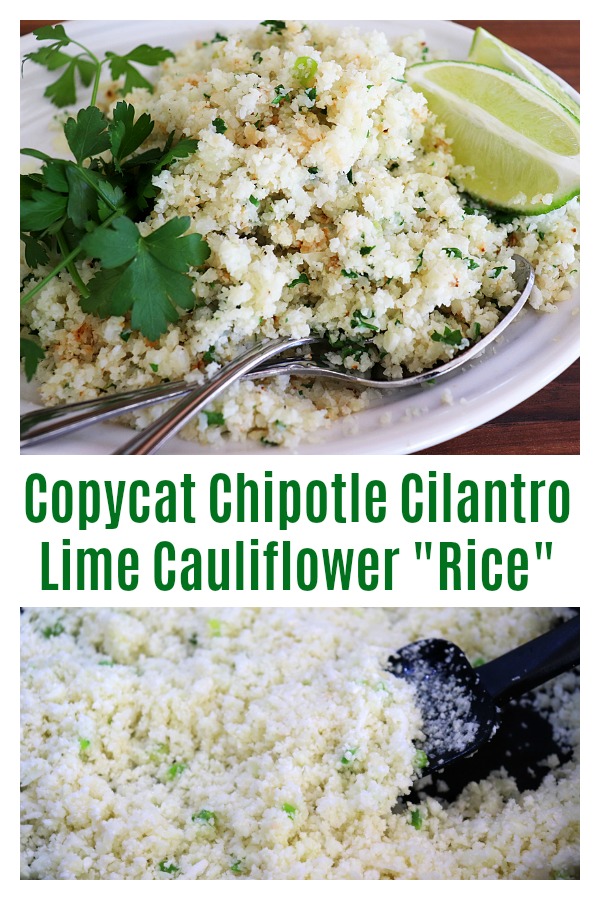 Copycat Chipotle Cilantro Lime Cauliflower "Rice"
Copycat Chipotle Cilantro Lime Cauliflower "Rice"
Ingredients
1

large

Head of Cauliflower

Leaves and stems discarded

1

tbsp

Olive Oil

1

clove

Garlic

minced

2-3

Green Onions

sliced into small rings

Salt and Pepper

to taste

1

bunch

Cilantro (or Parsley)

chopped

Juice of one (or two) Lime(s)

plus more lime wedges for garnish
Instructions
Trim the leaves and stem from a large head of cauliflower, cutting into florets.

In a food processor with just HALF of the florets, pulse to process until the cauliflower looks like rice. Remove to a bowl and repeat with the remaining florets.

In a large skillet over medium heat, add oil, green onions and minced garlic. Saute for just a few minutes.

Add the riced cauliflower, salt, pepper, cilantro (or parsley) and lime juice. Cover and cook over medium heat for about 5-6 minutes or until the cauliflower is softened.

Serve with extra lime wedges and a sprig of fresh parsley (or cilantro).