It's hot outside (literally 114 degrees in Arizona).  I'm not complaining, I love it here!  But I thought I'd switch things up a bit and offer you something cool to drink 🙂  Summer Melon Coolers to be exact.  Today I opted for three favorites:  watermelon, cantaloupe and honeydew.
I found these little 2.5 oz. dessert shooter glasses with size-appropriate stainless steel spoons on Amazon.  I use them for everything from drinks to parfaits, to granita.  Love them!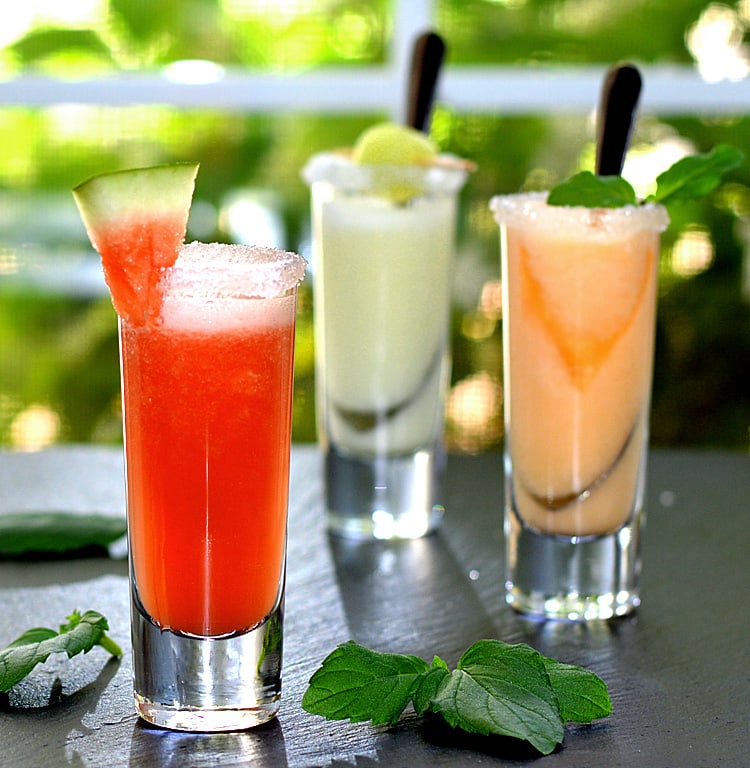 The very first thing we need to do is make a simple syrup.  I promise you, it's just like the name states, simple!  Equal parts of water and sugar brought to a boil until the sugar dissolves.  Remove from the heat and allow to cool before using. I like to add a few sprigs of fresh mint in the syrup as it cools.  It infuses just the right amount of flavor. And that's it.  Congratulations!  You just made simple syrup 🙂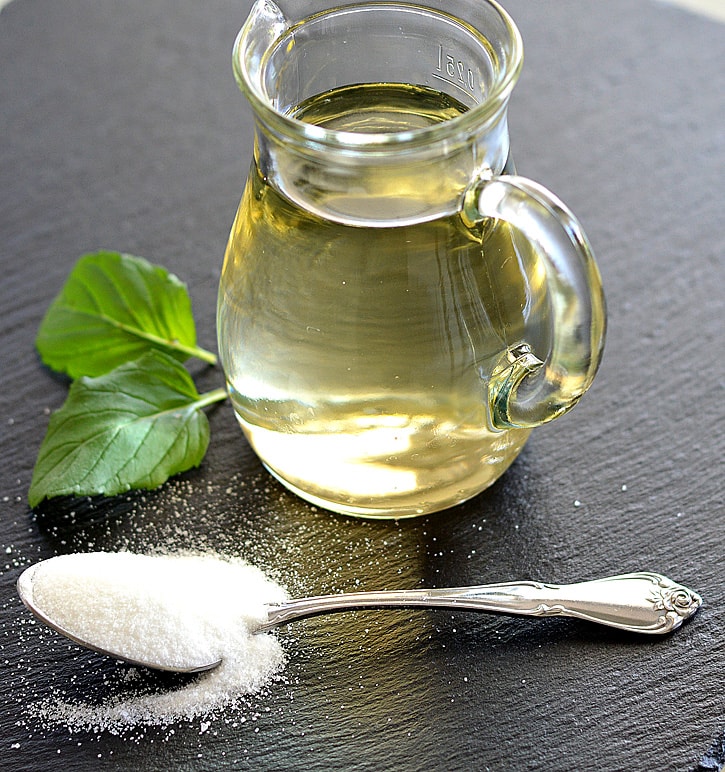 I dipped the edges of my glasses in the syrup and drained off any excess.  Then they go into standard granulated sugar to rim.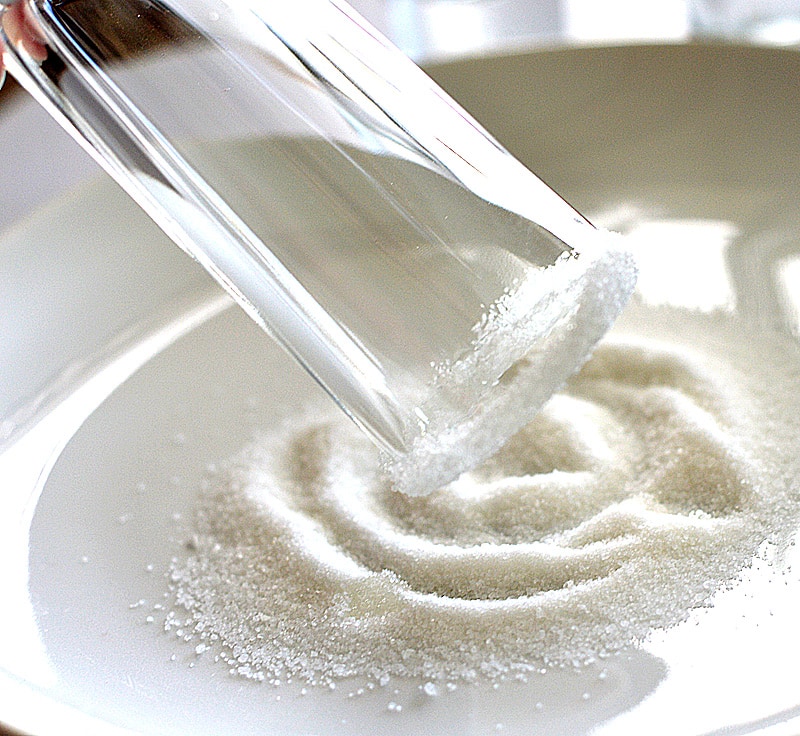 To add to the elegance of such a simple refreshment, I cut a small wedge of watermelon and using a small scoop, created melon balls.  Pull off a few fresh mint leaves for your garnish.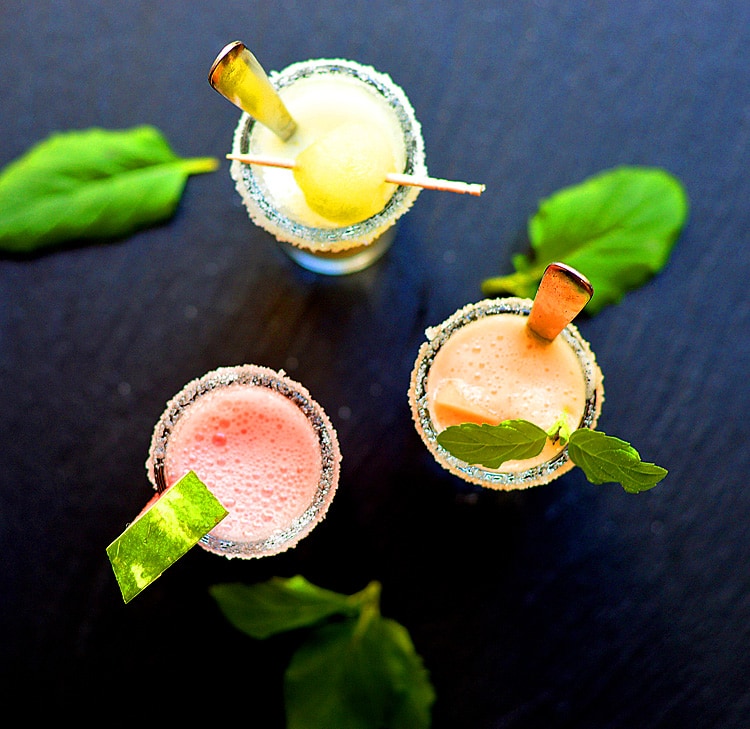 You could opt to freeze the glasses for a few hours before serving for that frosty look.  It also helps keep the drink cold.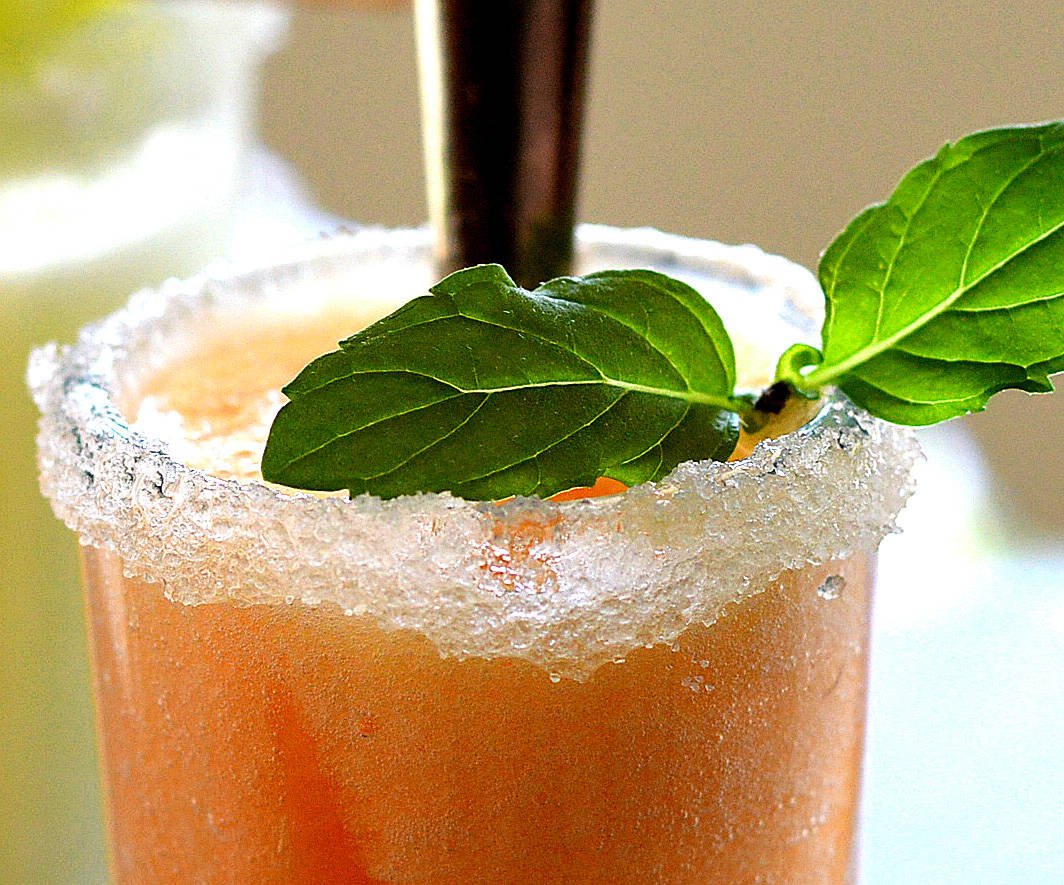 Preparing each Summer Melon Cooler could not be easier!  To a high speed blender, add the cubed fruit, a drizzle of simple syrup and just a splash of water to help get things moving.   The measurements are more 'to taste' with this recipe, but I will give you some guidelines below.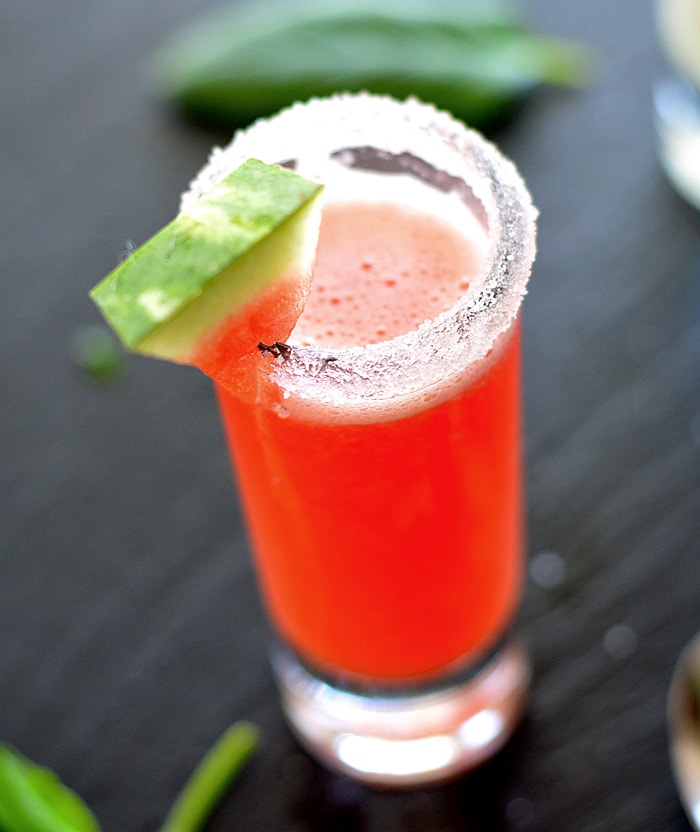 Aren't they pretty?  And soooo easy.  Your guests will love them.  Since the 'recipe' is more of a ratio, feel free to serve them in larger glasses if you prefer.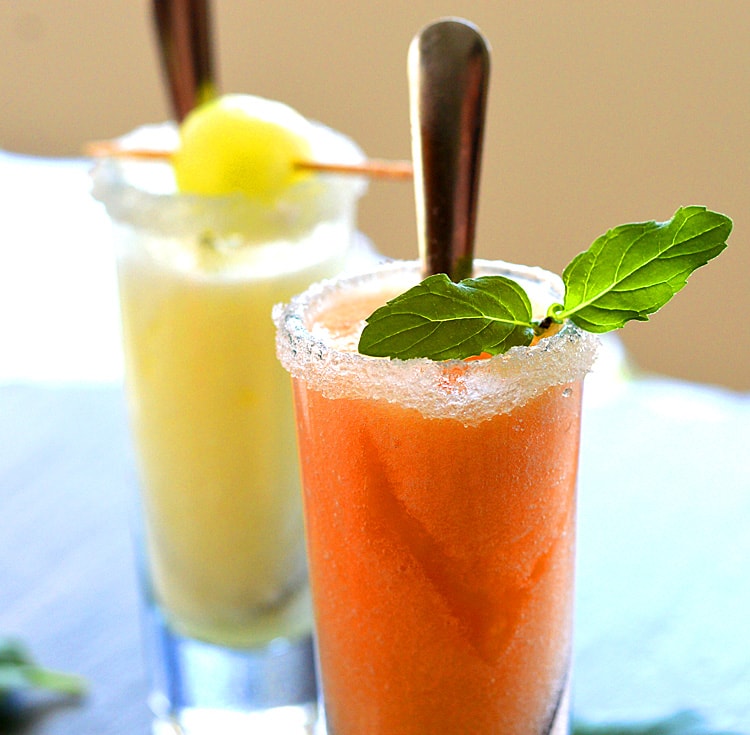 If you make this recipe for Summer Melon Coolers, please share your thoughts below in the comments.  It helps other readers decide if they would like to make it too!  🙂
Have you joined me yet on Instagram?  If not, click 'follow' below to get The Veg Life! posts and Instagram-only perks in your feed!
https://www.instagram.com/p/BIRDhmiAxxM/
Summer Melon Coolers
Ingredients
This recipe is more of a ratio

but here are the guidelines I used to create these Summer Melon Shooters:

TO MAKE THE SIMPLE SYRUP:

equal parts water to sugar

1

C

Sugar

1

C

Water

a few Mint Leaves

if desired

*

For every 1 C of melon added to the blender

add 2 Tbl of the prepared simple syrup and 2 Tbl of very cold water.

*

FOR GARNISH:

Sugar for rimming the glasses

Fresh sprigs of mint

Small wedges of watermelon and melon balls
Instructions
To prepare the simple syrup, bring 1 C of water and 1 C of sugar to a boil over high heat. Whisk just until the sugar has dissolved. You shouldn't be able to see any granules and the water will turn from cloudy to clear like my photo. Allow to cool completely before using.

OPTIONAL: While the syrup is cooling, add a few mint leaves for an infused flavor..

In a blender, add 2 Tbl of the simple syrup and 2 Tbl of very cold water for EVERY CUP of melon. Taste for sweetness before pouring. You can always add a bit more of the syrup if you prefer.

Create wedges of watermelon and using a small scoop, melon balls from the cantaloupe and honeydew.

Dip just the very rims of the glasses into the simple syrup and then into granulated sugar.

Pour in the sweetened melon juice and garnish with the fruit and sprigs of fresh mint.

Serve immediately.

The simple syrup can be stored covered in the fridge for later use.