I went around and around about how to title this recipe.  You see, it was inspired by one for Vegan Crab Cakes.  The truth of the matter is, when searching for vegan recipes, the search is often for a traditional recipe with the word 'vegan' in front of it.  However, I opted to go for Vegan Artichoke Cakes with Homemade Tartar Sauce, as that accurately describes this recipe.  And what a recipe it is!
I absolutely LOVED these little cakes and my non-vegan mother ate them saying she wished I had made more.  Success! 🙂  Taking the basic concepts of the abovementioned inspiration recipe, I also drew from the traditional non-vegan crab cake.  For instance, the inclusion of Old Bay Seasoning.  The tartar sauce includes vegan mayonnaise, dill pickles (or pickle relish), white wine vinegar, capers, grainy mustard, salt and pepper.  I have to say, this recipe would not be the same without that tartar sauce!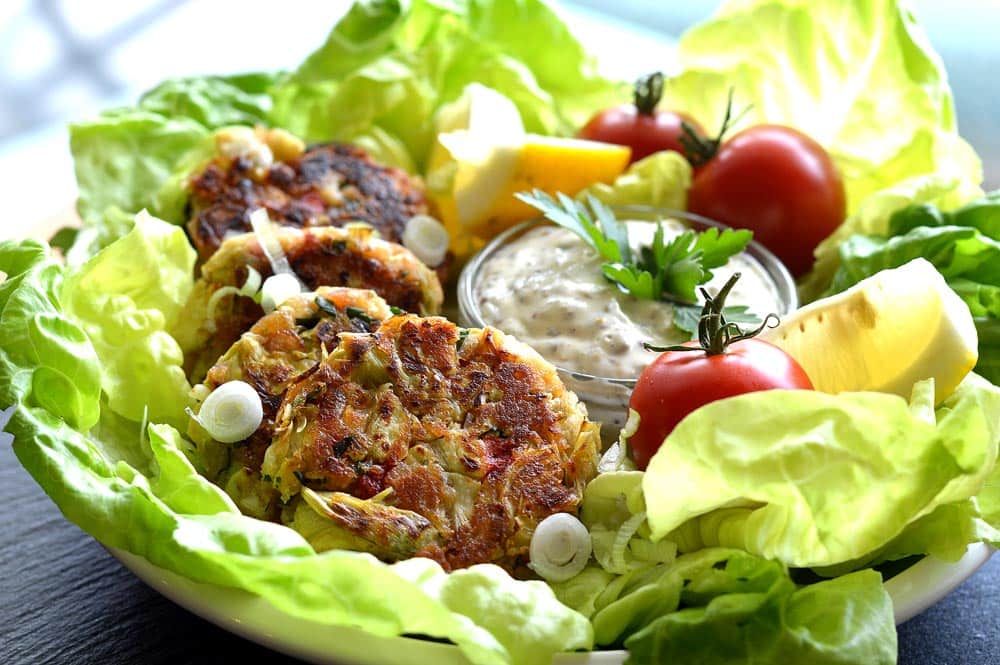 The artichoke cakes themselves contain a secret ingredient.  I didn't want to go with a flavorless flour.  Instead I chose original Ritz Crackers.  Did you know that they are "accidentally" vegan?  True story!  They add a nice buttery saltiness to this recipe.
The artichokes are drained and patted dry with paper towels but I did reserve some liquid to give back moisture as needed to form the cakes.  I added pimento to mine along with celery, shallot, lemon juice, sugar, Old Bay Seasoning, salt, pepper and parsley.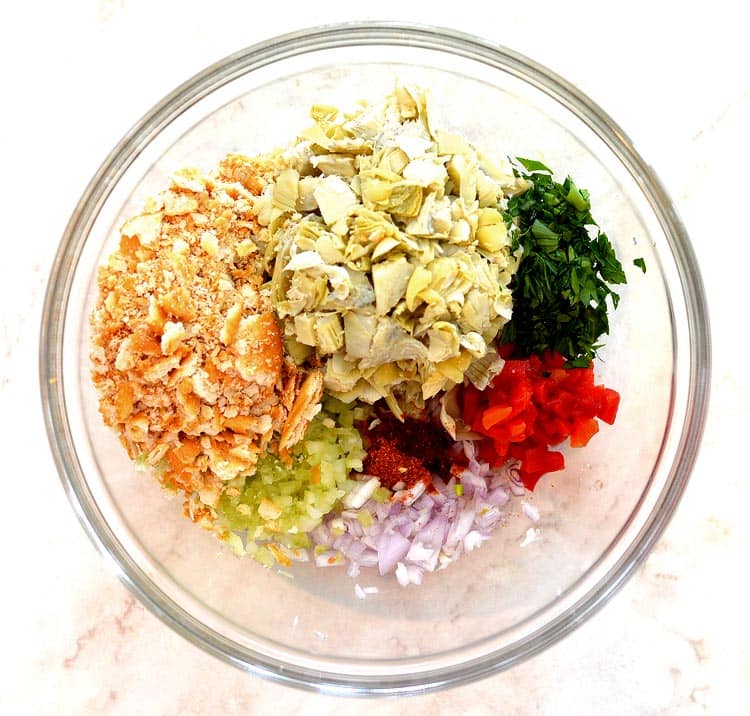 Just look at all of that texture….and flavor!  At first glance, you may think you need more liquid.  Resist the urge.  Once you press this mixture in your hands to form the cakes, you'll see that there is plenty.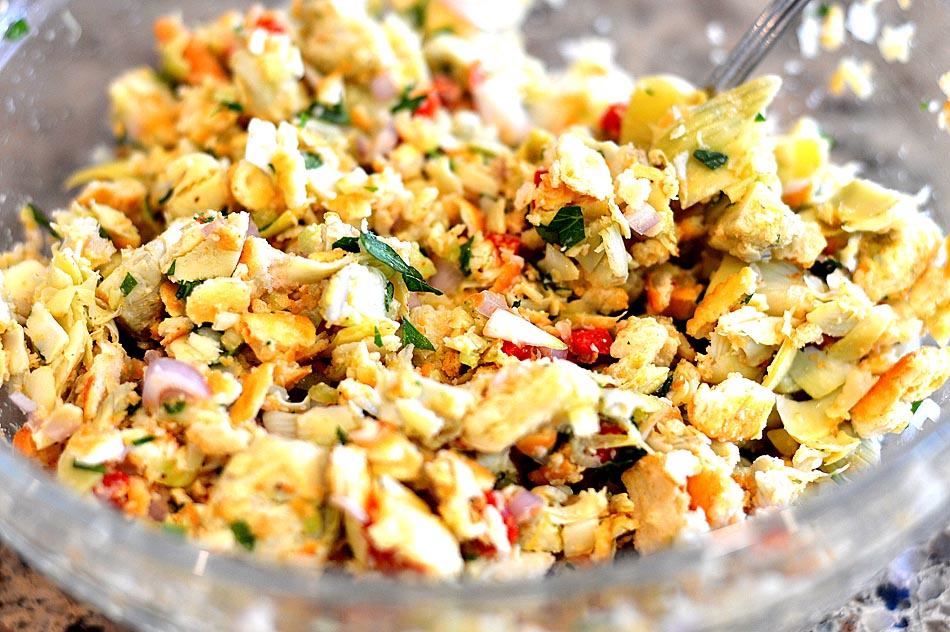 It's important to note that the cakes are just as fragile as their traditional crab cake counterpart and require time to cook prior to flipping.  They do firm up a bit as they cool.  The texture is crispy on the outside and tender on the inside.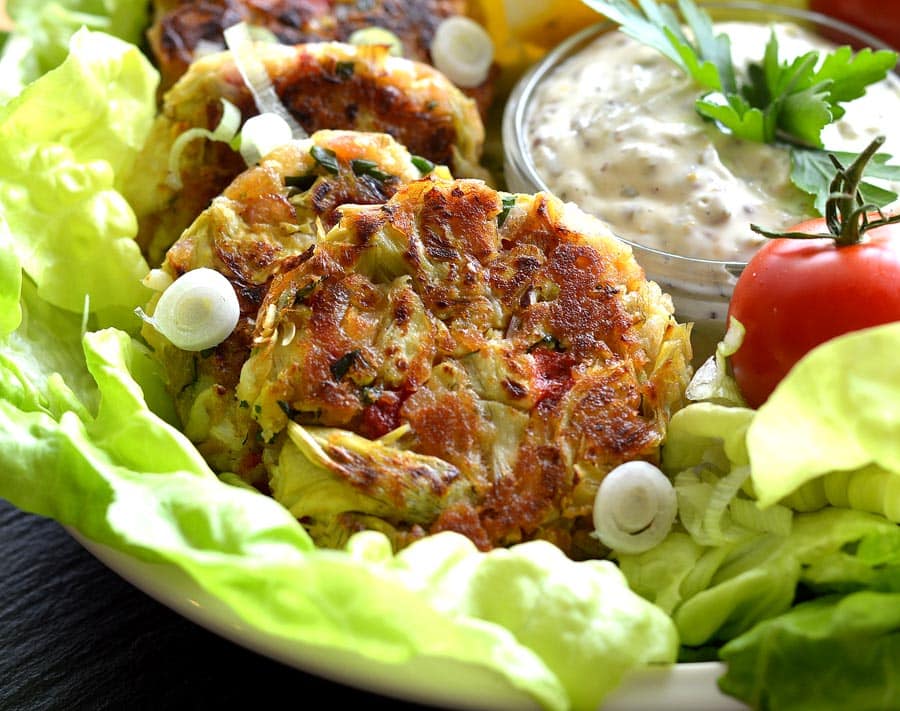 The recipe I'm providing makes six 2-1/2″ cakes.  I suggest doubling the recipe if it's for more than just one person.  They are very light and low in calories.  An entire can of artichokes is only about 75 calories!
I will definitely be making this recipe over and over again.  And maybe again this week if we are being perfectly honest.  They were THAT good!  I hope you give them a try.  I think you'll really love them as much as we did.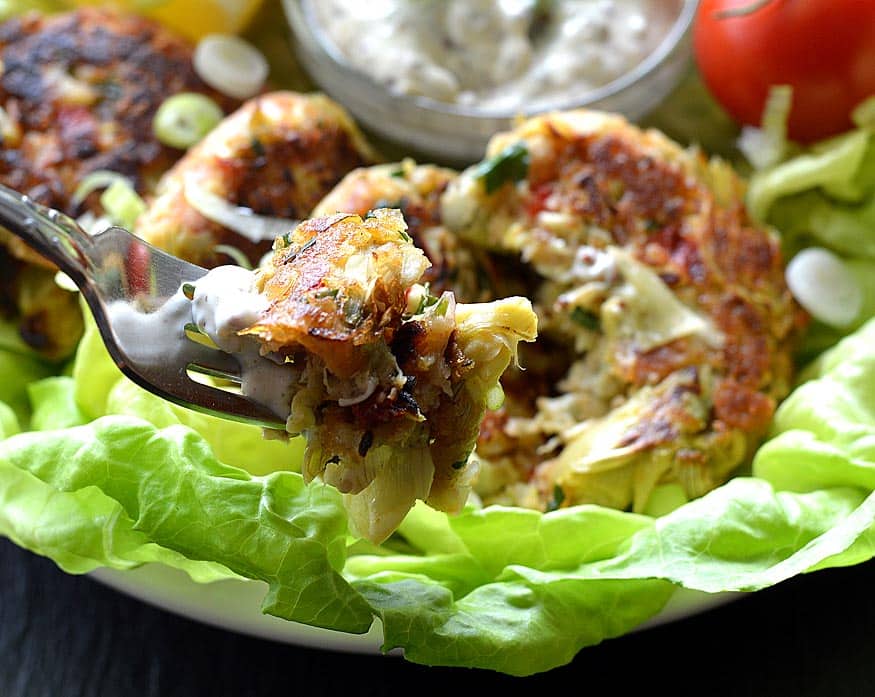 If you make this recipe for Vegan Artichoke Cakes with Homemade Tartar Sauce, leave a comment below and let me know what you think!  You can also snap a pic and tag me on Instagram @theveglife1
Vegan Artichoke Cakes with Homemade Tartar Sauce
Ingredients
OIL FOR COOKING

*

FOR THE ARTICHOKE CAKES:

1

C

canned Artichoke Quarters or Hearts

finely chopped (reserve juice)

2

Tbl finely chopped Shallots or Green Onions

Scallions

1/4

C

finely chopped Celery

1

Tbl of the reserved juice from the Artichokes

1/2

C

Ritz Crackers

crushed into small pieces

1-1/2

tsp

Lemon Juice

1-1/2

tsp

Sugar

3/4

tsp

Old Bay Seasoning

1/8

tsp

Salt

1/8

tsp

Pepper

1-1/2

tsp

Pimento

1

Tbl freshly chopped Italian Parsley

*

FOR THE TARTAR SAUCE:

1/4

C

Vegan Mayonnaise

1

Tbl Dill Pickles

finely chopped

1-1/2

tsp

White Wine Vinegar

1-1/2

tsp

Capers

chopped

1/2

tsp

Grainy Mustard

Pinch

of salt and pepper
Instructions
Combine all of the ingredients for the artichoke cakes. Set aside.

Preheat a skillet on medium high heat.

While the pan is heating, combine all of the ingredients for the tartar sauce. Set aside.

Add about 1 Tbl of oil to the hot pan.

Create the patties (I used an ice cream scoop to help keep them consistent in size), pressing firmly and then forming into shape.

It's important not to flip until they are golden on the first side. They will still be fragile at this point, so take care when turning.

Drain on paper towel. They will set up as they cool.

Serve with the prepared tartar sauce and a squeeze of fresh lemon.