There are many versions of chickpea salad sandwiches on the web.  In fact, you can even find another version I did here.  But when I tried mashed chickpeas with avocado mayonnaise, I was sold!  The avocado really adds so much to the recipe.  Not two ingredients I would have necessarily put together, but somehow it just works.  This little Mashed Chickpea & Avocado Salad Sandwich packs loads of flavor.
The mashed chickpeas (I like to leave some whole for a little texture and of course, aesthetic appeal) are combined with avocado, parsley, lemon juice, green onions, celery, a small amount of vegan mayonnaise, salt and pepper.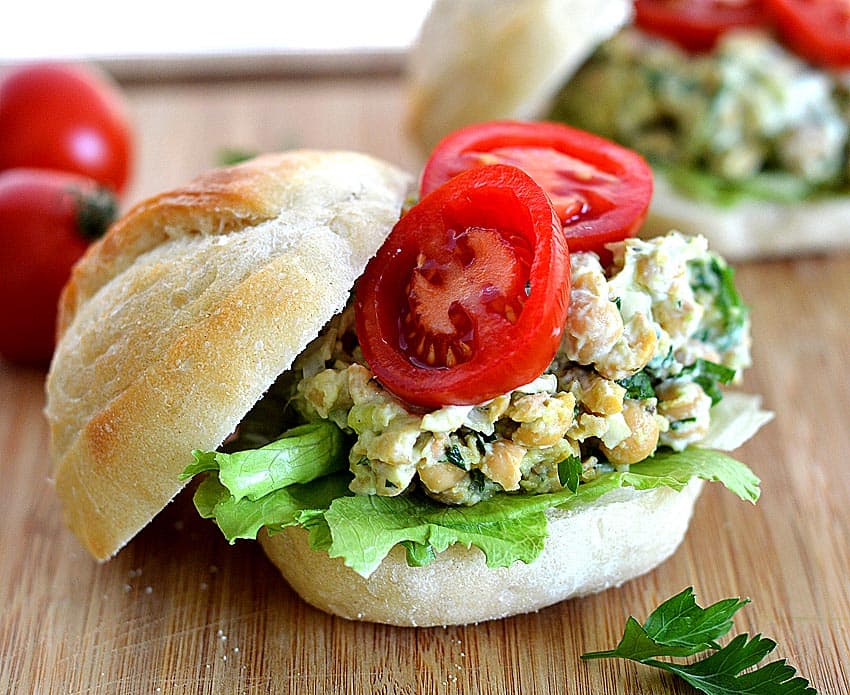 I layered the chickpea salad onto a lettuce-line roll (add a bit more mayo if desired) and top with slices of tomato.  I like to season the tomatoes with salt and pepper as well.
If you are looking for a super simple & nutritious vegan vegsubstitute for chicken or tuna, this Mashed Chickpea & Avocado Salad Sandwich is the one for you!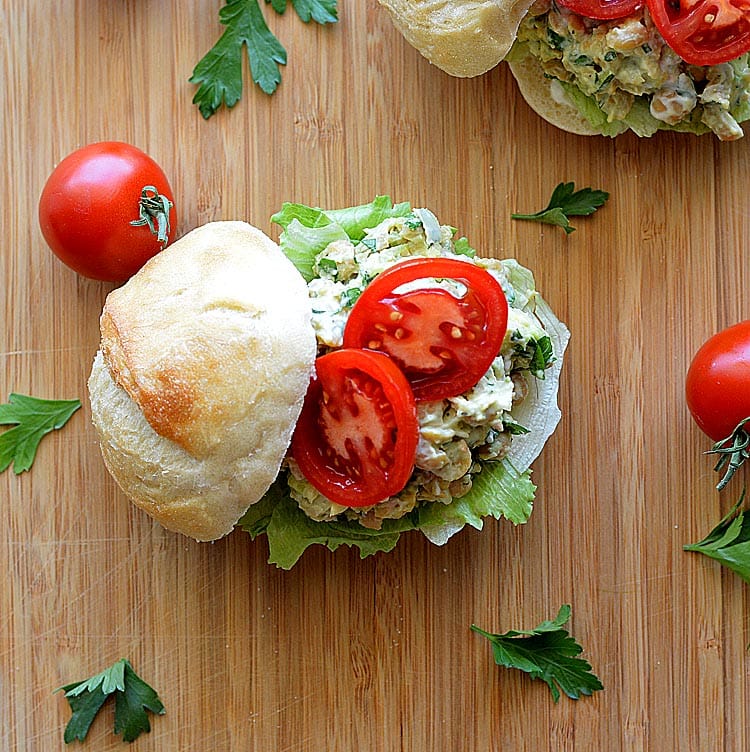 Do you have your own version of this sandwich?  What are your favorite add-ins?  Let me know in the comments section below  🙂
Mashed Chickpea & Avocado Salad Sandwich
Ingredients
1

Can of Chickpeas

drained and rubbed between paper towels to remove the skins

1

medium Avocado

diced

2

Tbl Italian Flat-Leaf Parsley

1

Tbl Vegan Mayonnaise

2

Tbl Green Onion

1

Tbl Lemon Juice

2

Tbl Celery

diced finely

Salt & Pepper

to taste

Lettuce leaves & tomatoes for serving

Rolls
Instructions
Drain, rinse and rub chickepeas between paper towels to remove the skins. They make for a really unsightly salad otherwise.

Mash the chickpeas with the avocado, leaving some chickpeas intact for texture.

Add the remaining ingredients and gently fold to combine.

Spread vegan mayonnaise onto a roll, topping with the lettuce, chickpea salad and slices of tomato.

Season with salt and pepper.

Serve immediately. Any leftover salad will stay in a refrigerated sealed container for several days.