This recipe for Vegan Creamed Spinach Phyllo Tart is kind of like an open-faced version of my Spanikopita recipe. Layers of golden, flaky phyllo dough (which just happens to be "accidentally vegan" by the way), is brushed with melted vegan margarine.  Once you've reach the desired number of layers (I lost count, but kept going until I ran out of the melted margarine), fill the tart with my homemade version of creamed spinach.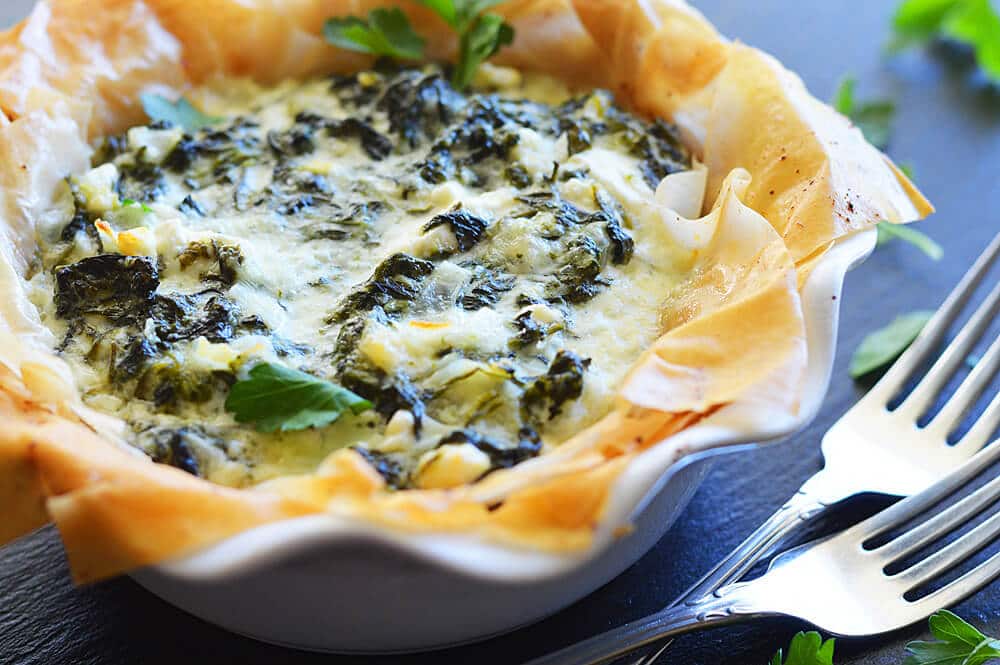 I used these 6-1/2″ mini pie dishes and the recipe made two pretty decent-sized portions.  I could barely finish mine.  So you could opt to do three smaller, or even four appetizer-sized dishes. Just make sure yours are oven safe to 350 degrees.
The creamed spinach begins with what looks like SO much spinach.  I just placed it in a large skillet over medium high heat (no oil) and covered it, tossing occasionally.  Let it cool enough to handle and then over a strainer, squeeze out all of the excess moisture.  You'll end up with a large handful that doesn't even resemble this mountain of fresh spinach anymore.  I used about 10-12 ounces total.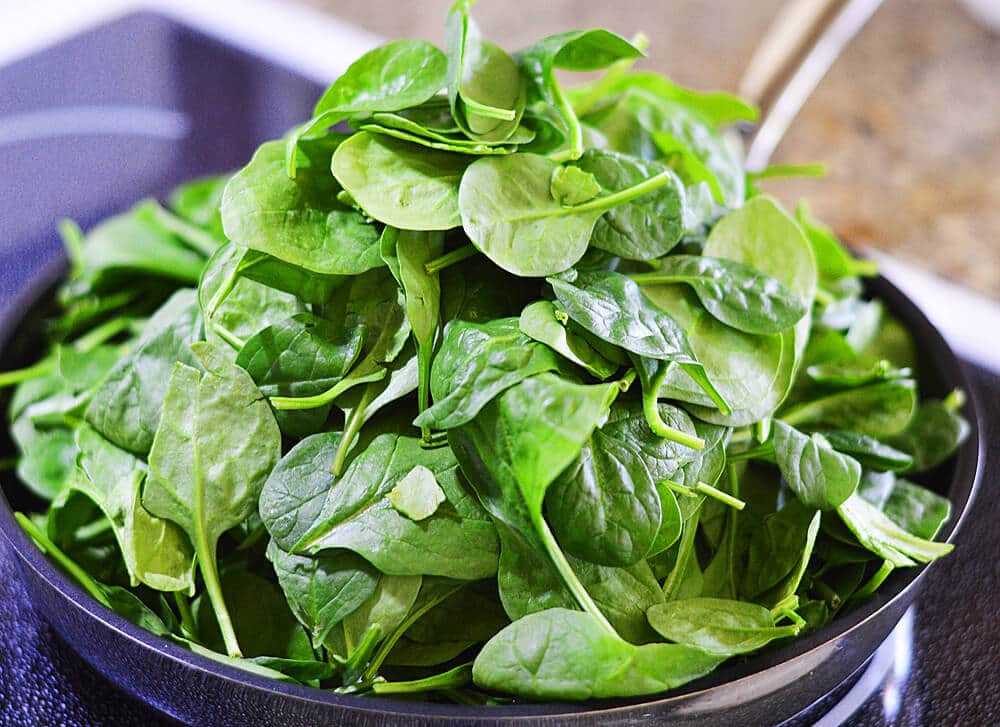 While the spinach is wilting, I sauteed about 1/4 c of diced onion in just a teaspoon of oil until translucent.
Instead of cream, I used canned coconut cream.  A bit of salt, pepper, vegan parmesan (or nutritional yeast) and if you can find it, vegan feta.  If not, feel free to crumble some tofu for a bit of texture.  Traditional white sauces like this one include a pinch of nutmeg, but I am not a fan so I skipped it.  Add your onions to this mixture and taste for seasoning, adjusting if needed.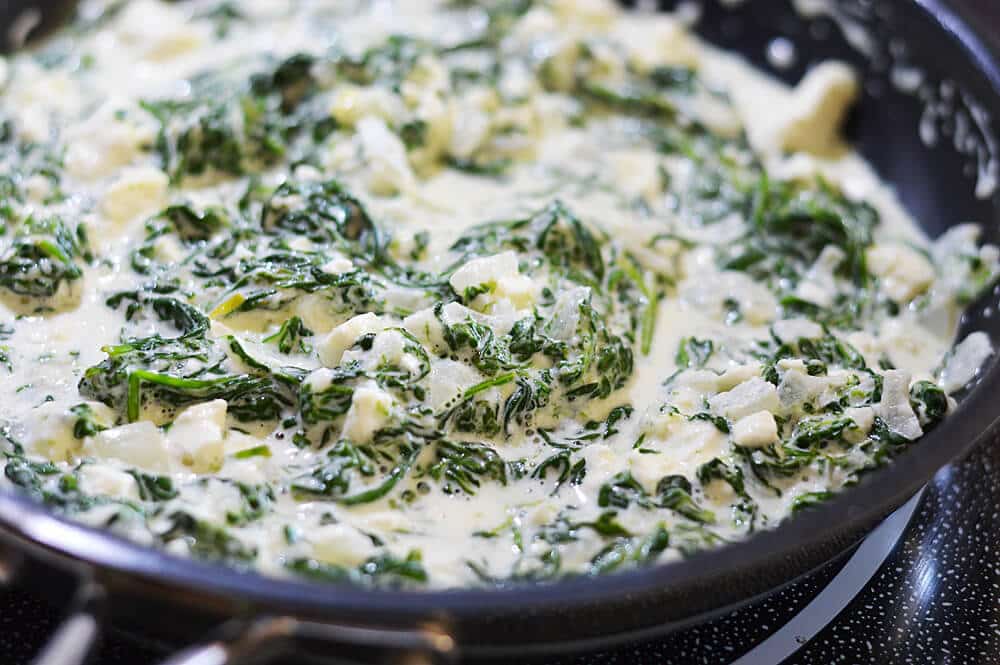 When your creamed spinach filling is ready, let's get started on the phyllo dough.  You'll want to melt some vegan margarine in a pan for this step.  And hopefully you are smarter than I am and actually remember to thaw your frozen phyllo dough in the fridge overnight.  Thankfully, I live in Arizona and even though it is still technically "winter", it has been unseasonably warm.
Your first and last layers should be the melted margarine.  Again, I lost track as I was going along.  I laid out my thawed phyllo sheets and cut the stack into quarters to better accomodate my little pie dishes.  I like the rustic edges, but if that really bothers you, feel free to tuck them under.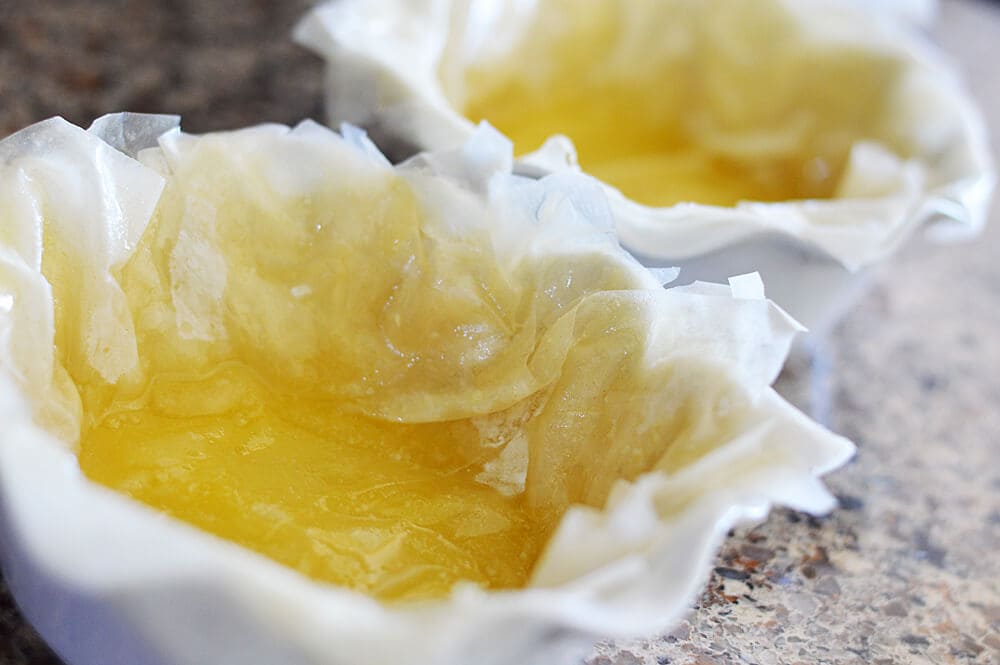 Fill the center with your homemade creamed spinach and bake until golden and bubbly. This can take 40-50 minutes or more.  Remember, the sheets under the filling need to be cooked as well.  I like to serve them right in the dish, but they slide out super easy thanks to that margarine.  Garnish with fresh parsley.  We had my famous Vegan Coleslaw on the side.  I am kind of addicted to coleslaw 🙂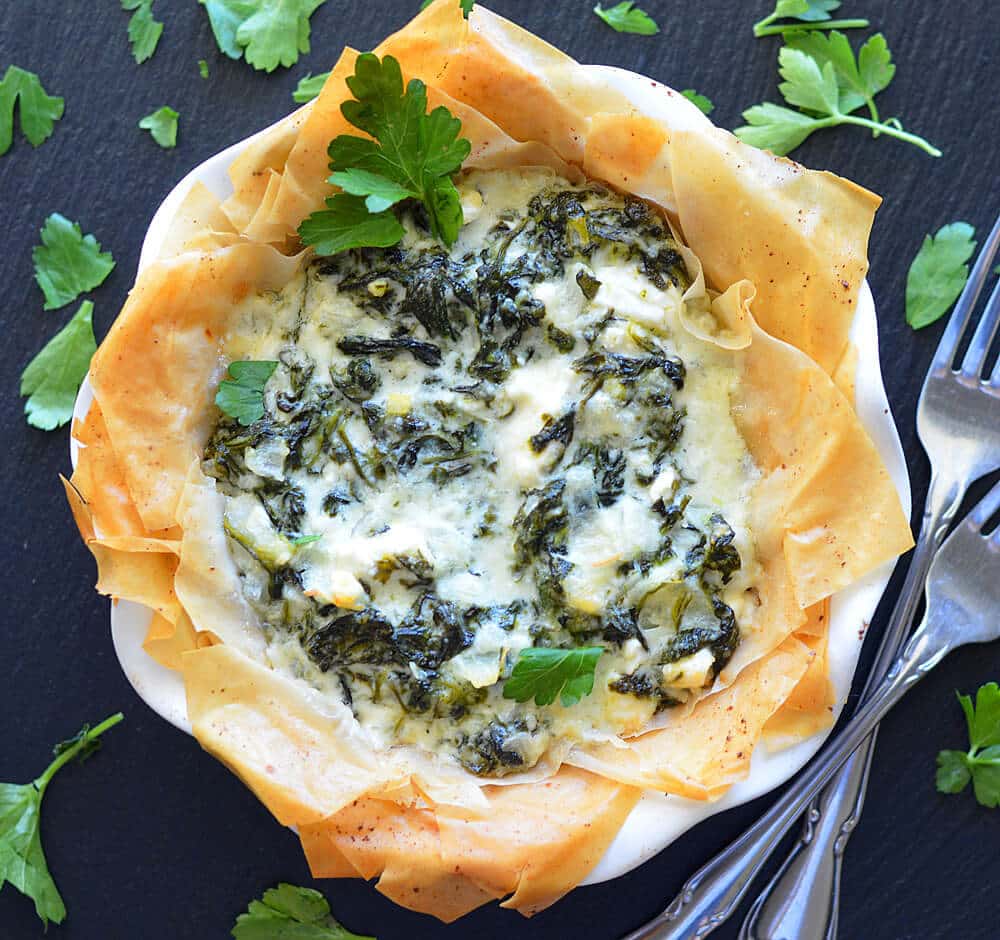 Did you make this recipe for Vegan Creamed Spinach Phyllo Tart?  If so, leave me a comment below and let me know what you thought.
*Some of the links on this page are affiliate links.  Clicking on them does not affect your purchase price, it just means we get a very small percentage that assists in keeping The VegLife! creating new recipes for you each week.
PIN IT FOR LATER!

Vegan Creamed Spinach Phyllo Tart

Vegan Creamed Spinach Phyllo Tart

Ingredients

15

oz.

Bag of Fresh Spinach

1-1/2

tbsp

Vegan Margarine

1/4

c

Onion

finely chopped

1

clove

Garlic

finely minced

1/2

c

Coconut (or Cashew) Cream

1/4

c

Vegan Parmesan (or Nutritional Yeast)

2

tbsp

Vegan Ricotta

OPTIONAL

Vegan Feta

OPTIONAL

Salt

to taste

Pepper

to taste

pinch

Nutmeg

OPTIONAL

FOR THE PHYLLO SHEETS:

1/4

package

Frozen Phyllo Dough Sheets

Thawed

6

tbsp

Vegan Margarine

Instructions

The night before you plan to make this recipe. remove the frozen phyllo dough from the freezer and place it in the refrigerator to thaw. Alternately, you can thaw the dough on the counter for about 4-5 hours, (depending on the temperature inside, it may take more or less time to thaw). You do not want it to get warm, just thawed enough to unfold and work with.

In a small pan over low heat, melt the vegan margarine. Set aside.

At the same time, heat a large skillet over medium high heat and add the spinach, no oil required. Cover and toss occasionally as it wilts down. Allow to cool enough to handle.

Place the spinach into a strainer over the sink and squeeze out as much of the excess moisture as you can.

In a large skillet over medium heat, place a small amount of oil and the onions. Saute until translucent. Add the coconut cream, salt, pepper, nutmeg and whatever cheeses you choose to use. I used vegan parmesan, vegan feta and a bit of vegan ricotta.

Add the spinach to the mixture.

Preheat the oven to 350 degrees.

Brush your oven-safe dish with vegan margarine and start to layer the phyllo sheets. I unrolled the entire stack of sheets and cut them into four equal portions to make it easier to work with. Continue to layer, 1 sheet, brushed with the melted vegan margarine and repeat until you are out of the melted vegan margarine.

Place the filling inside and bake until golden and bubbling. This will take a good 40-50 minutes. Check frequently towards the end. The phyllo should be brown and crisp.