This recipe may not be groundbreaking or glamorous, but sometimes you just want Easy Vegan Oatmeal Raisin Cookies, and I am here to help you out!
I actually made these for my mom today and wasn't even intending on posting them.  But, why not?  Who doesn't love an oatmeal raisin cookie?  Unless you don't like raisins.  Then, you could just make them oatmeal cookies, which is actually how I prefer them.  I've been making this recipe for awhile now, so it's kind of tried-and-true.  I hope you enjoy it as much as we do 🙂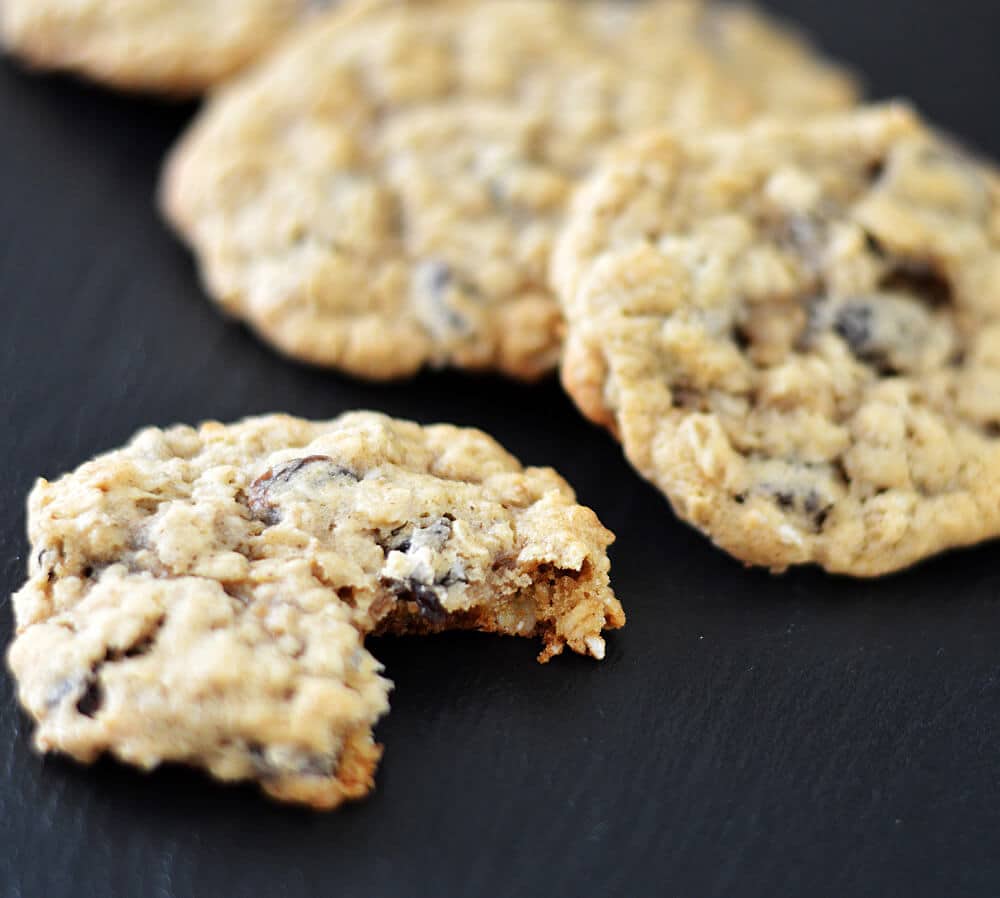 Everyone asks me how I get such uniform cookies….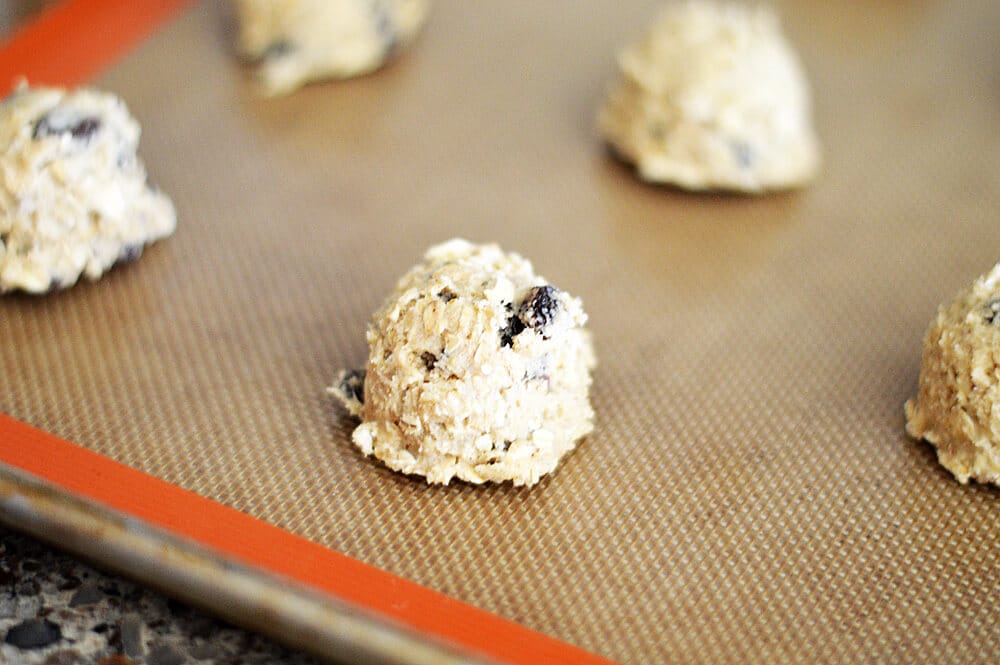 I must admit, I cheat a little.  It's all due to this set of cookie/ice cream/melon scoop-y things I found on Amazon.  I use them for pretty much everything.  I used the medium one today and with the bottom of a glass, sprayed occasionally with cooking spray, flattened the balls a bit so I'd get bigger, less puffy, cookies.
*Some of the links on this page are affiliate links.  Clicking on them does not affect your purchase price, it just means we get a very small percentage that assists in keeping The Veg Life! creating new recipes for you each week.
I don't know if you can see it here, but they  are light, airy … almost lacy. They are soft and chewy with just barely crisp edges. I allow them to cool on the cookie sheet to firm up just enough to transfer to a rack where I allow them to cool completely. Or semi-completely if you are familiar with my obsession for right-out-of the-oven cookies 😉 Patience was never my thing.
Enjoy with a cold glass of your favorite non-dairy milk.  Dunk if you must.  This recipe made about 22-24 cookies, but you could always make them smaller if you prefer.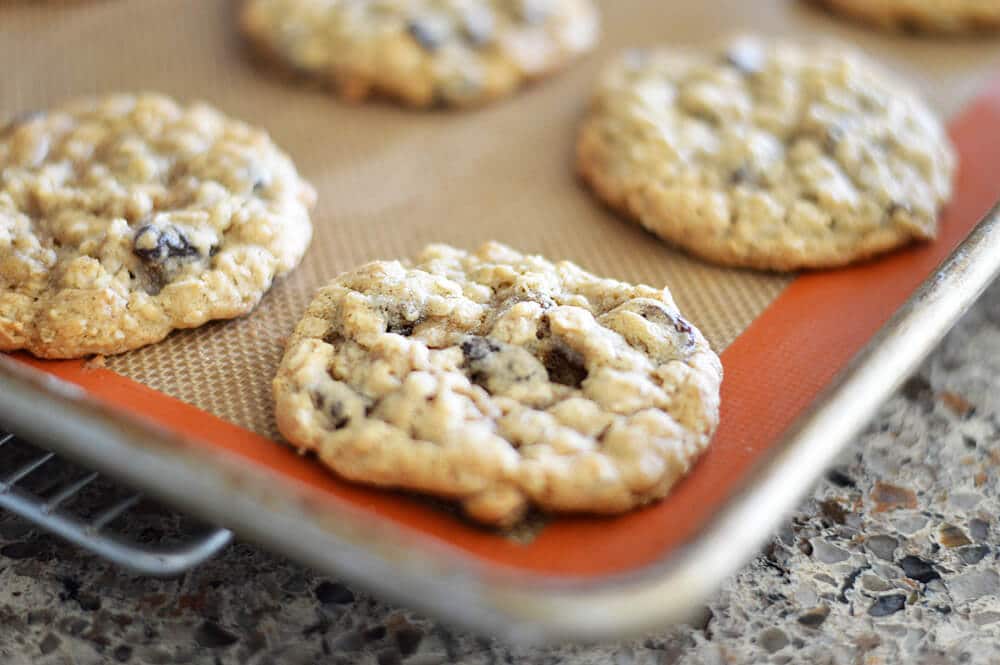 Did you make this recipe for Easy Vegan Oatmeal Raisin Cookies?  If so, leave me a comment below and let me know what you thought.
And if you enjoyed this recipe, why not PIN IT FOR LATER! 🙂
 
Easy Vegan Oatmeal Raisin Cookies
Easy Vegan Oatmeal Raisin Cookies
Ingredients
1

c

All Purpose Flour

1/2

tsp

Baking Soda

1/8

tsp

Salt

1/2

tsp

Cinnamon

1/2

c

Vegan Margarine

SOFTENED TO ROOM TEMPERATURE

1/4

c

Sugar

1/2

c

Brown Sugar

1/4

c

Unsweetened Applesauce

OR 1 Tbl Ground Flax + 3 Tbl Water

1

tsp

Vanilla

1-1/2

c

Old Fashioned Oats

3/4

c

Raisins
Instructions
Bring the vegan margarine to room temperature.

Preheat oven to 350 degrees.

In the bowl of an electric mixer (or you can mix by hand), add the room temperature margarine, sugar and brown sugar. Beat for a few minutes to allow the sugar to dissolve a bit.

Add the flour, salt, baking soda, cinnamon, applesauce (OR flax mixture if using instead of applesauce) and vanilla. Beat until incorporated.

Add the oats and raisins and beat just a few times to distribute them, or you can fold them in by hand.

Use a small scoop, portion the cookie dough onto either parchment or a silicone baking mat.

Using the bottom of a glass sprayed with cooking spray, flatten the dough a bit. This will produce a more uniform cookie. You may need to spray the glass occasionally to avoid sticking.

Bake for 7-8 minutes or until just golden on the edges. Allow to cool on the cookie sheet until they firm up and then transfer to a wire rack to cool completely.

Store in a covered container.