This recipe was originally posted wayyyyy back in January of 2014.  Before I had many followers or even a mailing list for subscribers.  It was one of the very first recipes and it gained some traction on Pinterest before I was even ON Pinterest.
Fast forward, this is still one of my go-to recipes and one I really love, so I thought I was share it with you again today.  These crispy little Cauliflower Cakes with Sour Cream Herb Sauce can be made either vegetarian or vegan. There are a few companies now making vegan sour creams that are so close to the original, many non-vegans wouldn't be able to tell the difference!
At the time of writing the original recipe, I used silken tofu as a binder.  While it made for an amazing texture (see the batter photo below), I realize there are so many other options available.  One vegan option I like to use in savory dishes such as this are 1 Tbl of ground Flax Seeds mixed with 3 Tbl of Water.  Allow to sit and it will become gelatinous much as an egg would.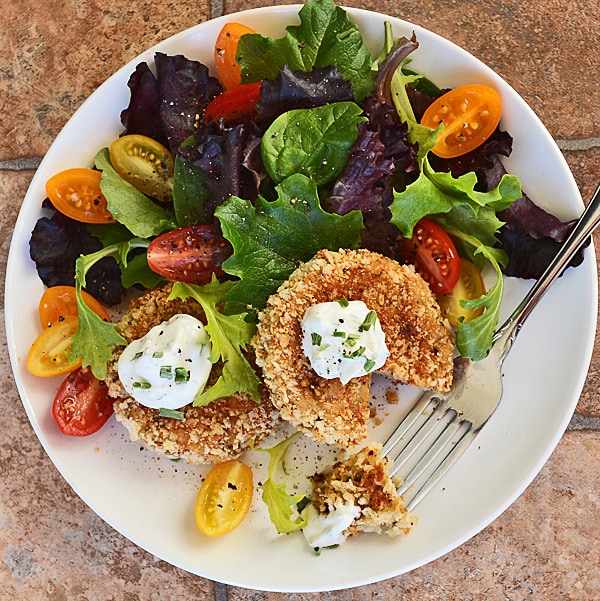 Preheat oven to 400 degrees.  Cut the cauliflower into florets. Peel and cut the shallots into two pieces each. Peel and cut the potatos into large cubes.  Place the cauliflower, shallots and potatoes on a baking sheet and drizzle with vegetable oil. Toss lightly. Bake for 35-40 minutes or until potatoes are tender.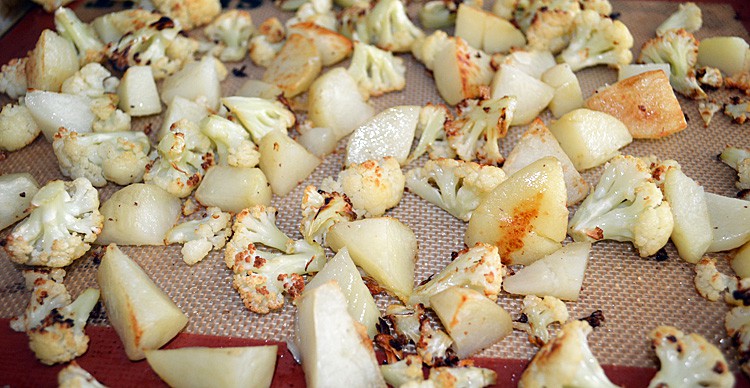 You may need to remove the shallots prior to the end of the overall baking time if the potatos take longer.
Place the mixture, along with the tofu, quinoa, salt, pepper and parsley into a food processor and pulse until chopped.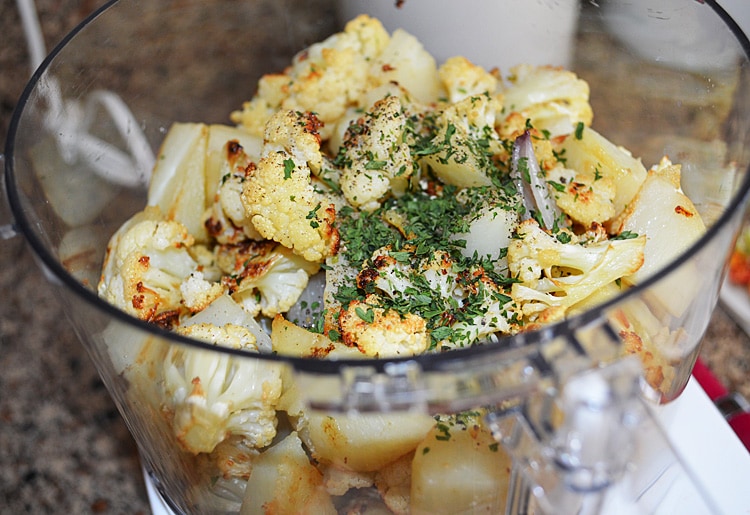 Place the mixture into a bowl.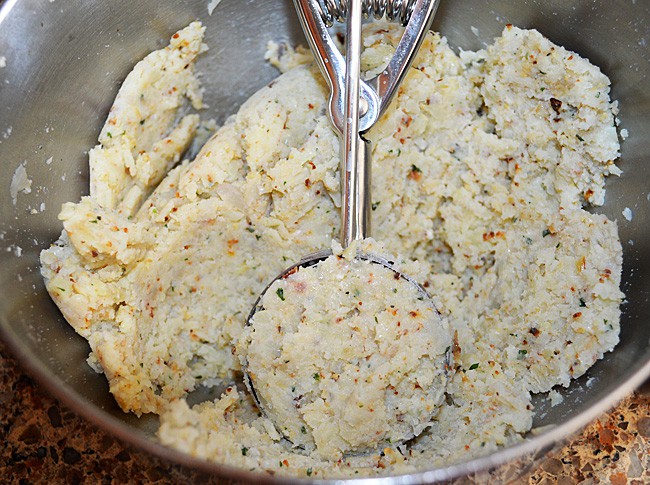 In another small bowl, combine the Panko bread crumbs and the parmesan cheese. In a third small bowl, place the almond milk.
Using an ice cream scoop, scoop the cauliflower mixture and place into the almond milk to coat.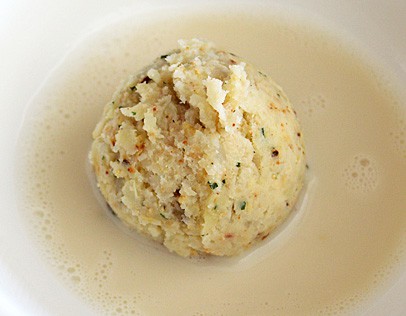 Remove and place in the bread crumb mixture. Shape into a patty and place on a lined cookie sheet. Continue until all 8 patties are made.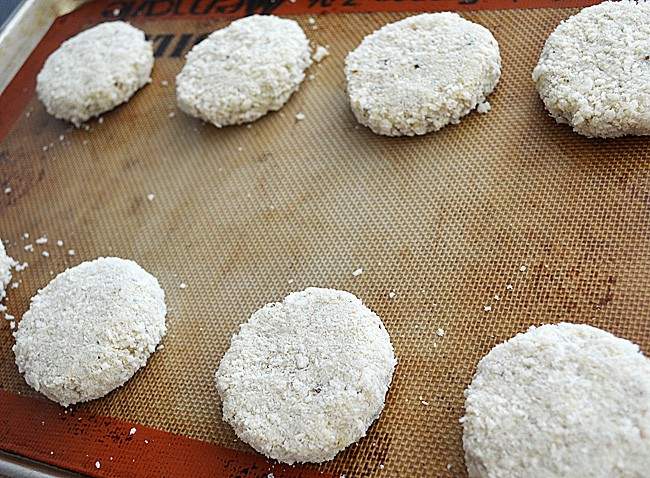 In the same 400 degree oven you roasted the cauliflower in, bake the patties for 30 minutes, flipping only once. They should be lightly golden and hold together nicely.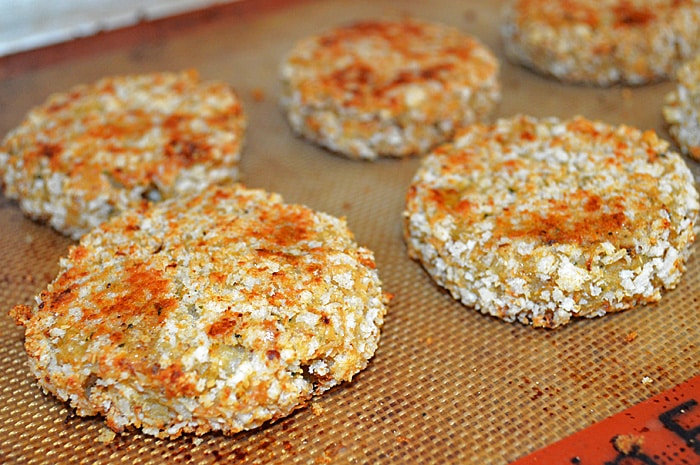 To prepare the sauce, mix together the sour cream, vegenaise (or mayonnaise if vegetarian), parsley, chives and pepper.  I really love this particular sauce with these cauliflower cakes.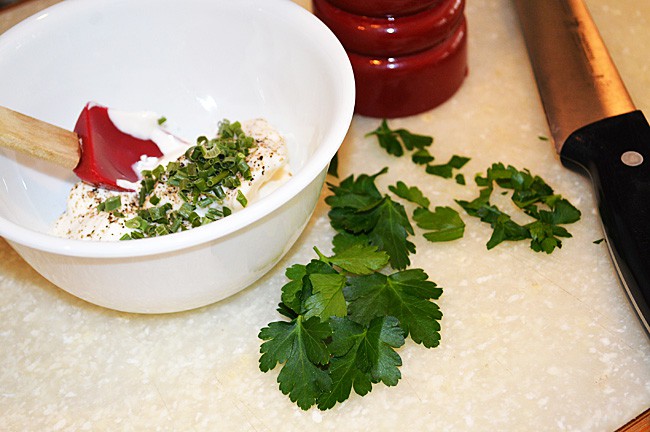 Serve the cauliflower cakes with a salad of mixed greens, tomatoes and a light vinaigrette of olive and vinegar. Season with a bit of salt and pepper, to taste.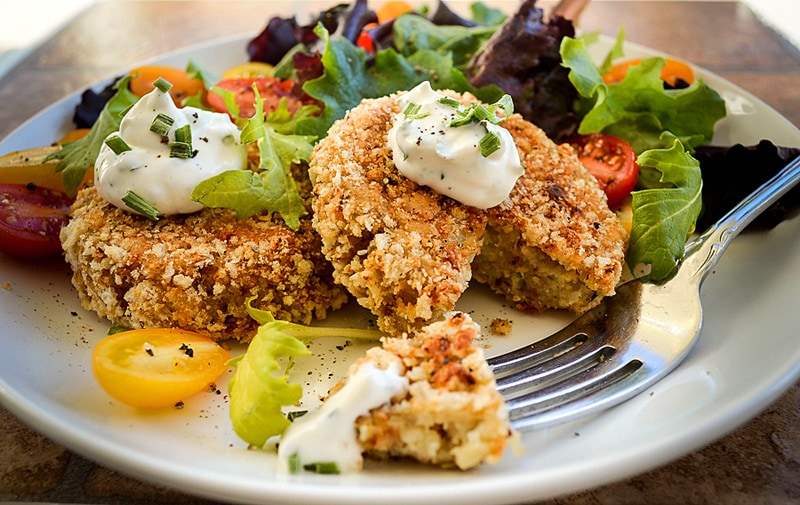 Cauliflower Cakes with Sour Cream Herb Sauce {Vegan}
Ingredients
FOR THE CAULIFLOWER CAKES:
1

medium

Cauliflower

about 12-14 ounces, cut into florets

2

medium

Baking Potatoes

peeled and cut into large cubes

2

medium

Shallots

peeled and cut in half

1

tbsp

Oil of your choosing

1

tsp

Parsley

1/8

tsp

Salt

Fresh Black Pepper

2

tbsp

Silken Tofu OR 1 tbsp ground flax PLUS 3 tbsp water

we used tofu as a binder, but you could omit it entirely if you wish. They may be slightly more fragile, but just as delicious :

½

C

Almond Milk

1/4

C

Cooked Quinoa

¾

C

Panko Bread Crumbs

1/8

C

Vegan Grated Parmesan Cheese
FOR THE VEGAN SOUR CREAM SAUCE:
2

tbsp

Vegan Sour Cream

2

tbsp

Vegan Mayonnaise

1

tbsp

Fresh Parsley

chopped

1

tsp

Chives

¼

tsp

Black Pepper
Instructions
Preheat oven to 400 degrees.

Cut the cauliflower into florets. Peel and cut the shallots into two pieces each. Peel and cut the potatos into large cubes.

Place the cauliflower, shallots and potatos on a baking sheet and drizzle with vegetable oil. Toss lightly. Bake for 35-40 minutes or until potatos are tender.

[url href="http://theveglife.com/wp-content/uploads/2014/01/caul-roasted.jpg"][img src="http://theveglife.com/wp-content/uploads/2014/01/caul-roasted.jpg" alt="" width="750" height="388" class="aligncenter size-full wp-image-2541"][/url]

You may need to remove the shallots prior to the end of the overall baking time if the potatos take longer.

Place the mixture, along with the tofu, quinoa, salt, pepper and parsley into a food processor and pulse until chopped.

[url href="http://theveglife.com/wp-content/uploads/2014/01/caul-processor.jpg"][img src="http://theveglife.com/wp-content/uploads/2014/01/caul-processor.jpg" alt="" width="750" height="515" class="aligncenter size-full wp-image-2542"][/url]

Place the mixture into a bowl.

[url href="http://theveglife.com/wp-content/uploads/2014/01/caul-batter.jpg"][img src="http://theveglife.com/wp-content/uploads/2014/01/caul-batter.jpg" alt="" width="650" height="485" class="aligncenter size-full wp-image-2543"][/url]

In another small bowl, combine the Panko bread crumbs and the parmesan cheese. In a third small bowl, place the almond milk.

Using an ice cream scoop, scoop the cauliflower mixture and place into the almond milk to coat.

[url href="http://theveglife.com/wp-content/uploads/2014/01/milk-wash.jpg"][img src="http://theveglife.com/wp-content/uploads/2014/01/milk-wash.jpg" alt="" width="406" height="316" class="aligncenter size-full wp-image-2544"][/url]

Remove and place in the bread crumb mixture. Shape into a patty and place on a lined cookie sheet. Continue until all 8 patties are made.

[url href="http://theveglife.com/wp-content/uploads/2014/01/patties.jpg"][img src="http://theveglife.com/wp-content/uploads/2014/01/patties.jpg" alt="" width="650" height="478" class="aligncenter size-full wp-image-2545"][/url]

In the same 400 degree oven, bake the patties for 30 minutes, flipping only once. They should be lightly golden and hold together.

[url href="http://theveglife.com/wp-content/uploads/2014/01/finished-patties.jpg"][img src="http://theveglife.com/wp-content/uploads/2014/01/finished-patties.jpg" alt="" width="700" height="465" class="aligncenter size-full wp-image-2546"][/url]

To prepare the sauce, mix together the sour cream, vegenaise, parsley, chives and pepper.

[url href="http://theveglife.com/wp-content/uploads/2014/01/sauce1.jpg"][img src="http://theveglife.com/wp-content/uploads/2014/01/sauce1.jpg" alt="" width="650" height="432" class="aligncenter size-full wp-image-2547"][/url]

Serve the cauliflower cakes with a salad of mixed greens, tomatos and a light vinaigrette.

[url href="http://theveglife.com/wp-content/uploads/2014/01/CAUL-CAKE-FINAL.jpg"][img src="http://theveglife.com/wp-content/uploads/2014/01/CAUL-CAKE-FINAL.jpg" alt="" width="800" height="505" class="aligncenter size-full wp-image-2549"][/url]