I am thrilled with the way this Vegan Teriyaki Jackfruit Bowl turned out.  If you are a vegan and haven't tried jackfruit yet, you are truly missing out!
The first time I experimented with it was for my Vegan Pulled Jackfruit Sandwiches.  I was sold!  Next, I tried  Jackfruit Flautas with Sweet Corn Sauce.  Is there anything this versatile fruit can't do?  Before we proceed, let me tell you a bit more about the product.  I know it can seem a bit intimidating, but knowing how to prepare it is the key!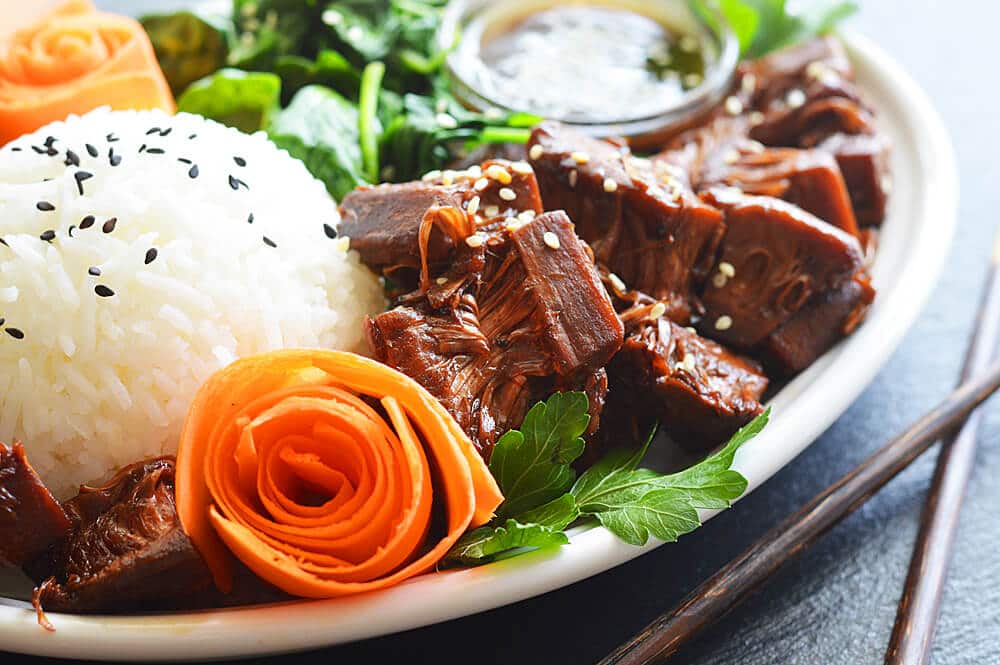 This starchy fruit is native to Southeast Asia and here in the U.S., is found canned in Asian markets, specialty grocery stores or online.  I found mine on Amazon.  There is another, less expensive brand, though I've yet to try it, Aroy-D.
It's very neutral, but if you really try to pick up on smell, thinks of a cross between apple, pineapple, mango and a banana.  The taste, however, is very subtle (almost tasteless) and picks up the flavors of whatever it's seasoned with. You can find jackfruit packed in water or in a salted brine (which is what I purchased). Since this dish is savory, I didn't mind the brine.  However, if you are looking for an even more neutral application, go for the water-packed variety.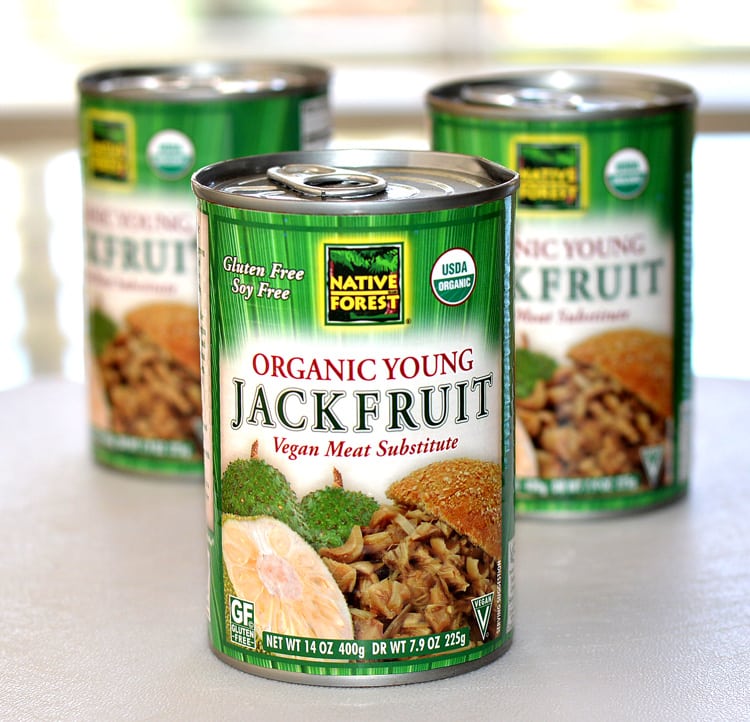 I found the photo on the front of the can deceiving in both color and texture.  As you can see, it comes chunky and to get that "pulled" look, you have to either mash it or pull it with two forks.  The actual color is pale, almost pinky-peach.  It is still pretty tender and will break apart easily, however, I wanted those chunks for my recipe today.  I used a saute pan over medium high heat and just gave each side a bit of browning.  Not too much.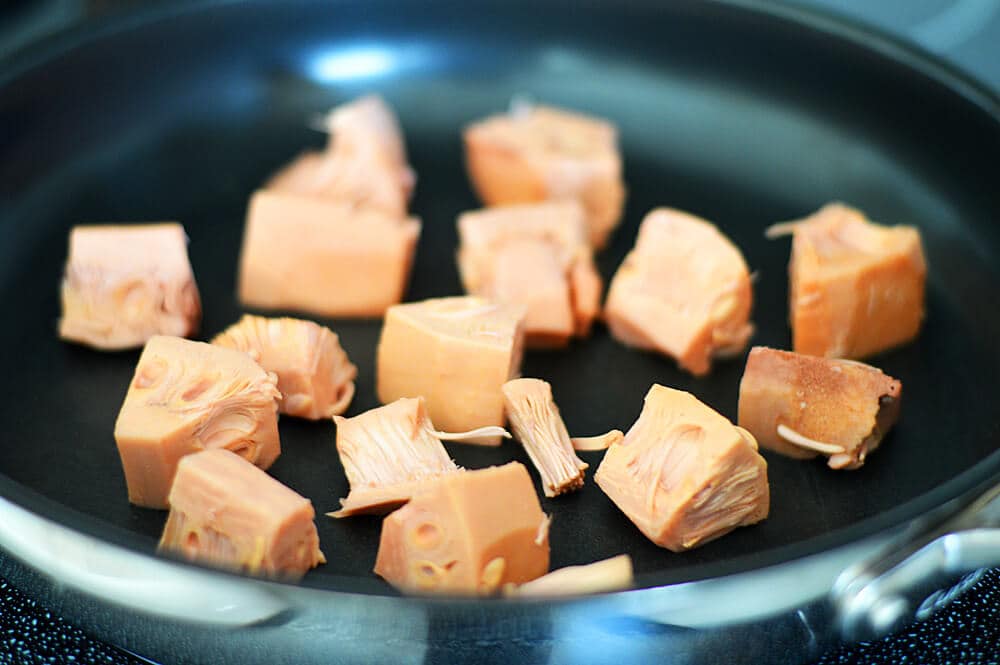 I combined the teriyaki glaze and added it to the pan.  It will seem very loose at first, but as it cooks, it will thicken into a nice, dark glaze.  Worth mentioning … my pan is a non-stick dark charcoal gray, so it is throwing off the color of the sauce here.  But, you can see here how the fruit absorbs the sauce.  Toss gently so as not to break up the pieces.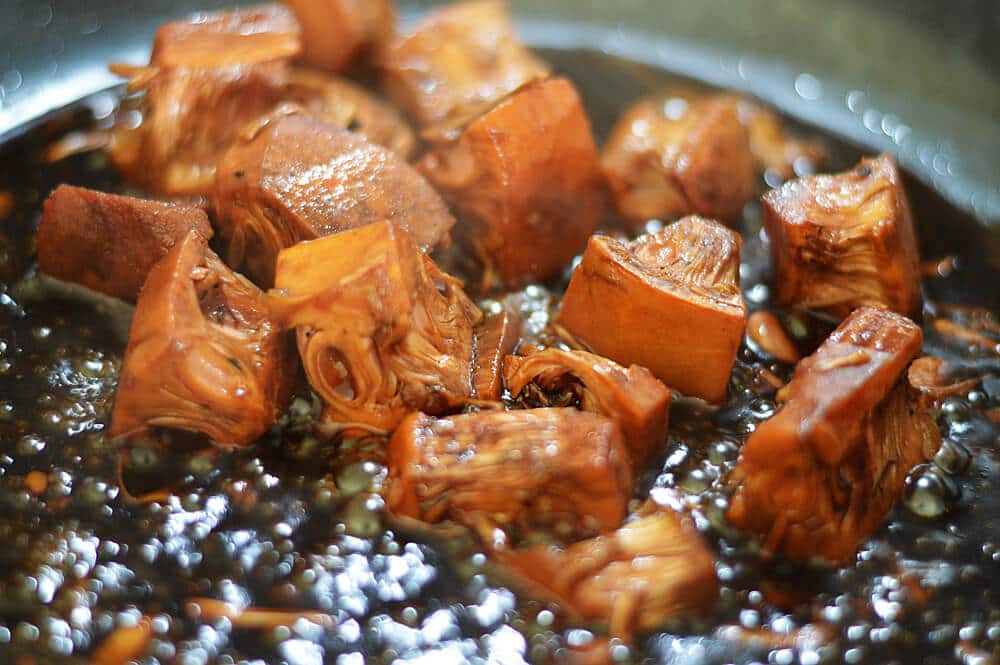 I wanted some color on the plate and started playing around with carrots.   If you've followed me for awhile, you can seen me mention this peeler.  Sharpest peeler I have ever owned.
I sliced a big carrot in half and on the flat side, started making long peels.  They are so thin, they almost naturally curl on their own.  I just wrapped them until I formed an indication of a rose.  Since I wasn't quite ready to plate the dish, I used a toothpick to secure them but they should be removed prior to serving.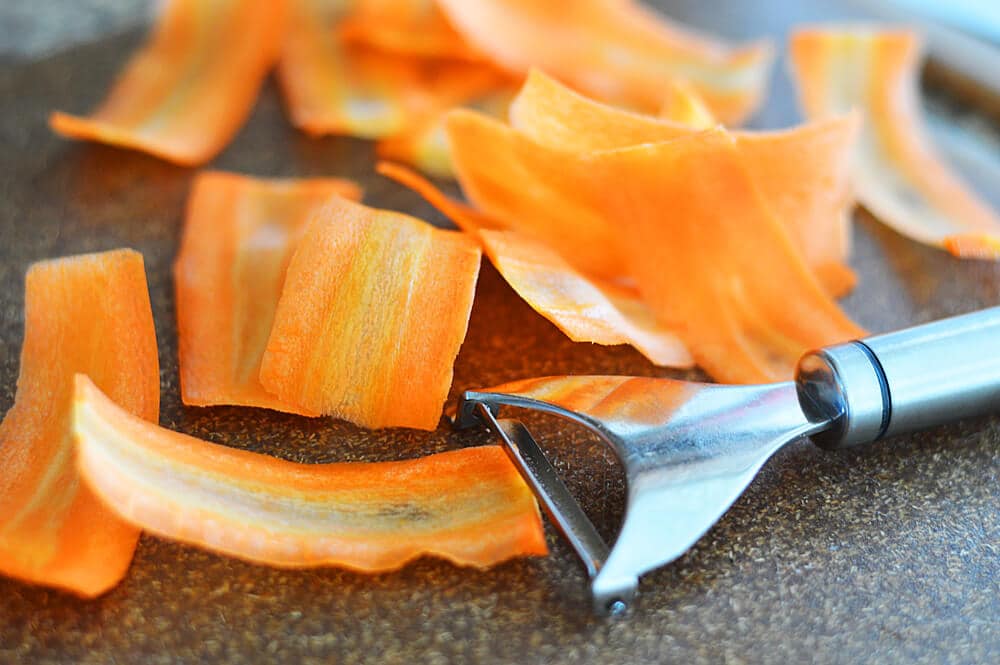 And, there you have it!  Pretty little raw carrot roses with parsley leaves that took just seconds to make.   I plated it with a side of barely wilted spinach.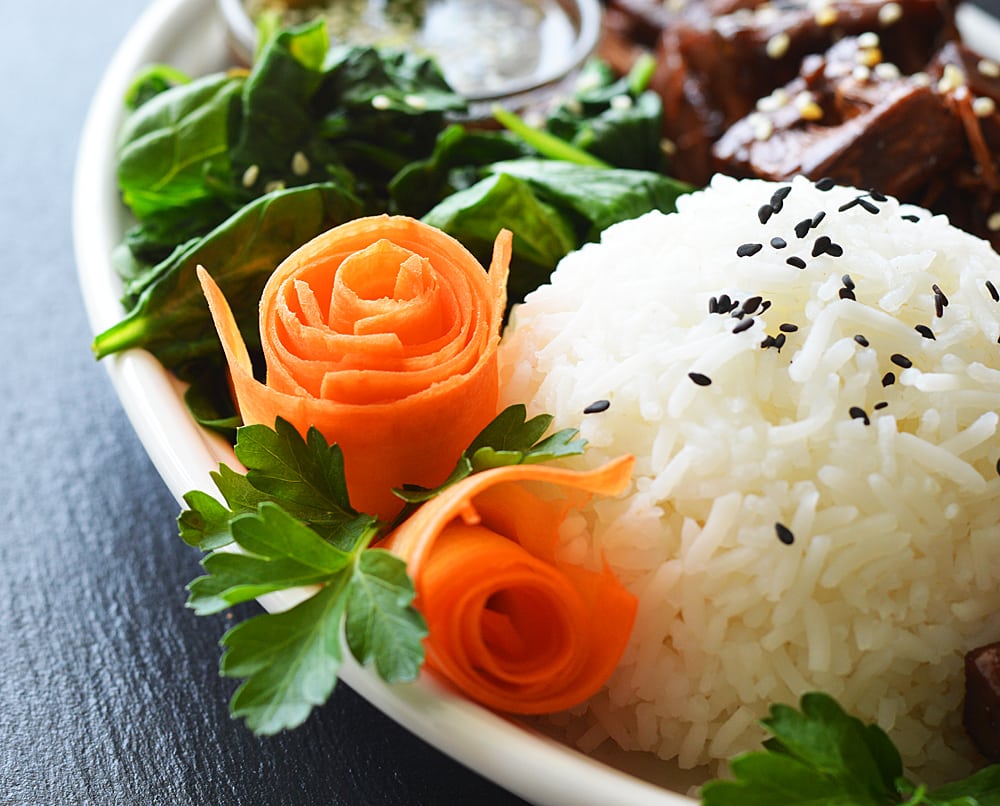 I prepared Basmati rice and using a round measuring cup or small bowl, mounded it up on one side of my oval plate. Also from Amazon.  I spend wayyyyy too much time on that site!
I always have both white and black sesame seeds in the house and thought this was the perfect time to pull them out for this dish.  I think it looks pretty elegant for something that was beyond easy to pull together.  A bit of extra sauce on the side for dipping and you are ready to eat!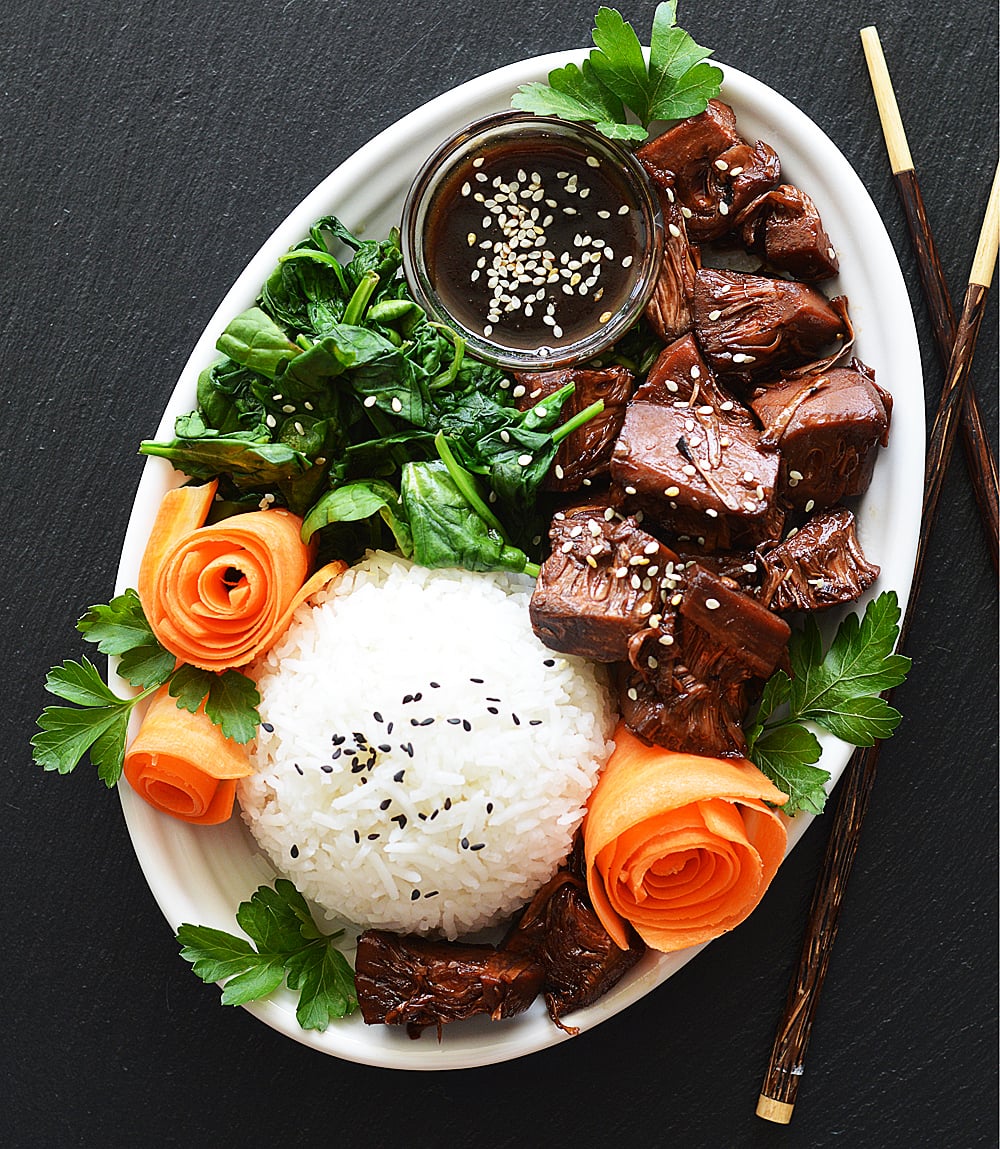 Did you make this recipe for Vegan Teriyaki Jackfruit Bowl?  If so, leave me a comment below and let me know what you thought.
*Some of the links on this page are affiliate links.  Clicking on them does not affect your purchase price, it just means we get a very small percentage that assists in keeping The Veg Life! creating new recipes for you each week.
PIN IT FOR LATER!


Vegan Teriyaki Jackfruit Bowl
Vegan Teriyaki Jackfruit Bowl
Ingredients
FOR THE TERIYAKI SAUCE/GLAZE:
Minced Garlic

to taste

Minced Ginger

to taste

1

tsp

Sesame Oil

3

tbsp

Brown Sugar

1/3

c

VEGAN Soy Sauce

1/2

c

Rice Wine Vinegar

1/3

c

Mirin

Toasted Sesame Seeds
FOR THE JACKFRUIT:
1

can

Jackfruit

drained & left in large chunks
FOR SERVING:
2

c

Spinach

wilted

1

large

Carrot

cut into large strips & formed into roses

1/2

c

Basmati Rice

cooked to package instructions
Instructions
FOR THE RICE:
Prepare Basmati rice to package instructions. I like to spread it out to let it cool after cooking which helps keep the grains of rice separate and not so sticky.
FOR THE JACKFRUIT:
Drain the jackfruit and place the large chunks in a non-stick saute pan over medium high heat. Toss occasionally (carefully, so as not to break up the jackfruit) to allow all sides to get slightly golden. This also helps remove some of the moisutre.
FOR THE SAUCE/GLAZE:
Combine all ingredients for the sauce in a small bowl. Add to the jackfruit and allow to simmer over medium heat until it reduces to a thicker glaze.
FOR THE CARROTS:
Using a very sharp vegetable peeler, shave thin but wide slices of a carrot that you have cut in half lengthwise. Wrap them around each other to form a simple rose. Use a toothpick to secure until you are ready to plate.
FOR THE SPINACH:
In a hot skillet with no oil or water, wilt down the spinach slightly. Set aside in a bowl off the heat so it retains some of its original shape and texture.
FOR GARNISH:
Sprinkle the rice with black sesame seeds and the teriyaki jackfruit with the traditional sesame seeds. You can toast those if you'd prefer.