These Vegan Pulled Jackfruit Sandwiches far exceeded my expectations.  I mean, really.  Who knew this mildly flavored fruit could be so versatile?  I have only just recently become aware of jackfruit and I am in love!  Already thinking of sooooo many dishes it can be used in.
This recipe uses both a dry barbecue seasoning as well as barbecue sauce, and also includes our most popular recipe of all time on The Veg Life!…Vegan Coleslaw.  So if you are also new to jackfruit, keep on reading to learn more about how I created this delicious sandwich.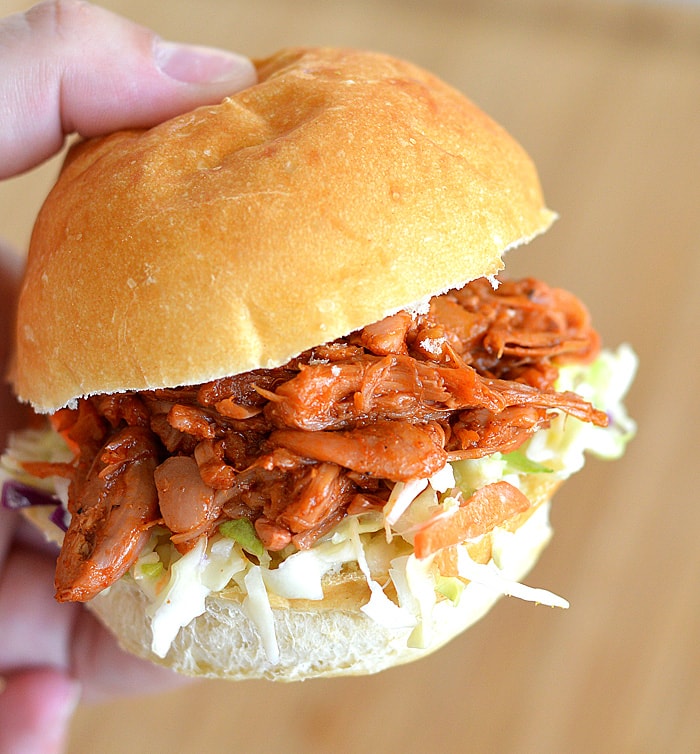 This starchy fruit is native to Southeast Asia and here in the U.S., is found canned in Asian markets, specialty grocery stores or online.  I found mine on Amazon.  It smells like a cross between apple, pineapple, mango and banana.  It's taste, however, is very subtle and picks up the flavors of whatever it's seasoned with.
You can find it packed in water or in a salted brine (which is what I purchased).  Since this dish is savory, I didn't mind.  However, if you are looking for an even more neutral application, go for the water-packed variety.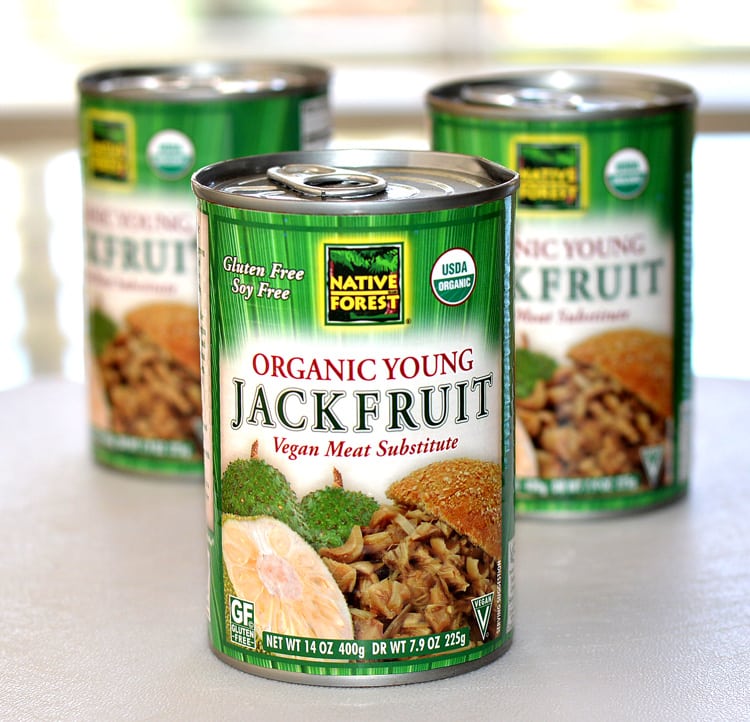 Because of it's fibrous texture, it's lends itself perfectly to this pulled sandwich.  Jackfruit is rich in protein and also provides vitamin C, B6, B1, Potassium and Magnesium.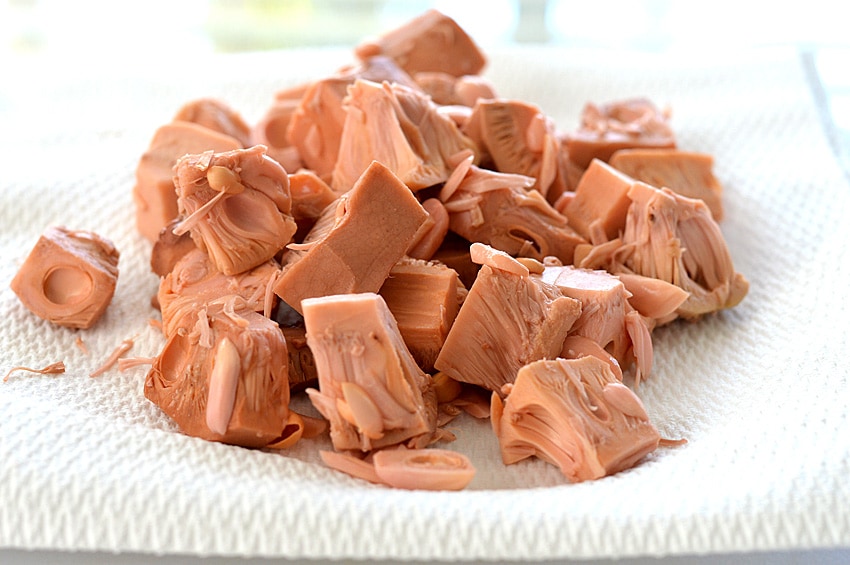 When cooked, it pulls apart and has a great texture as you can see below.  If you prefer a finer shred, you can use two forks but I actually liked it with a few remaining chunks.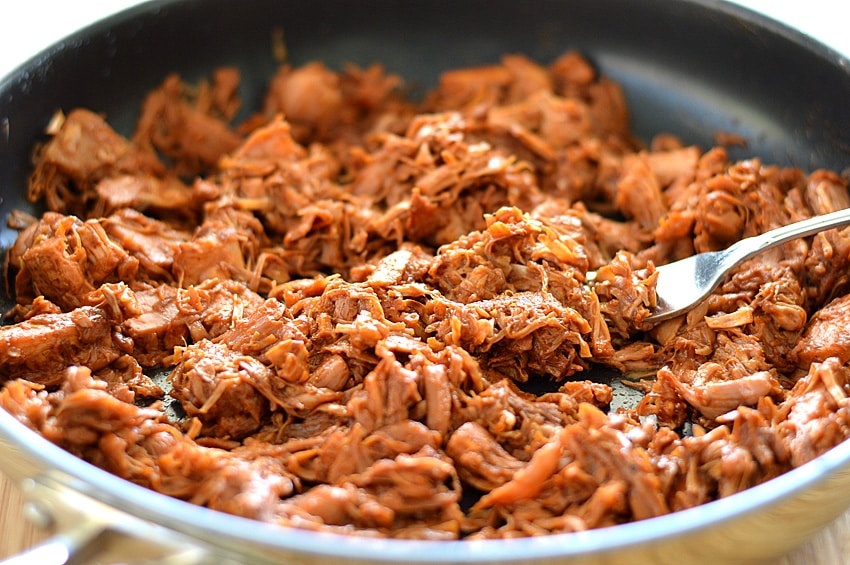 As I mentioned above, this Vegan Coleslaw is by far the most popular recipe on the site.  Simple, yet really delicious.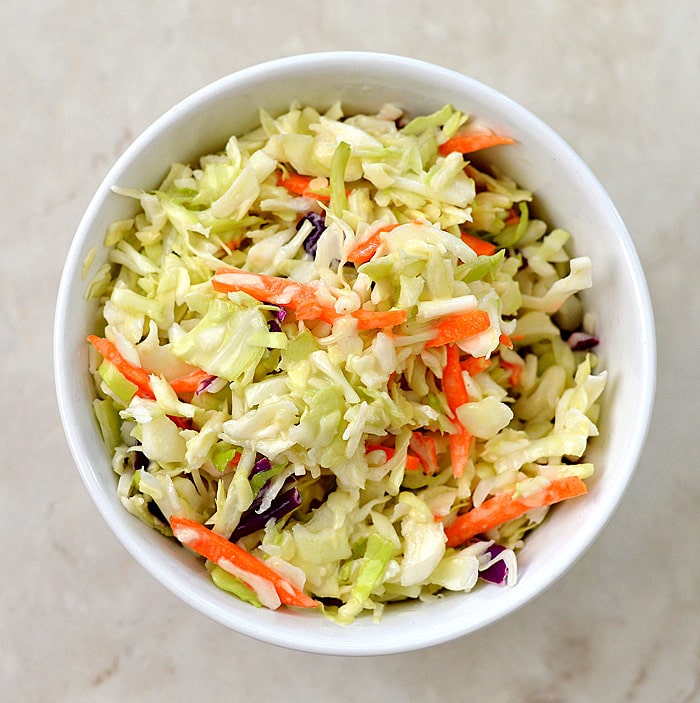 I pile the slaw on first and top with the pulled jackfruit.  These little slider rolls are my favorite way to enjoy the sandwiches.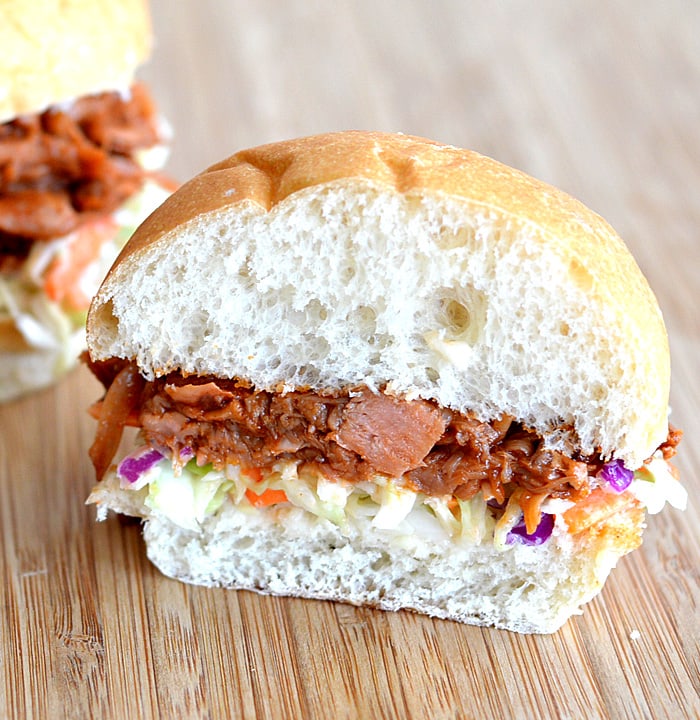 If you give these Vegan Pulled Jackfruit Sandwiches a try, let me know in the comments section below or snap a pic and tag me on Instagram @theveglife1  I always love seeing what you guys come up with 🙂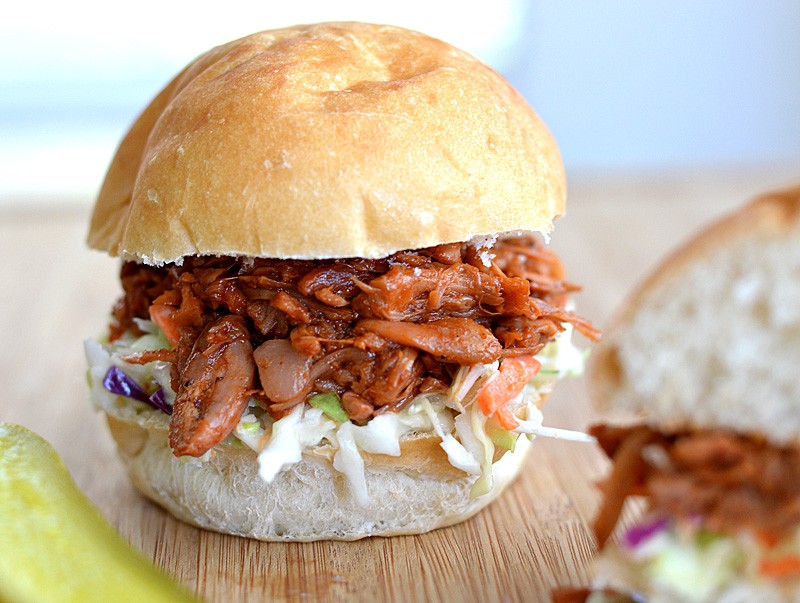 Vegan Pulled Jackfruit Sandwiches
Ingredients
FOR THE PULLED JACKFRUIT:

2

Cans of Jackfruit if preferred)

packed in water (or brine

2

Tbl Barbecue Seasoning

I used McCormick Grill Mates

1/2

C

of Barbecue Sauce

plus more for serving, if desired

*

FOR THE SLAW MIX:

1

Small Green Cabbage

finely shredded

1/2

Small Red Cabbage

finely shredded

2

large Carrots

finely shredded

*

FOR THE DRESSING:

2

Tbl VEGAN Sour Cream

2/3

C

VEGAN Mayonnaise

1-2

Tbl White Vinegar

to taste

1

Tbl Grated Onion

squeeze the liquid out

2

Tbl Sugar

1-2

tsp

Dry Mustard

1/2

tsp

Celery Seed

OPTIONAL

Salt & Pepper

to taste

*

FOR SERVING:

Rolls
Instructions
TO PREPARE THE COLESLAW:

Combine the shredded cabbages and carrots together (or you can just buy pre-bagged coleslaw mix).

In a separate bowl, whisk together the dressing ingredients. Add to the cabbage mixture.

Taste for seasoning, adding more salt if necessary.

Allow to sit for at least 30 minutes prior to serving.

*

TO PREPARE THE PULLED JACKFRUIT:

Drain, rinse and dry the jackfruit with paper toweling and toss with the barbecue seasoning.

Preheat a large pan over medium high heat, add 1 Tbl of oil and add the seasoned jackfruit.

I cooked mine until it began to take on some color and then added the barbecue sauce.

Reduce heat to a simmer and cook for about 15-20 minutes. I don't like to cover it because I prefer a bit drier consistency. Covering it will create added moisture.

If the jackfruit still has larger pieces after cooking, you can use two forks to shred it if you desire. I liked the chunky bits.

While the jackfruit is cooking, combine all ingredients for the slaw and set aside to let the flavors meld.

Slice the rolls in half and place the slaw on the bottom. Top with the jackfruit and serve with your favorite steak fries and of course, a side of pickles.